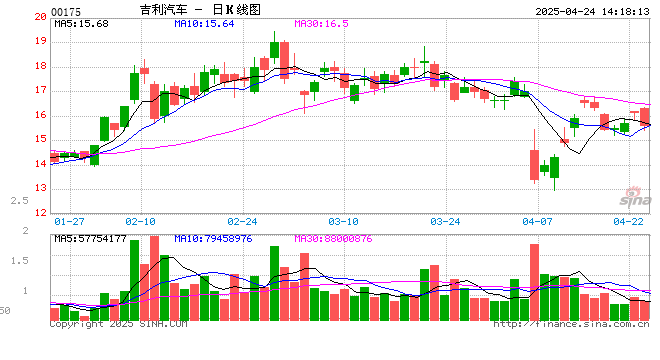 Hot Column
Self-selected stock data center market center capital flow to simulated trading client
Li Lingxi
At the beginning of the new year, Geely Auto The trend of the stock price makes investors feel quite unlucky: the stock price has plummeted by more than 25% in the five trading days since 2019!
This is a "blood case" triggered by a sales report - on January 7, Geely Automobile announced that its sales in December 2018 fell by 34% month-on-month. On the second day after the announcement of the Express, Geely Auto fell by 11.28%, and its market value evaporated by about 11.7 billion Hong Kong dollars, falling out of the ranks of companies with a market value of 100 billion.
The industry generally believes that the cooling of the auto market in 2018 may continue in 2019. However, good news is also coming: Ning Jizhe, deputy director of the National Development and Reform Commission, said on January 8 that measures to stabilize the consumption of hot products such as automobiles and home appliances will be formulated.
So, in the new year, will investing in car companies be "Geely"?
A "Blood Case" Triggered by a Sales Bulletin
As 2018 ended, auto companies released their sales results for December and the whole year one after another. A single, the data is mixed for investors. Take auto companies in the Hong Kong stock market as an example, including Geely Auto, BYD, Guangzhou Automobile Group and other car companies have not achieved the sales targets set in early 2018.
Despite the mourning of the auto industry in 2018, Geely's report card still caught many investors by surprise.
In December last year, Geely Automobile's overall sales volume was only 93,300 units, a year-on-year decline of about 39% and a month-on-month decline of 34%, hitting a new low in sales in the past 16 months.
In this regard, Geely Auto explained in the announcement that although the wholesale sales level is relatively low, the corresponding retail sales level is still stable, reflecting the company's determination to actively manage the total inventory of dealers to a healthy level .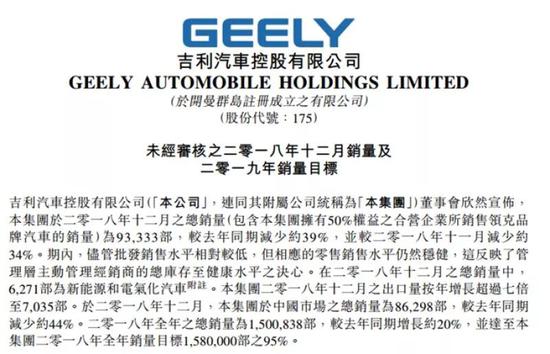 Judging from the performance of Geely Auto's stock price on January 8, investors are obviously not satisfied with this explanation.
On the same day, Geely Automobile opened 7.64% lower, and continued to decline during the session, once falling more than 11%, and its market value evaporated by about 11.7 billion Hong Kong dollars.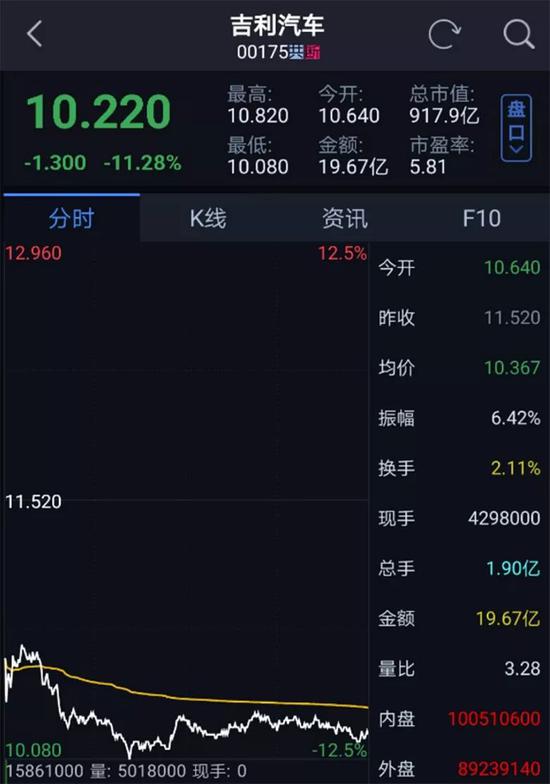 To make matters worse, investment banks such as Morgan Stanley, Yamato, Credit Suisse, Nomura, etc. have all lowered Geely Auto's Ratings and target prices, expressing "disappointment" sentiment.
Credit Suisse pointed out that Geely Auto's sales in December were weaker than expected and that the company's profits were under downward pressure due to the introduction of a purchase tax allowance. Therefore, its rating was downgraded from "Outperform" to "Neutral", and the target price was lowered from HK$29 to HK$11.
In contrast, BYD, which released a sales report on the same day, made investors a little relieved.
In December 2018, BYD's new energy vehicles still performed strongly, with sales of about 46,700 units, a month-on-month increase of 55.67%, which pushed its overall vehicle sales to 69,600 units, a month-on-month increase of 36.47%.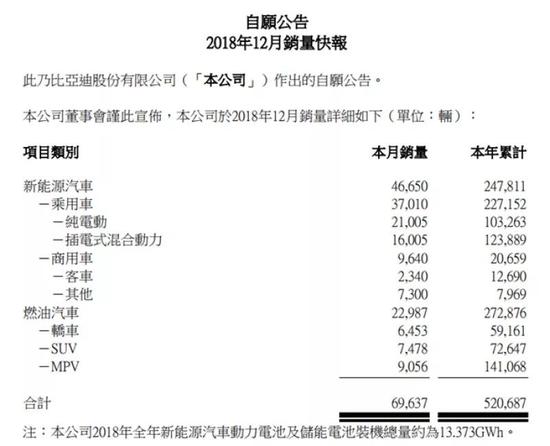 Boosted by sales, BiaDi A and H shares both rose on January 8. In Hong Kong stocks, as of the close of the day, BYD's shares rose 3.18%.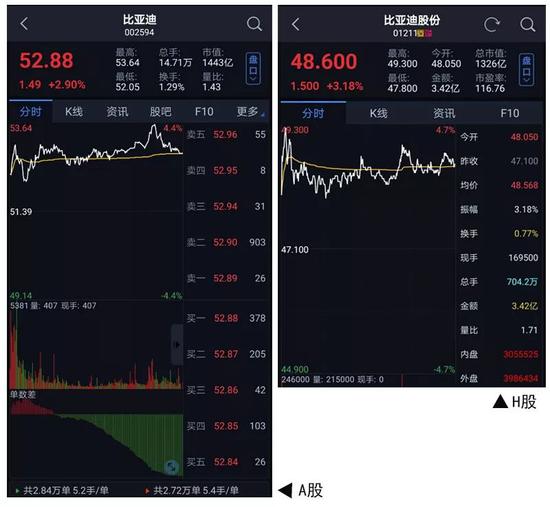 Citi mentioned in the research report that due to lower operating costs, the downward trend in car spending in some cities will benefit BYD's new Sales of energy vehicles, coupled with car-sharing and leasing demand, should contribute around 150,000 units to BYD's sales volume, which is expected to be around 400,000 units of BYD's new energy vehicles in 2019.
What cannot be ignored is that neither Geely, whose sales fell in December last year, nor BYD, whose performance exceeded expectations, failed to achieve the sales target set at the beginning of 2018.
According to the announcement, in 2018, Geely Automobile's total sales volume was about 1.5 million units, only 95% of its annual sales target set; 86.78% of the 2018 sales target.
Are new energy vehicles the kind of fire in winter?
In 2018, affected by the overall economic environment, market demand was overdrawn ahead of schedule, and fierce competition in the industry, sales in the mainland auto market experienced the first negative growth in the past five years.
Data released by the China Association of Automobile Manufacturers shows that in the first 11 months of 2018, the national car sales were 25.42 million, a slight decrease of 1.7% year-on-year. At the same time, the China Association of Automobile Manufacturers estimates that, based on the current sales trend, car sales in 2018 will be 28 million units, a year-on-year decrease of 3%.
The sudden drop in car sales has made the industry and car companies more conservative.
Previously, the China Association of Automobile Manufacturers judged that the rigid demand of China's automobile market still exists, but it will take about three years to ease.
Despite being cautious about the auto market in 2019, the China Association of Automobile Manufacturers expects that sales of new energy vehicles will continue to grow further in 2019, with an estimated year-on-year growth rate of 33.3%.
It can be seen that in the sluggish market environment, new energy vehicles may become the key to whether car companies can turn around in 2019.
Guoyuan Securities According to data provided, in 2018, Not only traditional car companies such as Geely, SAIC, and Great Wall have launched new energy vehicles, but also new carmakers such as Weilai, Qiantu Motor, and WM Motor have launched new car pre-sale.
In addition, from 2019 to 2020, GAC Toyota, FAW-Volkswagen, Dongfeng Nissan and other joint venture brand car companies may have more than 20 new energy passenger vehicles on the market. It is not difficult to imagine that the models emerging in the new energy vehicle market this year and next will dazzle consumers.
According to industry insiders, BYD's output may have reached a turning point. In 2019, there will be a number of new models on the market. It is expected that the monthly sales of its new energy vehicles from January to June will be 40,000 to 50,000. (Because of the influence of the Spring Festival in February), the monthly sales in the second half of the year should be more than 50,000.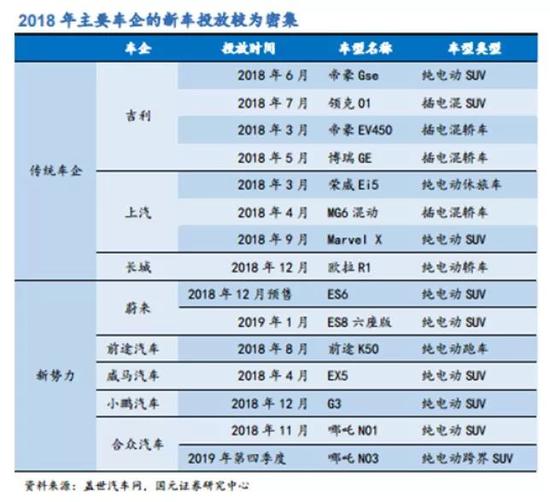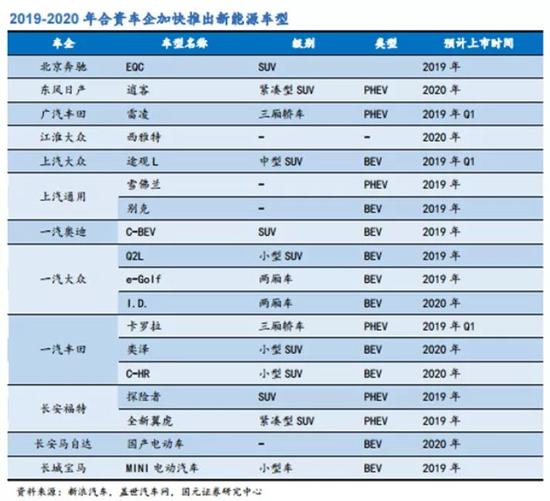 Guoyuan Securities pointed out that in 2018, The new subsidy policy guides the development of high-end models and high-density batteries, restrains low-end production capacity from occupying the market, and accelerates the survival of the fittest in the new energy industry. As the traditional car companies such as Great Wall and SAIC accelerate the process of electrification of their products, and new car manufacturers such as Weilai have successively entered the product delivery period, the competition in the new energy passenger vehicle market will gradually become fiercer.
The agency predicts that from 2018 to 2020, the overall sales of new energy vehicles in the mainland will be 1.19 million, 1.61 million and 2.15 million respectively. Electrification may become the winner of future automakers, and whether they can launch new energy vehicles that sell well in the market will become an important driving force for the valuation of related companies.
In terms of policy, on January 8, Ning Jizhe, deputy director of the National Development and Reform Commission, said that the second batch of major foreign-invested projects will be implemented in 2019, including new energy vehicles, new energy batteries, etc.
Responsible editor: Chen Youran SF104
Article Url:https://www.liaochihuo.com/info/676375.html
Label group:[new energy vehicles] [domestic cars] [Car] [auspicious] [BYD] [suv] [Automotive industry] [Geely Group] [sales] [China Association of Automobile Manufacturers]