Good weekend, this is the fourth VC in 2022 provided by IT Orange for everyone /PE Highlights. We will continue to take stock of the major events in the venture capital circle for you, discover the latest investment moves of the giants, observe the VC fundraising vane, and see which new economy companies are becoming unicorns and on the way to IPO - so that you can keep abreast of new Valuable information and trends for economic venture capital.
A quick peek at the last week: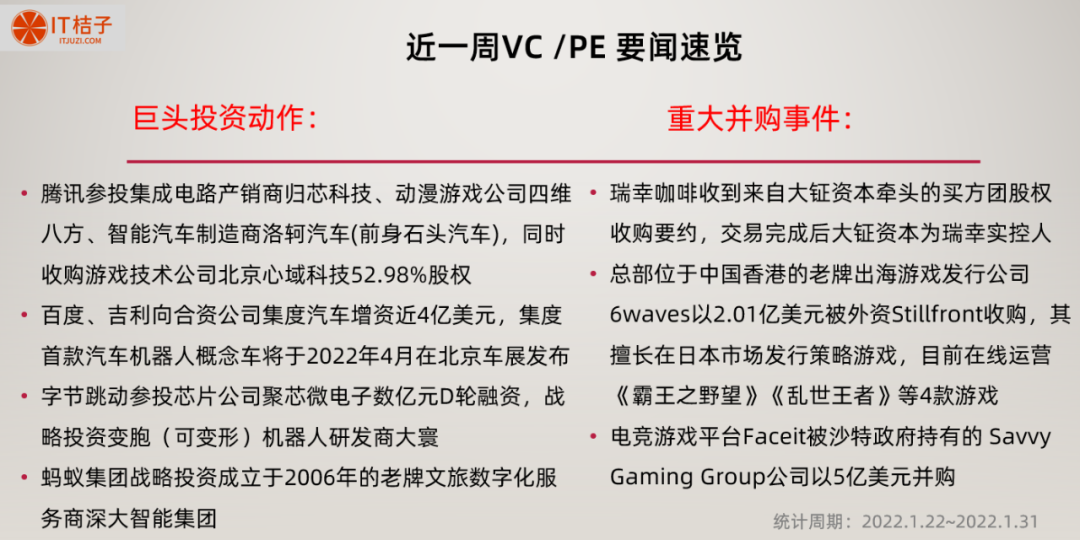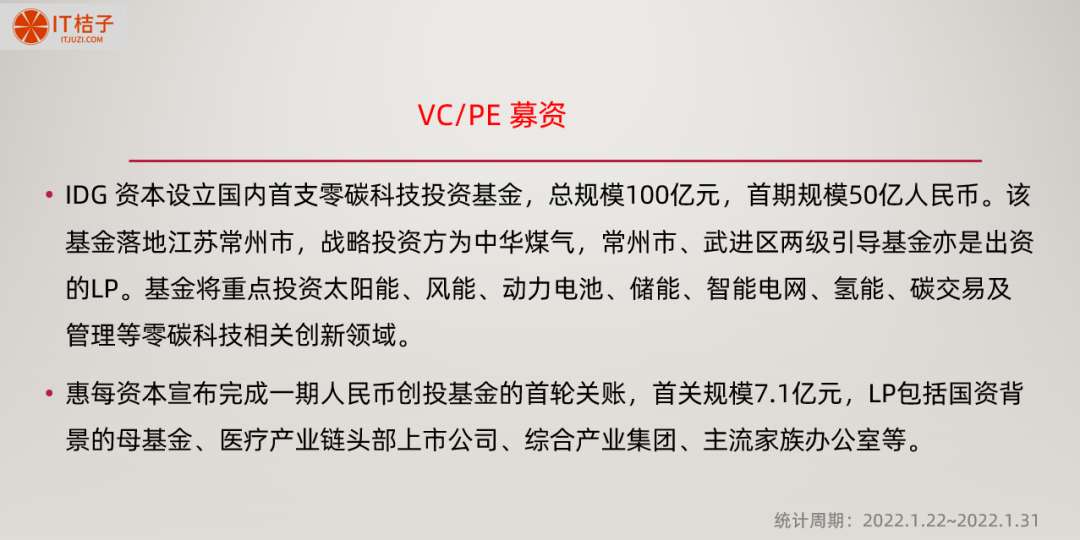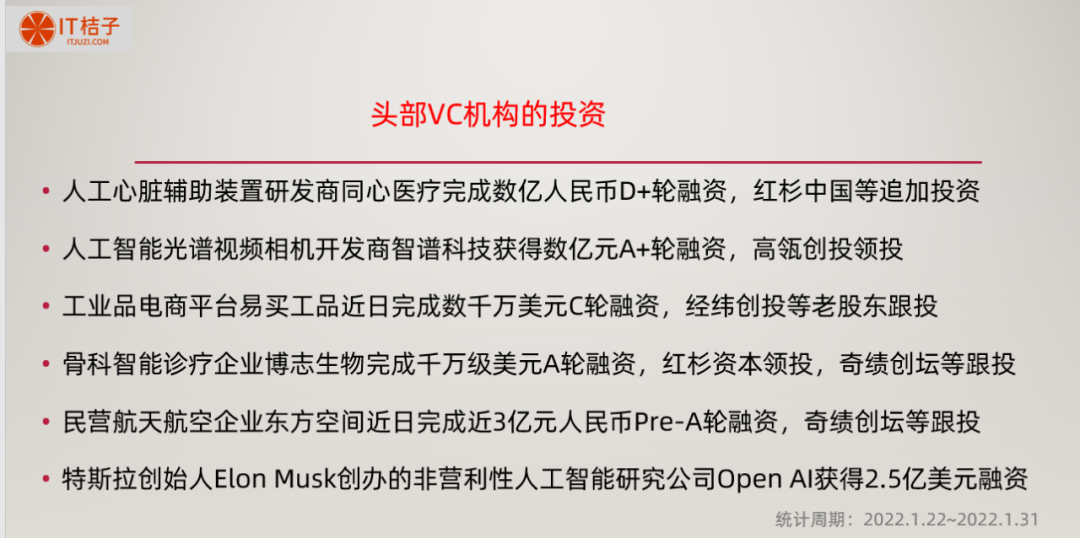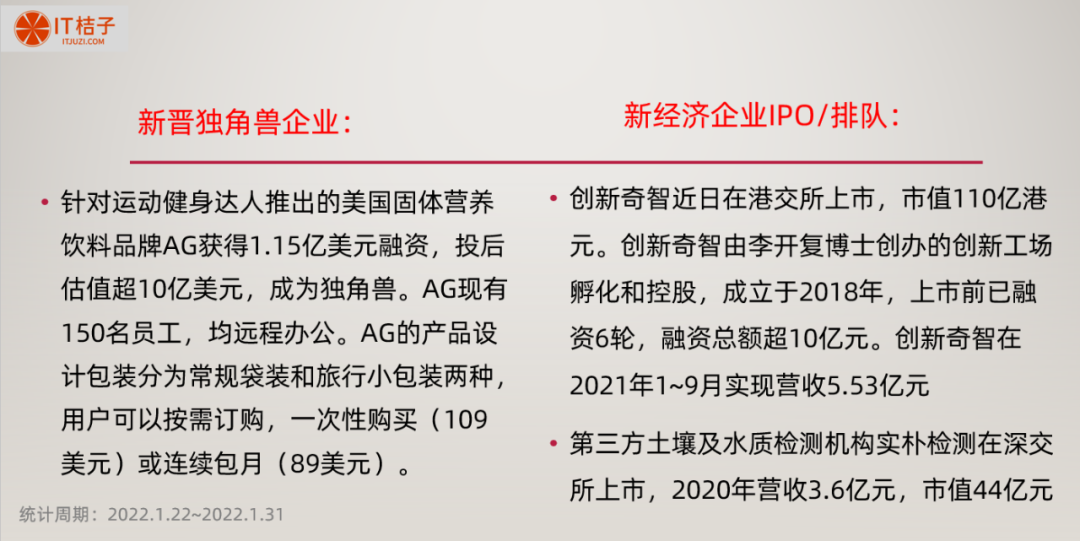 I. Investment actions of giants
1. Tencent invests in games, automobiles, and chip companies
Huixin Technology, an integrated circuit manufacturer and seller with 5G mobile communication technology as its core competitiveness, has recently completed the Pre-A round of financing, and the investor is Tencent , Gaorong Capital.
Siwei Bafang, an animation game developer, recently completed its Series A financing. The investor is Tencent. The main business of Siwei Bafang includes digital cultural and creative software development, animation and game development, sales of toys, animation and entertainment products, and software outsourcing services.
Intelligent car manufacturer Luoke Automobile recently completed a $100 million financing, led by Tencent Group, and investment institution Sequoia also participated investment. Luoke Auto is a new car project founded by the founder of Stone Technology, Chang Jing. It was previously called Stone Auto.
In addition, according to reports, former WM Motor CTO Yan Feng has recently joined Luoke Motors as CEO. Mr. Yan Feng was a senior executive of SAIC Motor and successively served as Deputy General Manager (Deputy CIO) of Information Strategy and System Support Department, Senior Manager of Information System Department of SAIC Motor, Director of PMO, Director of Application Development, etc. He is mainly responsible for the informatization work of automobile enterprises, and has a deep understanding of automobile business, hardware and software. During his tenure as deputy general manager of Zebra (a joint venture between SAIC and Alibaba), Yan Feng was responsible for the company's product design, software development, platform construction, business operations and market branding. After that, he joined WM Motor, and as a founding partner and CTO, he was responsible for the design, R&D and operation of WM Motor's intelligent networking software and hardware products.
2. Baidu and Geely increase capital by nearly US$400 million in Jidu Auto
< p data-pid=" _ Dhuvcyq">Jidu Auto, a smart car company jointly established by Baidu and Geely, recently completed a Series A financing of nearly US$400 million. This round of financing was jointly increased by Baidu and its strategic partner Geely. Financing completedAfter that, Jidu will continue to speed up the process of R&D and mass production. The first concept car of a car robot will be released at the Beijing Auto Show in April 2022, and the mass-produced model will be launched in 2023.
3. ByteDance invests in chip companies and transforming robot companies
Dahuan Robot has recently completed a strategic investment, and the investor is ByteDance. Dahuan is committed to the research and development of metamorphic robots, which are characterized by changes in topology and degrees of freedom during movement, so there are multiple configurations, which can complete multiple tasks and are suitable for multi-task situations.
Juxin Microelectronics completed a series D financing of hundreds of millions of yuan. This round of financing was led by Wuyuan Capital, ByteDance, Juhua Chuanxin and Huaye Tiancheng. , Source Code Capital and other old shareholders have also continued to increase their stakes. Focusing on the design of high-performance analog and mixed-signal chips, Juxin Microelectronics has two major product lines, 3D optics and smart audio. Among them, smart audio amplifiers have been recognized by mainstream mobile phone manufacturers. The raised funds will be used to accelerate the product iteration and commercialization of each product line, increase the density of team talents, and expand the direction of new products and markets.
4. Ant Group invests in Shenzhen Da Intelligent Group, a digital service provider for cultural tourism
< p data-pid="WIGDMYqG">Zhejiang Shenda Intelligent Group has recently completed a strategic investment. The investor is Shanghai Yunxin Venture Capital Co., Ltd., an affiliate of Ant Group. The shareholding ratio is not disclosed; at the same time, China Cultural Industry Investment Fund (Limited Partnership) Exit 10% of the shares. Shenzhen University Intelligent Group was established in October 2006, focusing on providing product innovation, industrial planning and operation services for the entire industry chain of smart tourism, and is committed to developing into a comprehensive service provider of informatization and operation with big data in the tourism industry.
II. Significant domestic and foreign acquisitions worthy of attention
1. The restructuring of Luckin Coffee is completed, and Dazheng Capital is the actual controller
On the evening of January 27, Ruixing Coffee announced that it had received an offer from a buyer group led by Dazheng Capital to purchase a total of about 383 million shares of Ruixing Coffee A from a specific seller. common stock. After the transaction was completed, Dazheng Capital became the controlling shareholder and actual controller of Luckin Coffee, holding more than 50% of the voting rights of the company. The announcement shows that the seller is controlled by affiliates of former Luckin Coffee management members Lu Zhengyao and Qian Zhiya and their families, including Primus Investment Fund, L.P., which is in formal liquidation, Haode Investment Inc., which is in liquidation, and Summer, which is in liquidation. FameLimited. In addition to Dazheng Capital, the members of the buyer group also include IDG Capital and AresSSG Capital Management.
2. Tencent acquires Xinyu Technology
< p data-pid="MyNPL5kT">Recently, a 52.98% stake in Beijing Xinyu Technology Co., Ltd. was acquired by Tencent, and Tencent became the controlling shareholder. The company's main product is Aones. Another ones is a gamified streaming media product for avatar short video production. It is based on the next-generation 3D engine real-time rendering, pinching the body and changing the face, mobile phone camera motion capture technology and short video editing, etc. The powerful combination of functions defines a new generation of 3D scene-based social platforms.
3. Chinese game company 6waves was acquired by foreign investors
Social mobile game agency publisher 6waves was recently acquired by Stillfront for US$201 million, accounting for 100%. Among them, 92% of the transaction amount will be paid in cash, and the remaining 8% will be paid in the newly issued shares of Stillfront. At the same time, in each fiscal year of 2022, 2023, 2024 and 2025, the founders and core personnel of 6waves will receive additional earnings of up to 1.0 times EBITDA, of which 75% will be paid in cash and 25% will be paid in Stillfront stock , but the total amount does not exceed $100 million.
Founded in 2008, 6waves is headquartered in Hong Kong, China, with branches in Beijing and Tokyo, and currently employs 135 people. The game distribution scope of 6waves agent covers Europe, America, Japan, South Korea, Hong Kong, Macao and Taiwan, etc., and is especially good at publishing heavy games in the Japanese market, especially with rich experience in strategy games.
According to the disclosed information, the revenue of 6waves as of September this year, among the four products operated online, "Overlord's Ambition" accounted for 45% of the revenue , "The Battle of the Three Kingdoms" accounted for 24% of the revenue, the Japanese version of "The King of Chaos" accounted for 20%, and "Three Kingdoms Tianwu", which has been online for six years, still continues to contribute revenue, accounting for 10%, from the market point of view, the Japanese market Contribute more than 97%.
4 E-sports game platform Faceit was acquired by the Saudi government for $500 million
E-sports gaming platform Faceit recently announced that it was acquired by the Saudi government-owned Savvy Gaming Group for $500 million. Mainly serving professional gamers, Faceit provides users with a wide variety of gaming competitions, further expanding the eSports ecosystem by providing players of all levels with the opportunity to compete in a competitive environment with their favorite games, as well as providing publishers and third parties Tripartite organizers provide the tools needed to build competitive communities.
Three, VC fundraising vane
1. Funds keep pouring into the primary market, and these institutions get new fundraising
On January 27, Huimei Capital announced the completion of the first round of closing of the first phase of the RMB venture capital fund, with a first closing scale of 710 million yuan. It is expected to complete the final closing in the second quarter, with a total scale of 1.5 billion yuan. Among the LPs invested in this fund, 90% are institutional investors mainly from state-owned funds of funds, leading listed companies in the medical industry chain, industrial groups with comprehensive backgrounds, market-oriented funds of funds, and mainstream family offices. Up to now, the total scale of Huiyi's capital management is nearly 4 billion yuan.
On January 24, China Gas, the strategic investor of IDG Capital Joint Fund, jointly announced the establishment of the first zero-carbon technology investment fund in China , with a total scale of 10 billion yuan. The first phase of the fund is 5 billion yuan, focusing on investing in solar energy, wind energy, power batteries, energy storage, smart grid, hydrogen energy, carbon trading and management and other innovative fields related to zero-carbon technology. The zero-carbon fund will be launched in Changzhou, and will be strongly supported by the two-level guiding funds of Changzhou and Wujin District.
2. What are the first-line VCs investing in?
Recently, artificial heart assist Device developer Tongxin Medical completed the D+ round of financing of hundreds of millions of RMB. This round of financing was jointly led by CICC Qide, PICC Capital, Honghui Fund and old shareholder Lingdao Capital. Existing shareholders Sequoia China, Qingchi Capital, Houxinjian Investment and others will continue to make additional investments, and Jingming Capital and Guozhu Capital will jointly participate.
Tongxin Medical said that the new round of financing will be used to accelerate the commercialization of its self-developed implantable ventricular assist device CH-VAD based on the all-magnetic levitation technology route in China It will promote the establishment and improvement of ventricular assist device (VAD) therapy in China; at the same time, it will also be further used in the overseas clinical layout of Tongxin Medical.
Focus on artificial intelligence spectrumZhipu Technology, which analyzes products, recently announced the simultaneous completion of two rounds of financing of RMB 100 million, the A round and the A+ round. The financing will be used for product research and development and market development in the field of spectroscopy. Based on the three proprietary core technologies of "space-time spectral compact coding sampling", "high-precision decoupling reconstruction algorithm" and "cloud spectral intelligent analysis", Zhipu Technology independently develops and targets important fields such as military, safety supervision, environment, agriculture, and medical care. of new spectral video cameras.
The industrial product e-commerce platform Yimai Gongpin recently completed tens of millions of US dollars in Series C financing, led by Anchor Equity Partners, New and existing shareholders such as Borun Capital, Gaorong Capital, Qiming Ventures, Shunwei Capital, Matrix Partners and Gan Jiawei joined the investment, and Gaohu Capital served as the exclusive financial advisor for this round of financing. Yimai Industrial Products is committed to providing comprehensive retail services for small enterprises. Based on the purchase habits of small users who are price-sensitive, multi-frequency, and small-amount, it provides precision marketing, small-batch quick replenishment and single-item operation services.
Recently, Bozhi Bio, an intelligent diagnosis and treatment company in orthopaedics, completed a series A financing of tens of millions of dollars, led by Sequoia Capital, Shukun Technology, Old shareholders such as Qiji Chuangtan and HKX Fund joined the investment. This round of funds is mainly used for the transformation of scientific research such as intelligent orthopaedic robots and drug-loaded bone implants; the registration and clinical trials of Class III medical devices for the integrated orthopedic diagnosis and treatment machine; the expansion of national marketing channels, etc.
Orient Space, a private aerospace company, has recently completed nearly RMB 300 million in Pre-A round financing, led by Heyu Capital. Yunjiu Capital, Qiji Innovation Forum, Xianfeng Evergreen, Huilong Venture Capital, Dinghe Gundam, Yihe Capital, etc. joined the investment. Dongfang Space is wholly-owned by Shandong Aerospace Technology. Its business scope includes geographic remote sensing information services, satellite remote sensing system application system integration, satellite navigation services, satellite communication services, aerospace engine R&D and manufacturing, rocket launch equipment R&D and manufacturing, etc.
OpenAI, a US non-profit artificial intelligence research company, recently announced that it has received a $250 million Series A financing from an undisclosed investor. The founder of OpenAI is also Tesla CEO and SapceX founder Elon Musk. He focuses on the research and development of intelligent robotics, and has developed the Dactyl system and game robots with machine learning technology; released an experimental meta-learning method, The method is developed from learning the loss function of the agent, which enables fast training on new tasks. In 2019, OpenAI received a $1 billion strategic investment from Microsoft.
Fourth, new unicorn companies
One ​​new consumer company has become a unicorn in the last week.
Functional solid beverage brand AG received Series D financing
According to TC reports, American nutritional beverage brand AG (Athletic Greens) recently announced that it has received $115 million in financing. This round of financing was led by Alpha Wave Ventures. The new investor is e-commerce entrepreneur Mark Vadon. The original investment The investors SC.Holdings and Bolt Ventures continued to follow suit. After this round of financing, AG is valued at more than $1 billion. AG will use the new financing to enhance online and offline distribution, accelerate user growth, and use it for scientific research, new product launches, and geographic expansion.
AG was established in 2011 to provide solid nutritional beverages (similar to protein powders) to athletes and fitness enthusiasts. AG specially designed two kinds of packaging, one is a conventional bag, and the other is a small travel package. The product is priced at a one-time purchase price of $109/month/30 packs, a continuous monthly purchase price of $89/month/30 packs (once a day), or $169/month/60 packs (twice a day). The product mainly provides vitamins, minerals and nutrients from whole food sources, does not contain eggs, dairy products, nuts, etc., and is vegan-friendly.
In terms of financing, on July 21, 2021, AG publicly obtained its first external financing, led by private equity firm SC.Holdings, and F1 driver Lewis Hamilton (Lewis Hamilton ), gymnast Shawn Johnson (Sean Johnson), Hollywood actor "Uncle Wolf" Hugh Jackman (Hugh Jackman), supermodel Cindy Crawford (Cindy Crawford), musician Steve Aoki (Steve Crawford) Aoki) is also an investor in this financing. The exact investment amount was not disclosed.
In 2021, AG's revenue growth will be close to 200%, and customer growth will exceed 100%. Currently, AG's employees are working remotely, and it is expected to triple from 150 employees this year.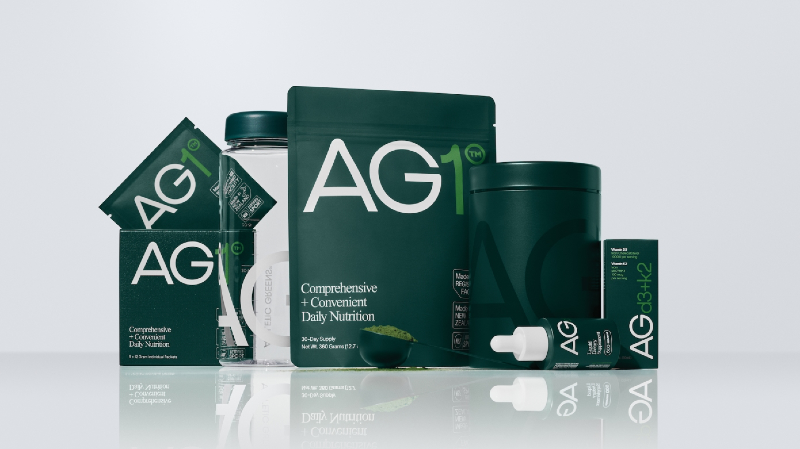 V. IPO queue/listing dynamics of new economy enterprises
1. Chuangxinqizhi was listed on the Hong Kong Stock Exchange
On January 27, Qingdao Chuangxinqizhi Technology Group Co., Ltd. (referred to as "Chuangxinqizhi") Officially listed on the main board of the Hong Kong Stock Exchange, the current stock price is 19.7 Hong Kong dollars, and the total market value is about 11 billion Hong Kong dollars.
Founded in March 2018, AInnovation is an enterprise-level AI solution provider. It has released ManuVision machine vision intelligence platform, MatrixVision edge video intelligence Platform, Orion Distributed Machine Learning Platform. At the application level, Chuangqizhi chooses to focus on the three industries of retail, manufacturing and finance, serving Yonghui, Yuanmaishanqiu, Carlsberg, Hon Hai Technology, XCMG Information, MCC CCID, Postal Savings Bank, China Everbright Bank, Minsheng Bank and many other industry benchmark customers. But from a practical point of view, manufacturing and financial industry customers account for a larger proportion of the company.
In terms of financial reports, the prospectus shows that from 2018 to the first September of 2021, the company's revenue was 37.208 million yuan, 229 million yuan, and 4.62 million yuan respectively. RMB 100 million, RMB 553 million, and net profits were RMB -71.174 million, -248 million, -360 million, and -438 million, respectively. In 2018 and 2019, the number of company customers was 50 and 150 respectively. In 2020, the number of customers increased to 157, of which manufacturing customers accounted for 93.
According to Frost & Sullivan data, if revenue is used as the statistical standard, as of December 31, 2020, in the Chinese enterprise AI solution market, Chuangqizhi It ranks third with Megvii Technology, with a market share of 0.3%. SenseTime ranked first with a market share of 1.0%. Fourth Paradigm ranked second with a market share of 0.6%.
In addition, from 2018 to the first nine months of 2021, the gross profit margin of Innovation Qizhi was 62.9%, 31.3%, 29.1% and 30.9% respectively. The company's gross profit margin is much lower than that of its peers. In 2020, Shangtang Technology's gross profit margin is 70.57%, and Fourth Paradigm's gross profit margin is 45.6%.
In terms of equity, since its establishment more than three years ago, Chuangxinqizhi has gone through multiple rounds of financing. Before the listing, the largest shareholder was Innovation Works, with a shareholding ratio of 28.2474%, and the founder Xu Hui was the second largest shareholder with a shareholding ratio of 9.9559%.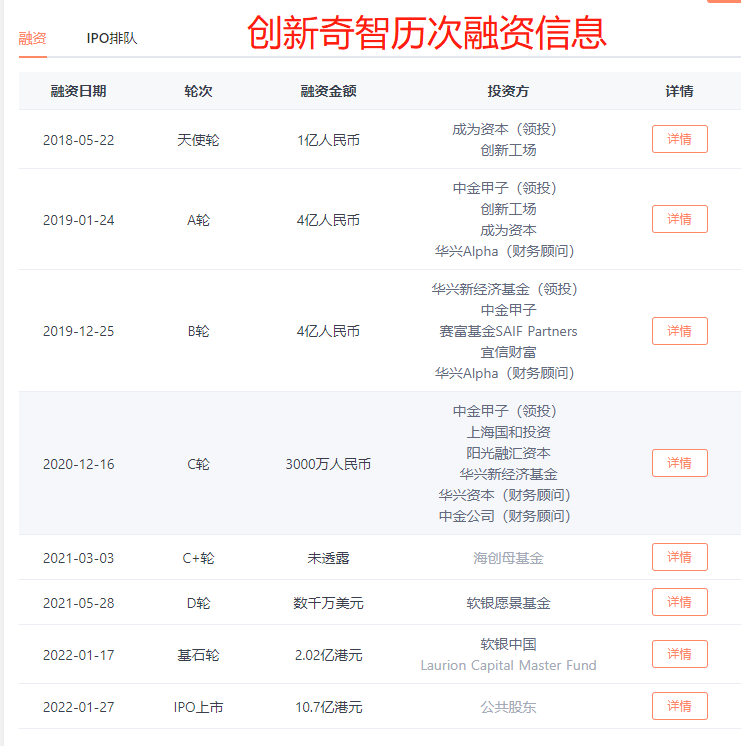 2. The third-party testing group Shipu Testing was listed on the Shenzhen Stock Exchange
On January 28, the real Pu Detection Technology (Shanghai) Co., Ltd. (hereinafter referred to as "Pure Detection Technology"") was issued and registered on the Growth Enterprise Market, the current stock price is 36.45 yuan, and the total market value is about 4.4 billion yuan. The funds raised from this new share issuance are about 402 million yuan, and will be used for the following projects: Zhongchun Road New Laboratory Project, R & D Information Center Construction projects and replenishment of working capital.
ShiPu Testing is an institution that has been engaged in testing related to soil and groundwater pollution prevention and control earlier in China. Since its establishment in 2008, the company has About 14 years of testing experience. He has established testing laboratories in Nanjing, Shijiazhuang, Guangzhou, Chengdu, etc., covering environmental testing items such as soil, water quality, gas, solid waste, agricultural food, and dioxin.
In terms of revenue, Shipu Testing's operating income in 2018, 2019, and 2020 were 178 million yuan, 298 million yuan, and 360 million yuan respectively; Profits are 23.2945 million yuan, 70.3288 million yuan, and 47.8179 million yuan respectively; among which soil and groundwater monitoring accounts for 99.6% of the revenue. From January to September 2021, the company achieved operating income of 265 million yuan, a year-on-year increase of 34.66% %; the net profit attributable to shareholders of the parent company was 21.2282 million yuan, a year-on-year increase of 6.36%.
Disclaimer: The copyright of this week's newspaper is owned by IT Juzi, and it may not be reproduced in any form without authorization. Once found, IT Juzi has the right to request corrections or directly unilaterally take all necessary measures to eliminate or mitigate misconduct to IT Juzi. , third parties, Internet services or social public interests.

For reprinting, please leave a message at the end of the article.
p>
Recommended reading
Baidu invests in Tsinghua intelligent manufacturing enterprises; Tencent leads the investment VC/PE news
Tencent participates in smart home investment of 1 billion yuan; Sanlitun online celebrity beauty collection store becomes unicorn | VC/PE Important news

Bytes invests in XR glasses company; Tencent AI executives resign and start a unicorn project | VC/PE news

Byte/Meituan has invested in autonomous driving companies; AMD executives have left their entrepreneurial projects and become unicorns | VC/PE news
Teng News Investment in African K12 Online Education Company; T11 Fresh Food Supermarket Promoted to Unicorn | VC/PE News

Tencent, Meituan and Sequoia jointly invested in a burger Shop; XSKY Star Tianhe is promoted to Unicorn | VC/PE Highlights
Article Url:https://www.liaochihuo.com/info/676313.html
Label group:[technology] [invest] [VCs] [financing company] [robot] [investment capital] [pe investment] [vc investment] [unicorn]