ToB Industry Headlines (WeChat ID: wwwqifu)
[ToB Weekly] is a ToB field event review column launched by [ToB Industry Headlines] . The main inventory is the investment and financing, personnel changes and related major events in the ToB industry within a week.
01 Investment and Financing
A total of 40 financings occurred in the domestic ToB field last week, mainly in 10 fields, of which The number of financings in the field of data artificial intelligence is the largest, with a total of 10, representing companies such as Tuya Smart, Jifei Technology, etc.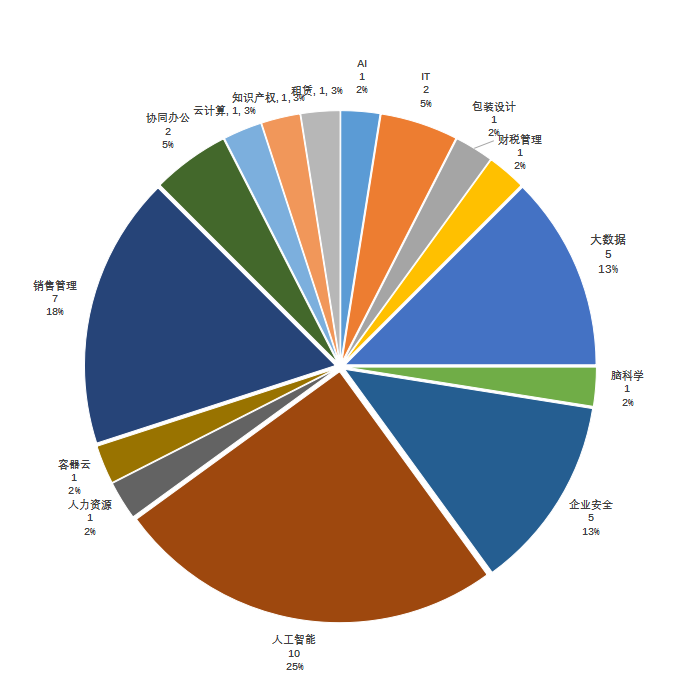 Last week, the highest amount of financing in the ToB field was the 2.632 billion RMB strategic investment in Aerospace Cloud. The investor was China Merchants Bureau Capital ICBC Investment Shenzhen Venture Capital.
It is understood that Aerospace Cloud Network is an industrial Internet service platform, with "information exchange, resource sharing, capability coordination, open cooperation, mutual benefit and win-win" as the core concept, and "Internet + intelligent manufacturing" as the core concept. The development direction is to provide productive services covering the entire process and all elements of the industrial chain as the main line, with technological innovation, business model innovation and management innovation as important strategic measures, relying on the strong scientific and technological innovation and manufacturing resources of Aerospace Science and Industry, open and aggregate society resources, and build an aerospace cloud network ecosystem that is characterized by "the combination of manufacturing and service, the combination of online and offline, and the combination of innovation and entrepreneurship", adapting to the Internet economic format and new industrial system.

02 Personnel change
Announced that Zhang Qi was promoted to the company's global senior vice president
March 15th, Microsoft announced through Microsoft R&D official Weibo that the executive vice president of Microsoft (Asia) Internet Engineering Institute Zhang Qi was promoted to senior vice president of Microsoft Corporation.
According to public information, Zhang Qi is currently the executive vice president of Microsoft (Asia) Internet Engineering Institute and chairman of Microsoft Mobile Lianxin Internet Service Co., Ltd., responsible for Microsoft's Internet business and artificial intelligence platform in Asia Team, leading technology product innovation, serving Microsoft's global business and users.
Faraday Future appoints Mr. Chen Xuefeng as CEO of FF China, speeding up China-US dual-home strategy in an all-round way
The global shared intelligence headquartered in California, USA Faraday Future (FF), a travel ecosystem company, announced today that Mr. Chen Xuefeng has officially joined as CEO of FF China, reporting directly to Dr. Carsten Breitfeld, FF Global CEO. Mr. Chen Xuefeng will be fully responsible for all FF China related business including related project implementation, production strategy, localized product development and user ecological construction. In addition, Mr. Chen Xuefeng will also become a global partner of FF.
Mr. Chen Xuefeng has nearly 20 years of experience in the automotive industry. He is known as "the youngest Chinese head of a joint venture car company" in the automotive industry, and is a rare leader in China's automotive industry. Talents, with rich experience in comprehensive enterprise management such as the localization of luxury car brands, the construction and commissioning of production bases, and production operations.
Liu Yunli quits the legal representative of Sina Payments affiliated company and is replaced by Li Peng
MarchIt was reported on the 17th that Beijing Sina Payment Technology Co., Ltd., a subsidiary of Sina Corporation, had an industrial and commercial change, and its legal representative was changed from Liu Yunli to Li Peng. At the same time, the directors (council members), managers and supervisors were changed, Deng Qingxu, Gu Haiyan and Zhang Yi resigned, and Li Peng, Wang Han and Zhang Lei were added.
Jidu Auto, a joint venture between Baidu and Geely, and former Uber China executive Luo Gang confirmed to join
Du Motors is about to have a new executive. It is reported that Luo Gang, the former CEO of Airbus China Innovation Center, has decided to join Jidu Automobile as an important position. In this regard, as of press time, Baidu has not given a clear response.
It is reported that Luo Gang holds a bachelor's degree in automation from Tianjin University and a master's degree in business administration from London Business School. He used to work for Uber China and served as the head of the Southern Region. He spent nearly three years in charge of building the Uber China business system. After Uber China was acquired by Didi in 2016, he joined Didi and worked in the aftermarket department. In July 2017, Luo Gang joined Airbus China and reported to Paul Eremonko, Chief Technology Officer of Airbus. During his tenure, one of his important tasks was to lead the launch of the Airbus China Innovation Center in Shenzhen, which is also the first innovation center established by Airbus in Asia after the A3 Innovation Center in Silicon Valley.
Pinduoduo Chairman Huang Zheng resigned and Chen Lei took over.
On March 17th, Pinduoduo announced its financial report and Pinduoduo Chairman Huang Zheng Published the 2021 annual letter to shareholders, announcing that the board of directors has approved his resignation as chairman, and the chairmanship will be handed over to the current CEO Chen Lei. It is reported that Huang Zheng's 1:10 super voting rights will also be invalid, and the voting rights of shares under his name will be entrusted to the Pinduoduo board of directors to make decisions by voting. Huang Zheng made a clear commitment that the stocks in his personal name will continue to be locked in the next three years and will not be sold.
03 major industry events
Tezign successfully held the first DAM-focused industry summit in mainland China and completed a $100 million Series C financing
On March 18, Tezign successfully held the first DAM-focused industry summit in mainland China
An industry summit focusing on DAM (Digital Asset Management), the conference invited leading brands such as Unilever, Alibaba, Starbucks, A. O. Smith, etc., and more than 200 content technology leaders gathered at DAM Con. DAM and a variety of application scenarios were released at the conference, and shared with industry insiders and academic celebrities.
At the same time, Tezan announced on March 19 that it had completed the C2 round of financing led by Temasek, Unicorn Capital Partners, C Ventures, SoftBank China Capital and All old shareholders (Sequoia China, Hearst Capital, Linear Capital, Jingya Capital, Xinyuan Capital, etc.) followed suit. Mumian Capital acted as the exclusive financial advisor for the Series C financing. After this round of financing, Tezan will invest more in products, R&D, data and underlying technologies, and will also expand its business team and set up a South China office.
Qingyun Technology was listed on the Science and Technology Innovation Board and became the "First Share of China's Hybrid Cloud"
On March 16, Qingyun Technology was officially listed on the Science and Technology Innovation Board , the stock code is 688316, and it has become the "first share of China's hybrid cloud", with an opening price of 76 yuan.
Founded in 2012, Qingyun Technology is an enterprise-level ICT manufacturer and digital solution provider with leading technology and broad cloud computing service capabilities. With software definition as the core, it provides enterprises with neutrality, reliability and excellent performance. , Flexible and open cloud products and services.
Founded 9 years ago, Qingyun Technology now has "full-stack, all-state, and all-domain" cloud product and cloud service delivery capabilities in all dimensions: at the service level, it has formed a vertical spanning IaaS, PaaS and application platform. The full-stack cloud architecture covers many brands of ICT services; in terms of delivery form, the unified technical architecture realizes the consistent delivery and management of "public-private mixed trust"; in terms of scene depth, it integrates cloud, network, edge and terminal integration capabilities , to achieve global intelligence and data interconnection.
Decibeitong raised $92.5 million in Series C financing, led by Hillhouse and Tencent
On March 16, the enterprise expenditure management platform Decibei Pass announces completion of $92.5 millionThe Gold Series C financing was jointly led by Hillhouse Ventures and Tencent, with the participation of old shareholders IDG Capital, Ribbit Capital, Eight Roads Capital and Glade Brook Capital. Yuanyi Capital acted as the exclusive financing advisor for this round. It is worth noting that the amount of financing in this round of decibeltong exceeds the sum of the previous four rounds, and the cumulative amount of financing in history exceeds 1 billion yuan.
SaaS service provider "Jijia" completed 30 million Pre-A round of financing
According to reports, it is committed to providing digital management for cross-border e-commerce enterprises The solution's SaaS service provider "Jijia" completed a Pre-A round of financing of 30 million yuan. This round of financing is led by Yunqi Capital, followed by Zhuopu Investment and strategic resources. It will be used for market system construction, product and service upgrades, and high-end talent introduction.
Evergrande Automobile: Jointly develop vehicle intelligent system with Tencent's "Wutong Automobile Alliance"
It is reported that Evergrande Automobile issued an announcement saying, The company signed an agreement with Beijing Wutong Auto-Link Technology Co., Ltd., a subsidiary of Tencent Holdings Co., Ltd., to invest 60% and 40% respectively to establish a joint venture company to jointly develop an industry-leading vehicle intelligent operating system with independent intellectual property rights. The two parties will leverage their respective advantages in new energy vehicle R&D and manufacturing, artificial intelligence, big data, cloud computing, travel ecology and other fields to jointly build a world-leading smart car ecosystem.
Zhaopin Recruitment responds that the user's resume is resold: the CEO is in command for follow-up rectification
It is reported that in response to the situation that the user's resume exposed at the CCTV 3.15 party has flowed into the black market, all Zhaopin, one of the companies involved, responded on its official Weibo account that it attaches great importance to it and has set up a special team immediately to investigate and deal with relevant content. I am sorry for the inconvenience caused to users. Some unscrupulous companies resell the obtained user application information, resulting in the leakage of user information. Zhaopin has taken corresponding measures against the illegal behavior, and the CEO is in charge of the follow-up rectification work of the safety committee.
Botech takes a stake in "Yundao Zhizao", which is a simulation platform developer
Recently, Beijing Yundao Zhizao Technology Co., Ltd. Change, the original shareholder Zhongguancun Development Group Co., Ltd. withdrew, and Hubble Technology Investment Co., Ltd., a wholly-owned subsidiary of Huawei Investment Holdings Co., Ltd., was added as a shareholder. Beijing Yundao Zhizao Technology Co., Ltd. was established in March 2014 with a registered capital of about 41.87 million, and its legal representative is Qu Kaifeng. Its business scope includes basic software services; application software services; data processing; software development; computer system services, etc.
The final offer price of the Hong Kong IPO is determined to be HK$252.00 per offer share
Recently, Baidu announced on the Hong Kong Stock Exchange that the international offering and the Hong Kong public offering The final offer price of the offering has been determined at HK$252.00 per offer share. The Company's Class A ordinary shares are expected to start trading on the main board of the Hong Kong Stock Exchange on March 23, 2021 under the stock code "9888".
Kingsoft Cloud: Revenue in the fourth quarter of 2020 was 1.92 billion yuan, a year-on-year increase of 63.8%
Kingsoft Cloud released its fourth quarter 2020 financial report. The financial report shows that in the fourth quarter of 2020, Kingsoft Cloud's revenue was 1.92 billion yuan, a year-on-year increase of 63.8%. Among them, public cloud business revenue increased by 44.1% year-on-year to 1.36 billion yuan; enterprise cloud business revenue increased by 143.1% year-on-year to 540 million yuan. In the quarter, Kingsoft Cloud's Non-GAAP net loss was 174.3 million yuan, compared with a loss of 254.6 million yuan in the same period last year, which continued to narrow year-on-year.
-END-
Article Url:https://www.liaochihuo.com/info/676296.html
Label group:[financing] [Baidu] [Pinduoduo] [Huang Zheng]