Tencent, which earned 226 million a day in the fourth quarter, saw its share price increase by 115% in 2017
On March 21, Tencent released its 2017 annual report.
On March 21, Tencent released its 2017 annual report. The annual net profit was 71.51 billion yuan, a year-on-year increase of 74%; the annual revenue was 237.76 billion yuan, a year-on-year increase of 56%. Among them, the fourth quarter net profit was 20.8 billion yuan; revenue was 66.39 billion yuan.
The performance is still very bright. However, in the past two days, Ping An of China and Geely Automobile have successively released bright financial reports, but the stock price has fallen. What will happen to Tencent tomorrow?
According to media statistics, in the past three years, 15 financial reports have been released, and 13 stocks have risen sharply. In 2017, Tencent rose by 115%, and its share price rose from HK$189 to HK$406.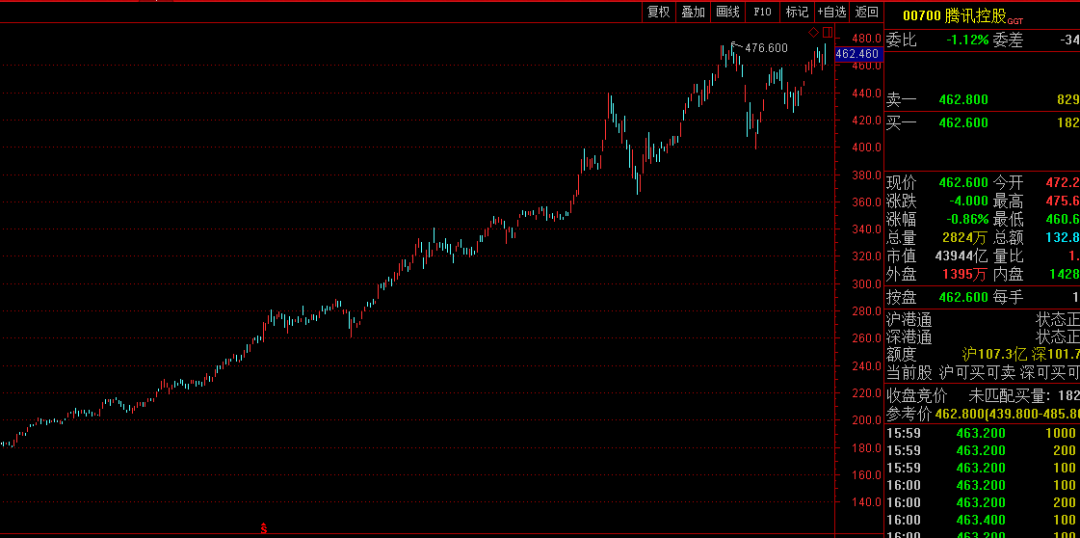 Tencent Holdings (stock price trend
Having said that, let's take a look at Tencent's 2017 performance first. What are the highlights of the performance? In addition, there are a lot of good things in today's performance briefing.
What are the highlights of Tencent's performance in 2017?
Let's take a look at some data first :
1. Daily earnings of nearly 200 million yuan
In 2017, Tencent's annual profit was 71.51 billion yuan, which is equivalent to 196 million yuan in one day.
2. WeChat monthly active accounts exceeded 1 billion
In 2017, the combined monthly active accounts of WeChat reached 988.6 million, a year-on-year increase of 11.2%. After the Spring Festival, the combined monthly active accounts exceeded 1 billion. (But , QQ user data has declined significantly. In 2017, QQ monthly active accounts were 783 million, a year-on-year decrease of 9.8%.)
3. Launched 580,000 small programs
Although Tencent did not mention it It is popular in the circle of friends, but said that the launch of mini-games at the end of last year has further boosted the popularity of mini-programs. As of January 2018, Tencent has launched 580,000 mini-programs with more than 170 million daily active accounts.
4. The daily revenue of Tencent Games is 268 million yuan
In 2017, Tencent's online game revenue increased by 38% to 97.883 billion yuan, with an average daily revenue of 268 million yuan.
5. The number of subscription users of Tencent Video exceeded 56 million
Tencent Video's mobile daily active accounts exceeded 137 million in the fourth quarter of last year, and the number of subscribers at the end of last year exceeded 56 million.
In terms of business:
1. The revenue of games has reached 100 billion yuan, and continues to open up
In the fourth quarter of last year, Tencent's online game revenue increased The speed has slowed down from the previous month. However, throughout the year, the game business is still very profitable, and the revenue scale is reaching 100 billion yuan, accounting for 40% of Tencent's total annual revenue.
2017 In 2018, Tencent's online game revenue increased by 38% to 97.883 billion yuan, with an average daily revenue of 268 million yuan.
Talking about the online game business, Tencent's financial report first mentioned "the leading actress", "The King" Glory".
"We continued to maintain strong growth in both smartphone and PC games during the year. On the mobile side, our self-developed multiplayer online tactical competitive game "Honor of Kings" achieved mass popularity , has become the most popular smartphone game in China (by daily active accounts). The game consistently ranks first in the gross-grossing rankings of all app stores in China. With the launch of the overseas version of the game "Arena of Valor" in Southeast Asia, we Some initial successes. We further enhanced our distribution cooperation as the preferred distribution partner in China as a domestic and international smartphone game developer Partner leadership. "
Last year's hot "chicken-eating game"Although it lags behind NetEase in terms of game launch speed, Tencent still gives a high evaluation to its two PUBG Mobile games. "PUBG Mobile has become the survival shooter game with the highest daily active accounts so far, and PUBG: All Forces has also performed well."
New game Category: Tencent launched "QQ Speed ​​Mobile Games" in December last year, and its daily active accounts exceeded 20 million and achieved steady income.
On the whole, Tencent's game segment has maintained a good growth in both mobile and pc. Mobile smartphone game revenue increased by 59% year-on-year to approximately RMB 16.9 billion. Mainly benefited from existing games such as "Honor of Kings" and new games such as "Contra: Homecoming", "Dragon Nest" and "Classic Tianlong Mobile Games".
The growth rate of traditional PC games is also good. PC game revenue increased by 13% year-on-year to about 12.8 billion yuan. Dungeons and Fighters and League of Legends contributed to the revenue growth.
Tencent also stated in its financial report that due to the transfer of users to mobile terminals, PC game revenue may face pressure. The company will organize professional e-sports competitions and promote explosive new games (such as "Jedi"). Survival", "Fortress Night"), etc., and explore innovative game types such as "Deep Sea Trek", improve core user engagement, and develop PC game franchises.
2. Income from payment-related services and cloud services grew the fastest
Although the game business is very profitable, in terms of business, [other business income] Some are the fastest growing. Last year's revenue increased by 153% year-on-year to 43.338 billion yuan. The scale of this part of the revenue has surpassed [Internet advertising revenue].
The increase in [Other business income] mainly reflected the increase in payment-related services and cloud service income.
Payment related:
Social transactions (WeChat red envelopes): The amount of red envelopes issued decreased, but the transaction volume increased year-on-year, and the transfer transactions continued to grow.
Commercial transactions: The offline transaction volume more than doubled year-on-year.
Wealth management platform (Wealth Management): As of the end of January 2018, the total asset management scale exceeded 300 billion yuan. It is worth noting that this is the scale of assets under management of Liaitong, which has been included in Tencent's financial report for the first time.
Guarantee-free consumer loan business (Weidai): As of the end of 2017, the loan balance under management exceeded 100 billion yuan.
Cloud Services:
Tencent Cloud continues to grow rapidly. Maintain the market-leading position in the vertical field of cloud services (including online games and video cloud services). Artificial intelligence is being used in new areas such as healthcare and translation. Including the launch of an artificial intelligence-assisted diagnosis and treatment imaging product called "Tencent Miying", which is currently used in nearly 100 hospitals in China, and the accuracy of the product for esophageal cancer diagnosis is over 90%. The AI ​​Lab has launched an AI-assisted translation software. Launched a smart retail strategy to empower offline retailers with the help of technical capabilities such as payment, cloud, data analysis and artificial intelligence technologies.
3. Tencent's investment income is eye-catching
Last year, a number of Tencent-based companies went public one after another. Zhongan Online (62.2, -2.30, -3.57%) was listed at the end of September; China Literature Group (73.3, -2.50, -3.30%) was listed in October; Sogou was listed in November, Yixin Group (5.03, -0.34, -6.33) %) listed. This investment has also become an important contributor to Tencent's high profit growth rate. After tasting the sweetness, Tencent wrote a "more aggressive investment strategy" into its 2018 outlook.
According to Tencent, as of the end of 2017, "other net income totaled RMB 20.140 billion, mainly due to the capital activities of certain investment companies (such as Yixin, Netmarble, Sea, ZhongAn Online and Sogou). IPOs), fair value gains from increased valuations of certain investments (in verticals such as bike-sharing, healthcare and fintech), and subsidies and tax rebates."
4. Salary per capita: 65,000 per capita monthly salary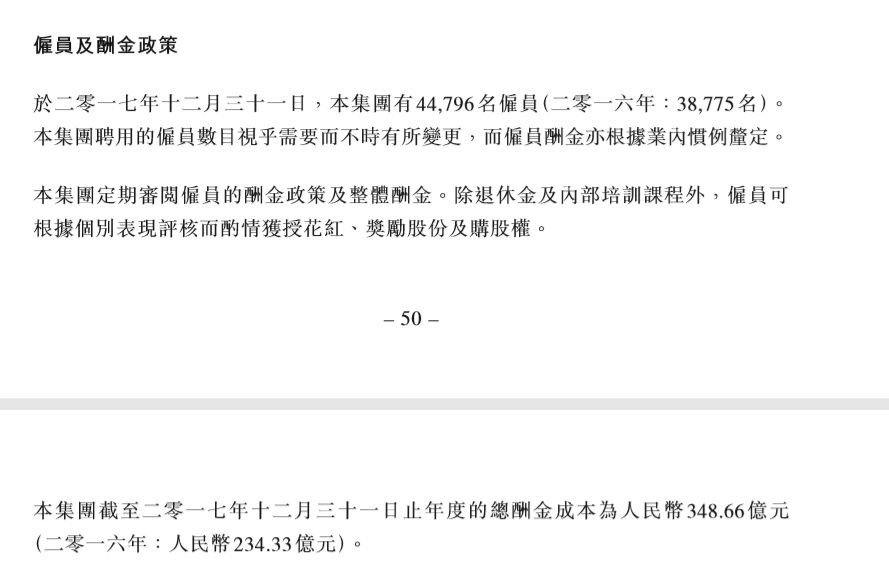 As of 2017 In the year, there were 44,796 Tencent employees, and the total salary paid by Tencent to employees reached 34.866 billion yuan, and the average monthly salary of each employee was 65,000 yuan.
But often averages don't reflect the truth, From Lagou.com, you can roughly understand the salary that an ordinary "programmer" in the background can get. Who raised the average?
You can get a glimpse from Tencent's 2015 annual report:
Tencent's 2015 annual report shows that Tencent ranked among the top 5 highest paid individuals in 2015. , except for one director, one of the remaining four people has an annual salary of 274 million Hong Kong dollars, or about 220 million yuan, that is, an average daily salary of 760,000 Hong Kong dollars, equivalent to 610,000 yuan, see? Knowledge is money, and now I realize it, this is simply a new generation of "worker emperors".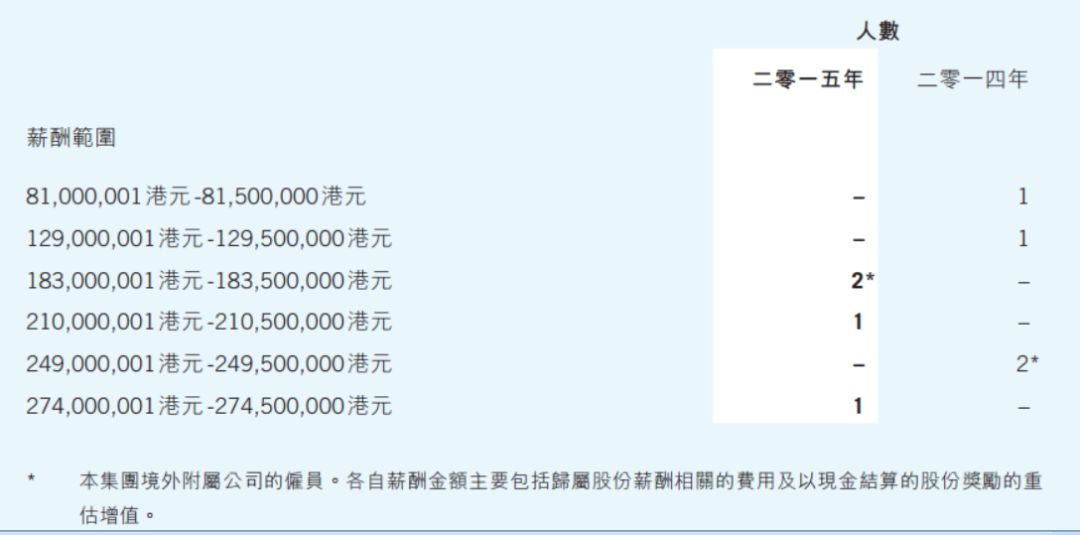 Tencent looks forward to 2018: will be more aggressive
Tencent gives Based on its 2018 outlook and strategy, it intends to adopt a more aggressive investment strategy to enhance its long-term competitive advantages in the fields of online video, payment-related services, cloud services, artificial intelligence technology and smart retail.
Specific development initiatives include:
- Strengthening social platforms to encourage users to share, strengthen connections with users' daily lives, and facilitate collaboration with ecosystem partners
- Increase the popularity of games by upgrading existing game content and adding innovative new games;
- Investing in digital content including long and short video content , to further expand the subscriber base;
- Expand the usage scenarios of payment-related services to promote the use of merchants and users, and develop Internet financial services with partners;
- Expand Cloud infrastructure and strengthen talent recruitment to provide customers with better services;
- Invest in artificial intelligence technology applied to advertising targeting, recommendation algorithms and medical treatment;
- Implementation Smart retail strategy, empower offline retailers with technical services.
What will the performance presentation say?
Today, Tencent also held a performance briefing, attended by 4 people, namely Chairman of the Board and CEO Ma Huatengshou, President Liu Chiping, Chief Strategy Officer James Mitchell, Chief Financial Officer Luo Shuohan.
Celebrities like Ma Huateng appeared on the stage. Before and after the meeting, many people came forward to take pictures frantically. During the meeting, as long as he raised his head to speak, there would be a crackling sound of the SLR camera shutter. Almost all the photojournalists sat in the row. After the meeting, Ma Huateng exchanged business cards with some reporters and left quickly with the help of the staff. Leaving Liu Chiping alone to continue to communicate with reporters, Liu Chiping kept distributing business cards, answered questions patiently, and had a gentle attitude.
During the meeting, it was mainly Liu Chiping who answered various questions, unless the questioner pointed out that Ma Huateng should answer, Ma Huateng briefly supplemented Liu Chiping's answer on smart retail, and Ma Huateng answered the question patiently: Regarding how to prevent addiction to games, he also answered the question of blockchain and how he viewed the competition with Alibaba.
Liu Chiping responded to his views on whether the performance has support for the stock price. He said that he does not pay much attention to the stock price. With a good product, team and culture, and the correct strategic direction, the performance will naturally be good, and the stock price will also be supported. When reporters ask this question, executives will answer this way. But there are also stocks with sluggish stock prices, and executives will say they are undervalued.
Tencent has always been a hot stock, and its stock price has risen sharply. Liu Chiping has received a lot of equity incentives, and he has also reduced his holdings and cashed out a lot.
The current hot spot in the market is CDR. Ma Huateng said that if conditions are ripe and other conditions allow, he will consider issuing CDRs.
Liu Chiping also mentioned this topic when he talked about the spin-off of subsidiaries for listing. He believes that some IPOs of invested companies are suitable for domestic and some overseas. Of course, CDR is the best of both worlds. He said that there are very few companies to be listed by spin-off. Last year, only China Literature was listed. There are certain expectations for the listing of the music sector. Although these businesses are controlled, they have also undergone mergers and acquisitions, and the shareholder structure is also suitable for listing separately. In addition, Tencent has invested in many companies, accounting for The proportion of shares is not small, and the listing of these companies is dominated by themselves.
Another hot topic, blockchain, is also involved. Ma Huateng said that blockchain is a hot topic, and everyone is talking about it. Many game companies are issuing digital currency. Anyone can issue currency. Dangerous things, Tencent will not send. He believes that the blockchain technology is very innovative and can be used in aspects such as traceability of bills. It will take a while to see how it will develop.
Games are one of the most asked topics, This is naturally related to Tencent's status as the king of games, including the relationship between mobile games and PC games, the progress of the introduction and review of chicken-eating games, and the space for games. It takes a lot of time to protect teenagers. He said that this is a project he personally grasped. The current anti-addiction protection is mainly on the PC side, and the mobile phone side has not been implemented much. Tencent launched the anti-addiction system last year, and children under 12 can only play every day. One hour, no more play after 9pm, no trumpet to escape addiction.
Ma Huateng was also asked about the competition with Alibaba. This question has been asked many times by reporters before. Ma Huateng believes that each company has its own advantages, otherwise it will not survive to this day and can maintain its own characteristics. , what Tencent wants to do is to provide users with tools.
Regarding smart retail, Chiping Lau said that Tencent does not control retailers, but only provides support solutions for retailers, and the retailers are still operating. After that, Ma Huateng added, "We don't do retail, we don't get involved in business, we only do business. Do hydropower and provide connectivity." This is the standard answer, and Tencent has made similar statements many times before.
Liu Chiping stated that he would increase investment in mobile payment, saying that the purpose of Tencent's development of mobile payment is to develop basic services to make it more convenient for user groups and merchants to use, and there may be some income, but R&D investment and promotion are required. The cost is more, and the overall value of mobile payment is very large. Tencent will increase investment this year to maintain a more stable position. He talked about the slow development of mobile payment in the Hong Kong market due to the lack of a unified interface. The Hong Kong government is promoting an interface that can be used by the entire industry, which will be beneficial to the development of the industry.
Mobile payment is conducive to consolidating Tencent's platform advantages. Liu Chiping said that social software is basically saturated in China, but there is still room for extended services based on it, such as mobile payment, such as small games. Last year, the number of QQ monthly active accounts reached 783 million, a year-on-year decrease of 9.8%.
Tencent has repeatedly expressed its position as a tool to help partners grow, and has also made a lot of efforts to this end. For example, Tencent's open platform is a big stage provided by Tencent for developers. Developers can use various OpenAPIs provided by Tencent's open platform to develop excellent and creative social games and practical tools, and bring huge traffic and income to applications through Tencent's social platform. Tencent Maker Space unites forces from all walks of life, integrates Tencent's internal resources, and builds an all-factor incubation and acceleration crowd-creation platform with the help of the Double Hundred Plan, Maker Competition, Qingteng Entrepreneurship Camp, Entrepreneurship Base and other entrepreneurship boosters to help entrepreneurs realize entrepreneurship. Dream, there have been many successful cases.
The following is the core data of Tencent's performance in the fourth quarter and last year. Tencent's revenue in the fourth quarter of last year was 66.392 billion yuan, a year-on-year increase of 51% and a month-on-month increase of 2%; net profit was 20.797 billion yuan, a year-on-year increase of 98%. A month-on-month increase of 16%.
In 2017, Tencent's revenue was 237.760 billion yuan, a year-on-year increase of 56%, and its net profit was 71.51 billion yuan, a year-on-year increase of 74%. Tencent's growth rate last year was faster than the previous year, and its net profit in 2016 increased by 43% year-on-year.
Tencent's revenue and profits are already so high, and it is truly amazing that Tencent can maintain such a good performance. Business, etc., performance will not be involved at all.
This is a briefing session that is not mixed with emotional colors. The executives answer questions as accurately and practically as engineers, without making mistakes. (e company)
Article Url:https://www.liaochihuo.com/info/676273.html
Label group:[Mobile Internet] [Tencent] [Tencent share price] [Ma Huateng] [Liu Chiping]