Good morning.
Today is still a working day, everyone cheers up and welcomes work. Last night, the official Weibo of Xiaomi mobile phone suddenly mysteriously said that something big happened, let's see what happened.
Xiaomi mobile phone: late night notice, a major event will happen at 12 o'clock
@Quick Technology [Xiaomi late-night notice: a major event will happen at 12 o'clock] Xiaomi mobile phone released a Weibo yesterday evening, saying that a major event will happen at 12 o'clock tonight. Without specific details, the Weibo image is just a plain black background image with the words "something big will happen". It is worth noting that Google also said that it will announce a major event at 12 o'clock that night.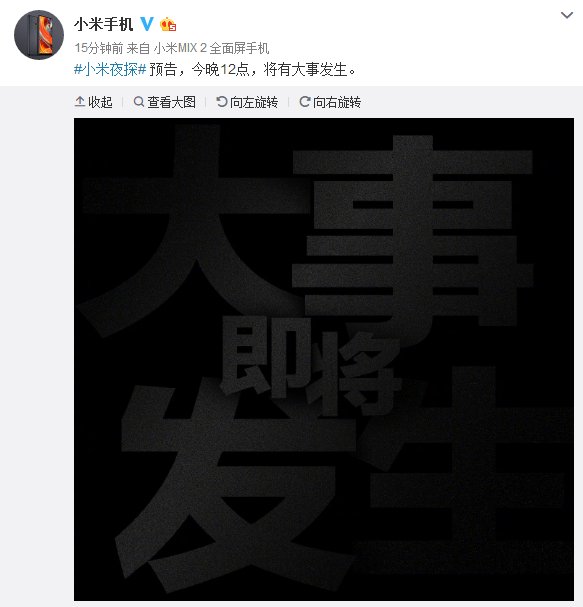 @xiaomi phone official blog [Xiaomi and Google reached a cooperation, the first batch of ARCore in China] Sure enough, this major event is that Xiaomi and Google have reached a cooperation, becoming one of the first domestic manufacturers to carry ARCore on mobile phones. This enables an augmented reality experience from your phone. "Google Blackboard" also released a Weibo saying that today, ARCore 1.0, an augmented reality software tool development kit for the Android platform, was officially released to developers around the world.
Currently ARCore supports 13 different models of mobile phones, while Google and Samsung, Huawei, LG, Motorola, Asus, Xiaomi, HMD/Nokia, ZTE, Sony, vivo Wait for the manufacturers to cooperate to carry ARCore on the mobile phones they will release.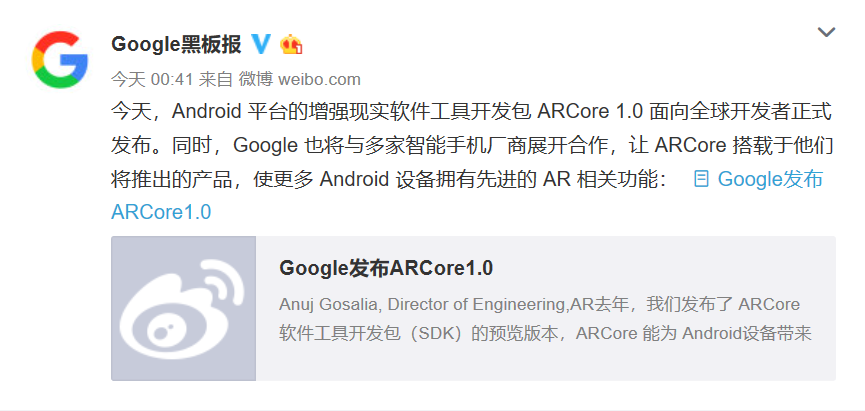 BBK embraces Tencent's JD.com's thigh
@surging news [Tencent and JD.com offline re-enclosure: 1.6 billion to win 11% stake in BBK] in February On the evening of the 23rd, BBK issued an announcement, and the mystery of the suspension was revealed. Zhang Haixia agreed to transfer 34.5562 million shares of the company it held to Linzhi Tencent, accounting for 4% of the company's current total share capital; Xinwo Fund agreed to transfer its 17.2781 million shares of the company to Linzhi Tencent, accounting for the company's current total share capital 2%. After the completion of the share transfer, Linzhi Tencent holds 51.8342 million shares of the company, accounting for 6% of the company's current total share capital.
At the same time, BBK shareholder Zhong Yongli, BBK Group and JD Bangneng signed the "Share Transfer Agreement" on February 14, 2018, Zhong Yongli agreed to Jingdong Bangneng transferred 25.9171 million shares of the company it held, accounting for 3% of the company's current total share capital; BBK Group agreed to transfer its 17.2781 million shares of the company to Jingdong Bangneng, accounting for 2% of the company's current total share capital. %. After the share transfer is completed, JD Bangneng holds 43.1952 million shares of the company, accounting for 5% of the company's current total share capital.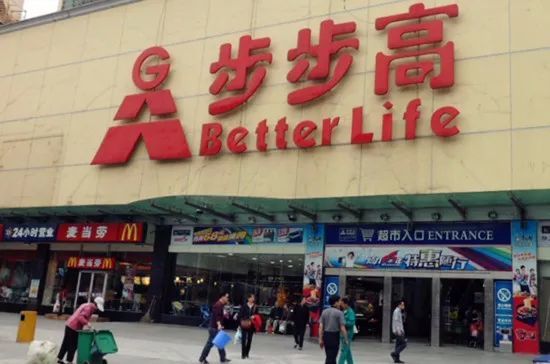 Samsung Lee Jae-yong kept a low profile after being released from prison
@Sina Technology [Lee Jae-yong did not attend Samsung's first board meeting this year, and hopes to keep a low profile] Samsung Electronics yesterday The first board meeting of 2018 was held, and vice chairman Lee Jae-yong, who had just been released from prison, did not attend today's meeting. According to an industry insider with knowledge of the situation: "Lee Jae-yong did not attend the board meeting held by Samsung Electronics this morning because it may be considered inappropriate to return to management before the end of the trial." Some analysts said that it is clear that , Lee Jae-yong's move is hoping to appeal his bribery case in the Supreme CourtKeep a low profile before the trial.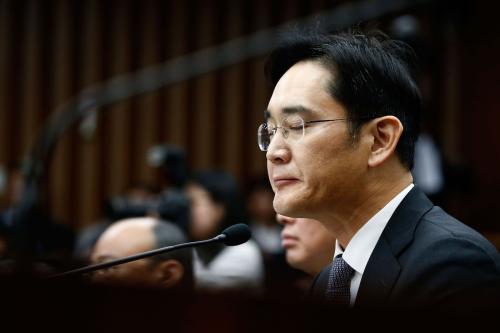 As soon as the acquisition of Tantan was announced, Momo's share price rose
@sina technology [stimulated by the acquisition of Tantan, Momo rose in early trading on Friday Over 10%] Yesterday afternoon, Momo, a mobile social networking company, announced that it had reached a final agreement with Tantan and all its shareholders. Stimulated by the acquisition of Tantan, Momo rose sharply in early trading on Friday. As of 22:35 Beijing time, its stock price rose $3.24 to $33.77, or 10.61%.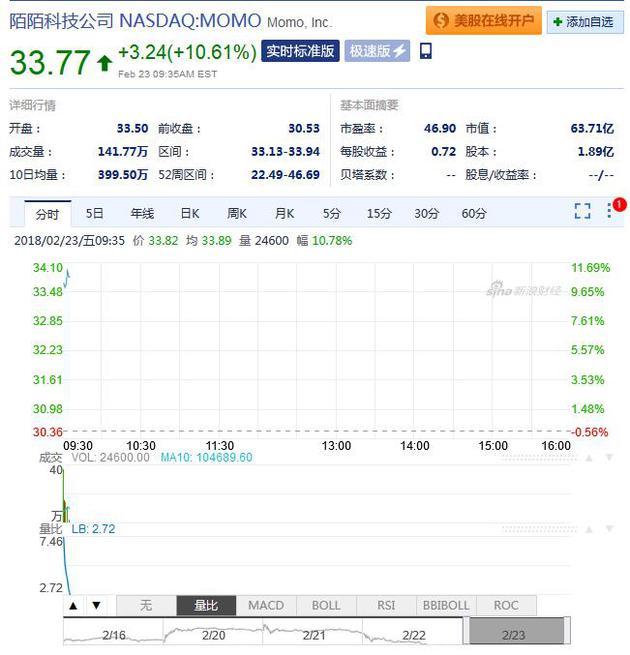 An IPO news
@Sina Technology [Cloud storage company Dropbox submits IPO application in the United States: to raise $500 million] Early morning news, cloud storage company Dropbox on Friday Filed an IPO application with the U.S. Securities and Exchange Commission seeking to raise $500 million. Dropbox's IPO has long been highly anticipated, with the company valued at $10 billion in the private equity market four years ago.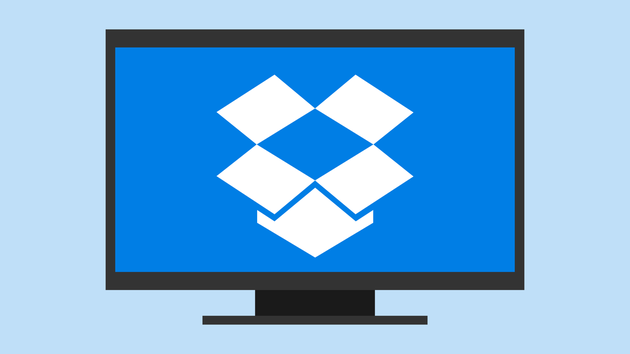 LeTV Daily Update: Monitored by Shenzhen Stock Exchange
@Securities Daily [Shenzhen Stock Exchange: Focused monitoring of LeTV stock trading this week] Shenzhen Stock Exchange 23 Regulatory updates are released daily. This week (February 12th to February 23rd, 2018), the Shenzhen Stock Exchange analyzed a total of 207 abnormal securities trading behaviors, involving intraday promotion and suppression, false In case of abnormal transactions such as declarations and raising closing prices, Shenzhen Stock Exchange has taken regulatory measures in a timely manner. A total of 10 major events of listed companies were checked, and 7 clues of suspected violations of laws and regulations were reported to the CSRC.
At the same time, the Shenzhen Stock Exchange has focused on monitoring the trading of "LeTV" stocks.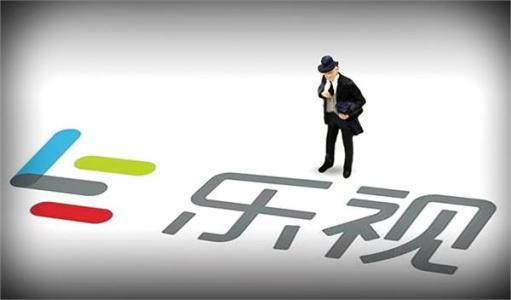 Geely Li Shufu becomes the largest shareholder of Daimler
@Sina Finance [$9 billion! According to foreign media reports, Daimler confirmed that Geely Chairman Li Shufu holds 9.69% of its shares, and the total value of the shares is US$9 billion at the current market price. about. This shareholding ratio means that Li Shufu has become Daimler's largest shareholder. Li Shufu has more than 103.6 million voting rights, Daimler said in regulatory filings.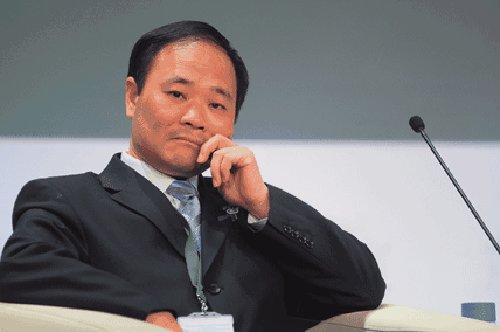 IPO coming soon The Foxconn has shown its superiority
@China Fund News [So fast, the Foxconn IPO will be coming soon: it only takes 2 weeks to queue up, others are usually several month! ] Not only was the establishment less than 3 years old, but the Foxconn A-share listing also took an unusual "fast track". Foxconn has been different from the time of the IPO filing, and the follow-up process is also very fast.
According to the analysis of investment bankers of securities companies, it usually takes seven or eight months from the pre-disclosure of the prospectus to the update of the pre-disclosure, which is also the main time for the IPO queue, and Foxconn 2 The week was completed, and there was a Spring Festival in between. Regarding the speed and efficiency of Foxconn's IPO process, according to media reports, Foxconn is taking a special channel of immediate reporting and review.
Cai Wensheng responded to Beautychain: Meitu did not release tokens
Yesterday OKEx launched the token Beautychain (BEC, US Honey), as of 23:00 on the 23rd, it has skyrocketed more than 40 times to nearly 4 US dollars, and issued 7 billion tokens for the first time, with a total market value of 28 billion USDT (about 28 billion US dollars). niceThe market value of the company is about 44 billion Hong Kong dollars. At present, the market value of the US chain has reached the market value of 4 Meitu companies.
In this regard, Cai Wensheng clarified in the circle of friends: Beautychain is issued by a third-party organization, and BeautyPlus, an application of Meitu, has promotion cooperation with it overseas. Meitu is not involved in other related businesses of the US chain, and it is also found that some WeChat groups spread Meitu tokens, which is not a fact. Meitu does not issue any tokens or tokens.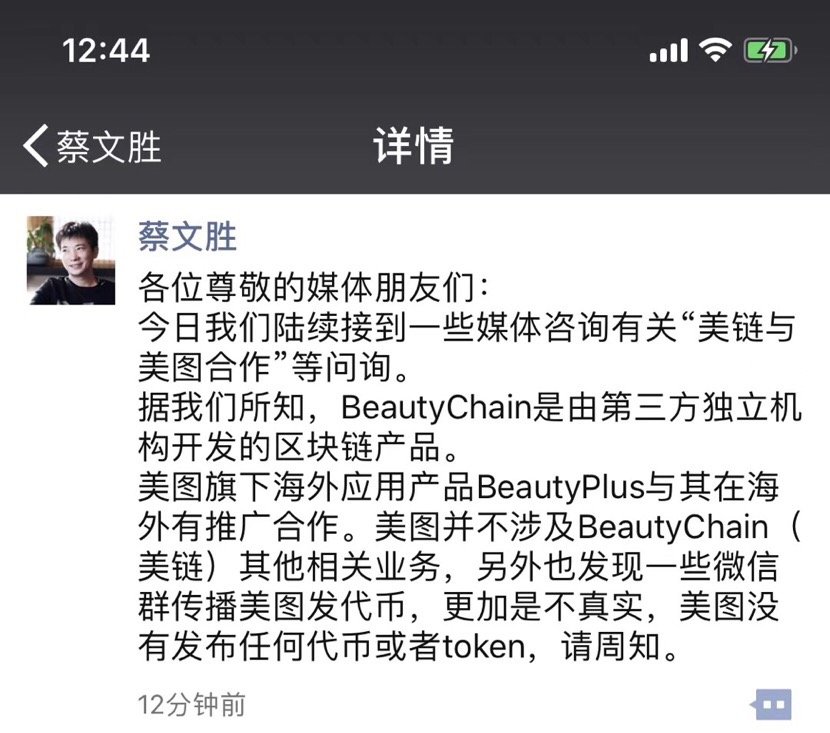 The "Sleepless Blockchain" group is very lively:
The digital currency that has recovered has been poured cold water again
@Bianews [Former CEO of CoinDesk: The big crash of digital currency is coming] Today, former CEO of CoinDesk Ryan Selkis expressed his opinion on "Blockchain without sleep at three o'clock", Ryan Selkis believes that the future of blockchain There will be three major trends or challenges: decentralized exchanges; self-regulation; a big crash is coming. Seliks believes that almost all utility coins other than computing, storage and attention will go to zero because there is no reason to use them for decentralized applications, and most coins have no store of value.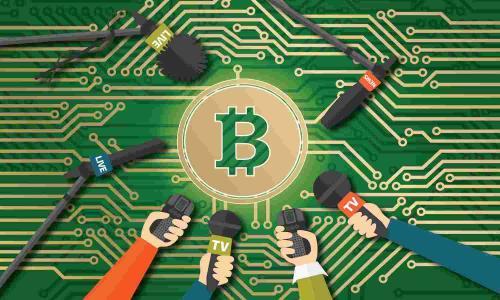 Petro? Investor Liu Jun: A complete garbage coin
@Bianews [Investor Liu Jun: Venezuelan Petro is a complete garbage coin] Today's headline angel investor Liu Jun In the early morning, he expressed his opinion on the "Sleepless Blockchain at Three O'clock", saying that Venezuela issued cryptocurrencies because the purchasing power of Venezuela's legal currency (bolívar) is already lower than that of the paper that prints banknotes. price. So the Venezuelan Petro is a complete garbage coin.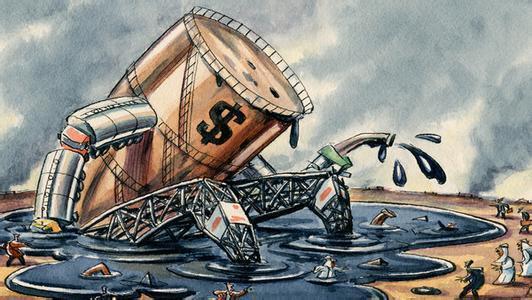 Although some people sing "cool", it can't stop American citizens from paying taxes with Bitcoin
@Bianews [US Senator Two Georgia state senators recently introduced a bill that would allow citizens to pay taxes in bitcoin. Public records show that the measure would adjust the state's tax department's rules to allow it to accept bitcoin and other digital currencies as valid payments for taxes and license fees. Earlier this month, the U.S. Senate just passed an Arizona bill that would allow Arizona taxpayers to pay their taxes in bitcoin.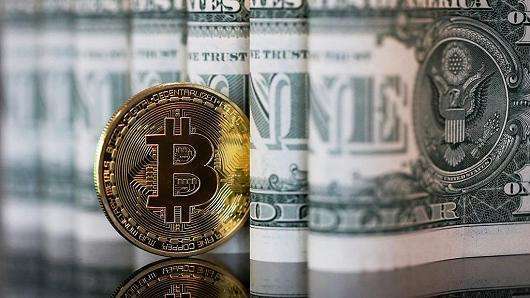 Capital Capital, the world's largest AI enterprise financing in China
@Sina Technology [China's AI startup financing amount ranks first in the world, surpassing the United States] US research company CB Insights According to the data of China's artificial intelligence-related enterprises, the amount of financing in 2017 exceeded that of the United States, ranking first in the world for the first time. Chinese companies have invested heavily in the development of facial recognition and AI processors. In 2017, global financing amounted to US$15.2 billion, with Chinese companies accounting for 48%, surpassing 38% in the United States.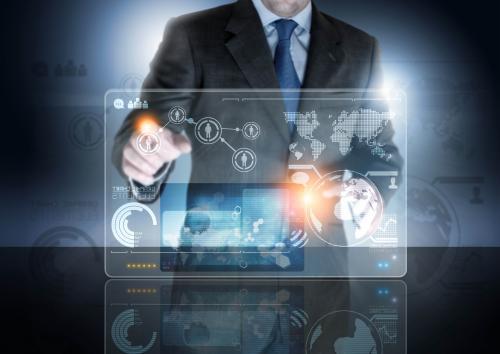 Congratulations: China Mobile ranks No. 1 in the global cellular IoT market
@IThome [Top 10 operators occupy 76% of the cellular IoT market, China Mobile first] According to a new report from IoT analytics firm Berg Insight, the top 10 global mobile operators hold 76% of the cellular IoT market share. As of the end of the first half of 2017, these top players had a combined 407 million active cellular IoT connections. During the cycle, China Mobile ranked first with 150 million IoT connections. Vodafone came in second with 59 million connections, surpassing China Unicom's 50 million.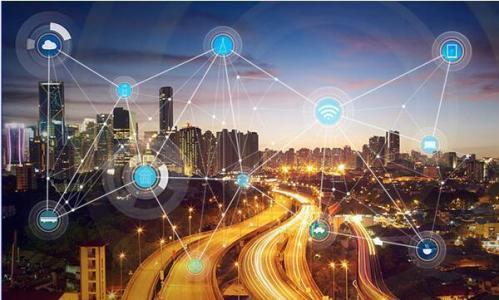 This year will be the year of the smart watch taking off?
@cnBeta [Analysis agency: Smartwatches will take off this year, and shipments may reach 71 million] The latest report released by the market research agency CCS Insight pointed out that the Thanks to the good performance of Apple Watch and low-priced devices in Asia, smart watch devices have finally ushered in spring, and this product will achieve a surge in shipments in 2018.
According to the report, sales of smartwatches will reach 71 million units this year, and will steadily rise to 140 million units by 2022. Last year, Apple sold about 16 million Apple Watches; by the end of 2018, Apple Watch sales are expected to reach 24 million, equivalent to all the sales of traditional watches in Switzerland.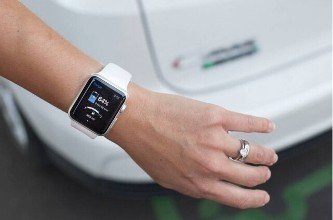 Take advantage of the aftermath of the Spring Festival to have another set of data

@IThome [A new high: UnionPay online transactions reached 679 billion yuan during the Spring Festival in 2018] China UnionPay released a set of data yesterday. Users consume big data during the Spring Festival. UnionPay said that during the Spring Festival, the transaction volume of UnionPay network reached a new high, the total transaction amount reached 679 billion yuan, and the number of transactions reached 462 million, compared with the same period last year. > Up 47% and 35%, respectively. UnionPay Mobile QuickPass and UnionPay QR code payment overseas transaction volume increased by nearly 150% year-on-year. During the Spring Festival, the amount of fuel transactions related to self-driving travel increased by more than 20% year-on-year.
Finally, a social news
@CCTV News Network [Shooting at Southeastern Louisiana University in the United States, at least two injured] The United States has a plan for citizens to carry guns. The discussion is not over yet. Just yesterday, there was another school shooting in the United States. On Friday morning local time, a shooting occurred at Southeastern Louisiana University in the United States, and at least two people were injured.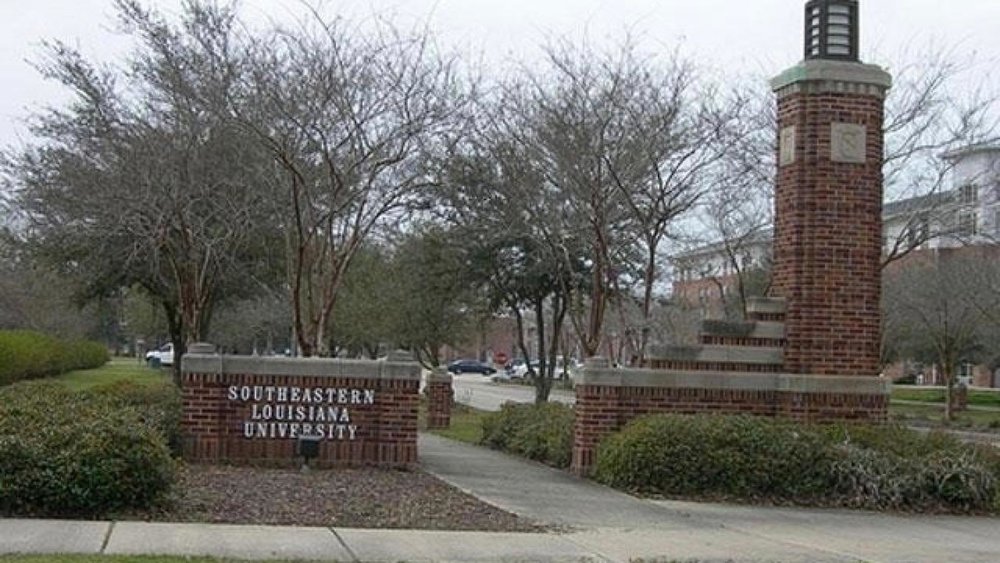 Above, everyone, work hard , Pay attention to the cold in spring and autumn, don't catch a cold.
Article Url:https://www.liaochihuo.com/info/676271.html
Label group:[Mobile Internet] [Li Shufu] [Cell phone company] [Foxconn] [Li Zaixian]