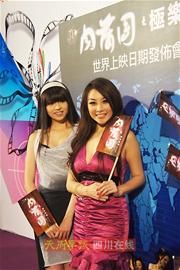 Actor Promotion
This year's Hong Kong Film Festival costume films are making a comeback, "Shan Hai Jing", "Guan Yun Chang", "Gong", "A Chinese Ghost Story", The 2011 edition of "East and West", "3D Meat Futon" and other films have been launched to publicize. Among them,
"Guan Yunchang", "3D Meat Futon", and "A Chinese Ghost Story", which feature ancient costumes, have become the most popular films. These upcoming films not only achieved good results after their debut at the film festival, but also led other types of films in terms of overseas copyright sales.
Release date: April 15
"3D Meat Futon" announced yesterday that it will be released on April 15. The overseas copyright of the film has been sold for more than 10 million yuan, and half of the production cost has been recovered. Such a good sales momentum has made the stock price of the film's investor and China 3D Digital continue to rise, from the closing price of HKD 0.045 on March 21 to the closing price of HKD 0.114 on March 22, an astonishing increase of 153.333%.
The trailers are mostly swords and lights
Yesterday, the booth of "3D Meat Futon" was crowded with people, and the short two-minute 3D trailer made buyers Lined up with journalists from various countries to watch, the scene was very hot. But this is not the "dew-point trailer" that was widely rumored before. There are not many fragrant scenes in the film. Except for the "turbulent", the most fascinating is the close-up of one of the heroines' ecstasy expressions. The trailer shows more of a magnificent and a little weird-style soundtrack, and the sword, light and sword shadow that constantly stimulates the eye.
However, this does not mean that this "world's first 3D erotic movie" is "selling dog meat". It is understood that the film will be secretly screened for important buyers during the Hong Kong International Film and Television Fair, but media reporters are not invited. "3D Meat Futon" has received bids from filmmakers in Taiwan, South Korea, Singapore, Australia and New Zealand to purchase the distribution rights, involving an amount of more than 10 million yuan, and half of the film's production costs have been recovered.
The share price of the production company skyrocketed
The producer of "3D Meat Futuan" is a Hong Kong-listed company called China 3D Entertainment, which has a It is the company's film debut. However, it is an exaggeration that since the opening of the film festival, the share price of China 3D Entertainment in Hong Kong stocks has risen continuously. Yesterday, it rose from HK$0.045 per share on March 21 to HK$0.114 per share on March 22, an astonishing increase. of 153.333%.
The film's producer and screenwriter, Xiao Dingyi, did not deliberately stress that mainland audiences were not for the film. As a filmmaker, he welcomes fans to come to Hong Kong to join. Xiao Dingyi revealed to reporters that the box office expectation of "3D Meat Futon" is at least 30 million Hong Kong dollars, while the ticket price in Hong Kong is about 90 Hong Kong dollars, which is even lower than that of 3D movies in the Mainland. When a reporter asked him how long the film will be released and how many mainland audiences are expected to come to Hong Kong to watch it, he said that it is difficult to estimate, "Hong Kong films are good at the box office, and the release time is long, maybe a week or a year, I don't know how much. Mainland audiences will come."
At the press conference, the male lead Ye Shanhao had a hard time, and he told reporters not to believe the rumors that "male actors like to shoot passionate scenes", "We are actually very miserable, a lot of passionate scenes. It's all fake performances, I'm often sweaty, and I'm so miserable for a few hours in a scene that I almost vomit by the end."
For more beautiful pictures, please go to the entertainment slideshow gallery High-definition beautiful pictures Gallery home page

Watch celebrity gossip, check video and TV programs, and go to the mobile Sina entertainment channel
Article Url:https://www.liaochihuo.com/info/674513.html
Label group:[stock] [film and television] [movie] [Hongkong] [Entertainment News] [3d] [trailer] [3d meat futon]