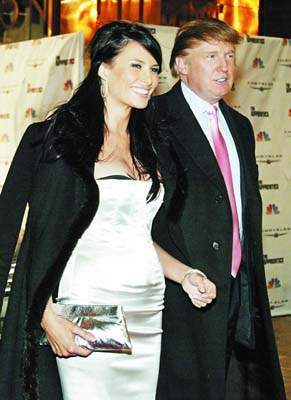 Now Donald's girlfriend Melania, who often accompanies Donald at public events, will be his third wife.
Click here to see other images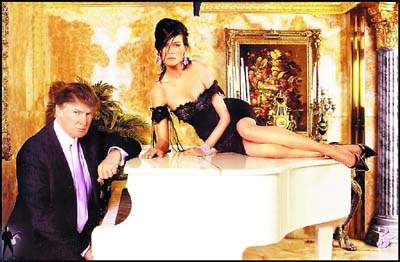 Donald Trump and his girlfriend Melania in a fashion magazine show.
Donald's first wife, Ivana, with her daughter.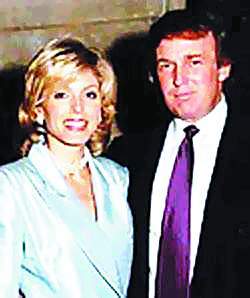 Donald attended the public event with his second wife, Marla Maples.
The purveyor of "Ascension" is the American tycoon Donald Trump. Although he grew up in a wealthy family, he insisted on starting his own business; although the business world sees him as cruel and ruthless, those familiar with him think he has a good heart...; Because of his swagger, some people once thought he was the most hated rich man in America. How did this bipolar legend create the Trump kingdom? He said, "If anyone thinks my future will be bleak, that person is dead wrong."


Dive Gold Nokia Ticket

USC Global EMBA Opens


National Idol Singer Contest

The E-song era is here!
1 star
"He's a legend with ups and downs," talk show host Larry King opened a recent interview with Trump with this quote, before adding: "There's no lows right now. , there is only a climax in the future".
"Ascension" to help him become a star
Donald Trump was a billionaire and a successful real estate businessman before he invested in the production of the reality show "Flying Yellow." Many media believe that Trump, who has come out again, first benefited from the reality show "Falling Up" tailored for him.
Maybe a few years ago, we would have hated upstarts like Trump, but we also have to say that he is indeed catching up with the new trend. In this century of visual culture shock, Trump's "Fall Up" will amaze you with its freshness and irresistible appeal. "The rich and famous life, you will naturally go down this road," Trump said of his "Falling".
Trump's opening his hit reality show "Flying to the World" to ordinary people has been widely approved by the international media, although Trump doesn't think so. But it is.
At that time, the planner of "Survivor", Mark, gave Trump a suggestion: make a reality show centered on Trump himself. Trump and Mark hit it off and did what they said they were. So, a new TV star debuted.
The next season of "Fall Up" welcomes more than 2,000 "Want to be Donald" people, and 11 cities are vying for the chance to host the show. The final competition was of course held at "Trump Tower" in New York.
Nouveau riche with swaggering life
There are many millionaires in the world. Trump stands out because he dares to speak and act, and his personal life is quite interesting. Weekly" cover character, has also appeared in the nation's best-selling gossip magazine "National Enquirer" headlines.
Donald Trump's home is located in the upscale residential area of ​​New York. In the center of the living room of his mansion, stands a giant marble fountain. Trump, who lives in luxury, is also America's most ostentatious millionaire. he isThe doors of New York's Fifth Avenue apartments had to be plated with gold to show how different he was.
Trump was once one of the most well-known real estate developers in the United States, and there are high-rise buildings and yachts named after him scattered across the United States. Trump has become a popular figure in the American media. "Spy" magazine declared that "Trump is a superficial and vulgar upstart", and the editor-in-chief of the famous American satirical comic strip "Dunes Billy" also made Trump the number one attack object. In the early 1990s, Trump's $1.5 billion real estate kingdom suffered a huge waterloo. He lost 2/3 of his wealth, but in 1997 he revisited it with his autobiography "Trump: The Art of Returning". Vibrant wind. Three years later (note: in 1988 and 2000 he publicly declared his intention to run for the US presidency twice), he went to run for the US presidency. His withdrawal explanation is also very "personal". Because of his cleanliness obsession, he found that candidates for public office had to shake hands with too many strangers. "It was horrific," he said. "Studies have shown that if you shake hands with someone, you are more likely to catch a cold."
Relying on hyping real estate and the stock market, Trump owns real estate in prime locations in New York, New Jersey, Florida and other places, and created "Trump Shuttle Airways", and is also the owner of the New Jersey "Generals" professional football team, Building several mansions and villas in scenic towns, buying a $100 million luxury yacht, and owning a private jet.
The rich man who is good at show
His media exposure rate is very high, he likes to be like a rock star, and every time he appears, he is surrounded by beautiful women, so he also likes to do things related to beauties, and the Miss Universe contest is also supported by him and NBC. activities; he also enjoys marrying supermodels. In addition to being busy with work and living a colorful life, he began to have a strong interest in beauty pageants, so he bought the support organization and hosting rights of the selection committees of "Miss Universe", "Miss America" ​​and "Miss Young America" ​​in one fell swoop. The backstage boss at the beauty pageant.
In addition, Trump is a good showman and is well versed in self-promotion. Because of his ostentation, Trump was once considered the most hated rich man in America. When the program was broadcast, in order to show his "return of the king" demeanor, Trump also published several articles in mainstream American media such as the New York Times, The Washington Post, and the Wall Street Journal published on March 22. A full-page ad featuring him, his company, and his products. People at Trump's company claim that they now receive an average of more than 50 calls a day to schedule interviews.
A skilled writer
Trump is a very skilled writer. His first autobiography, The Art of Doing Business, was every businessman's "Bible", sold more than 3 million copies, was named the best-selling book by The New York Times, and continued to top the charts. 32 weeks of championship status. "Ending, Surviving the Peak," along with his third book, "The Art of Returning," was named a New York Times best book and number one best seller. Trump's latest novel "America Deserves Our Own" begins his literary writing route. Trump's books are closely related to the working life of the American people, and at the same time expound his views on American politics, economy, and culture, which are the source of the infinite charm of his works.
Now, after hosting "Falling Up", he has released a new book "Trump: How to Get Rich", the publisher has advanced 5 million US dollars for this, and the title of the first chapter of the book is "Writing a Deposit" A $5 Million Book". The book topped last week's North American book market charts.
2nd degree entrepreneurship
Today's seemingly invincible Trump, his career expansion and his personal fortune have not been smooth sailing, but he is able to cope with the ups and downs of the Jin Yuan Kingdom he built with a humorous calm and determined attitude. No matter what thorny problems he encounters in his career, Trump always does not forget to wear his heroic "Trump smile", and continues to create scandals with supermodels and beauties. A well-known wealthy businessman.
Born into a wealthy family
Graduated college into family business
Trump was born on June 14, 1946 in New York City. He is the second eldest, with an older sister, two younger brothers and a younger sister. Due to the untimely death of his grandfather, his father decided to start a business at an early age in order to help the family. He found that the real estate business was quite "money", so he created "Trump Company", which specializes in the construction and operation of medium-sized enterprises in Queens, New York City and adjacent areas. Apartments for rent or purchase by the general public.
Under the loving care of his parents, relatives and friends, Trump has been full of self-confidence and vigor since he was a child, unable to sit still and study hard. At the age of 13, his parents had to send him to the "New York Military School" to study, hoping that the strict training of the military school would help him strive for the top. During his studies in the military academy, Trump was very popular. Not only did he have excellent academic performance, but he was also an athlete. When he graduated from the military academy in 1964, his charisma had been implicitly formed.
After leaving the military school, Trump was admitted to the Wharton School of the University of Pennsylvania, which is affiliated with the Ivy League. During his college days, Trump diligently absorbed new knowledge in the business field, cultivated a keen business vision, and added his father's business secrets. When he was a senior, he was ready to make a breakthrough in the business world. He goes abroad from time to time to inspect the latest and future economic trends, and he deeply understands that the most important business strategy of today is "marketing".
As soon as he graduated from college, Trump joined the real estate company founded by his father. Although he assisted his father in managing his business during the summer vacation of four years of college, he did not want to stay in Queens, New York City, where he lived in a narrow circle. The wealthy and powerful political and economic celebrities will be of great help to his future real estate development.
New York billionaires in their 30s
Borrow millions of dollars at any time by name
Trump, who considers himself more ambitious than his father, saw the economic potential of New York City and began to build high-rise buildings with imposing and conspicuous appearances to make higher profits. In 1974, the "Pennsylvania Central Railroad" in Manhattan, New York City declared bankruptcy. Trump immediately bought the property and suggested to the government to build a "city convention center" here, which was approved by the New York City government as late as 1978. Trump made every effort to ask the city government to name the convention center "Trump", but unfortunately the city government refused.
In 1975, Trump bought a dilapidated hotel adjacent to New York's Central Station for $10 million. After five years of strategizing, he not only persuaded the city government to grant 40 years of tax cuts, successfully completed the loan procedures, and personally Overseeing the reconstruction project, the "Hyatt Regency Hotel" completed in 1980 was an important milestone in Trump's real estate career. He hired a famous architect to design a novel and beautiful hotel appearance with a lot of money, attracting an endless stream of guests, and the business is still booming. The success of the "Hyatt Regency Hotel" demonstrates Trump's unstoppable corporate talent. At only 34 years old, he is already well-known in New York City.
Immediately afterwards, the "Trump Tower" was built in the Manhattan business district of New York with US$200 million. This 68-story complex commercial building provides high-income people with spacious offices, boutique shops and luxury apartments. Attracting countless long-term tenants, Trump has also made a lot of money and continues to climb more challenging peaks.
Trump has gradually extended his investments beyond real estate, opening casinos, operating shipping, running professional football teams and sponsoring professional boxing matches.
In the process of accumulating wealth, he put his name on every real estate and investment business under him, and even in the Taj Mahal casino he owned, the plastic buckets for customers to put coins were also printed with special stamps. Trump's name. The glory and fame due to the accumulation of wealth made him complacent and intoxicated in the illusory game of money and sensuality.
Due to the deep personal connections established in the political and economic circles over the years, Trump has easily expanded his credit, and his investment has become bigger and bigger every time. And arrogantly, in the name of "Trump", he assured that several banks were willing to provide him with a loan amount of tens of millions of dollars at any time. Trump often expresses his opinions on the current situation in the media, and his words are not surprising, which makes Trump, who is already arrogant and confident, even more arrogant and arrogant.
A turning point in life
Limited to $10 per lunch
He has a wealth of business knowledge, but because of his gambling and guts, he often deliberately violates the rules when investing and trading. When the competition in the market is fierce, most people will reduce the price to sell, and the more powerful Trump is, the more he will raise the price. Even though he lost some business because of this, he didn't take it seriously, and insisted on rampaging in the mall with his unique trading skills.
In the early 1990s, the real estate industry in the United States was sluggish, and the real estate owned by Trump also fell in value, and his income fell, and his personal wealth plummeted from $ 1.7 billion to $ 500 million. To avoid bankruptcy, Trump often has to deploy working capital. At that time, he was heavily in debt, and the annual interest burden alone amounted to more than 200 million US dollars.
At a time when Trump was in financial dilemma, the extramarital affair was exposed, which was originally envied by the American peopleThe happy marriage shattered in an instant. The news that the Trumps divorced in 1990 caused a sensation across the United States. The happy marriage that was originally envied by the American people was instantly shattered.
The bank group that once generously lent a huge sum of money to Trump realized that once Trump declared bankruptcy, not only would he lose interest, but he might not be able to get the capital back, so the banks allowed him to suspend part of the loan interest payments. The bailout also provides for a consortium of banks to oversee real estate owned by Trump until he can afford to pay his debts. At the time, his lunch could not exceed $10, according to the U.S. Bankruptcy Commission. Three years later, Trump remarried, but unfortunately this marriage lasted only six years before parting ways. Trump, who has always liked exaggeration and ostentation, is still cynical about marriage changes and scandals. He even threatened, which can just increase his popularity.
Perseverance in Adversity
Today's net worth is $3 billion
Trump's appearance is not handsome, but because of his intelligence and humor, he has become a well-known single aristocrat in the United States after his second divorce. Real estate regulated by a syndicate of banks. By 1999, Trump was again active in investment activities in real estate, casinos, entertainment, sports and transportation. Now, Trump says his net worth is over $3 billion.
Trump, who is seen as ruthless in the business world, is considered kind-hearted by friends and relatives who know him well. Not only do they often donate to charities, but sometimes they do good deeds silently. Once, when Trump's courtesy car broke down on the highway, a well-meaning person who drove by immediately got out of the car to assist. This person happened to be a worker in an auto factory who had just been laid off. After quickly repairing the courtesy car, he declined to accept monetary compensation. , Trump was very moved. The next morning, a florist was assigned to deliver a bouquet of flowers to the autoworker's wife, and a registered letter was sent informing the couple that he had paid off all the mortgage on their house.
After experiencing the ups and downs of prosperity and the threat of bankruptcy, Trump is still arrogant and extravagant, but he has deeply realized that the establishment and operation of a business is a long and endless battle, and no one is sure of winning. What is certain is that he will do his best.
3 wives
A few days ago, Donald Trump's spokesman said that Donald Trump has successfully proposed to marry Melania Knos, a 33-year-old Slovenian model who has lived with him for five years. Trump's third marriage. While announcing the good news, a large number of American media humorously expressed that everyone should look forward to his third divorce. In 1972, Ivana, a 23-year-old girl from the suburbs of Prague, married to Canada. The "dowry" was that her family went to Canada to settle together. At that time, she was a famous Czech skier with a hot body and a beautiful face.
The first wife is prosperous
After marriage, Ivana and her husband opened a small shop. Ivana is shrewd and capable, hard-working, and keeps her small business prosperous. Ivana, who has a wider vision, began to want a better life, and her first thought was to ignore the disadvantage of "married women" and break into the modeling world. The first husband knew that a beauty like Ivana was "stocking" today and will change her surname tomorrow! The final result is only two words, divorce!
In 1976, Ivana, who had already made a little name in the Canadian modeling industry, was sent to New York by the company to promote the Montreal Olympics among a large group of young and pink models. One night, this group of tall beauties went to a high-end restaurant to eat, and while chewing, they were discussing the best candidate for New York's recent "Golden Turtle-in-law" -- the real estate owner Donald Turnap, who had just inherited a large estate. .
No one expected that this little boss was sitting one meter away from them. What he didn't expect was that he regarded those little girls with two decades of life as dung, and left his precious opportunity to get married for the first time to Ivana, a Czech second wife from poor background!
What's even more amazing is that Ivana probably has the most prosperous luck in helping husbands in the world. With her help, the real estate owner, who could only be called a wealthy family, took a rocket and soared into the sky, becoming the richest real estate developer in Manhattan.
Second Wife Public Demonstration
In 1990, Ivana and Donald entered their 13th year of marriage. This winter, they called friends and took a vacation to Aspen, a ski resort in Colorado. On the high snow slope, Ivana flew down with her long hair flying. Suddenly, a graceful young woman slipped by her side, smiled and said, "Hello, I'm your husband's lover..." Thanks to Ivana's background as a skier, she stabilized her heels... It turns out, Donald and a man named MaraMaples' third-rate actresses had extramarital affairs, and often cuddled in public without scruples.
All is clear, Donald has no choice but to give money. The final "break-up fee" was $25 million. To be honest, with Ivana's status in the Tenap Group, it is still a loss for this "breakup fee". But she cut through the mess quickly, and when she got the money, she stopped talking too much with her ex-husband, and packed up the bed and found a new nest. "The most idiotic woman, waiting for him to get married five more times, still crying about his ungratefulness - I will never let my life be ruined!" Ivana said.
Ivana is smart enough to turn a divorce sensation into an opportunity. In the years since she left her ex-husband, her TV direct sales company specializing in cosmetics, women's clothing, and jewelry is well-known in the United States and generates considerable income; she has written two novels, which were once sold to Luoyang paper expensive; she runs her own magazine; she is also "Global Divorce". The columnist of the magazine... Ivana also accepted the invitation of "The Big Wife Club" and appeared in the film, which invisibly increased the persuasiveness of the film! Donald later married Marla, but the marriage lasted only six years.
4 children
Donald Trump has said that his sons and daughters have grown up in affluent environments and are spoiled children who will never grow up, but he also said: "I don't think it's a problem. , they are good kids, and I've never been ashamed of what they did."
Donald Trump's first three children were born to his first wife, Ivana, and now they are all young people, growing up in palatial, palatial mansions who grew up seeing Marble floors and crystal chandeliers. In 1990, the Trumps divorced, and their three children moved out of the dreamy mansion, but a wealthy life has always accompanied them. Trump also has a 10-year-old daughter, Tiffany, from his second wife, Marla Maples. His three children said they felt ordinary and not distinctive because of their special home education. Ivanka, the 22-year-old eldest daughter, mentioned her parents' marriage change, saying: "When it's hard to change something, you have to learn to accept it. Dad raised us, brought us wealth, and tried to surround us with him. around."
"I give them pocket money on a regular basis. Their mothers are very good, and they are strict with their children. But I think they are also regulated too much," Donald Trump said.
Donald Jr., the eldest son with the same name as Donald, is an employee of the Trump Company. He said that he has received excellent cultural influence since he was a child, but his parents never let him indulge in material pleasures. "Everything is limited, and if we need something, we have to work," said Donald Jr. "I remember when I was in college, many of my friends joked that I borrowed money to go to the laundromat to do laundry."
Donald Trump says he has never drank hard alcohol, never smoked cigars, and encouraged his children to stay away from alcohol and tobacco. When people ask Ivanka why she never goes to psychedelic parties, her answer is always: "I don't think it's better if you don't have permission from your parents. It's that simple." Donald Jr. agrees: "This is not an option for us."
When other children grow up, they are often engaged in careers they like. But Donald Trump's children are desperate to get involved in the family business and work for their father.
20-year-old Eric said with reverence that he respected his father very much because "he was an idol for people and I would definitely follow in his footsteps." The three children were deliberately raised to be Donald Trump. All three of Trump's successors studied architecture or economics at Wharton College in Pennsylvania. Eric, a sophomore at Georgetown University, wanted to attend Wharton just like his father and siblings. Donald Jr., a graduate student at Wharton College, is also now managing the burgeoning family business in Manhattan, the prestigious Trump Park Avenue. Ivanka, who is still a year away from graduating from Wharton but intends to pursue her modeling career, said: "I think it's very interesting to be a model."
Donald Trump's children are often moved by their father's words and deeds. Eric said: "Every road, there is his guidance, giving us unspeakable help." Donald Trump said: "No, you make my life happy!"
7 Rules for Success
You must have certain endowments;
Do what you love. I haven't seen a single successful person who doesn't love their job;
never stop. If there is an iron wall on the way forward, you have to grit your teeth to break through it. You must never, never say give up in your heart;
Confidence is important. But self-confidence is not about repeating to yourself: "I will do it", but trusting yourself without any conditions;
Test each other. This is the creed that I have practiced to this day, from which you can see the strengths and weaknesses of people, and use this as a criterion for appointing staff;
Discuss arguments carefully. Even in a fire, you should remain calm. A good leader can prioritize in a chaotic quarrel, but an incompetent one can get lost in the quarrel;
Loyal to your team, love your players. Infidelity is the most base of all human flaws. I seldom say, "You're fired!" I'll try my best to stay loyal in the business unless someone betrays you in the first place.
Wu Shuting, the author of this edition,
Article Url:https://www.liaochihuo.com/info/673891.html
Label group:[Trump] [father] [reality show] [Barron Trump] [Trump Tower] [Mrs Trump] [Donald Trump] [Ivana Trump] [soaring]