[Seven top Cosplay events are shocking interpretations! ]
The registration for the seven top stage events is in full swing! The wonderful Live of the two-dimensional super squat kick will be presented soon!
1. The 13th Red and White Combat Competition
2. BDF×IDO International House Dance Competition
——2019bilibili dancing festival Beijing Division
p>
3. The 11th WKS-IDO International Animation Song Contest
4. The 11th "Star Dimension" - Two-dimensional Talent Contest
5. Ximan WJ 2D National Competition Beijing Division
The official cos event of Bodong "Let's cos together! 》North China Division
The Fifteen National Style "National Style Music Hero" Singer Competition
6.IDO-idol Full-Dimensional Idol Challenge
Professionally created blingbling Dimensional Eye's Beijing Western Aesthetic Medicine and Cosmetic Full Support
7.2019 Asian Street Dance Art Festival (China Station) and IDO International Street Dance Championship (China) Finals
2019 Asian Street Dance Art Festival (China) and IDO International Street Dance Championship (China) Final
Whether it is a single person, a duo, a group, performing house dance, cosplay drama, singing, playing, comic dialogue, etc., there are corresponding talents You can sign up for the event~ and there are huge prizes waiting for you! Hurry up and register. The detailed registration process and participation instructions can be obtained on the official Weibo or WeChat of IDO Comic Con. All friends are welcome to register and participate!

[More than 50 super fun interactive activities, cool and fun! ]
Summer party and welfare of 10,000 COSER large-scale garden party! Six free free travel activities, the 8th large-scale coser red carpet catwalk ceremony, the collection of stamps and dragons event - the crazy gift of stamps, karaoke free singing & house dance free dancing two-dimensional square dance ceremony & two-dimensional gymnastics Grand Ceremony, Holding Hands with IDO Girl, Sweet Shopping Exhibition, Two-dimensional Live Festival, Coser Photography Conference, Two-dimensional Information Exchange Station, Two-dimensional Check-in Face Base, Two-dimensional Super Graffiti Wall, Two-dimensional Summer Festival Lantern Riddle Carnival, Sixth This is not a place to sleep at the IDO Anime and Electronic Music Festival, IDO Two-dimensional Large-scale Anime Theme Park, and Two-dimensional Pillow Fight! The two-dimensional decompression of the ball and the ball is a big battle against the three-dimensional pressure, let's vent it, the bang gun plus precision training camp, the soft bullet gun power combat training camp, the angry birds - the siege battle, the bow and the arrow On the battlefield, Baibu Chuan Yang Yijian, 2D Birthday Party, IDO 2D Multi-Themed Studio, Hanfu Culture Festival-Hanfu Catwalk Ceremony, Lemon Essence Douyin Challenge/Second Lemon Essence Food Festival, IDO offline coser photography party, 8090 TV game experience area, IDO flash show, certification expansion office, Dimension Nest animation exhibition, Hanfu exhibition and sales interactive area, etc., let you have fun!
[Many domestic and foreign top animation and game-related manufacturers are exhibiting vigorously]
This boutique exhibition brings together many well-known two-dimensional animation game IP manufacturers, BOOMCOMI, SQUARE ENIX China, TV Tokyo, bilibili, Tianwen Kadokawa, Aiman, Good Smile, Plastic Tang Toys, Pili Puppet Show, Lingbang Entertainment Co., Ltd., Surugaya, Bushiroad, Ye Luoli, BGM Tour board game, the trajectory of the sky Mobile game, amazing hospital, drunkMany well-known IP companies such as Mengxinghe, Bodong Planet, Sakura International Japanese, Master Kong Green Tea, Moego, Qinghua and Huangtao have confirmed their participation and gathered tens of thousands of animation game derivatives!
Introduction to some exhibitors:
Pili Puppet Show (Booth T31)
Pili Puppet Show participated in the 2nd IDO Global Boutique Great show. Shock strikes! Super precious puppets are displayed, and you can watch them up close! There are also many categories of Perak dolls, stationery, audio-visual, posters and many other items on-site display and sale.
BILIBILI (Booth T55)
Bilibili made another appearance in Beijing IDO, this time bringing a brand new image. The new booth designed with the concept of "cruising small TV" adopts the image of a giant small TV spaceship, and cooperates with various installations and links designed around the booth to bring a richer exhibition and interactive experience to the audience. Popular official characters such as "Little TV" and "2233" will also be in close contact with audiences in Beijing, bringing Bilibili's unique booth performances and offline interactions.
BGM Tour Board Game Exhibition (Booth T07)
"Making Friends and Opening the World of Board Games" BGM Board Game Exhibition brought many friends to participate for the first time IDO Anime Game Carnival. In addition to the well-known old friend "Three Kingdoms Kill", we also brought dozens of top board games such as "Newton" and "Painting Story" for everyone to try for free, and professional staff to teach on-site. Regardless of age and foundation, you can find a board game that suits you, and you can take it home directly from the spot if you are so addicted to playing it. The world of board games begins here.
BUSHIROAD
(Booth T12)
As the debut of BUSHIROAD in Beijing IDO, it will be the first time for all 2D comic fans. Bring a new card game experience. The Weiβ Schwarz trading cards based on various popular animations will not only enrich the sense of competition for everyone, but also satisfy the collection desire of all comic fans. The booth will bring you well-known anime series including JOJO Golden Wind, BanG Dream, Girls' Opera, Game Life, Sword Art Online, etc.; especially the latest Chinese version of Cardcaptor Sakura-themed Weiβ Schwarz cards , this is specially made for Chinese fans. Welcome to the booth to experience it for free and get the deck.
SQUARE ENIX China (Booth T13)
SQAURE ENIX, the first time to participate in Beijing IDO, is a world-renowned game company. SQUARE ENIX Group publishes, distributes and licenses entertainment content worldwide under its internationally renowned brands S and TAITO.
The Square Enix Group includes a global network of leading development studios in North America, Europe and Japan, with a valuable intellectual property portfolio including: FINALFANTASY, DRAGONQUEST, TOMBRAIDER and the legendary SPACESADADERS. In addition to the game business, SQUARE ENIX Group also plans, produces, distributes and licenses derivative products related to the Group's original IP and third-party IP. This time IDO will exhibit and sell PLAY ARTS, BRING ARTS, SQEX TOYS and other sub-brands figurines, plush dolls, accessories, board games, etc.
Moego (Booth T25)
Moego is a popular social APP based on ACG characters, a gathering place for anime game lovers . In the Moe Stock APP, you can use Moe Coins to invest in your life to help him/her reach the top of the stock list, and you can also make friends with all kinds of bosses. In the most interesting way, take you to open a new home life.
Whether you are a second year patient, a dull and cute girl, a hot-blooded young girl, or a connotative rotten girl, you can find your own big world in Menggu!
Beijing Coca-Cola Company Fanta Brand (Booth
T28
)
"Drink Fanta, After school, the Fanta brand has created a play scene for students after school. The overall style is based on the block. At each level of the street, a punch-in interactive game is set up to attract young consumer groups to participate and enjoyFanta Moment of "School-Snack-Game-Anime".
In addition, Fanta also invited Diaochan and Lu Bu CP from King's Glory, as well as Pikachu from the recently popular "Pokémon: Detective Pikachu", our Coser Club and Beijing's The audience is in close contact, and this time we will bring Fanta's unique joy and interactive performance.
Ye Luoli (T29)
"Elf Dream Ye Luoli" is a domestic 3D cartoon series about ordinary human children because of getting Ye Luoli's doll has a story of magic, and the cartoon ignites the girl's heart with a gorgeous magical princess style. Ye Luoli made her debut at IDO. The booth was in the shape of a magic castle. With the showcases designed around the booth and a variety of Ye Luoli dolls, the audience was filled with pink and tender hearts!
"Elf Dream Ye Luoli" series of cartoons is produced by Elite Animation. It has been broadcast for six seasons and 156 episodes, with a cumulative Internet viewing volume of more than 13 billion times, ranking first on the video platform hit list for many times. . Now, Ye Luoli has become the most popular representative work of national cartoon girl animation, and the latest seventh season animation will also be broadcast in the summer of 2019. The derivative licensed products of Ye Luoli IP include not only Ye Luoli dolls independently developed and produced, but also authorized products in games, books, toys, stationery, accessories and other fields. At present, there are more than 1,000 product categories authorized by "Yeluoli" IP. In 2018, Ye Luoli won the "Jade Monkey Award - Top Ten Anime IPs with the Most Commercial Value" and was shortlisted for the "Iqiyi Golden Petal Most Valuable Brand" award. In 2019, Elite Animation was shortlisted as a candidate for "Top 30 Cultural Enterprises in Hebei" and "Top 30 National Cultural Enterprises".
Manmeng Culture (T33)
Shanghai Manmeng Culture Communication Co., Ltd. once again appeared in the Beijing IDO animation event. Not only more genuine Japanese figurines, but also countless otaku and rotten women's benefits for otaku, Manmeng Culture is looking forward to your visit.
Aiman ​​(Booth T30)
Officially authorized by Aiman, this time it will bring many genuine merchandise for sale.
The new products such as the animation of the ancestors of the magic road, My Hero Academia, Honkai 3, Ark of Tomorrow, Fighting Singer, Under One Person, Inhuman Zai, Poyun, etc., have debuted, and more popular animations about I will be reincarnated into a slime, Natsume's Book of Friends, Naruto and other peripherals will also meet you at the scene.
Plastic Tang (Booth T37)
Plastic Tang toys will appear again at 2019 Beijing IDO, what kind of surprises will it bring to you when breaking through the dimensional wall!
This exhibition will have limited goods falling wildly! Among them, Ram and Rem's Dragon-Dress Ver. figures from SEGA's "Re: Life in a Different World from Zero" are limited-edition products at this exhibition, and they use luxurious pearl-painted fairy colors. Which of the two friends you like will choose! ?
Mansoul (Booth T51)
Compared with the last Beijing IDO, this time Mansoul will bring more animation merchandise. , including but not limited to One Piece, Dragon Ball, Sword Art Online, FATE series, Hatsune Miku and many other well-known animation IP figures, plush, models, eggs. The same IP has products from BANPRESTO, SEGA, FURYU and other manufacturers to choose from. There are also more than 100 Gacha machines that will be loaded with all kinds of interesting Gacha from Bandai, TAKARATOMY, BUSHIROAD, and EPOCH. The two-dimensional souls of tourists who stop at the booth will burn brightly.
Lingbang (Booth T52)
Lingbang Group (2230.HK) recently officially confirmed to participate in the 2019 Beijing I DO Comic Exhibition, bringing fans Here comes "My Hero Academia", "Gintama", "Grim Reaper", "Dry Girl!" "Little Burial", "The Spirit of Eating Halberd", "Game of Life" and other popular animation works and their authorized peripheral products, welcome everyone to come to Lingbang booth T-52 to mow the grass!
Trails of the Sky Mobile Game (T60)
The mobile game "Trails of the Sky", which debuted in Beijing IDO, will be available to all trail players Bring an interesting offline experience. In the booth of the "Guerrilla Division", players can cooperate with the super popular coser to experience the latest version of the mobile game content first, and make an appointment for the public beta to receive rich peripheral gifts such as humanoid standing cards and customized mouse pads.. During the comic exhibition, go to the booth with the double ponytail shape to get a limited edition of the 15th anniversary of Locus! Quantities are limited, first come first served.
Bodong Planet (T63)
Bodong Planet made its debut in Beijing IDO, the platform signed coser Xiao Xiaobai, and voice actors Li Lanling and Liu Mingyue will visit Bodong in person The Dongxingxing booth interacted closely with everyone, and there were also two-dimensional mobile games such as Under One Person, Tianya Mingyue Knife, and Dragon Valley 2. At the same time, Bodong official cos contest "Let's cos together! 》The offline team promotion track of Beijing Railway Station has been opened, and millions of bonuses are waiting for you! A variety of genuine IP peripherals in Bodong Mall are available for purchase and gifts, so don't miss the opportunity.
Yaowu Cat Ear Headphones (A08)
Yaowu is very happy to come to Beijing IDO again, this time we bring a brand new three-generation product. Added new black technology functions such as Bluetooth 5.0, APP control, intelligent tuning and color matching. The appearance effect also did not disappoint everyone. The demon dance has been increased to 10 light colors, and a random flashing mode has been added, which is 12 points cool and worthy of your attention. Yaowujiang No. 004, who appeared and interacted with daily videos on Weibo and Station B, will also come to the scene in person. Come and see the true face of Mount Lu~
Amazing Courtyard (K91)
strong>
Amazing Academy, a cultural and creative brand that is widely loved by the next generation of young people.
Founded at the end of 2017, it is positioned as a research center for abnormal events. It has a professional story IP creation and operation team, focusing on creating modern urban genre stories with open minds. Its works have a complete world view system. Covering a variety of topics such as suspense, reasoning, brain hole, fantasy, etc., many works have landed on the hot search list of various platforms.
This amazing hospital has set up an offline experience station, which will not only open many experience windows such as the summer photo studio, the sweetest doll machine, and the great detective of the sun, but also the first unlock of new characters. And the first exclusive distribution of new peripherals!
From July 19th to 21st, IDO and many lovely, gentle and versatile guests will be waiting for you at the Yichuang International Convention and Exhibition Center!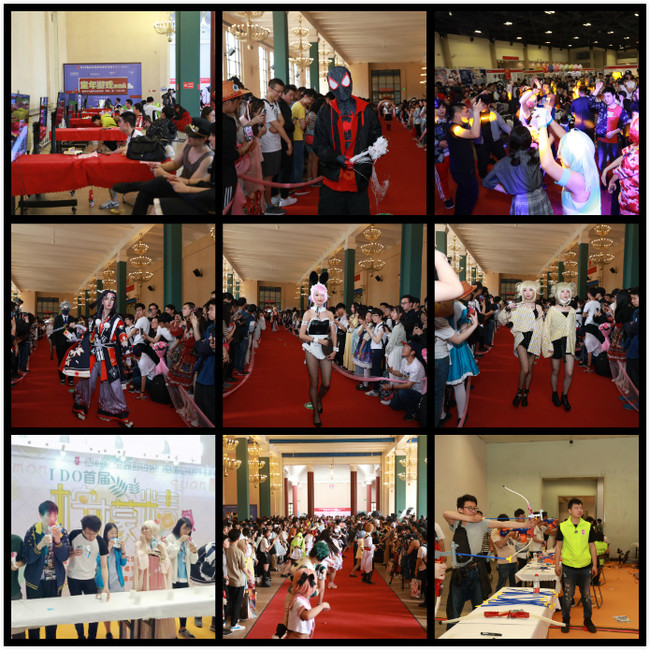 Return to Sohu, see more
Article Url:https://www.liaochihuo.com/info/673262.html
Label group:[animation] [anime] [cartoon] [Two-dimensional] [Anime Design]