This article is from the WeChat public account "US Stock Intelligence Bureau" (ID: mg), author: Nicole. 36krypton is authorized to publish.
Editor's note: ESG investment has reached US$35.3 trillion by the end of 2020. Due to the peak of the epidemic and the ESG investment boom, analysts believe that the business services field will become more and more hot, and these three companies will outperform Big market.
In the past weekend, the NFT avatar has been strongly refreshed. The new monkey head portrait of NBA Warriors star Stephen Curry cost 55 ETH, which is about $180,000 at the time of Ethereum.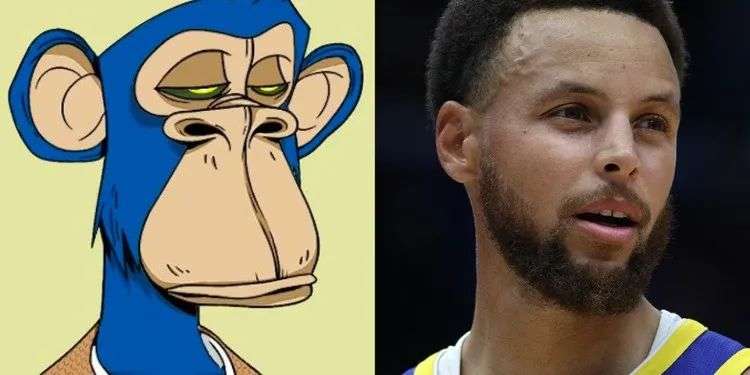 The picture comes from the Internet
After changing the avatar, the "Moe God" is in a good mood, hurry up and run I went to the NFT community and posted a selfie imitating the shape of the avatar, and nakedly "showed off my wealth".
Kuli's new avatar, the picture is from Twitter
Seeing that my idol has changed its avatar, Fans followed in Curry's footsteps and changed their avatars to the "Bored Ape" series. In an instant, the fans turned into a monkey army, and Curry also sat on the new generation of Huaguoshan Monkeys. King's throne.
Like the "Boring Apes" Curry bought, these characters will have different scarcity depending on the different traits they possess. Due to the incomparable historical significance of "cypherpunk", its price is also several levels higher than that of ordinary NFTs. On March 11 this year, a 24*24 pixel "cypherpunk" avatar sold for 4,200 Ethereum, which was about $7.6 million at the time, and if calculated at the current price of $3,300 in Ethereum, this avatar is already worth $13.86 million.
So what does this million-dollar avatar look like? Just like that.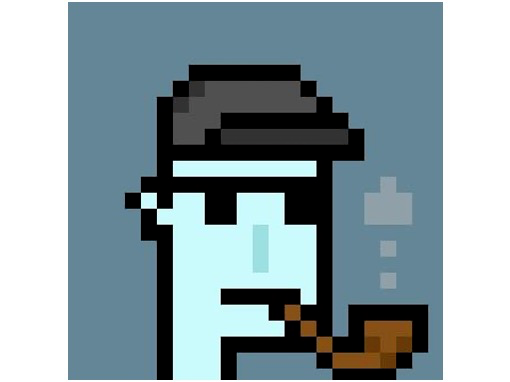 CryptoPunk 7804 image via Twitter
"$180,000 monkey head" and thousands Behind the $10,000 "cypherpunk" is the ever-hot NFT market. NFTs, non-fungible tokens, have become the darling of the cryptocurrency market recently. Only since this year, from GameFi games to NFT avatars, the NFT market has been full of explosive projects.
Only on OpenSea, the world's largest NFT trading platform, the total transaction volume of Cryptopunks with the highest transaction heat has reached 478,293.25 ETH, with a total transaction volume of more than 1.88 billion US dollars, followed by Art Blocks Curated with a total transaction volume of 169,573.96 ETH, with a total transaction volume of 169,573.96 ETH. amounted to more than $667 million. According to data from Dune Analytics, OpenSea's Ethereum transaction volume in August reached 3.4 billion US dollars, more than 10 times that of July; as of September 6, 2021, the platform's cumulative transaction volume has reached 5.29 billion US dollars so far, and accumulated profits through the platform Take a handling fee of US$348 million.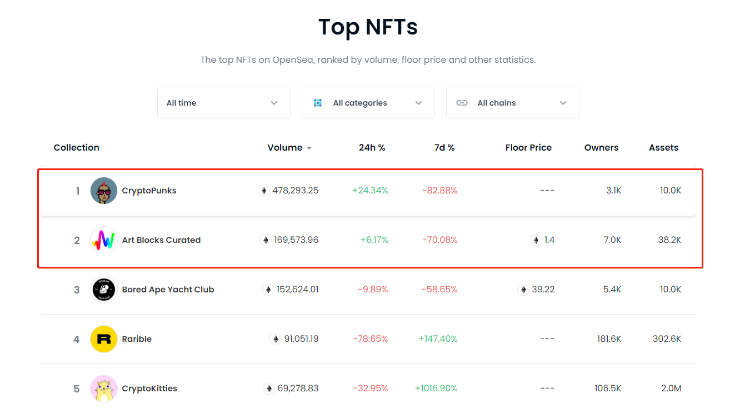 Data source: Opensea
The latest news shows that the famous director Wong Kar Wai announced the launch of his first movie NFT The work "In the Mood for Love - Moment", this work has only been released in one edition, with a duration of 1 minute and 31 seconds, will be held at Sotheby's Hong Kong Autumn Auction on October 9. It is understood that "In the Mood for Love - Moment" is an unreleased clip of Wong Kar-wai's classic film "In the Mood for Love" in 1999, from the first day of filming by Maggie Cheung and Tony Leung.
CITIC Securities pointed out in a previous research report that there is still a lot of room for development in the NFT market in the future. application may be available. In addition to participating in the production, sale and investment of NFT (non-fungible tokens) artworks, As an ordinary investor, what other opportunities can you pay attention to? Here, the director will take stock of NFT-related popular targets:
01
Colored Planet Technology (CSCW)
Caixing Technology is a digital learning and entertainment platform. In March of this year, Caixing announced that one of its subsidiaries had reached an agreement with Doman to launch a copyright trading platform using blockchain technology. Later in May, the company announced that it would sell some of the video content of the movie "Guilty" it owned in the form of NFT. The company announced its inclusion in the FTSE Russell Microcap Index on June 25. This year, the stock has risen 51.99%.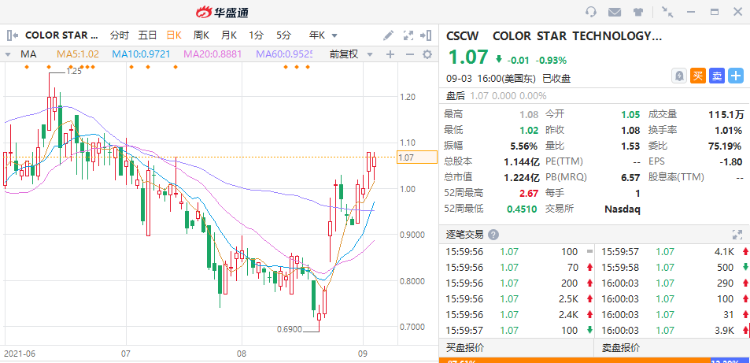 Quote source: Huasheng Securities
02
Hall of Fame ( HOFV )
Hall of Fame Resort & Entertainment entered the Nasdaq last July through a merger with a SPAC. Aiming to create a Hall of Fame-like location for NFL (Major League Football) fans, the company leverages the popularity and craze associated with professional football and its legendary players to provide themed sports, entertainment and media venues. In March, Hall of Fame announced a partnership with Dolphin Entertainment (DLPN), a Dolphin Entertainment company, to provide NFTs related to professional football and sports entertainment.
Since the beginning of this year, the stock has risen 150.41%.
Quote source: Huasheng Securities
03
Ta Gong Culture (TKAT)
Ta Gong Culture is one of the representative stocks of the NFT market frenzy. On March 17 this year, the stock closed up 277.30% detonated the NFT concept. Based in Hong Kong, Dagong Culture is an online trading platform that allows users to buy and sell entire artworks, with the aim of hoping that more people can participate in the art market without fear of counterfeiting or price manipulation. This year, the stock has risen 505.41%.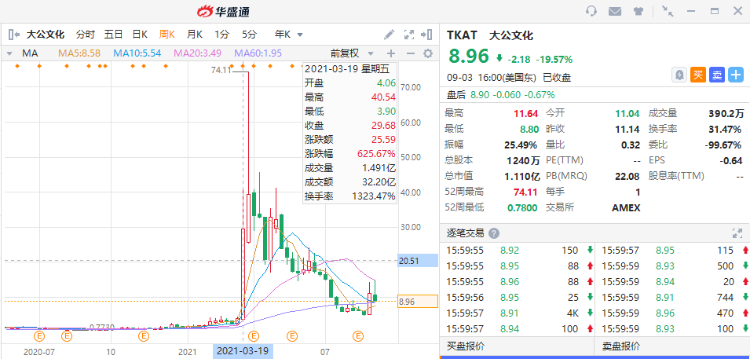 Quote source: Huasheng Securities
04
Oriental Culture (OCG)
Oriental Culture is an online trading platform that provides tradable collectibles and works of art for individual customers, with a total of 115 tradable commodities species, or it is possible to integrate NFT technology into its sales platform. This year, the stock has fallen 6.53%.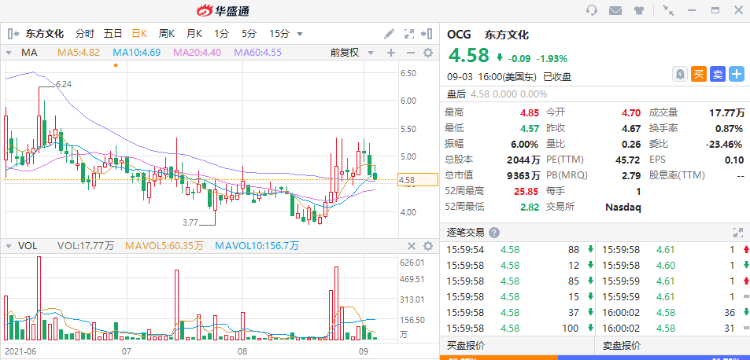 Quote source: Huasheng Securities
In addition to the above popular stocks in the NFT sector, CITIC Securities has The recent research report also pointed out that it is recommended to pay attention to companies that have already deployed NFTs, such as
Tencent Holdings ( 00700.HK ),
Alibaba-SW ( 09988.HK ) ,
TME ( TME ),
NetEase ( NTES ),
Roblox ( RBLX ), etc. At the same time, it is also recommended to pay attention to platforms that have the potential to carry out digital IP operations and derivatives, such as
China Literature ( 00772.HK ),
Bilibili ( BILI ),
Kuaishou ( 01024.HK ), etc., such as
Bubble Mart ( 09992.HK ), which explores the value of trendy art, and
Xinxin Company, which has the potential to explore game-related NFTs ( 02400.HK ) etc.
Article Url:https://www.liaochihuo.com/info/673141.html
Label group:[Avatar making]