In January 2019, Shenwan Hongyuan submitted a listing application to the Hong Kong Stock Exchange, which has been successfully approved. The stock code is 00218.hk. Shenwan Hongyuan successfully listed in Hong Kong, representing it became the 12th A+H securities firm. The remaining eleven are CITIC Securities, Haitong Securities, Guotai Junan, China Galaxy, Zhongyuan Securities, GF Securities, Huatai Securities, Orient Securities, Everbright Securities, China Merchants Securities and China Securities. Under the downward trend of securities companies, as a leading securities company, why Shenwan Hongyuan is listed at this moment, and why it is said that it is a deep winter, this article will take you to find out.
Shenyin Wanguo merged into one business line gradually enriched
Shenwan Hongyuan Securities Co., Ltd. ("Shenwan Hongyuan" for short) is a joint venture between the first joint-stock securities company in New China - Shenyin Wanguo Securities Co., Ltd. and the first listed securities company in the domestic capital market - Hongyuan Securities Co., Ltd. The company was merged and formed on January 16, 2015. The company has a registered capital of 43 billion yuan and nearly 8,000 employees. It has 34 regional branches and 303 sales offices across the country (including Shenwan Hongyuan Western Securities Co., Ltd.), and has overseas offices in Hong Kong, London, Tokyo, Singapore, and Seoul. branch. Under the constant change of capital, Shenwan Hongyuan has continued to expand and has been listed in Shanghai and Hong Kong successively.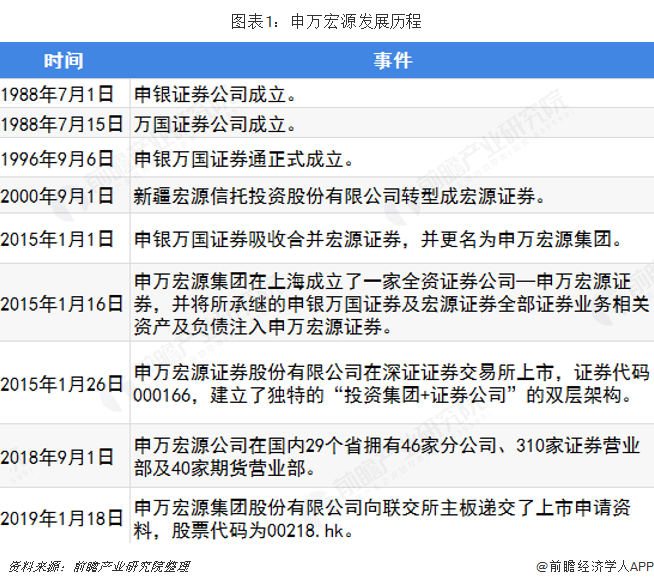 The company plans to raise HK$1.58 billion. Equivalent to the net price of each subscription share of the company of approximately HK$2.065 per share. According to the prospectus, the funds raised will be invested in three major areas: first, to develop securities business, especially to strengthen services for institutional investors and provide comprehensive wealth management and asset management services, to invest in information technology systems and financial technology, and Other businesses; secondly, principal investment, to seize the investment opportunities brought about by China's economic transformation and development, and to form greater synergy between principal investment and investment banking; lastly, to further develop international business, especially to further develop cross-border financing, mergers and acquisitions Consulting, sales transactions and investment management businesses. Specifically, 31.25% of the funds will be used for corporate financing business, 25% for asset management business, and 20% for sales force expansion and development of overseas branches.
At present, the company's business is mainly divided into four categories: corporate finance, personal finance, institutional services and transaction and investment management. Among them, the financial business is the most abundant, consisting of investment banking and principal investment, involving investment and financing businesses such as equity bonds and debt. Personal financial business covers almost all financial needs of individuals and non-professional institutional investors, and provides securities brokerage, futures brokerage, margin financing and securities lending services online and offline. In addition, there are institutional service transactions and investment management businesses.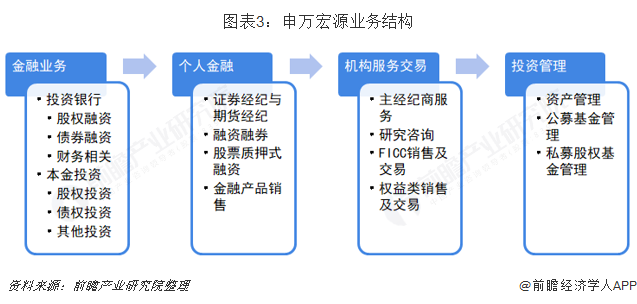 With the continuous expansion of the business structure, the company's overall scale has expanded and its influence has gradually expanded. It ranks in the top position in the entire securities market. Among the top 10 securities companies in terms of market share in 2018, Shenwan Hongyuan is located in The sixth place, the stock-based turnover was 0.76 trillion, and the market share reached 4.36%. The rest are Huatai Securities, Guotai Junan, CITIC Securities, China Galaxy, Haitong Securities, GF Securities, China Merchants Securities, Guosen Securities, and China Securities.
In terms of ownership structure, most of the company's shares are held by large state-owned investment companies. Among them, Central Huijin directly holds about 22.28% of the company's total issued share capital, China Construction Investment holds about 29.27% ​​of the company's total issued share capital (Central Huijin holds 100% of China Construction Investment), and Central Huijin Asset Management Co., Ltd. The company holds approximately 0.88% of the total issued share capital of the company (Central Huijin holds Central Huijin Asset Management Co., Ltd. 100% equity), Everbright Group holds about 4.43% of the company's total issued share capital (Central Huijin holds 55.67% of the equity of Everbright Group).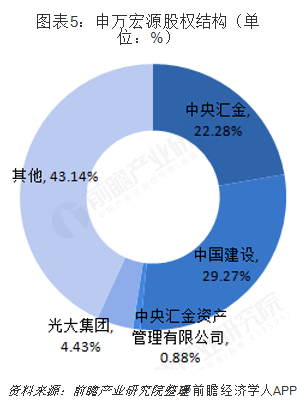 Rising capital equity, lower revenue
Although years of development have made the company a leading brokerage firm, it still faces certain development risks. As of the end of November 2018, the outstanding amount of corporate bonds and subordinated bonds issued by Shenwan Hongyuan had reached RMB 38.5 billion and RMB 35 billion. Proceeds from multiple raises are intended to supplement working capital or repay existing debt.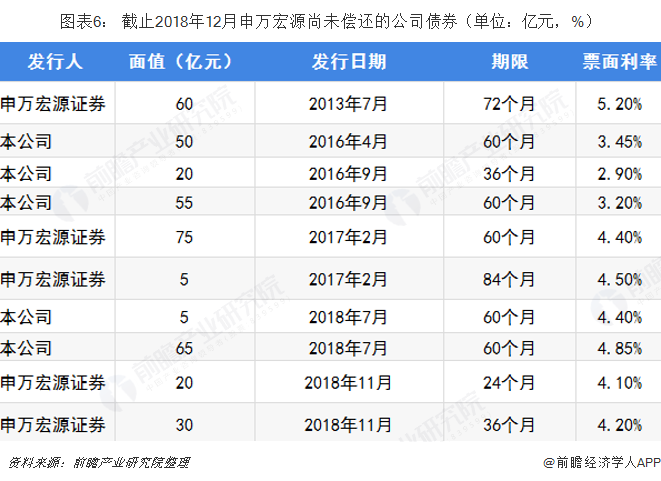 Excessive issuance of bonds will inevitably lead to a continuous increase in the company's asset-liability ratio. From 2015 to 2017, the company's asset-liability ratio has always remained above 70%. In 2017, the company's asset-liability ratio reached 71.85%, and in the first half of 2018, it reached 73.28%. On the contrary, the net profit margin of sales has been at a relatively low level, and has started to decline since 2015. In 2017, it has dropped to 18.69%, and there will be a downward trend in the future, reaching only 18.05% in the first half of 2018.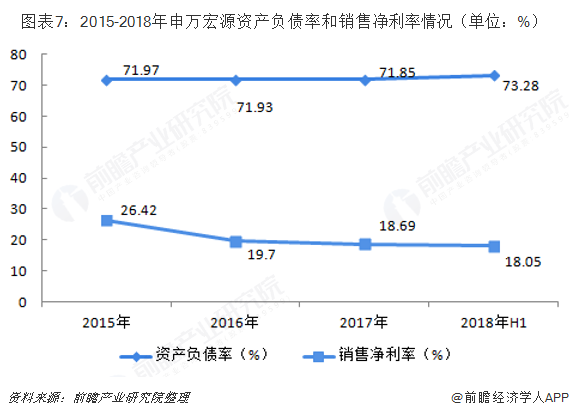 Although the debt situation is under great pressure, since the integration in 2015, Shenwan Hongyuan's total assets, total liabilities and net assets have all increased. From 2016 to the first three quarters of 2018, the total assets of Shenwan Hongyuan continued to increase, reaching RMB 275.489 billion, RMB 299.943 billion and RMB 349.097 billion respectively; the total equity attributable to shareholders of the company continued to increase, and the total equity attributable to shareholders of the company was RMB 52.305 billion respectively. , 55.197 billion yuan and 68.983 billion yuan.
Rising assets and liabilities did not drive revenue further. In recent years, the company's total revenue and net profit have been decreasing. In 2017, the total revenue dropped to 20.638 billion yuan, down 3.92% from the same period of the previous year. The same period increased by 12.46%; but the net profit was 3.238 billion yuan, down 13.47% compared with the same period last year.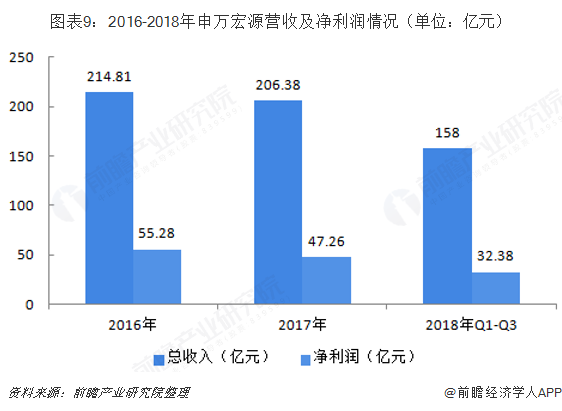 From the perspective of income structure, for brokers, fee and commission income is generally the main source of income for the company. In the third quarter of 2018, the company's chief non-profit and commission income accounted for 32.16%. From the income composition of Shenwan Hongyuan in recent years, it can be seen that its fee and commission income has continued to shrink in the past two years. decrease, the debt pressure will further increase. To sum up, although the company was successfully listed and its capital and business structure continued to expand and improve, from the perspective of its financial foundation and revenue, the company's development momentum is weak, and the industry environment is severe. Whether the company can survive the cold winter through the listing? Still need to go through market considerations.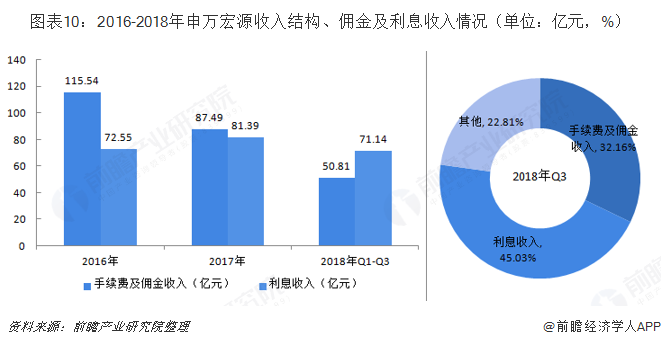 The above data sources refer to the "Analysis Report on Market Prospects and Investment Strategic Planning of Chinese Securities Institutions" issued by the Qianzhan Industry Research Institute.
More in-depth industry analysis can be found in the [Foresight Economist APP], and you can also interact with 500+ economists/senior industry researchers.
Article Url:https://www.liaochihuo.com/info/668163.html
Label group:[ipo] [Mushroom Medicine] [Inlay $エ] [Mastiff] [inlay] [lingering] [Cong Chongyu]