What is the reason for suing Shenwan Hongyuan Securities?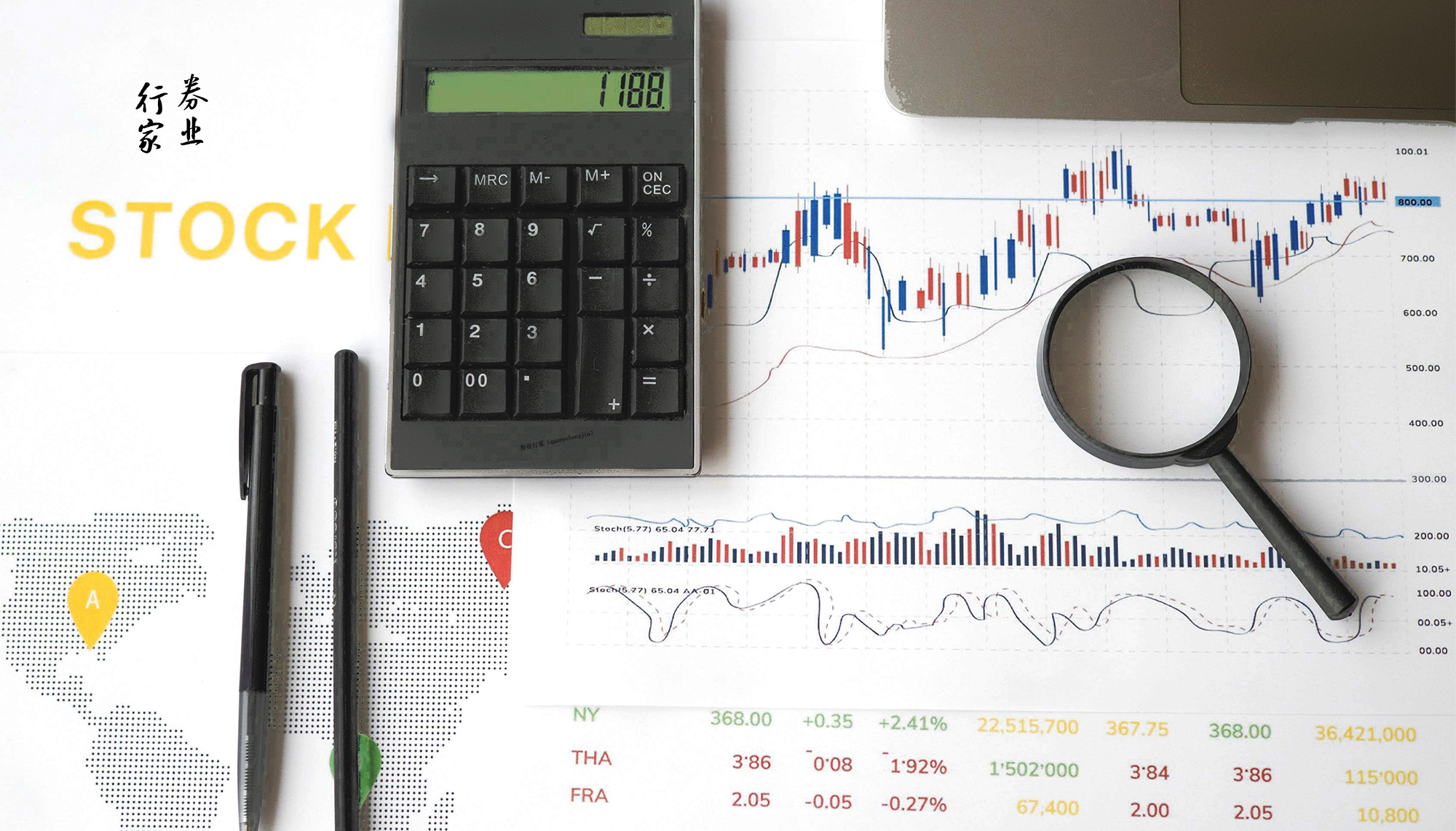 Securities industry experts speak the truth.
Welcome to leave a message, if you agree, please spread positive energy.
Just as the experts who were sorting out the announcement of the lawsuit and felt that the securities company-related lawsuits were quite silent, they accidentally discovered a lawsuit with Shenwan Hongyuan Securities as the defendant. The plaintiff is the broker who is in a "vulnerable position" in the impression.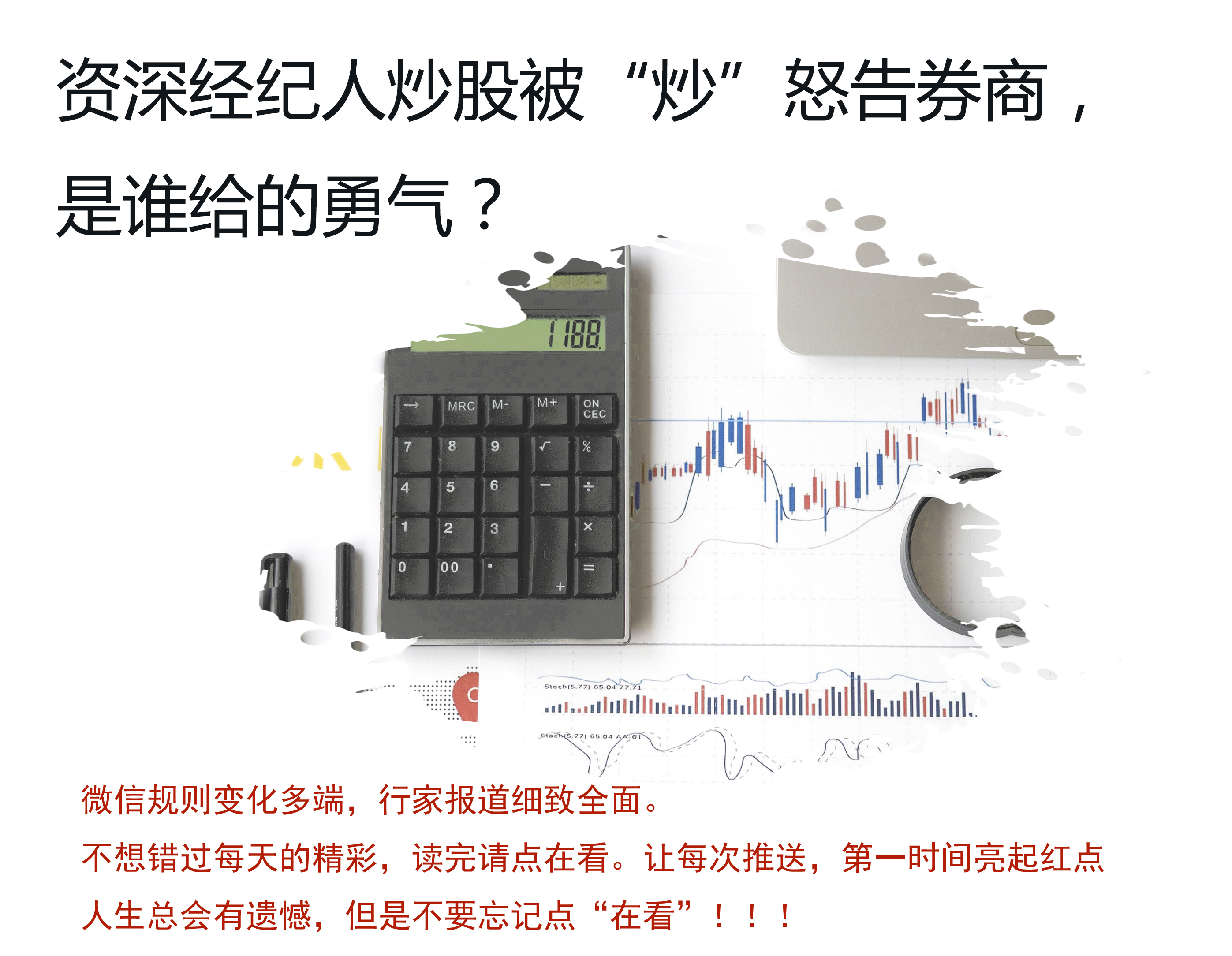 "Senior" Brokers After 50
In other words, experts who browsed the Judgment Documents Network found a rare case of a broker suing a brokerage.
According to the Shanghai Xuhui District People's Court (2021) Hu 0104 Min Chu No. 6041 Civil Judgment, it is disclosed that the plaintiff in this case, Tang Yejian, is a veteran "Post-50s" broker - born in 1956, he has more than ten years of experience in the securities industry.
According to Weihai Elite data, Tang Yejian worked in Hongyuan Securities Yancheng Daqing Middle Road Securities Sales Department as early as 2011. In January 2014, when Shenyin Wanguo merged with Hongyuan Securities, he was transferred to a brokerage, and the practice agency was the Jiefang South Road Sales Department of Shenwan Hongyuan Securities (referred to as Jiefang South Road Sales Department). His professional qualification was changed to resignation and cancellation on August 5, 2020.
So why did the agent sue the "old club"?
According to the statement of the plaintiff, the two parties signed the "Securities Broker Entrustment Contract" on November 21, 2019, and agreed to cooperate for a period of three years (2019/12/1- 2022/11/30). After 7 months in office, on August 1, 2020, Shenwan Hongyuan Securities issued an agreement to rescind the entrustment contract of securities brokers in the name of his personal stock trading, and revoked his practice qualification, resulting in his inability to practice and rely on Commissions are obtained from brokerage activities, and the originally developed customer resources cannot continue to obtain income, resulting in significant economic losses.
To this end, Tang Yejian sued the court and demanded that Shenwan Hongyuan Securities pay more than 290,000 yuan of losses, including the risk deposit of 1.4 yuan deducted from the monthly performance remuneration. 10,000 yuan, and the remaining 29-month agency period can get about 120,000 yuan in performance remuneration; and the due remuneration for developing more than 1,000 customers. (Reply to [Shenwan Brokerage] to check the detailed remuneration rules)
Based on this, experts estimate that if these clients are generated during their practice, the average number of accounts opened each month About 150 households; the average remuneration per customer is about 150 yuan. This person with rich customer resources, in a sense, is indeed the word "senior".
Practice "part-time" stock trading
However, even if They are seniors, and they will still take chances and put their minds on securities-related laws and regulations.
According to the court, in September 2019 before the signing, the plaintiff opened a securities account privately and conducted stock transactions.
Although the experts have always sympathized with the vulnerable securities industry people, didn't this person hit the red line of "employees speculating in stocks", and this is the Regulations have always resolutely cracked down on violations.
Of course, before the regulatory intervention, Shenwan Hongyuan Securities had already acted first, claiming that the other party "opened an account to trade stocks knowingly about the regulations", which violated the Securities Law. "Article 40, "Interim Provisions on the Administration of Securities Brokers""The provisions of Article 4, the termination of the contract will be dealt with.
To be fair, Shenwan Hongyuan Securities' claims are well-founded in law and have been recognized by the court.
The Xuhui District Court pointed out that Tang Yejian did not abide by the relevant laws and the "Securities Broker Entrustment Contract" in the course of his practice, and he opened an account for stock trading. If it constitutes a breach of contract, Shenwan Hongyuan Securities has the right to terminate the contract and will not issue compliance incentives. The remaining claims "have no factual and legal basis" and have not been supported.
For this reason, the court of first instance ruled: dismiss Tang Yejian's claim and bear the case acceptance fee of 2,844 yuan.
"Hidden Dragon Crouching Tiger" in a small town in northern Jiangsu
A paragraph, but experts have noticed this detail:
Yancheng, located in northern Jiangsu, is not a well-known big city. However, the current situation of the local securities industry is still beyond the imagination of experts.
According to the statistics of business departments updated by Jiangsu Securities Regulatory Bureau at the end of 2019, there are a total of 928 business departments in the jurisdiction, of which 38 are located in Yancheng. Shenwan Hongyuan Securities has set up 10 sales offices in Yancheng, accounting for almost 30% of the total number of local sales offices.
Experts previously disclosed in the weekly report that Wanhe Securities was approved to set up a new sales department in Yancheng at the end of 2019. In January 2020, Wanhe Securities Yancheng Hope Avenue was established.
This is directly related to Yancheng's GDP strength and population potential.
According to the 2020 GDP rankings of Chinese cities, Yancheng ranked 37th and 7th in Suzhou Province, located in Suzhou, Nanjing, Wuxi, Nantong , Changzhou, Xuzhou, more than Yangzhou, Taizhou, Zhenjiang and Huaian. The permanent resident population of Yancheng is 8.2135 million, second only to Suzhou, Xuzhou and Nanjing, and significantly more than its registered population of 6.7096 million (2020 Seventh Census data).
According to The Paper, citing data from the "2021 Top 100 Counties in China's Economy Research", in the first half of 2021, Dongtai, Sheyang and Jianhu are under the jurisdiction of Yancheng. The county was shortlisted among the top 100 counties in the country, of which Dongtai County ranked 38th.
Branch management urgently needs "compliance"
With a proper layout, Shenwan Hongyuan Securities has a solid business foundation in Yancheng, and the number of outlets far exceeds that of its peers.
According to the 2020 annual report of Shenwan Hongyuan Securities, there are 42 branches and 309 business departments. There are 2 branches (Nanjing / Numerical) and 31 sales departments in Jiangsu Province. There are 10 sales offices in Yancheng, which is equivalent to the sum of the provincial capital Nanjing (4) + Nantong (2) + Yangzhou (2) + Yixing (2).
However, Shenwan Hongyuan Securities Yancheng North Jiefang Road Sales Department (abbreviation: Jiefang North Road Sales Department) has recently received a penalty from the Jiangsu Securities Regulatory Bureau. From the map, the Jiefang North Road Sales Department and the Jiefang South Road Sales Department are within a walking distance of less than four kilometers.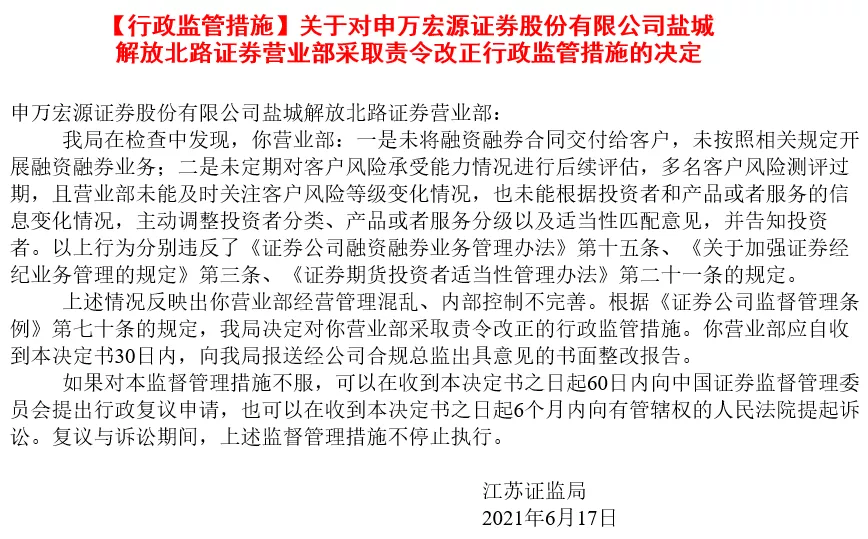 The daily inspection of Jiangsu Securities Regulatory Bureau found that there are two major violations in Jiefang North Road Business Department:
First, the margin financing and securities lending contract was not delivered to the client, and the margin financing and securities lending business was not carried out in accordance with relevant regulations;
Second, the client risk tolerance was not regularly A follow-up assessment of the capability situation is carried out, and the risk assessment of many customers has expired. Moreover, the sales department failed to timely pay attention to the changes in customer risk levels, and failed to proactively adjust investor classification, product or service classification, and suitability matching opinions based on changes in investor and product or service information, and inform investors.
For this reason, the Jiangsu Securities Regulatory Bureau pointed out that the operation and management of the business department was chaotic and the internal control was not perfect. And made a disciplinary decision to order correction, and submit a written correction report with the opinion of the company's compliance director within 30 days.
Two sales offices in the same city have violated regulations one after another. Experts believe that at the grassroots level, Shenwan Hongyuan Securities does need to be strengthened.
And who is the compliance director who works overtime to "write and check"?

Association information shows that Shenwan Hongyuan Securities is currently a member of the Executive Committee Mr. Xue Jun, Director of Compliance, has worked at Guosen Securities since May 2008; worked at Qilu Securities (now Zhongtai Securities) from September 2009 to November 2011; joined then-Shenzhen in January 2012 Yinwang Securities (now Shenwan Hongyuan Securities).
According to previous reports from brokerage China, Xue Jun served as vice president and head of the investment bank headquarters at Zhongtai Securities. In Shenyin Wanguo, he was the assistant to the general manager. In August 2016, he served as the chairman of Shenwan Hongyuan's underwriting and sponsorship, and he resigned in April 2020.
According to the Financial Associated Press, Shenwan Hongyuan Securities established its first executive committee in March this year, with members including: Yang Yucheng, Fang Rongyi, Zhu Minjie, Xue Jun , Zhang Jian, Li Xuefeng, Fang Qingli. Xue Jun, the former assistant to the general manager, served as the compliance director, responsible for compliance management, auditing and auditing.
Not long after taking office as compliance director, I encountered this series of incidents. Experts still hope that this brokerage executive will strengthen the compliance management of the branch. .
"Last" interim performance growth
According to association data , As of June 30, 2021, Shenwan Hongyuan Securities had a total of 8,056 employees, including 2,142 investment consultants and 1,590 brokers. The combination of the two is 3,833, ranking 8th in the industry.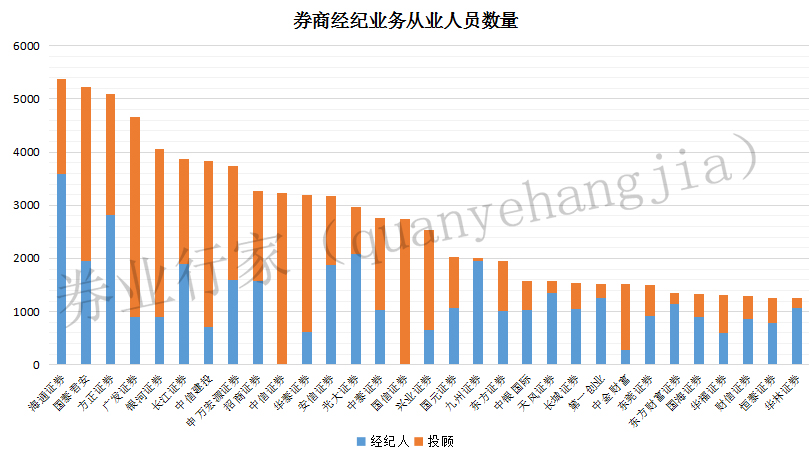 On the other hand, Shenwan Hongyuan Securities also ranked eighth in terms of brokerage revenue, but its year-on-year growth rate was "Bottom" among the top brokers.

According to the consolidated income statement of Shenwan Hongyuan Interim Report, the current operating income was 16.079 billion yuan, a year-on-year increase of 20.12%; the net profit attributable to the parent was 4.521 billion yuan, A year-on-year increase of 12.05%. Among them, the net income of brokerage business was 2.854 billion yuan, a year-on-year increase of 14.80%, which was inferior to other leading brokerages.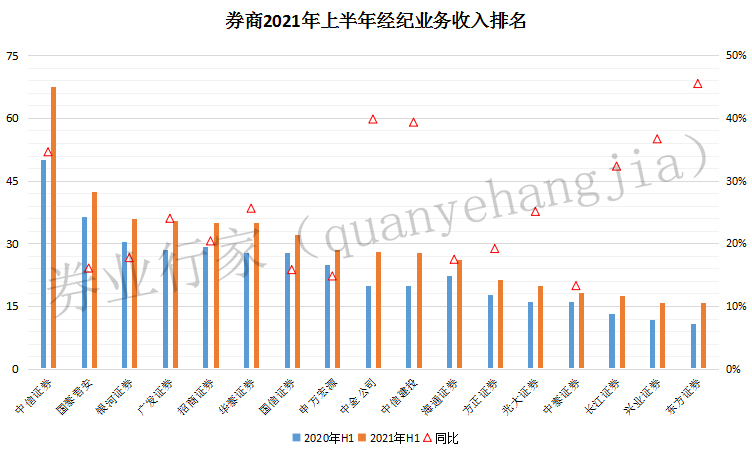 Boating against the current, if you don't advance, you will retreat. In the context of the average growth rate of brokerage business of TOP10 brokerages as high as 24.53%, will the relative position of Shenwan Hongyuan Securities decline?
Highlights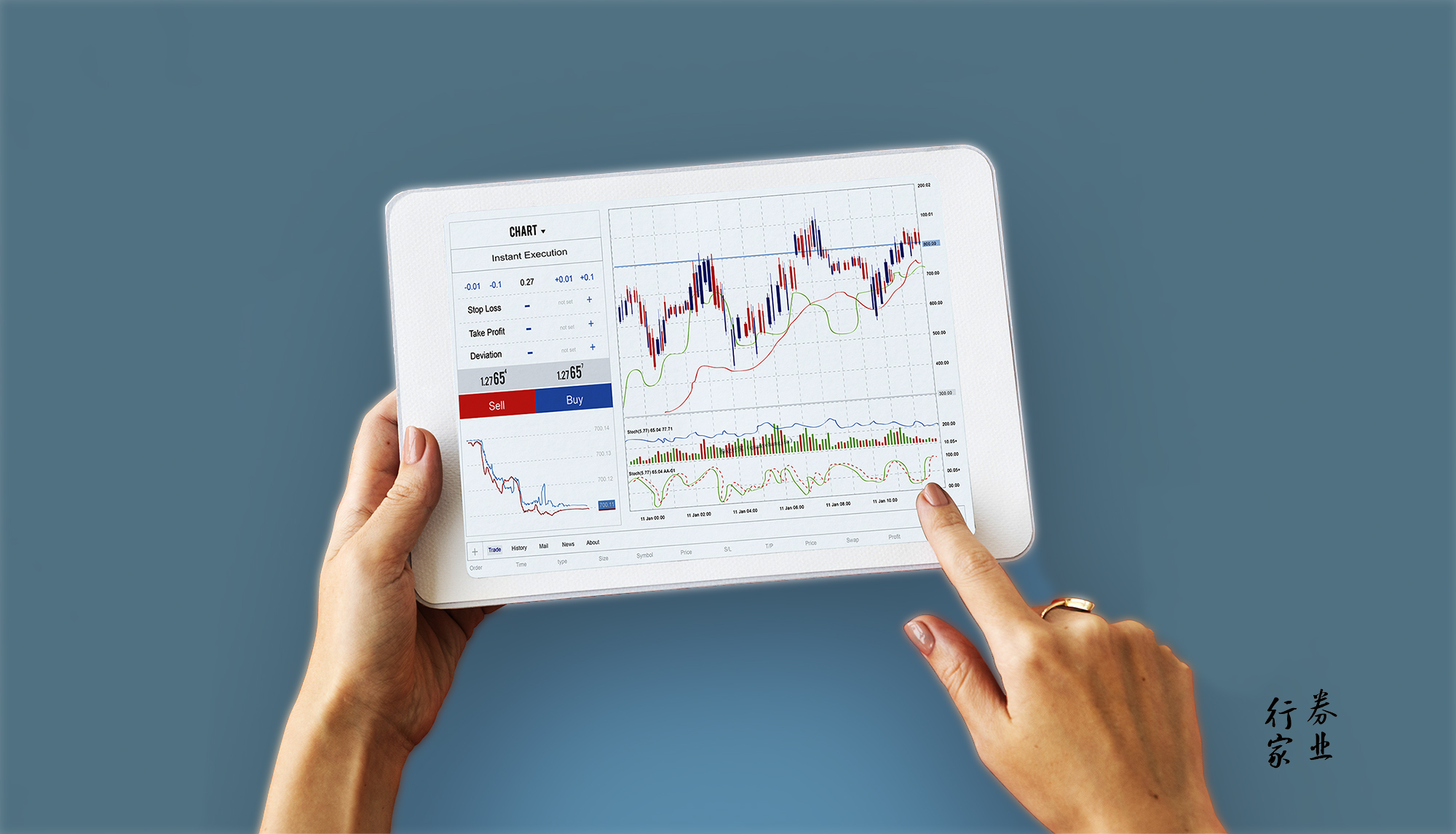 The supervision strictly investigates the two financing and cash out, or which leading brokerages are involved?
Securities Industry Expert·Hot Text
Regarding the only leading securities firm with declining performance, CITIC Construction Investment, experts may have found the reason
Securities industry experts·Hot text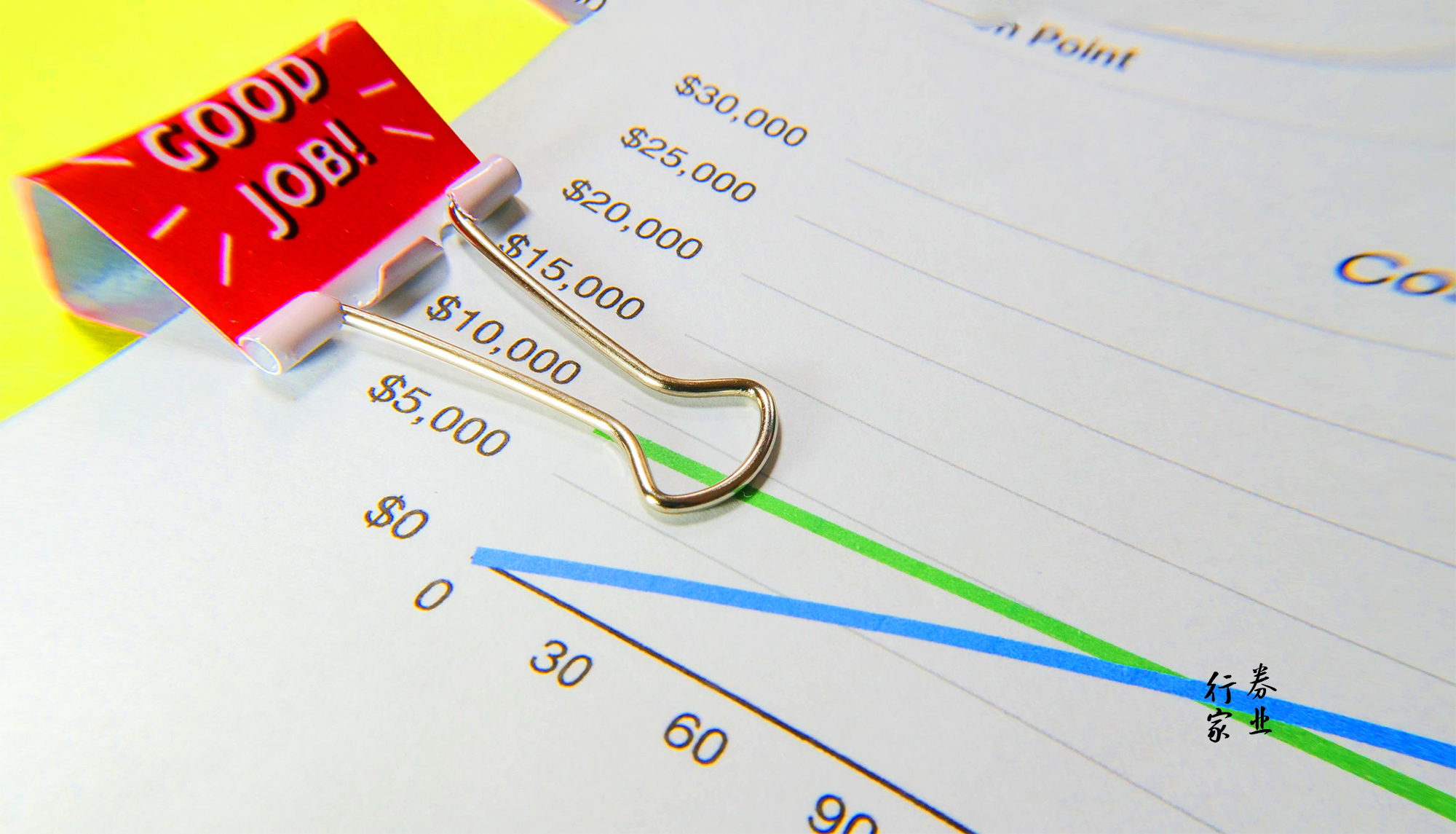 How do brokerages respond to Common Wealth?
Securities Industry Expert · Hot Discussion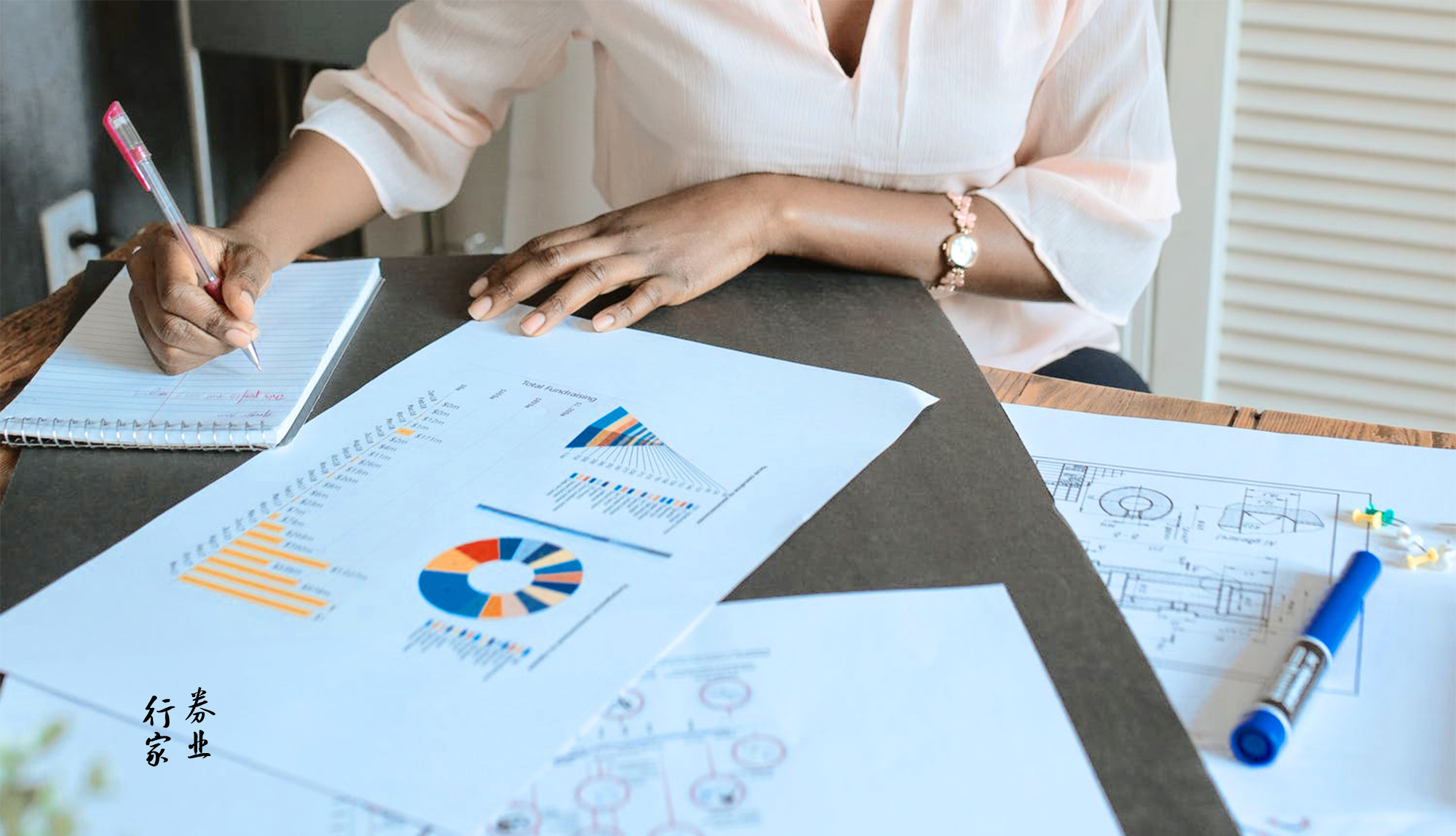 Six-year cycle? How do securities companies share the "cake" of wealth management business, and the market share is revealed?
Securities industry experts and data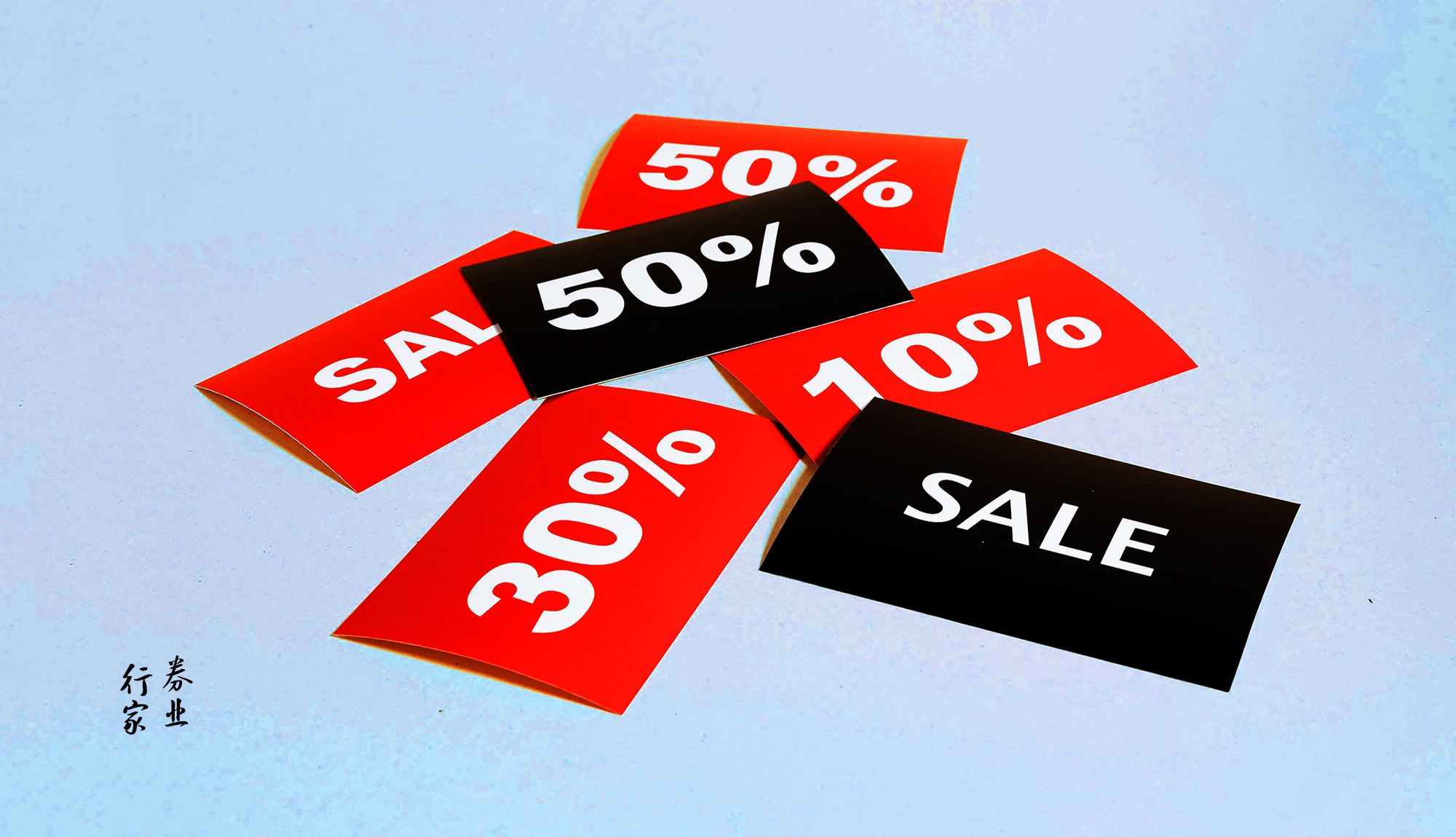 10,000 1.3, 10,000 1.2, 10,000... Brokerage business under the price war
Securities industry experts · hot discussion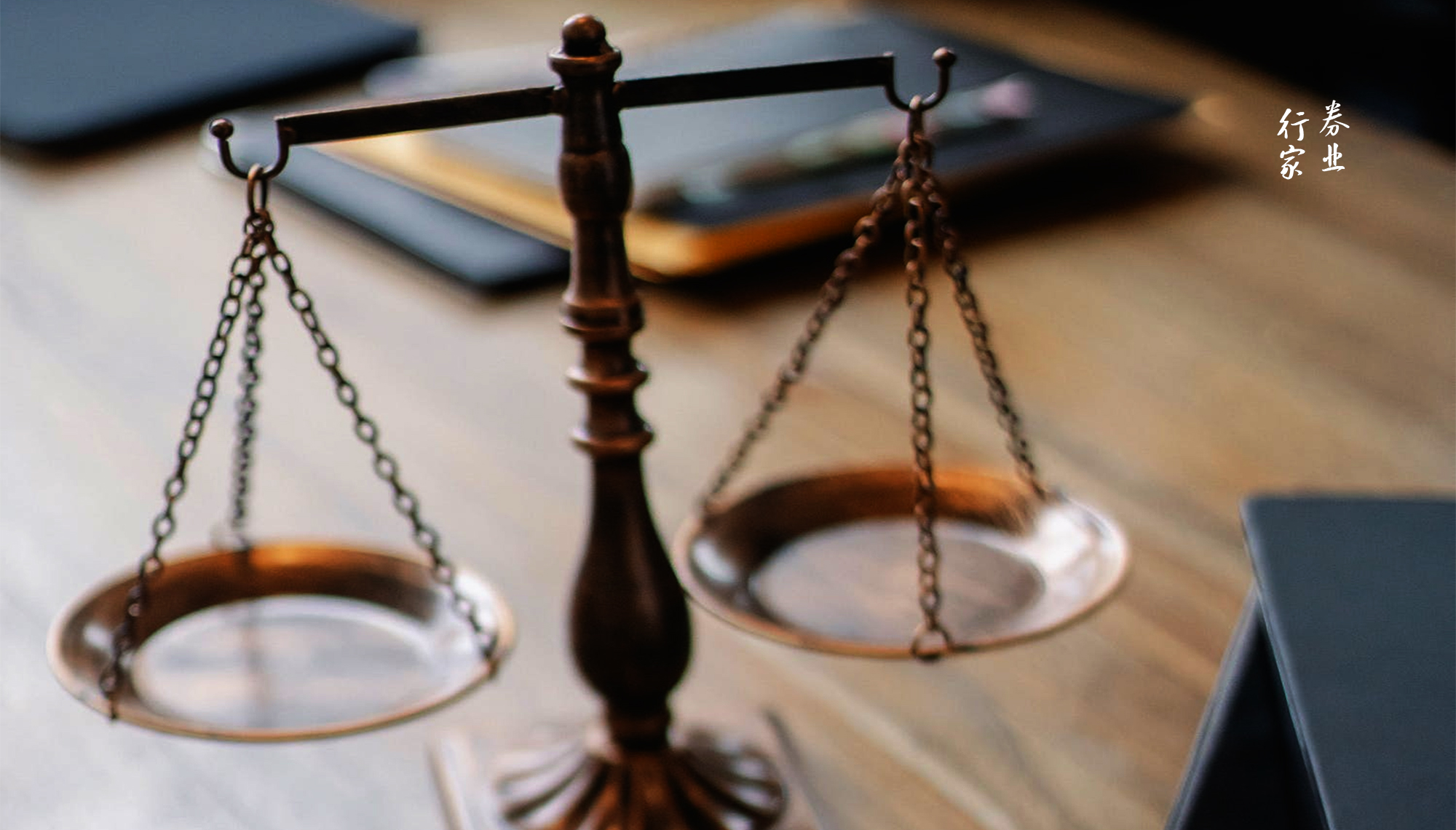 Shenwan Hongyuan, the leading brokerage involved in litigation and disputes
Securities industry experts · hot discussion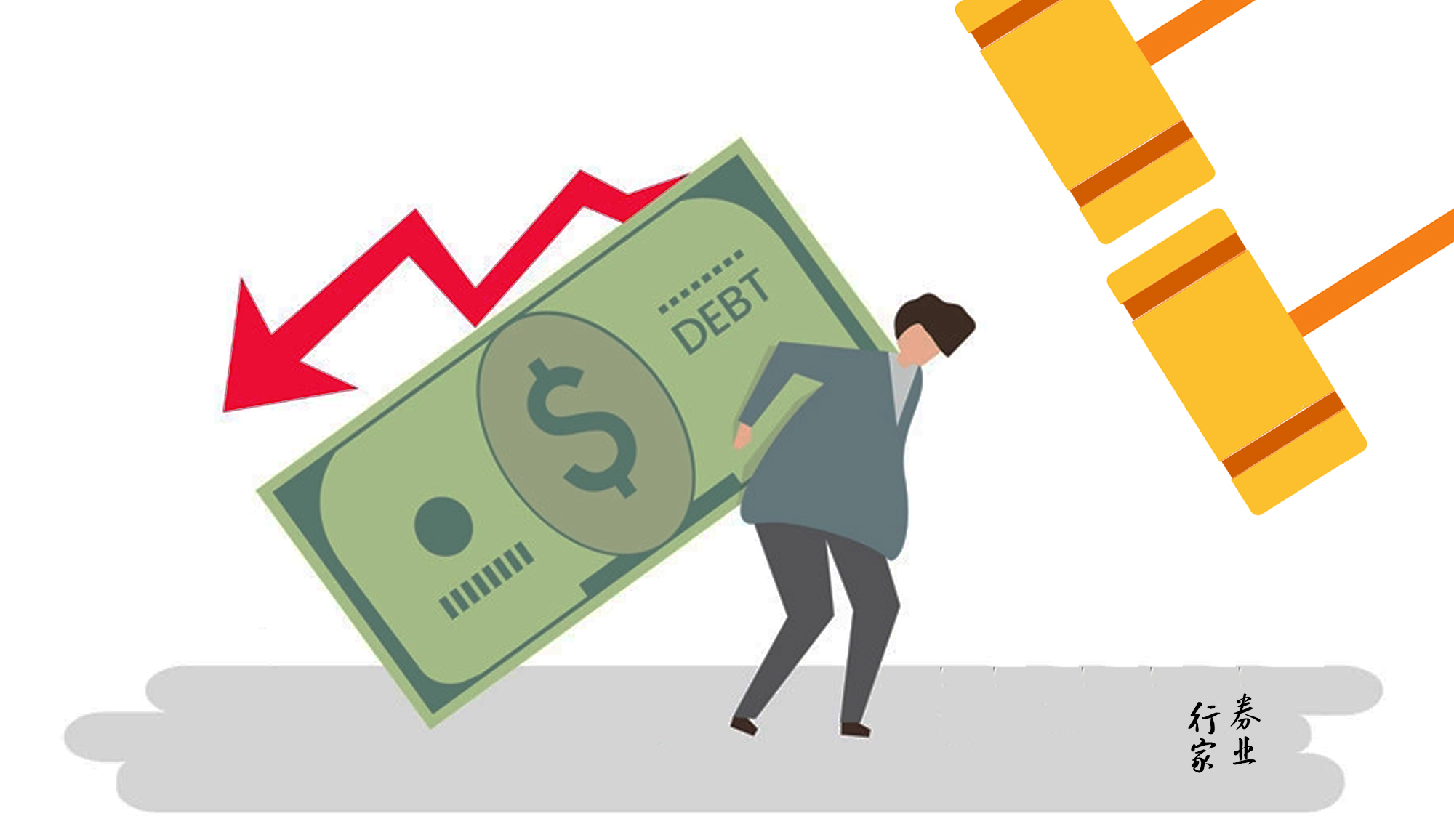 surfaced, Rendong Holdings and the two financial institutions were liquidated, and the client owed money 200 million, Shenwan Hongyuan is busy in debt collection
Securities industry experts · revelations
Article Url:https://www.liaochihuo.com/info/668158.html
Label group:[Xuan Yanye] [Mastiff] [Cong Chongyu] []