On June 18, the Securities Association of China ranked 38 indicators including asset scale and various business income of securities companies, and released the operating performance of securities companies in 2020. Ranking situation.
CITIC Securities leads again
The overall scale and strength of China's securities industry has been further enhanced. As of the end of last year, the total assets of China's securities industry were 8.78 trillion yuan, and the net assets were 2.23 trillion yuan, an increase of 22.32% and 14.02% respectively over the end of the previous year.
By the end of last year, there were 19 securities firms with total assets exceeding 100 billion yuan.
The well-deserved Top1 is still CITIC Securities! As of the end of 2020, its total assets, net assets and a number of indicators also ranked first, again leading the major brokerages. The first brother of the brokerage, as expected of you!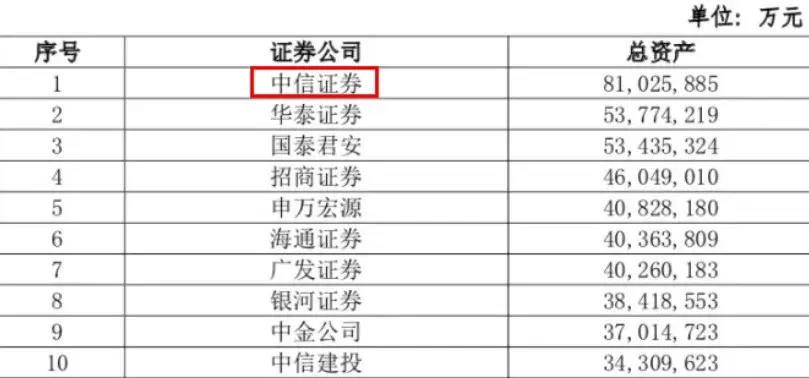 From the perspective of a single brokerage, in 2020 the two major indicators of CITIC Securities' total assets and net assets Shanghai once again leads the industry, with total assets and net assets reaching 810.259 billion yuan and 157.657 billion yuan respectively by the end of 2020.
As of the end of 2020, there were 19 securities firms with total assets exceeding 100 billion yuan, but only 5 securities firms with net assets exceeding 100 billion yuan.
In terms of operating income and net profit, CITIC Securities leads both in these two indicators in 2020, with annual operating income and net profit of approximately RMB 34.14 billion and RMB 14.902 billion respectively. ; Guotai Junan, Huatai Securities, China Securities, China Merchants Securities, Haitong Securities, etc.
In addition to CITIC Securities with a net profit of more than 10 billion yuan in 2020, there are also Guotai Junan, Haitong Securities, Huatai Securities, GF Securities, and the leading securities companies "Hengqiang" "The dominant position is further consolidated.
CITIC Construction Investment Bank won the championship in revenue, and Minsheng Securities developed rapidly
In terms of investment banking revenue, CITIC Securities could only rank second.
CITIC Construction Investment won the first place with an income of 5.746 billion yuan, surpassing CITIC Securities by more than 40 million yuan.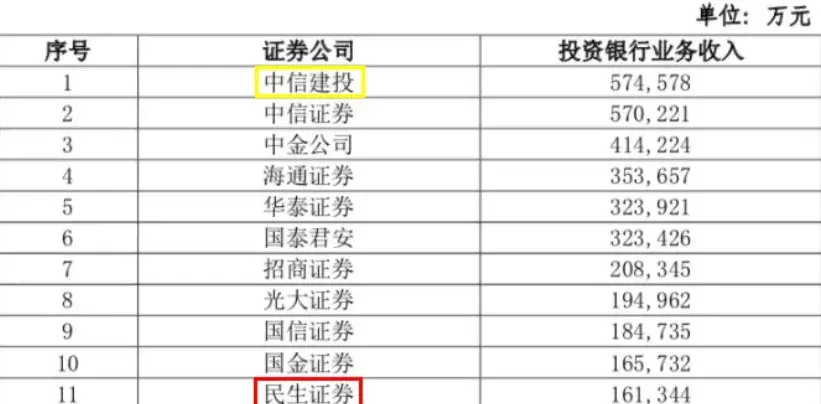 The ranking of Minsheng Securities has risen by 10 places. Last year's investment banking income was 1.613 billion yuan, ranking first Ranked 11th.
In terms of net assets, a total of 51 securities companies have net assets of more than 10 billion yuan.
China Merchants Securities has a net asset scale of 101.228 billion yuan, entering the "Hundred Billion Club" for the first time.
China Merchants Securities, which owns hundreds of billions of assets and has strong strength, has recently released a number of job offers.

Among them, the product manager position is clearly required, and those with CPA qualifications are preferred.

Now many large financial institutions clearly indicate "CPA holders are preferred" when recruiting for relevant positions, More and more companies are willing to compete with high salaries to recruit CPA holders.
The recognition of CPA is increasing, which is of great help for job hunting.
CICC ranks among the top 10 in both revenue and net profit
Last year, the market broke out, the securities industry had a blowout performance, and its profit reached nearly 3 years the highest level.
The entire industry achieved operating income of 439.815 billion yuan, a year-on-year increase of 24.93%; net profit of 170.778 billion yuan, a year-on-year increase of 39.20%.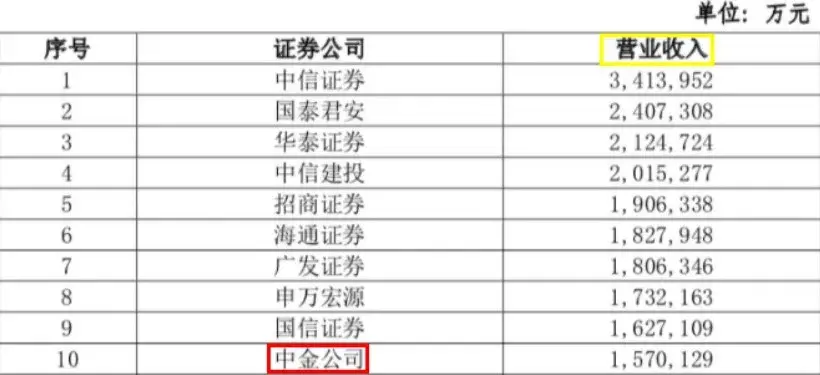 CICC with deep pockets finally ranked among the top ten in terms of revenue and net profit, with revenue reaching 15.701 billion yuan and net profit of 7.207 billion yuan.
As we all know, CICC's salary package ranks No.1 among all securities companies, and the average annual salary is as high as 1.15 million.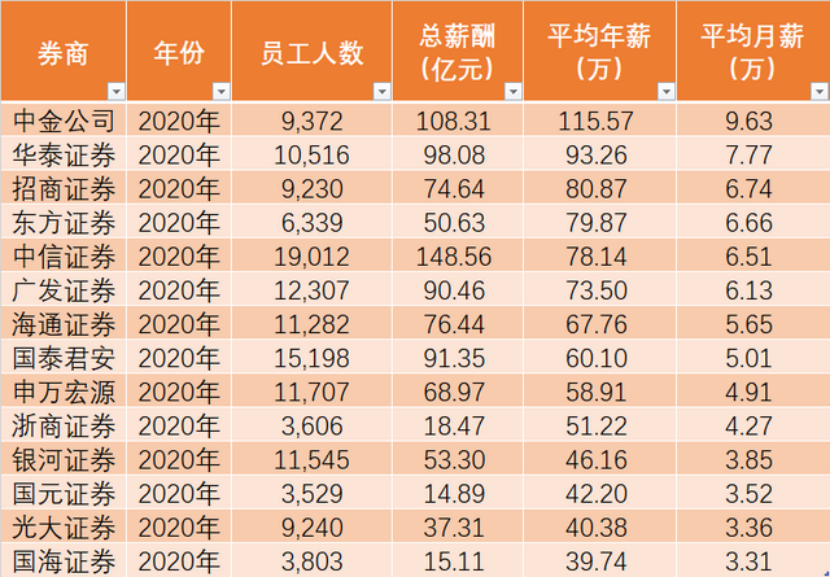 Careful looking at CICC's transcripts this year, the ranking is always around 10: the total Top 9 in assets, top 10 in revenue/net profit, and even more unexpected! In the net asset PK competition, CICC fell out of the top ten and ranked 11th with a net asset of 62.414 billion yuan...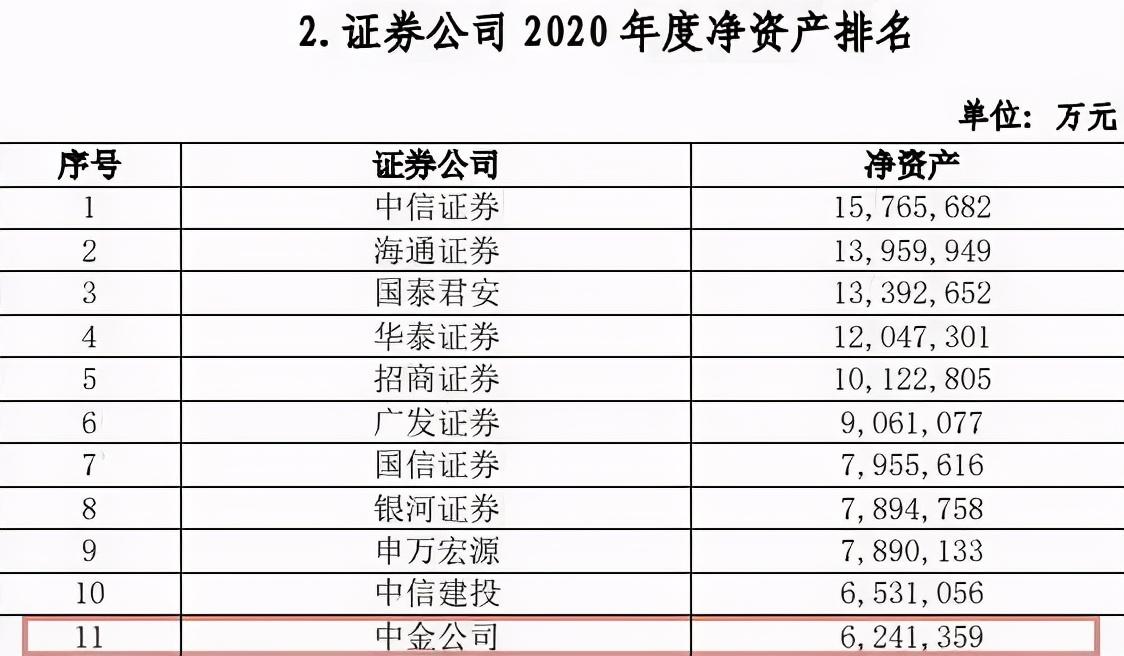 Is CICC still worth visiting in 2021?
Don't worry, if you only look at the investment banking business, CICC is fine again, ranking TOP 3 with 4.142 billion yuan in investment banking business, second only to CITIC Construction Investment, CITIC Securities! So don't underestimate CICC, the title of "noble" in the investment banking industry is not for granted! Although CITIC earns the most, the most generous may be CICC!
► The average annual salary is 1.15 million! Salary ranks first among major brokerages
In March, 14 brokerages including CICC, Huatai, and China Merchants released the 2020 financial report season, among which CICC With an average annual salary of 1.15 million, he successfully crushed 13 other securities companies. After converting, the average monthly salary of each employee is as high as 100,000...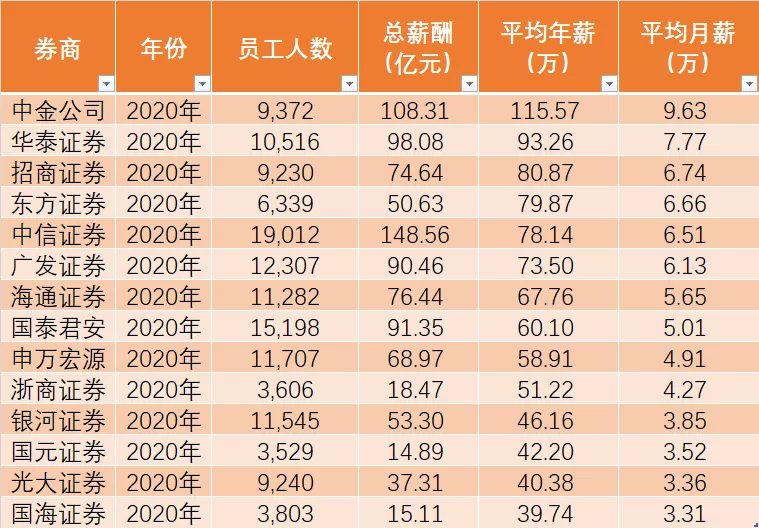 This salary level has properly drawn a wave of hatred...
In addition, it has two advantages: ①Compared with In other securities companies with more male students (many securities companies are known as monks' temples), CICC's male-to-female ratio is also average; ②Compared with other securities companies (the basic education requirements start with a master's degree), CICC is very willing to admit undergraduates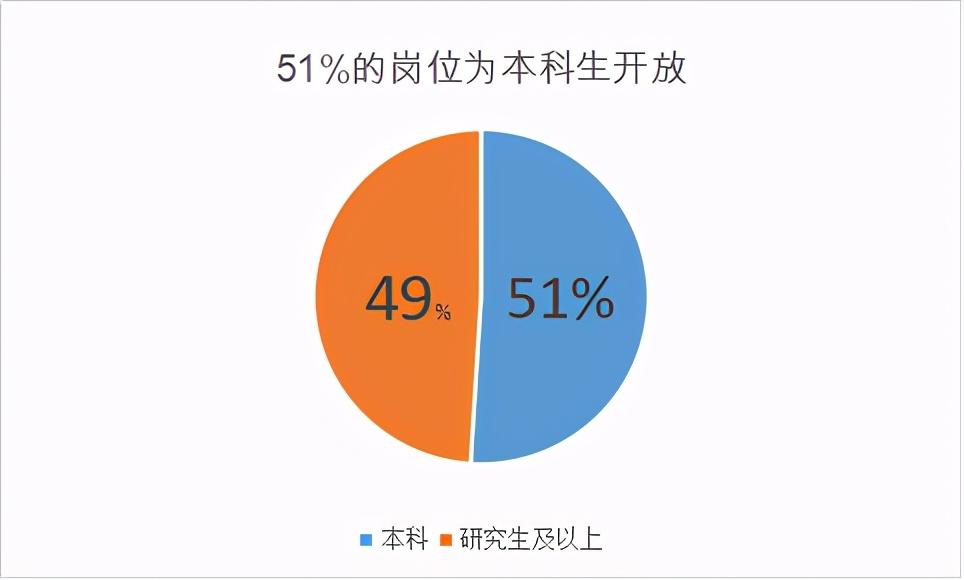 Seeing this, many people started to worry again! How do high-paying and promising top brokerages like CICC and CITIC get in? Don't worry, the first step in applying for a job is to find out which department you like...
If you want to apply for a securities company, which departments are worth entering
Due to the limited space, today Ozawa will only briefly introduce a few core departments...
Investment Banking Department (IBD)
The investment banking department in a securities company has roughly the same function and structure as the investment banking department of an investment bank:
♦ Help enterprises to raise funds (money): issue securities (stocks, bonds), which are called "underwriting" in China;
Suitable for the crowd: Have a certain accumulation of financial and financial knowledge, and have a good ability to withstand pressure, often will be more suitable for boys. However, newcomers generally start with basic drafting and due diligence.
Asset Management Department (AM)
The Asset Management Department is to provide investment management services and asset allocation strategies (such as stocks, bonds, funds, etc.) for institutions, fund companies, and governments; The core value lies in realizing asset appreciation for clients by executing investment strategies (how to combine them).
Suitable for people: Appropriate for economics, finance, finance, and financial engineering. Moreover, many of the work in this department is similar to that of public funds. If you intend to develop in public funds, it is also a good choice to use AM as a springboard.
Research
This department mainly does Yes: Research the listed company, the industry and the macroeconomic environment, and give a judgment on the company based on your own understanding (future development, whether there are mergers and acquisitions opportunities, whether financing is needed, stock price fluctuations, buying and selling, etc.) .
Research institutes are generally divided into the following directions:
♦Macroscopic (research economic, monetary, fiscal policies), etc.;
♦Strategies (adjustment opinions of different industries)
♦Quantification (focus on selecting investment portfolios and exploring investment opportunities through quantitative models)
♦Industry (research on the profit model, industry chain, economic cycle and stocks of an industry) Overall performance of the market, etc.)
Applicable people: The research department prefers highly educated people. And because its groups include: finance, energy and chemical industry, real estate, information and media, medical and health, consumer, textile, tourism, machinery and military industry, semiconductors, and public utilities, fresh graduates with relevant professional backgrounds are also very popular.
Fixed Income
Fixed Income is the future A good department, its business can be mainly divided into fixed income products - mainly the sales, trading, issuance of bonds, etc.
Suitable for people: Have a good knowledge of bonds during college, have a good financial foundation, and have a deep understanding of bonds understand.
How do top brokerages enter?
Educational institutions: Master's degree or above from prestigious schools is standard
First of all, everyone should pay attention , the returnees targeted by securities companies often have a modifier in front of "famous school" and "highly educated"! how do I say this? It was just mentioned that a postgraduate degree is the basic threshold for many domestic securities companies. It is reported that 24 of the 25 listed securities companies in China account for more than 20% of their employees with masters and doctorates. Not only that, but people have clearly stated that they must be in the recruitment requirements. Graduate degree or above...
Guosen Securities clearly requires a master's degree in the 2022 campus recruitment;

In addition to academic qualifications, it also has a prestigious school complex! In China, it is generally the Qingbei reunification + Shangcai, while abroad is generally the top famous schools in various countries: American Ivy League, British G5, Australia's eight major...
Internship experience: Do you have financial/finance-related internship experience
In addition to academic qualifications and institutions, securities companies also attach great importance to relevant internship experience. Notice! Must be a relevant internship.
All of the 6 interns that Zhongjin has made public have interned in big name. The conditions for the employment of interns in the investment banking department of securities companies also tend to have previous internship experience in the New Third Board and IPO, not to mention full-time. Another example:
CICC Investment Banking Department Internship Requirements: Students with internship experience in major securities firms are preferred;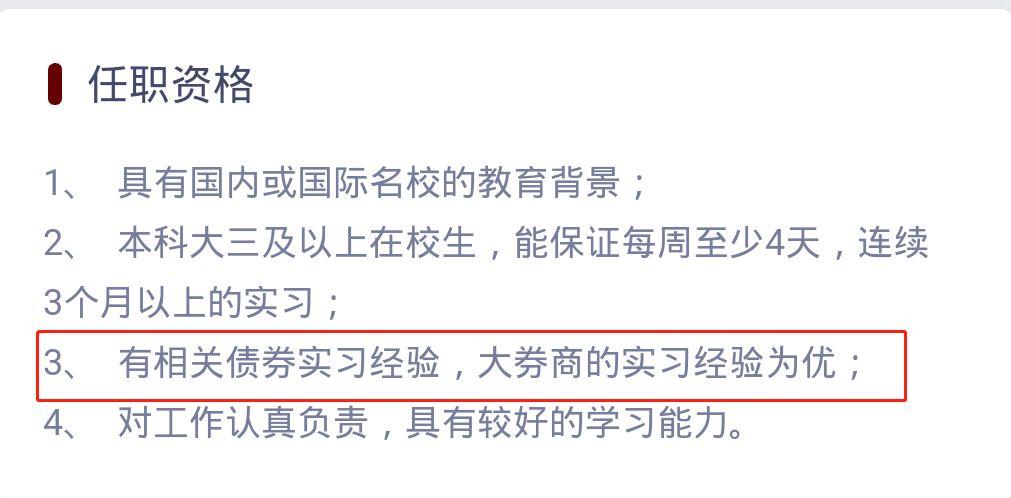 If you don't have a brokerage internship experience, other big names (such as the Big Four or consulting firm) are also a good choice...
Job-seeking skills: these Soft Skills you must have
Of course, you also need to have several skills! Take a look at the qualifications issued by the major securities po:
Zhongtai Securities indicated that candidates need strong language skills, and also named the need to have certain financial and financial knowledge, Those with CPA, CFA, FRM and other qualifications are preferred.

General domestic brokers will require CPA, CFA, or pass the judicial examination when recruiting. Requirements, graduate degree, (CPA, CFA do not need to pass all, one or two courses are enough, all pass is the best, in addition, after passing the CPA, it will be much easier to take the test of the sponsor representative, and the proportion of legal knowledge is very large, The lawyer exam is quite advantageous)
Internship experience in an investment bank is the best, or auditing experience in an accounting firm is also acceptable, or a law firm According to my experience, larger securities companies or foreign investment banks look at the overall quality and also look at the certificate. In short, the certificate is a plus.
So if your institution/grades/certificates are not so good, please seize the opportunity to make yourself better in the future and wait for happiness to knock on your door. As said in the "Book of Changes": "The gentleman hides his utensils in his body and moves them when the time comes."
Article Url:https://www.liaochihuo.com/info/668129.html
Label group:[Mushroom Medicine] [Inlay $エ] [Mastiff] [Juan  Jun board ooh sigh] [Juan] [smashing]