"
CICC will fly bravely, CITIC and Huatai will always follow
It is known that there is a CICC 2021 annual report.
According to Average salary of employees = (employee salary payable at the end of the period - employee salary payable at the beginning of the period + cash paid to employees and paid for employees) / the formula of the total number of employees in the current period, find the corresponding data and obtain the annual salary per capita of CICC in 2021⬇️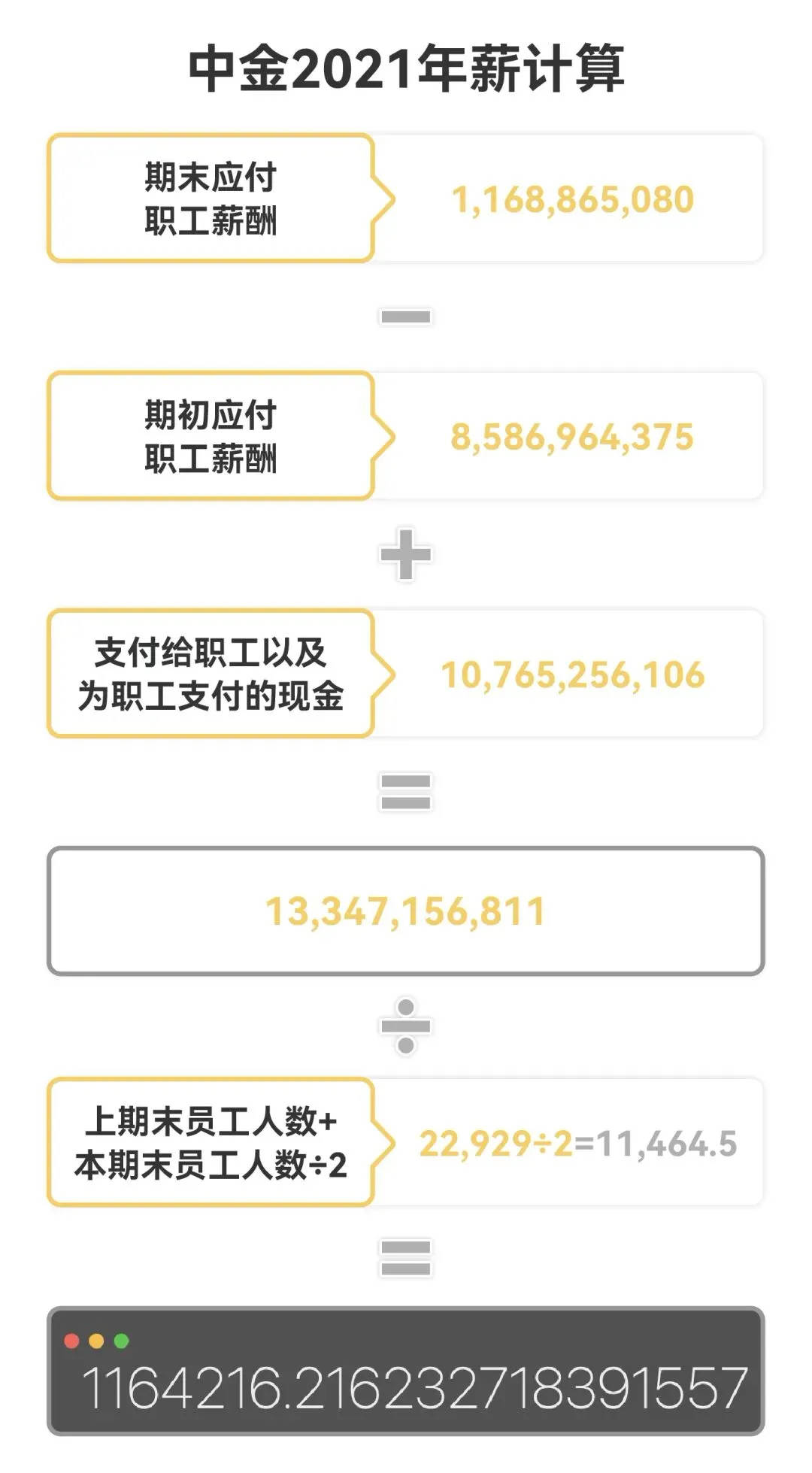 We use ten thousand yuan as the unit and round to two decimal places to get the average annual salary of CICC in 2021 to be 116.42 10,000 yuan.
In the same way, we can also obtain their average annual salary in 2021 based on the annual reports published by other 29 securities companies. After arranging them from high to low, we can get the following table⬇️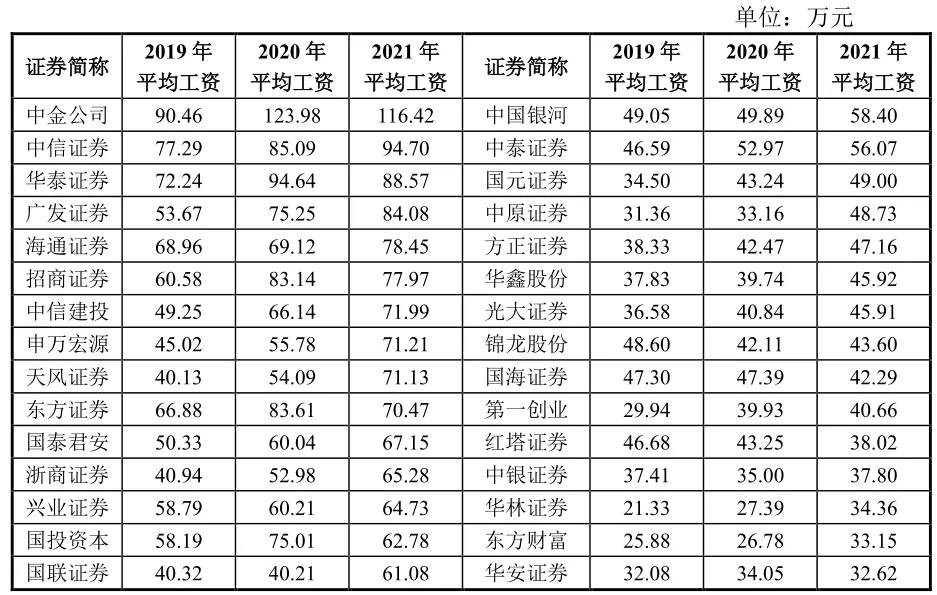 In general, half of the 30 brokers have an average annual salary of more than 600,000 yuan.
Continuing the tradition of previous years, CICC is still the leader in the list, with an average of nearly 100,000 per month, successfully throwing off other brokerages.
CITIC and Huatai were paid 947,000 yuan and 88.57 yuan respectively. The average annual salary of 10,000 yuan followed closely. Among the "Three China and One China", only CITIC Construction was out of the team, with an average annual salary of 719,900 yuan. GF Securities played a stable role and successfully ranked among the top 4.
Although the internal Matthew effect of securities companies is constantly strengthening, and the top securities companies have a larger plate, there are also outstanding middle-level securities companies, such as Zheshang Securities and Orient Securities, with an average annual salary of more than 600,000.
According to insiders, big brokerages have high basic wages and low commission ratios; on the contrary, small and medium-sized brokers have low basic wages and high project commissions. Large brokerages raise a project by about 10%, and small and medium-sized brokers can get 30%~40%.
"
The salary has also been reduced, but not much.
The overall annual salary increase for brokerage firms in 2021 will not be as high as that in 2020.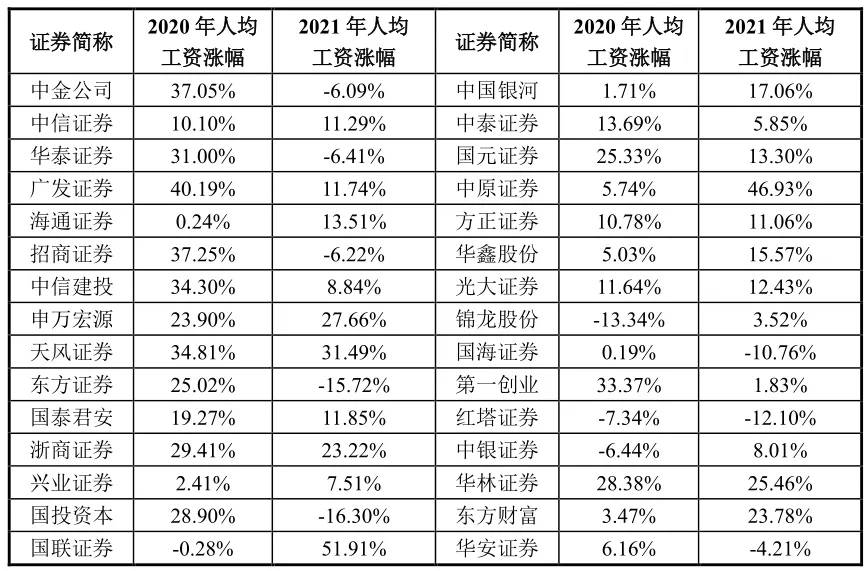 However, among the 30 brokerage firms, 22 brokerage firms still saw their salaries rise, accounting for over 70% of the total. Among them, Guolian Securities has increased the most, with an increase of more than 50%; Zhongyuan Securities has increased its per capita salary by more than 45%.
Some brokerages have also cut their salaries compared to last year. The most eye-catching is the No. 1 CICC, which has cut salaries by 6.09%. On top of that, Orient Securities saw a steeper decline, down 15%.
To say that it is miserable, it has to be Hongta Securities. It has already cut wages for two consecutive years, and in 2021, it will drop by 12.1% on the basis of 2020.
"
If you want to make money, you have to make money first
Of course, everyone knows that in the place where the returnees are fighting, they don't want to be "averaged" You have to show some performance.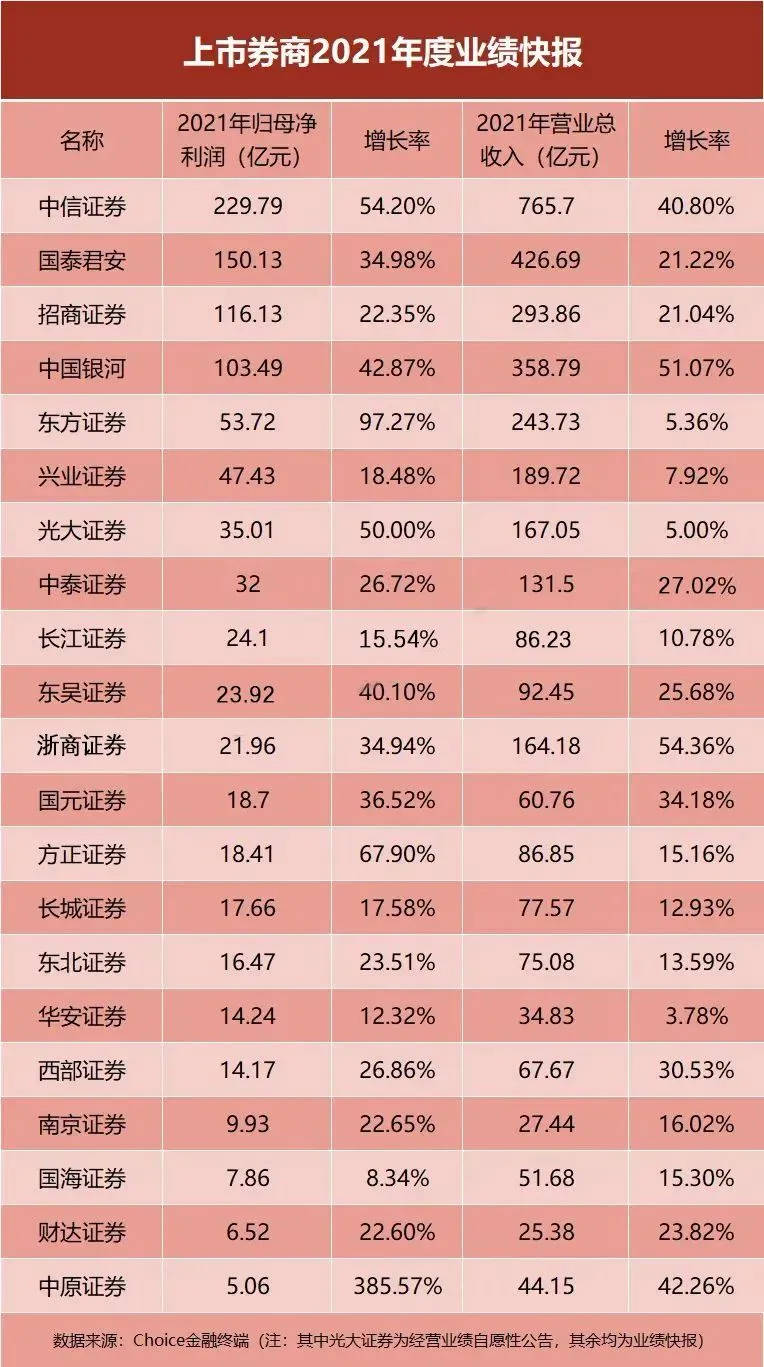 As of March 15, among the 24 listed brokerages that announced their performance Both revenue and net profit achieved positive growth. CITIC Securities, Guotai Junan, China Merchants Securities and China Galaxy achieved net profit of over 10 billion yuan last year, while only CITIC was the only one last year.
The performance growth of large and medium-sized securities companies is relatively fast. For example, the net profit attributable to the parent of Orient Securities in 2021 will increase by 97.27% year-on-year to 5.372 billion yuan; the net profit attributable to the parent of Founder Securities, CITIC Securities, and Everbright Securities will increase by more than 50% year-on-year.
However, Small brokerages are not so lucky, and the whole gap is quite obvious.
After taking stock of the brilliance of brokerages last year, let's take a look at the spring recruitment of brokers that returnees are most concerned about.
02
While the Spring Recruitment is underway, what other opportunities are there for securities companies?
CICC launched the first shot of the Spring Recruitment for securities companies at the end of December last year and officially opened the online application channel for the Spring Recruitment. Other brokerages also open spring recruitment from March to May every yearA batch of summer internship positions has been released. Below is a list of securities companies that are still open. ⬇️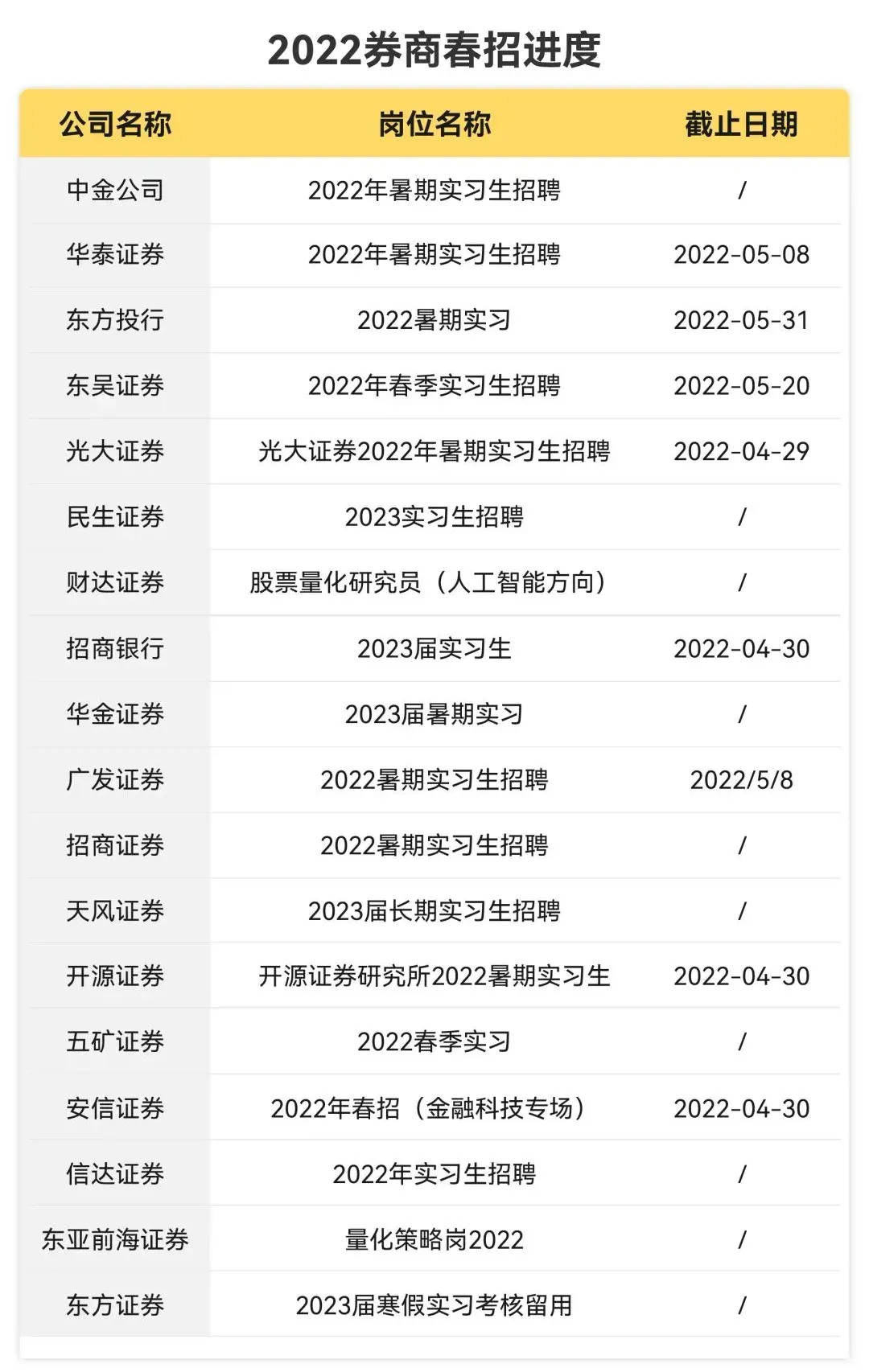 "
p>
CICC has issued an interview invitation
CICC's 2022 intern recruitment timeline can be said to be very long.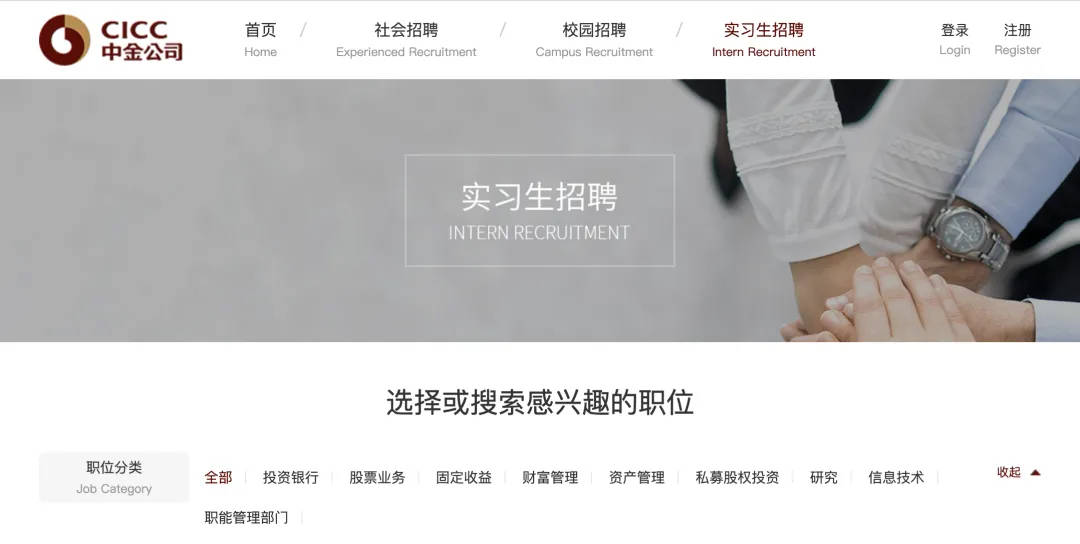 You must know that the Spring Recruitment is the official channel for domestic securities companies to recruit summer interns, and the retention rate of CICC interns is as high as 70%. In this Spring Recruitment, CICC also directly stated that 8- During the 10-week summer internship, students with outstanding performance will have the opportunity to be hired full-time!
Although there is no clear deadline for online application, invitations for 2022 summer internship interviews have been issued.
Student Z NYU
CICC Beijing Office
2022 Sales & Trading Summer Internship One Side Invitation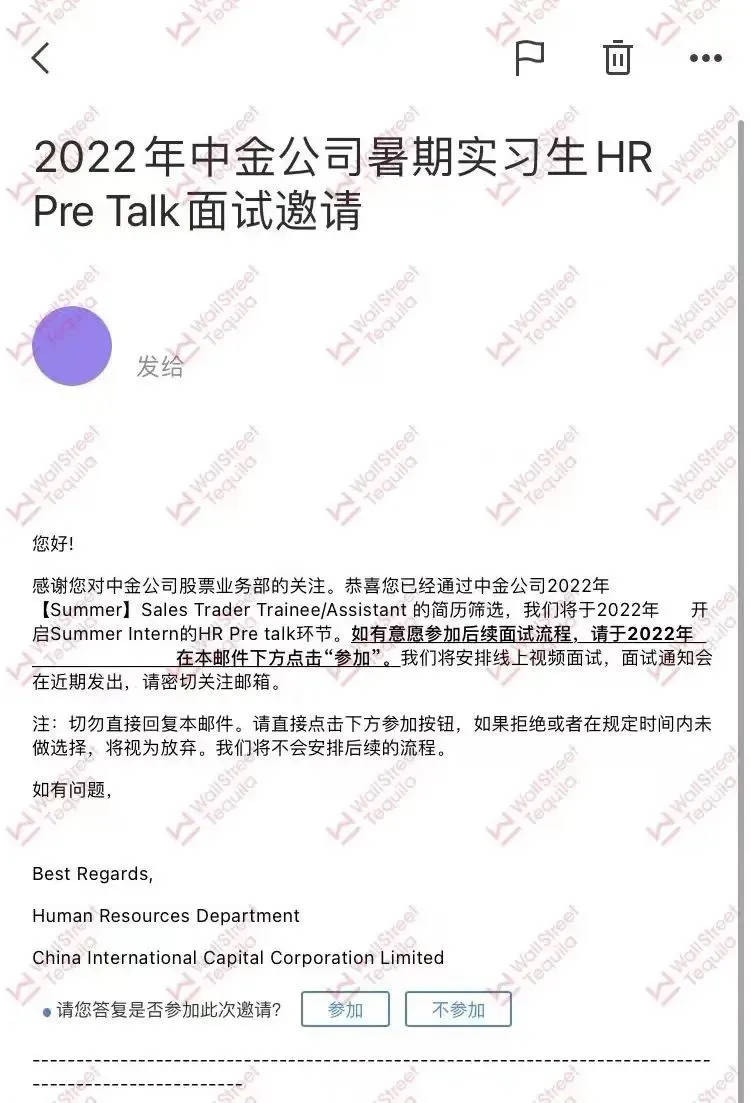 Student L Fudan University
CICC Shanghai Office
2022 IBD Summer Internship One Side Invitation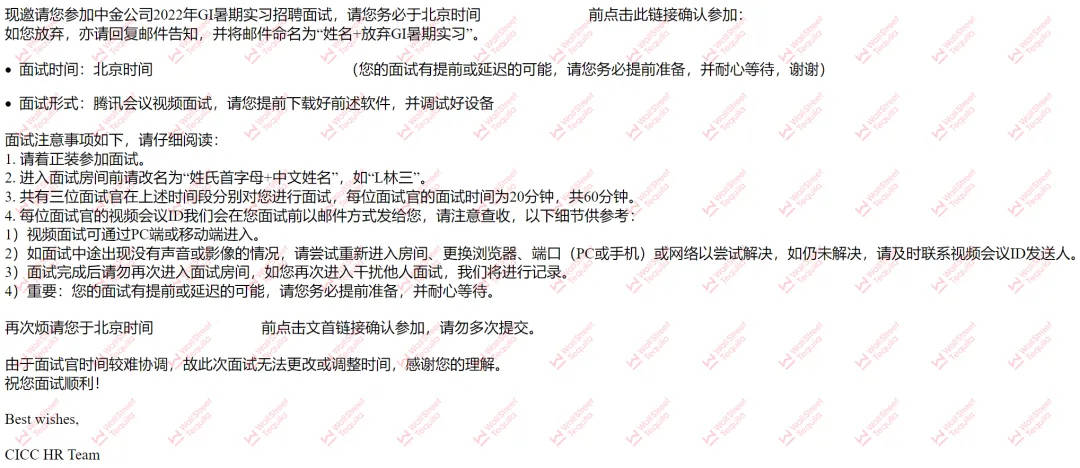 Classmate L Imperial College London
CICC Hong Kong Office
2022 Equity Sales Summer Intern Final Invitation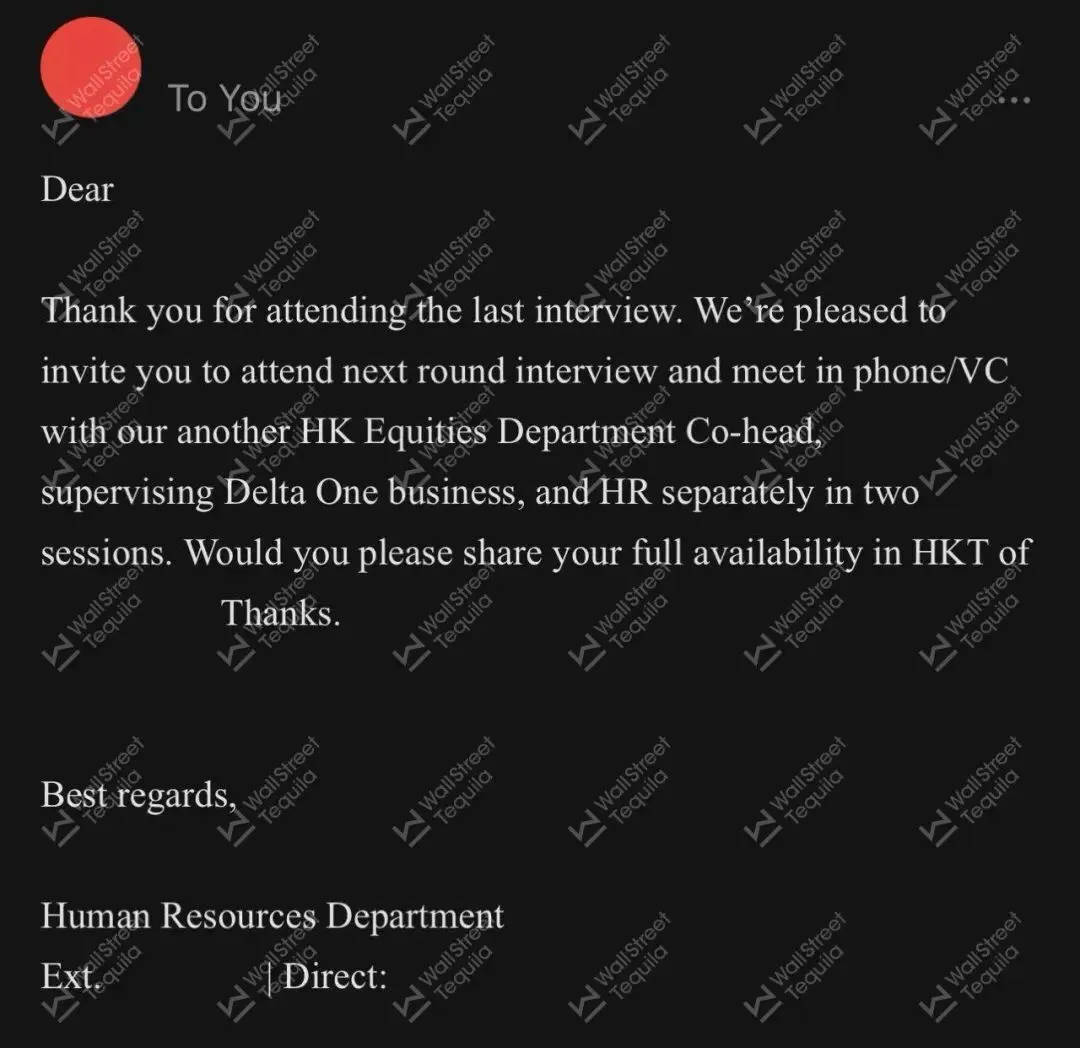 "
GF Securities is only open for 28 days
GF Securities On April 11, the securities company officially announced the opening of the 2022 summer internship recruitment, but it will close on May 8.
Except for investment banking and research positions that require at least 3 months of internship, all other positions require 1-2 months of internship.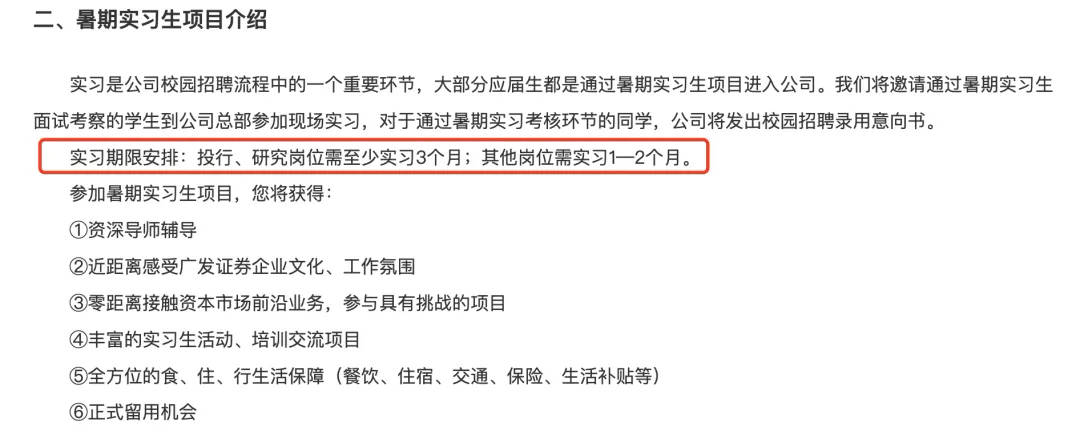 Each person can apply for up to 3 positions, and choose their first, second, and third volunteers according to their willingness. If you really like multiple positions, the suggestion given by GF Securities is to choose "obey adjustment" when applying for positions.
In addition, there are still some securities companies still open for jobs. Here, we have sorted out the online application link form for the 2022 spring recruitment of securities companies. Students who need it can reply to [Spring Recruitment of Securities Companies] by private message to learn how to receive it.
Basically, securities companies will enter the stage of issuing interviews or offers around May. At the same time, the autumn recruitment of securities companies will also be Enter the countdown phase.
03
Brokerages will be recruiting in September. Is it too early to prepare?
Since you have asked the question sincerely, the editor will simply tell you: Of course not! Because there are so many things to prepare.
"
First of all, your background is hard enough.
This background refers to the academic background! , but for the employees of leading brokerage firms, a bachelor's degree from a prestigious school is standard.
Take Zhongjin as an example. From the portraits of domestic offices and overseas offices picked up on LinkedIn:
The domestic offices are basically the top 985 universities and financial institutions in China: Peking University is crushed by The number of sex workers ranked first, followed by the National People's Congress, Tsinghua University, Fudan University, and Hong Kong University in the second echelon. Foreign Economics and Trade, Shanghai Jiaotong University, Central Finance, Hong Kong Chinese, and Shangcai successfully entered the Top 10.
Come again Look at the overseas offices: Columbia University still has the advantage, NYU, NUS, LSE occupy the second echelon. In addition, UCLA, UCL, Cambridge, UPenn, UCB, USC, UMich and other overseas universities are also on the list.
"
Secondly, your professional ability must be very strong.
Here we need to divide it into foreign securities companies and domestic securities companies.
In interviews with domestic securities companies, more attention is paid to behavior, such as:
Past experience
Why join our company
What challenges have you been to, and how to turn the crisis into safety
In the later stage of the interview, domestic securities firms will focus on examining the students' industry knowledge and whether they have a certain understanding of the industry. This is why well-known brokerages prefer candidates with relevant internship experience.
Relatively speaking, domestic securities companies will pay less attention to financial aspects. However, as the competition becomes more and more fierce, some top domestic securities companies have begun to focus on financial/accounting. For example, CICC did this last year: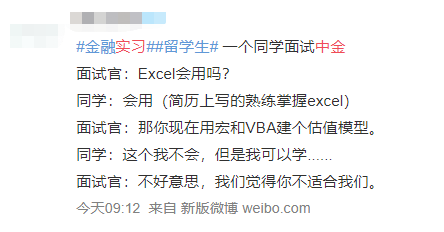 So it's best to prepare in advance.
Foreign securities companies do not require students to understand the industry as soon as they come in. Because foreign newcomers are doing basic work, they will have 5-6 years to accumulate their own understanding of the industry.
However, foreign securities companies have very high requirements for candidates' English ability, and work emails, PPTs, and written reports all need to be in English. During the interview, there will be both oral and written tests in English.
In addition, financial/acconuting-related questions are often asked during interviews:
Accounting if a subject changes, which subjects will be affected
walk through three Zhang Statement
It is worth noting that foreign investors will require candidates to do very complex modeling. Generally, the recruitment page will bring the sentence modeling skill a plus.
Because the previous foreign securities companies were listed on the US and Hong Kong stocks, there was no restriction on the listing price, and the price could be arbitrarily set. Under this premise, foreign securities companies generally make a very complex model to estimate the company's current enterprise value and how many investors will buy in after listing.
So students who want to enter foreign securities companies must pay special attention to this point.
"
Finally, you must have an internship experience
If you want to stand out from a crowd of candidates with good grades and strong professional skills, your work experience will be Your indispensable competitiveness.
An employee of the investment banking department of a securities firm broke the news: candidates without relevant internship experience are difficult to pass the resume. Must have certain internship experience

CICC opens summer internship applications at the end of each year. If you seize the opportunity early, you will succeed. If you get a summer internship offer, you can even directly return to the full-time offer of this year's fall recruitment if you perform well.
Therefore, students who are still blank on their resumes should take advantage of the spring recruiting opportunities. Opportunities to accumulate summer internship experience. Otherwise, when it comes to sprinting for autumn recruitment, you will not be competitive.
Job search stories, study abroad life, work experience
Useful and fun , all here
WST Offer List
Official website:
WST Career official website
Open the official website and click "Offers"
p>
You can view each student's offer
Back to Sohu, see more
Article Url:https://www.liaochihuo.com/info/668125.html