2 How big is the market space for Meituan's main businesses?
Food Delivery

①In terms of business drivers, it is expected that the number of transaction users will increase to 550 million in 2023, the number of transactions per user will increase to 24.8, and the total number of transactions will increase To 13.59 billion, the single transaction amount is 53.2 yuan, so the total transaction amount will reach 722.7 billion yuan;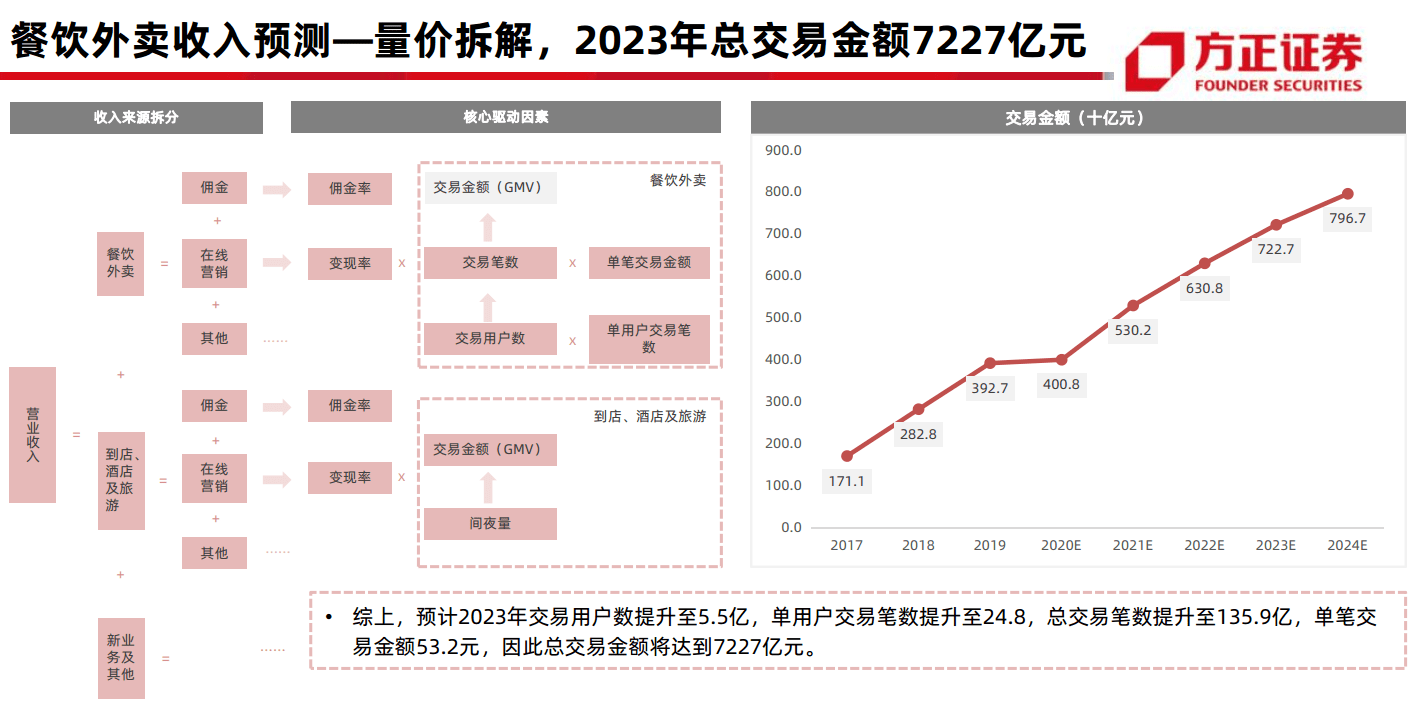 ②Scenario analysis, Under the baseline scenario in 2023, the GMV of Meituan Food Delivery will reach 720 billion.
In 2019, the national catering revenue was 4,672.07 billion yuan, a year-on-year increase of 9.4%. In the past five years, China's catering industry has maintained a stable growth rate, with a CAGR of 9.7%. Under the impact of the COVID-19 epidemic, the catering industry was severely damaged in 2020, and the revenue from January to May 2020 fell by 36.5% year-on-year. It is predicted that the national catering industry revenue will drop by 25% in 2020, rebound to the original level in 2021, and maintain a growth rate of 6% from 2022 to 2024. It is predicted that the national catering revenue in 2023 will be 5.5 trillion yuan. Meituan's 2023 GMV assumptions:
• Pessimistic scenario: the penetration rate of food delivery will drop to 15%; It is estimated that Meituan's market share has dropped from 65% to 60%.
• Baseline scenario: Driven by the epidemic, mid-to-high-end restaurants have launched takeaways and more people have formed the habit of ordering takeaways. It is expected that the penetration rate of takeaways will rise to 20%; the competition pattern will remain for a long time, and Meituan's market share constant.
• Optimistic situation: The pace of life is accelerating, and factors such as "lazy house culture" continue to drive the penetration rate of food delivery to 25%; Meituan's advantages in low-tier cities continue to expand, and its market share increases To 70%
In-store, hotel and travel

Benefiting from the increase in the online rate of hotel reservations, Meituan continued to expand its advantages in the wine and travel market in low-tier cities, and continued to provide local living services. With the expansion, the GMV of the in-store and hotel business will continue to increase steadily. It is estimated that the total transaction value in 2023 will be 322.4 billion yuan.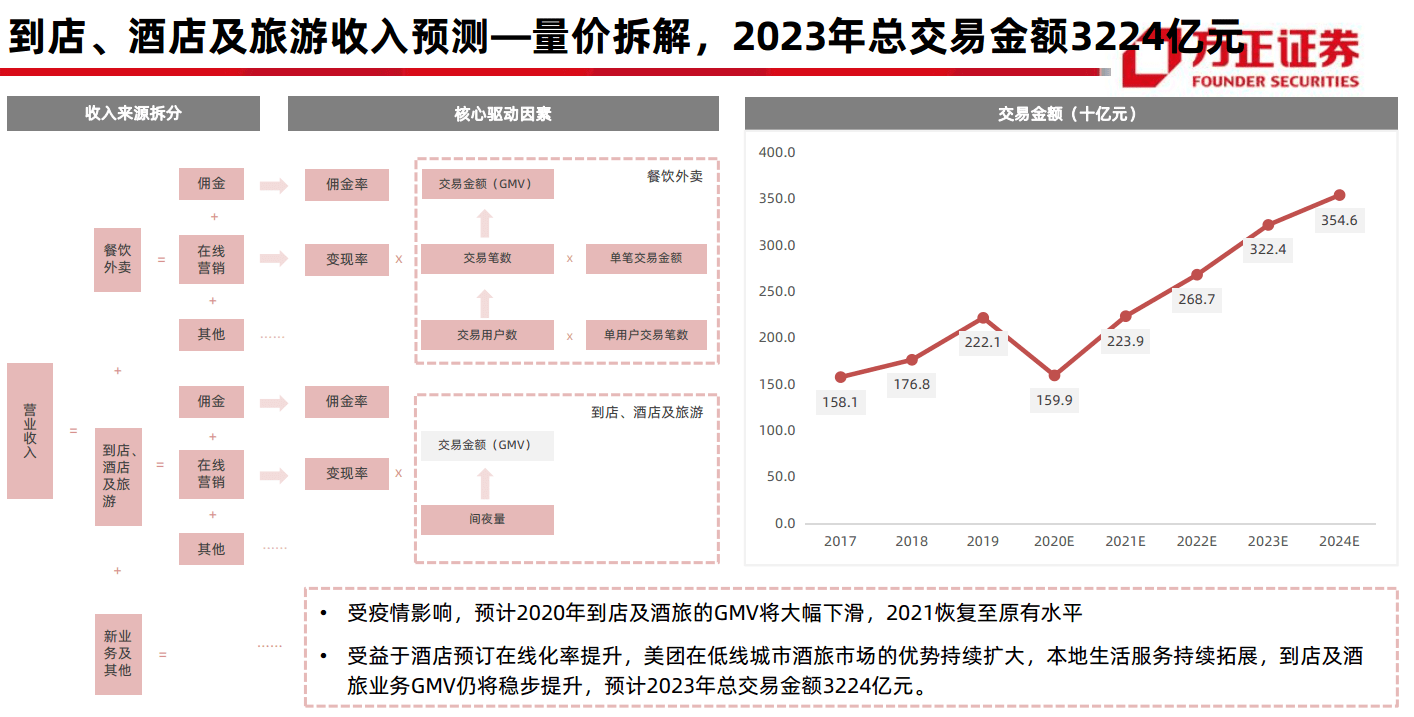 This section adds

1. Comparing the 30%-40% commission rates of overseas food delivery giants Ubereats and Deliveroo, Meituan's current commission rate for food delivery is only 12.6%. There is a lot of room for improvement in the long run. It is expected that by 2024, the commission rate of Meituan's food delivery will increase to 15%, and the total realization rate of food delivery business will increase to 18.5%.

2. The revenue model of hotel and hotel travel has shifted from commission-based to marketing services. The revenue monetization rate of online marketing services has great potential for improvement:1 ) As the number of merchants increases and competition intensifies, more merchants will choose to place advertisements in the future; 2) Merchants pay more and more attention to performance advertisements, and will prefer to place performance advertisements on Meituan in the future rather than channel advertisements.

3. How does Meituan value and price?

SOTP valuation

Food delivery business PS valuation, we have selected 5 Meituan food delivery companies globally Comparable companies of the business, the average PS (LTM) is 14.2 times, the median PS (LTM) is 14.6 times, the average PS (2020E) is 7.7 times, the median PS (2020E) is 7.2 times, consider the US Due to the high growth and scarcity of the group, we give Meituan 8.0 times PS, corresponding to a market value of 1,042 billion yuan.

In-store, hotel, travel business Taking the average of the results obtained from PS valuation and PE valuation, predicts that the target market value of in-store, hotel and tourism businesses in 2023 will be 368 billion yuan. The market value of Meituan's margin of safety in 2023 is 1.41 trillion yuan.

On this basis we forecast New business and more:
①For the catering B2B supply chain business, we predict that Meituan's market share will reach 10% within 3-5 years, corresponding to a revenue scale of 165.4 billion yuan. Using the PS valuation method, compared with the fresh food distribution platforms Oisix ra daichi, Goodfood Market, and Sysco in Japan, Canada, and the United States, we give Meituan a PS valuation of 1.0x, and the corresponding target market value of this business is 165.4 billion yuan;
② Sharing the power bank business, Meituan is expected to become one of the major players by virtue of Meituan's advantages on the merchant side and the user side. Assuming that Meituan shares a 20% market share of charging treasure, revenue reaches 6.08 billion, net profit is 1.52 billion, corresponding to a price-earnings ratio of 30 times, the target market value of Meituan's charging treasure business in 2023 is 45.6 billion;
③ For the bicycle-sharing business, assuming that the value of a single user of Meituan's bicycles is US$120, and the total number of active users of Meituan's current mini-programs and independent APPs is about 40 million, the target market value of Meituan's bicycle business is US$4.8 billion, equivalent to RMB About 34 billion yuan;
④Online car-hailing business, car-hailing business: Didi currently dominates the travel field, accounting for 91% of the market share. Didi's leading position is difficult to shake, and this competitive landscape is expected to remain. The current market share of Meituan Taxi is similar to that of Shenzhou and Cao Cao. In 2018, the valuation of Cao Cao's special car reached 10 billion yuan. Based on this, it is estimated that the valuation of Meituan's car-hailing business is about 10 billion yuan.

In summary, the total market value of Meituan in 2023 will reach 1,665 billion yuan, corresponding to a stock price of 285.02 yuan (313.21 Hong Kong dollars) ).

Financial Analysis

Expenses: Sales and Marketing Expenses Continued to Decline as a Percentage of Revenue

2017 Sales and marketing expenses continued to grow from 2018 to 2019, but from 2018 to 2019, its percentage of revenue dropped from 24.3% to 19.3%, and the company's sales productivity and marketing efficiency are improving.

Return on assets turned positive, and net cash flow from operating activities was positive for the first time

Return on assets increased from -4.1% in 2017 It increased to 0.3% in 2019, turned losses into profits, achieved a positive return on investment, and gradually strengthened profitability.

Operational Capability: Accounts receivable turnover days decreased, and upstream supplier billing periods were gradually shortened

2017-2019 receivables Accounts continue to grow, with accounts receivable exceeding 7.3 billion yuan in 2019, but the number of turnover days in the past two years has decreased compared to 2017, remaining at around 27 days.

The number of employees is decreasing, and the growth rate of income per capita is faster than the growth rate of salary per capita

As of the end of 18/19, the company has 58,390/54,580 full-time employees, respectively, and the number of employees is decreasing (optimization and adjustment in 2018, layoffs in 2019 ), but the per capita salary in 2019 was 227,000 yuan, an increase of 44,000 yuan over 2018, and the overall employee benefits were improved. At the same time, in terms of per capita income generation, the per capita income in 2019 was 1.772 million yuan, an increase of nearly 60% over the previous year, and the income-generating ability of employees continued to be optimized.

Editor/emily
Risk warning: The opinions of the authors or guests shown above are not With its specific position, investment decisions need to be based on independent thinking. Futu will endeavour but cannot guarantee the accuracy and reliability of the above content, and will not be liable for any loss or damage arising from any inaccuracies or omissions. Return to Sohu for more
Article Url:https://www.liaochihuo.com/info/666266.html