The matter of Zheng Shuang's 160 million astronomical salary has not come to light.
The filmmaker of "A Chinese Ghost Story" (now renamed "Just Ask This Life to Love Cangming") suspected of signing a yin-yang contract with Zheng Shuang was once a member of Beijing Culture (000802.SZ) wholly-owned subsidiary.
For Beijing culture, it is a wave of upheaval.
Red Star Capital Bureau noticed today through the Ali judicial auction platform that 9.667 million shares of Beijing Culture will be auctioned on May 17, and the starting price is expected to be 53.1683 million yuan .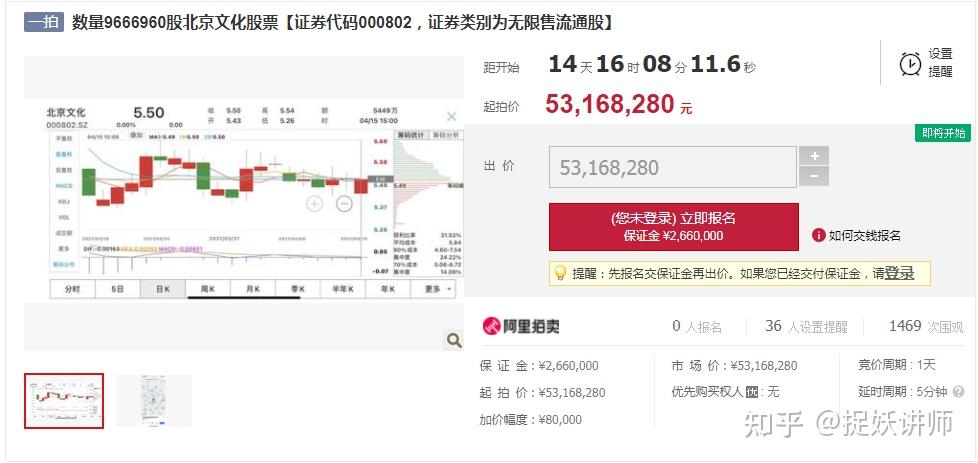 Nearly 10 million shares auctioned
There is a reserve price, and the transaction will not be completed if the reserve price is not reached
According to the Ali judicial auction platform, a total of 9.667 million shares of Beijing Culture were auctioned this time. The currently displayed starting price is 53.1683 million yuan, which is calculated based on the closing price of 5.5 yuan per share on April 15.
This page introduces that this auction is an incremental auction with a reserve price, and no transaction will be made if the reserve price is reached. Reserve price refers to the average closing price for the 20 trading days prior to the auction date.
Among them, the owner of these 9.967 million shares is China Huali Holding Group Co., Ltd. freeze. It is worth mentioning that Huali Holdings was the controlling shareholder of Beijing Culture.
However, now Beijing Culture has neither controlling shareholder nor actual controller.
It is worth mentioning that the auction page marked a "very important" risk warning: 1. Due to the high total value of the stock, the bidding in the auction should be cautious. If it is successful, regretting the auction will bear serious adverse consequences; 2. Consult the securities management agency for policy formulation on relevant restrictions on stock transfer.
As of press time, there have been 1469 onlookers, 36 people have set reminders, but no one has registered yet.
According to Beijing Culture's 2020 financial report, Huali Holdings holds 35.795 million shares, with a shareholding ratio of about 5%.
Explosive models are frequent but deep in the quagmire
Beijing Culture sold its subsidiary but couldn't solve the problem
Although it bet on "Wolf Warrior", "Wandering Earth", "I'm Not the God of Medicine", " "Hello, Li Huanying" and many other popular movies, but the situation of Beijing culture is really not good.
In 2016, Beijing Culture acquired Beijing Century Partner Culture Media Co., Ltd. (hereinafter referred to as "Century Partner") for 1.35 billion yuan, the company's main business for TV drama business.
The financial report shows that from 2018 to 2020, its revenue was 741 million yuan, 855 million yuan and 426 million yuan respectively, and the net profits attributable to shareholders of listed companies were It is 125 million yuan, -2.306 billion yuan and -767 million yuan.
Among them, Beijing Culture suffered a huge loss of 2.3 billion yuan in 2019. At that time, Beijing Culture stated in its annual report that the main reason was the decline in the operating performance of Century Partners and another wholly-owned subsidiary, and a corresponding provision was made. It is due to the provision for impairment of assets and the provision for impairment of goodwill.
It is worth mentioning that Century Partners is the producer of "A Chinese Ghost Story". According to Zheng Shuang's ex-boyfriend Zhang Heng, in 2019, Zheng Shuang earned 160 million yuan from the "A Chinese Ghost Story" project through yin and yang contracts.
By April 28, 2020, Beijing Culture will transfer 100% equity of Century Partners for 48 million yuan.
Even if this hot potato is sold, Beijing Culture is still deeply involved. In a predicament. According to a previous report by the Red Star Capital Bureau, on January 4 this year, Beijing Culture was put on file for investigation. The warning letter from the Beijing Securities Regulatory Bureau showed that the "A Chinese Ghost Story" project involved illegal revenue recognition.
After the annual report was released and Zheng Shuang suspected of gaining additional income through yin and yang contracts, Beijing Culture suspended trading for one day on April 30, and issued an announcement announcing that it had been subject to "other risk warnings" and will soon be dealt with. Wearing a hat. Starting from the resumption of trading on May 6, its stock abbreviation will be changed to "ST Beiwen".
Article Url:https://www.liaochihuo.com/info/666094.html