At the beginning, after the victim received a call and agreed to add WeChat, Mr. Zhang Siyuan would appear.
But Mr. Zhang Siyuan has a lot of affairs after all, so many things are that assistant Yaoyao contacts the victim.
After the competition in the live room, Mr. Zhang Siyuan and three other teachers talked about stocks very professionally, which made the victim very convinced.
And the prestige of the teachers is very high, and the atmosphere in the live broadcast room is very good.
After fifteen days or so, the gang was ready to launch a fake futures platform.
But they are not simply launching directly, but directing a competitive trick in the live room.
Mr. Zhang Siyuan brought the victim into the futures platform for his own honor.
Victim funds also started coming in.
Under the guidance of Mr. Zhang Siyuan, every day's futures are big profits.
After the victim's money was defrauded, the gang did not disappear directly, but continued to fool the victim and delay the time for the victim to call the police.
After the money was lost, the live broadcast teacher also comforted Chen that this was normal and would gradually stop losses and make profits.
But after more than ten days, Chen found that neither the teacher nor the assistant could contact him.
After more than two months of investigation, the Chongchuan police locked down the main members of this pig-killing plate. At the end of September, the gang was busted in Guangzhou, 12 suspects were arrested, and 9 were chased and fled online, involving more than 20 million yuan.
In this case, the police found that the victims were highly educated, and the loss of a single person was relatively large. The age range ranged from 20-year-old students to 50-year-old middle-aged people, and many of them were police officers. When I came to the door, I realized that I had been deceived.
The surge of "illegal stock recommendation" on the live broadcast platform, the China Securities Regulatory Commission reminds the risk
There are too many investment scams, only you can't think of it, no liar can't do it. Anyone who has been following the fund for a long time knows that the fund will remind everyone to report on the relevant events of online stock recommendation and investment scams many times every year. However, there are still many people, including top students, who are deceived. Investor education still has a long way to go.
It can be seen from the above case that Chen has no doubts about the fraudulent group, and was confused by the "atmosphere" of the live broadcast room.
It is true that in recent years, "illegal stock recommendation" through traditional media such as television, radio, newspapers and magazines has been greatly reduced, but the use of online live broadcast platforms "illegal stock recommendation" has increased.
In September 2018, the China Securities Regulatory Commission issued a risk warning on the "illegal stock recommendation" activity on the webcast platform.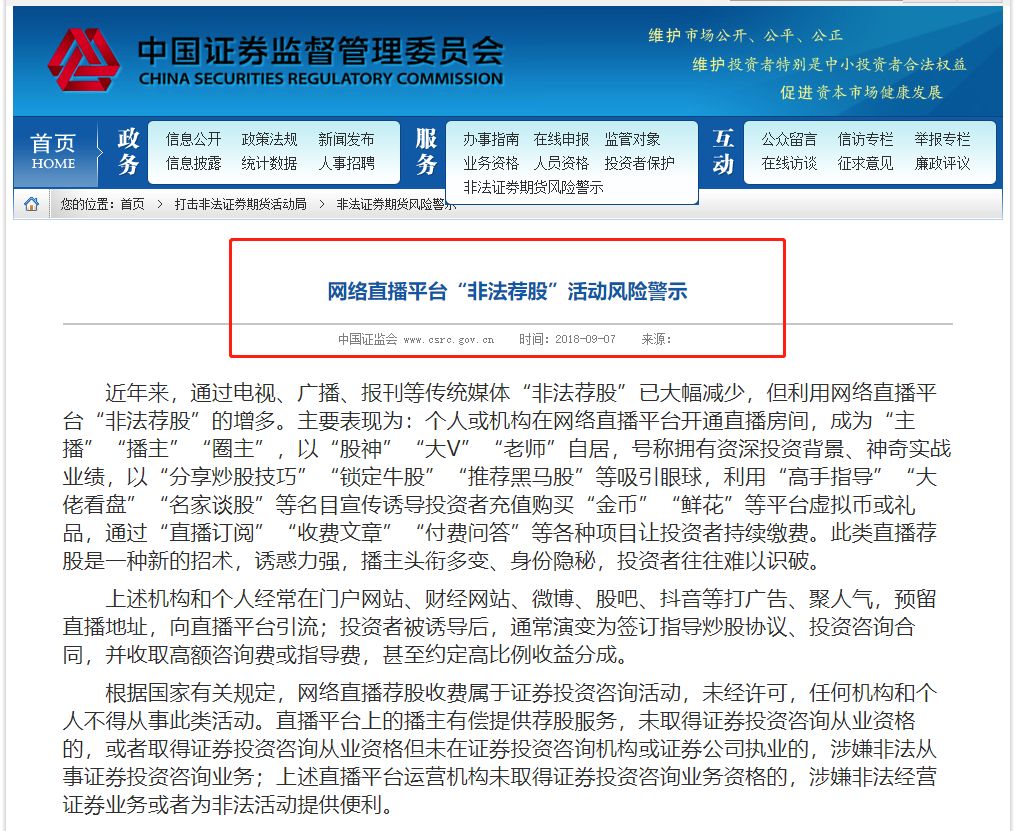 The China Securities Regulatory Commission issued a document stating that the increase in the use of online live broadcast platforms for "illegal stock recommendation",
mainly It is manifested as: individuals or institutions open live broadcast rooms on the online live broadcast platform, become "anchors", "broadcasters" and "circle masters", and call themselves "stock gods", "big V" and "teacher", claiming to have a senior investment background and magical actual combat performance. Attract attention with "sharing stock trading skills", "locking bull stocks" and "recommending dark horse stocks".
Using "Master Guidance", "Big Guys Watching Markets", "Famous Experts Talking about Stocks" and other publicity programs to induce investors to recharge to buy "Gold Coins", "Flowers" and other platform virtual coins or gifts, through "Live Streaming Subscription" Various projects such as "paid articles" and "paid Q&A" allow investors to continue to pay fees.
This type of live stock recommendation is a new trick, with strong temptation. The title of the broadcaster is changeable and the identity is secret, which is often difficult for investors to see through.
The above-mentioned institutions and individuals often advertise on portal websites, financial websites, Weibo, Stock Bar, Douyin, etc. to gather popularity, reserve live broadcast addresses, and divert traffic to live broadcast platforms; It has evolved into signing a guidance stock trading agreement, an investment consulting contract, and charging a high consulting fee or guidance fee, and even agreeing to a high percentage of revenue sharing.
According to the relevant regulations of the state, the webcasting stock recommendation chargesIt is a securities investment consulting activity, and no institution or individual is allowed to engage in such activities without permission. A broadcaster on a live broadcast platform who provides stock recommendation services for a fee and has not obtained the qualification for securities investment consulting, or who has obtained the qualification for securities investment consulting but has not practiced in a securities investment consulting institution or a securities company, is suspected of illegally engaging in securities investment consulting business; If the live broadcast platform operator has not obtained the qualification for securities investment consulting business, it is suspected of illegally operating securities business or facilitating illegal activities.
I hereby remind investors to obtain securities investment advice through securities companies or legal securities investment consulting agencies. The list of the above-mentioned legal securities institutions can be found on the websites of the China Securities Regulatory Commission and the Securities Industry Association; Qualified institutions and individuals cooperate to stay away from "illegal stock recommendation" and avoid loss of profits.
At the same time remind all online live broadcast platforms that those who have not obtained the qualification for securities investment consulting business shall not engage in any live stock recommendation activities; those who have obtained the qualification of securities investment consulting business shall not engage in live stock recommendation activities for unqualified institutions and individuals Provide convenience.
50 people in the WeChat group "stock speculation"
She is the only one who is not a liar!
Another scam for you all.
It was reported earlier that Ms. Yuan met a futures lecturer through a free stock course, and Ms. Yuan was drawn into a WeChat group with more than 50 people in it. There are futures lecturers, customer service staff and other students.
The students sign in the group every day to exchange their experience in futures purchases. There are also special lecturers and customer service staff who are responsible for teaching everyone how to purchase futures in the group and answering the students' questions.
The victim, Ms. Yuan: When he was giving a lecture in the live broadcast room by chance, he introduced the Hang Seng Index to us and showed us how much income it had. I thought he was talking about this thing It was very good. The teacher also said that we can all lose money in the stock market. Through this Hang Seng Index, we can quickly recover our capital. Let us take out all the money in the stock and make the Hang Seng Index together with him.
Ms. Yuan felt that this was a good investment opportunity, so she downloaded the APP of a futures trading platform designated by the lecturer with the students in the group.
Victim Ms. Yuan: Then I followed him to buy it. After the market was closed at noon, the money in my account disappeared in the afternoon, and 170,000 was evaporated. Many (yuan). I thought it was very strange at the time, so I went to the customer service, and the customer service said that I did it myself, but I didn't do it during the period. The next day, the more than 10,000 yuan (remaining) in the account was gone. At the time I felt something was wrong, I felt like I was being lied to.


After investigation, the police found that there were more than 50 people in the WeChat group Ms. Yuan belonged to, and only Ms. Yuan was the real investment clients.
Police: This futures group is tailor-made for victims by a fraudulent group. In this group, except for the victim, all other members are members of the fraudulent group.
Following further investigation, police found The victim, Ms. Yuan, traded on an illegal trading platform built by a criminal group without permission. All data can be modified without permission. The so-called lecturers, customer service, and students in the WeChat group are all played by a fraudulent group. It is understood that the fraudulent group specializes in conducting There have been more than 100 cases of Internet telecommunications fraud.
Hiding on new social platforms, the routine remains unchanged
Shaping the image of the so-called "expert", "master" and "Bai Fumei"
With the development of network technology and the replacement of social tools, the stock market "black mouths" who were active in various forums, stock bars and blogs in the early years began to change, and appeared more frequently on new social platforms such as WeChat and live broadcast rooms. However, the "routines" are the same, except that the "point-to-point" transmission method of the latter is obviously more hidden, and the supervision and investigation are more difficult.
"Routine" 1: Create the images of so-called "experts", "masters" and "Bai Fumei" on social platforms such as WeChat groups and live broadcast rooms, make use of probability to make fuss, and adopt "thousands of thousands of shares".It recommends stocks to investors, so as to achieve the purpose of selling high-value stock courses and charging high membership fees and service fees.
In fact, scammers not only earn membership fees and service fees, but they often build positions in advance and place orders in real time in WeChat groups, live broadcast rooms, etc. Sell ​​high and take profit. Investors have become the "leeks" who take over. Once investors find out that they have been deceived, they will be kicked out of the group immediately.
"Routine" 2: The stock recommenders claim to be able to help investors diagnose their holding charts, tap potential stocks, recommend individual stocks, etc. for free, adopt a cooperative method of profit first and then share, and guide the whole process during the intraday The best trading point for investors to pull up stocks. If the stock goes up, he will pay dividends, and if the stock goes down, he will not take any responsibility.
"Routine" three: pretend to be a formal financial securities trading company to defraud. Fraudsters promote various stock recommendation software and stock recommendation platforms in WeChat groups, and use free use and high profitability as bait to divert users to external platforms to participate in spot transactions such as precious metals, artworks, and postal and currency cards or overseas futures transactions. In fact, their trading systems are fake, and they can manipulate the market in real time in the background, forge transaction records, and defraud users of a lot of money.
Return to Sohu, see more
Article Url:https://www.liaochihuo.com/info/665504.html
Label group:[chain] [bucketclockGinger]