Baidu's stock split plan is approved and another step forward for secondary listing
At 11:00 on March 1, Baidu held an extraordinary general meeting of shareholders at Baidu Tower in Beijing to review the stock split The stock split ratio is 1:80. Before the U.S. stock market opened that night, Baidu issued an announcement saying that the stock split plan had been approved by a vote and would take effect on March 1. This is regarded by the market as a positive signal for Baidu's secondary listing. According to Baidu's previously published filings, Baidu's board of directors approved changing the ratio of its American Depositary Shares (ADS) representing 1 Class A common stock to every 10 ADSs representing 1 Class A common stock to 1 ADS representing 8 shares Class A common stock, effective March 1, 2021, subject to shareholder approval of a proposed 1:80 split. (Shanghai Securities News)
Autohome is expected to raise more than US$1 billion through its listing hearing on the Hong Kong Stock Exchange
According to Reuters' IFR report, China Autohome, an online car sales site, has been approved for a secondary listing in Hong Kong. In January, Bloomberg reported, citing people familiar with the matter, that Autohome, which is already listed in New York, is working with investment banks including Goldman Sachs to prepare for a Hong Kong listing. As early as September, market news pointed out that Autohome is considering returning to Hong Kong for a secondary listing, and plans to raise about US$1 billion. (Interface News)
Other important news:
NIO's fourth-quarter net loss of 1.49 billion yuan narrowed 48% year-on-year
NIO (NYSE: NIO) today released its unaudited financial results for the fourth quarter and full year of fiscal 2020 ended December 31. According to the financial report, according to the GAAP calculation, the total revenue of NIO in the fourth quarter was 6.6411 billion yuan (RMB, the same below) (about 1.0178 billion US dollars), a year-on-year increase of 133.2%; attributable to NIO The net loss for common shareholders was 1,492.2 million yuan (about 228.7 million U.S. dollars), a decrease of 48.4% year-on-year.
SpaceX recovery failure NASA to review engine failure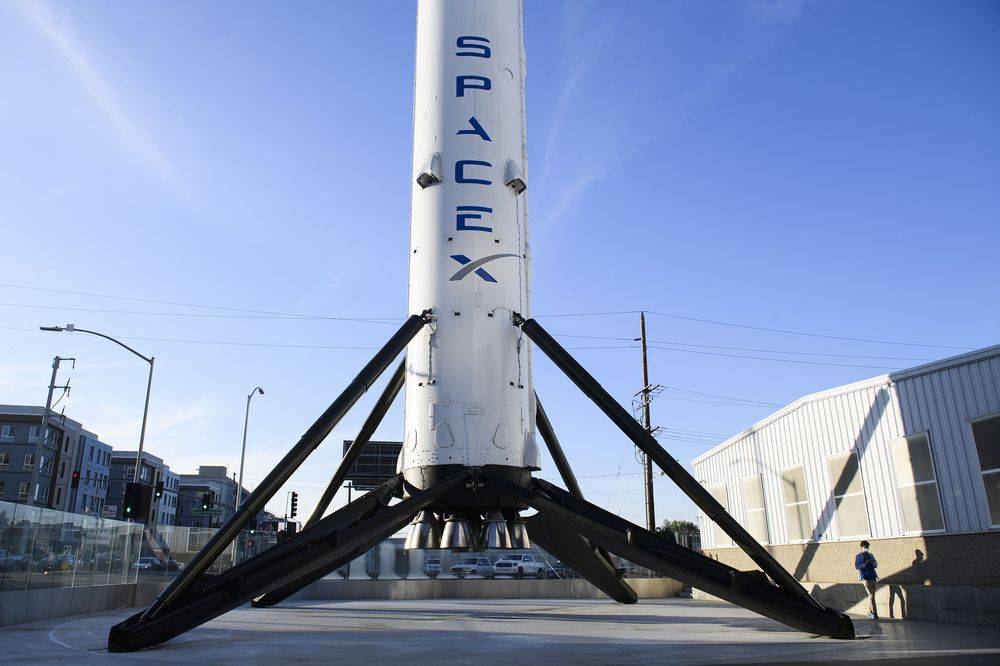 Recovery The Falcon 9 first stage
NASA will launch a review of the engine failure that caused SpaceX's Falcon 9 first stage recovery to fail last month. Right now, NASA is gearing up for its next crewed mission to the International Space Station in April. One of the nine Merlin engines on the Falcon 9 shut down during its ascent on Feb. 15 because each of them shut down, Benji Reed, SpaceX's director of human spaceflight missions, said at a NASA briefing on Monday. A hole appeared in one of the covers around the top of the engine, which allowed hot gas to enter the engine, which shut down as intended, but this caused the rocket to not have enough thrust to land on the drone when it burned on landing. The glitch didn't stop the Falcon 9 from putting Starlink satellites into orbit. NASA plans to learn about the anomaly before a crewed flight in April, said Steve Stich, NASA's commercial crew mission manager. NASA also confirmed that Boeing's "Starliner" test flight scheduled for April 2 will be delayed.
U.S. government asks Google for detailed search data in antitrust case
The U.S. government asks Google for details, court documents released Monday show Explain how its search engine works and makes money, seeking to prove that the search giant constitutes a monopoly. U.S. Department of Justice and various stateAttorney General seeks reference data for U.S. search results and related ads from Feb. 2-8, 2015, and Feb. 3-Feb. 9, 2020, asking Google to share data to understand how and where users were during these times Search, quality of different types of ads, and revenue.
Meng Wanzhou case is open again for court debate and four branches of procedural abuse
On March 1, local time, Huawei's vice chairman and chief financial officer Guan Meng Wanzhou appeared before the British Columbia Superior Court in Vancouver, Canada. Starting from this day, the court will debate the first branch of Meng Wanzhou's lawyer's "abuse of procedure" grounds for a five-day argument, which is politically motivated. Prior to this, Huawei Canada issued a statement saying that in this stage of court debate, Meng Wanzhou's defense lawyers will propose four branches against extradition, namely: political drive, illegal detention, material omission and error Statements, violations of customary international law. (CCTV)
Tesla's electric vehicle market share in Europe was 3.5% in January
Tesla Motors
Data released by automotive analyst Matthias Schmidt show that in January this year, Tesla electric vehicles Car registrations in 18 key European markets stood at 1,619, accounting for 3.5% of all battery-powered electric vehicle registrations during the month. In the same period last year, Tesla registered 1,977 vehicles, with a market share of more than 5%. At the same time, China once again surpassed Europe to become the world's largest electric vehicle market. China registered 179,000 battery-powered electric vehicles and plug-in hybrid electric vehicles in January, surpassing Europe's 110,000.
Amazon sued for allegedly discriminating against black and female employees in hiring
Amazon sued for allegedly discriminating against black and female employees in hiring for corporate offices . The lawsuit, filed in federal court in Washington on Monday, accuses Amazon of recruiting people of color "at a lower level" and promoting them less than their white colleagues with similar qualifications. In a statement, Amazon said the company is committed to fostering a corporate culture of diversity and inclusion.
Video conferencing software Zoom's Q4 net profit of US$260 million increased 16 times year-on-year
Video conferencing software developer Zoom today released its results as of January 31. Fourth quarter and full year financial results for fiscal 2021. The report shows that Zoom's total revenue in the fourth quarter was $882.5 million, an increase of 369% from $188.3 million in the same period last year; net profit attributable to the company's common stockholders was $260.4 million, a sharp increase from $15.31 million in the same period last year. A 16-fold increase. Zoom's performance exceeded expectations, and the stock rose 9% after the market.
Foxconn-backed TV maker Vizio re-applies to IPO to raise $100 million
US smart TV maker Vizio, backed by Foxconn affiliate, re-applies to go public, The interim financing amount is $100 million. Another selling point of Vizio's listing is its expanding entertainment platform Platform+. Vizio filed to go public in 2015, but withdrew its plans after reaching a $2 billion sale deal with LeEco. Vizio terminated the LeEco deal in 2017.
Twitter will permanently ban repeat offenders by labeling false information about Covid-19 vaccine
Twitter said on Monday that the company will ban false information containing Covid-19 vaccines Tweets are tagged, and an enforcement crackdown system is implemented, and users who repeatedly violate the rules will be permanently banned. Twitter has removed more than 8,400 tweets and challenged 11.5 million accounts since it introduced its Covid-19 guidelines.
SMIC was accused of obtaining a US supplier supply license, and Morgan Stanley upgraded its rating to overweight
On March 1, some media reported that from The Supply Chain Office was informed that SMIC has obtained supply licenses from some US equipment manufacturers, mainly covering semiconductor equipment for mature processes. As of press time, the news has not been confirmed by SMIC. Recently, Morgan Stanley published a research report that U.S. equipment suppliers have recentlyThe supply of components and on-site services have been resumed in the future, which at least eased investors' short-term concerns about SMIC's spare parts and component inventory issues. SMIC's rating will be upgraded from neutral to overweight, and the target price of H shares will be raised to 34%. %, from HK$23.8 to HK$31.8. (21st Century Business Herald)
Citi: Bitcoin is at a "tipping point" or becoming the "currency of choice" for global trade
Citi believes, Bitcoin is at a "tipping point" that could one day be possible as companies like Tesla (TSLA.US) and PayPal (PYPL.US) take an interest in bitcoin and central banks explore issuing their own digital currencies "To be the currency of choice for international trade". (Zhitong Finance Network (blog, Weibo))
The police notified that "the online shopping mobile phone received apple-flavored yogurt": the suspect of stealing the package was arrested
On the afternoon of February 23, 2021, the Binhu Police Station of the Baohe Branch of the Hefei Public Security Bureau received an alarm from a citizen, Ms. Liu, saying that she had purchased an iPhone on the official website of Apple on February 16, but received it on February 18. A box of apple-flavored sour and yogurt drinks has been disassembled on the inside of the express box, and it is suspected that the package has been dropped. At about 21:00 on February 28, the police arrested Gong Moumou (male, 31 years old, from Huoqiu County, who had been sentenced for theft), who was renting in a community in Cuozhen, Feidong County. After interrogation, the criminal suspect Gong Moumou truthfully confessed the crime of stealing the mobile phone. According to Gong Moumou's account, from February 6 to February 18, through the introduction of others, he transported goods to and from Hefei and Shanghai. During this period, he took the opportunity to open the express package and commit theft. In order to prevent being discovered, put the sour and yogurt drink you usually drink into the express package that originally contained the mobile phone. (Hefei Police)
Ministry of Industry and Information Technology: China Rare Earth sells the world's largest number of 5G terminal connections at "earth" prices
In the country on March 1 At the press conference of the new office, Xiao Yaqing, Minister of Industry and Information Technology, pointed out in response to the recently announced "Regulations on the Management of Rare Earths (Draft for Comment)" that due to vicious competition among enterprises and competing to lower prices, China's rare earths did not sell "rare" prices, but The price of "earth" was sold, resulting in a lot of waste of this precious resource. In addition, when introducing 5G, Xiao Yaqing pointed out that China has built more than 718,000 5G base stations, invested hundreds of billions in 5G, and now basically covers all cities above the prefecture level in the country; the number of 5G terminal connections has exceeded 200 million, making it the world's first. (21st Century Business Herald)
(Editor in charge: Zhang Yang HN080)
Return to Sohu, see more
Article Url:https://www.liaochihuo.com/info/655137.html
Label group:[technology] [iphone] [SMIC] [common stock] [Meng Wanzhou]