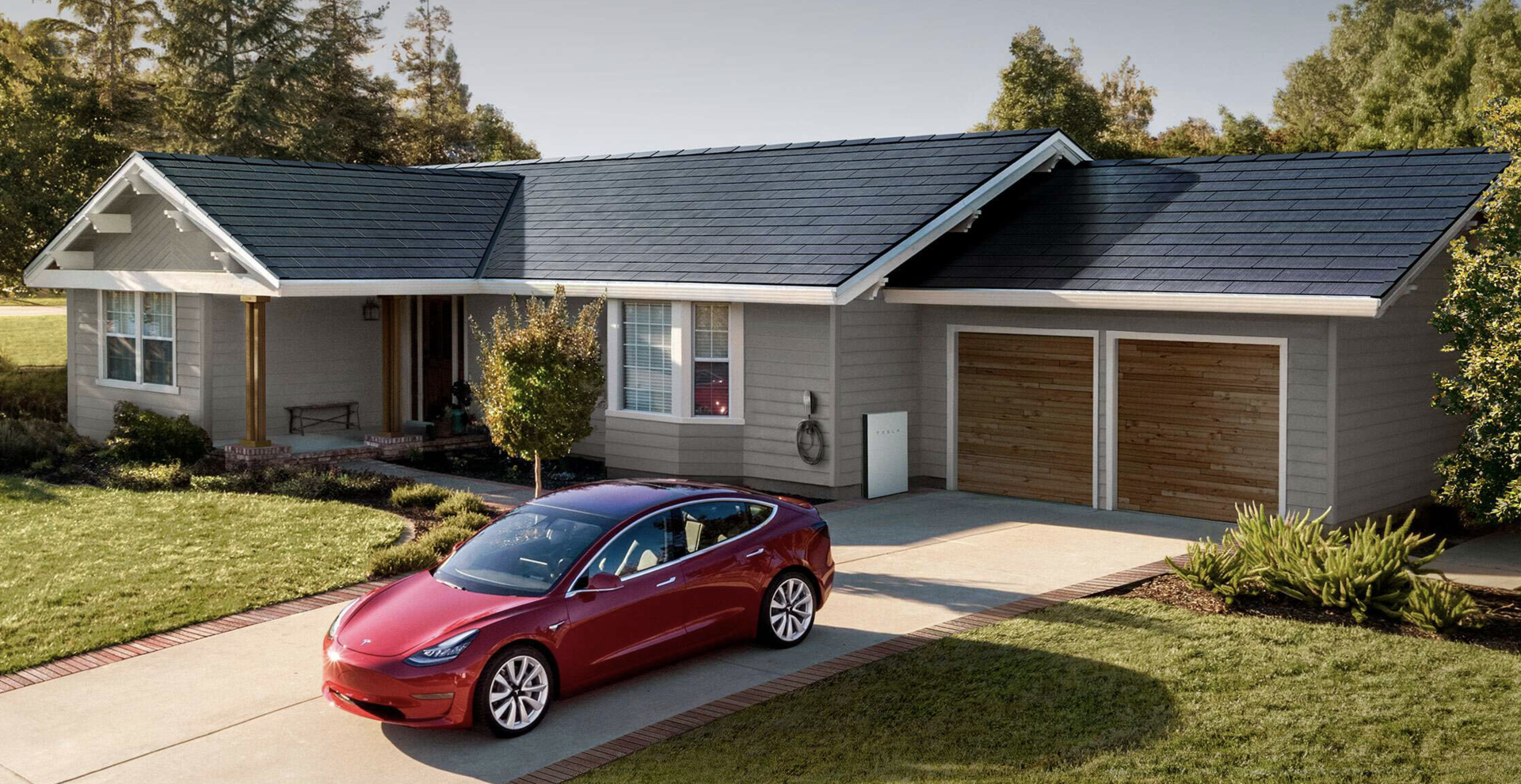 Source: Tesla official website
Author | Wu Xiaoyu
Editor | Wu Yan
On the tenth anniversary of its listing, Tesla's stock price hit a new all-time high.
On the evening of June 30, Tesla's U.S. stock market closed at $1,079.81, up 6.98% on the day, and its market value exceeded $200 billion for the first time. As of the close of U.S. stocks that day, Tesla's market value was equivalent to 1.1 Toyota, 5.5 GM, 7 BYD, 8 Ford or 22 Weilai.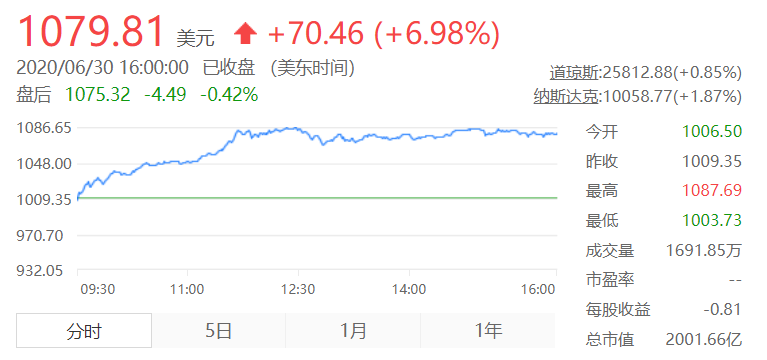 Source: Tiger Securities
At the beginning of the NASDAQ IPO 10 years ago, Tesla La's offering price was only $17, and it closed at $23.89 on the day it went public. This means that Tesla shares have risen 44 times compared to the closing price on the first day of listing. If someone were lucky enough to buy Tesla shares at the issue price 10 years ago, they would have 62.5 times earnings today.
According to CNBC's calculations, Tesla's stock price has risen more than Netflix, Amazon, and Apple in the past 10 years.
The surge in stock prices has also boosted the personal wealth of Tesla founder and CEO Elon Musk. According to the Forbes real-time rich list, Musk's net worth has reached 44.6 billion US dollars, surpassing Ma Yun and ranking 22nd. Chinese friends who have "close kinship" with Tesla also benefited one after another. On July 1, many suppliers such as INVT, Aoteca, and Molding Technology "happily mentioned" the daily limit.
"The history of Apple's development is repeating itself with Tesla." An analysis of Essence Securities said. Ron Baron, founder of Barron's Capital, believes that "Tesla's stock price may reach $3,000 in 5 years" and is expected to become a trillion-dollar company within 10 years.
Will Tesla, which has left behind many century-old brands and strong rivals, successfully replicate the Apple myth in the future?
Who is igniting Tesla stock price?
Tesla will announce its second-quarter delivery data this week, and the market's positive expectations are undoubtedly the most direct factor for the stock price to climb.
In a report, Credit Suisse analyst Dan Levy predicted that Tesla's June sales were very strong, with deliveries likely to be in the range of 90,000 to 100,000 vehicles in the second quarter Among them, about 31,000 of them came from the Chinese market. Electrek also reported that Tesla had delivered more than 50,000 vehicles in North America in June, with nearly 10,000 still in transit. In Asia and Europe, Tesla deliveries could also beat expectations.
By the end of the second quarter of this year, Tesla's deliveries were indeed picking up. Musk is also confident in Tesla's earnings performance, writing in a recent email "until the last few days": "Breaking even looks very urgent. Every car you deliver or build All cars will make a difference, please go all out to ensure victory!"
Therefore, Guosen Securities believes that there are two factors driving Tesla's stock price changes: First, the growth rate of Model 3 sales and Model Y The speed of overseas and domestic delivery, and the second is the progress of new orders from domestic component suppliers and Tesla.
Tesla's stock price has continued to rise since the beginning of 2020, mainly due to the opening of Tesla's factory in Shanghai and the start of production of the Model Y at the former U.S. auto plant in Fremont, California. Recently, the highly anticipated Tesla Semi truck prototype rarely hit the road, responsible for the shipment of Tesla vehicles to be delivered, which also injected a "stimulant" into Tesla's stock price.
Tesla Semi prototype truck source: Electrek
Although the Semi truck has not yet been mass-produced, the industry is very optimistic about its market demand. According to Electrek, 80% of cargo in the United States is transported by the heaviest Class 8 trucks, which sell more than 250,000 vehicles a year and have a market size of more than $30 billion.
Tesla hasn't posted a full-year profit since its first quarterly profit in 2013. But in the last three quarters, Tesla has been profitable. Musk made a rhetoric not long ago, "I believe that Tesla can break even every quarter in the event of any major economic downturn." CNBC believes that if losses are avoided in the second quarter, Tesla will be included in the standard. S&P 500 or just around the corner.
A veritable wealth-making machine
Tesla, whose stock price has skyrocketed 62 times in 10 years, has become a veritable wealth-making machine, and the company that has benefited the most from it. It's Musk, whose net worth has risen.
According to the statistics of Forbes' real-time rich list, as of 5 pm EST on June 29th, Musk's net worth reached 44.6 billion US dollars, surpassing Jack Ma, who had been ranked in front of him before, with an advantage of 1.4 billion US dollars. , became the 22nd richest person in the world.
In addition, according to data from Bloomberg, Tesla's Ark Innovation ETF (ARKK) fund has recorded capital inflows for the 17th consecutive week, and has recorded a return of more than 40% this year, making a lot of money Full.
Tesla concept stocks also ushered in a capital feast. On July 1, Tesla suppliers such as INVT, Aoteca, and Molding Technology collectively increased their daily limit, and Kelai Machinery, Changlu, Dangsheng Technology, and Yinlun shares rose by more than 6%. The share price of Xusheng, which supplies Tesla's North American and Shanghai factories, rose 58.3% in one year, while the share price of Tesla's chassis supplier, Topology Group, rose nearly 80% in one year.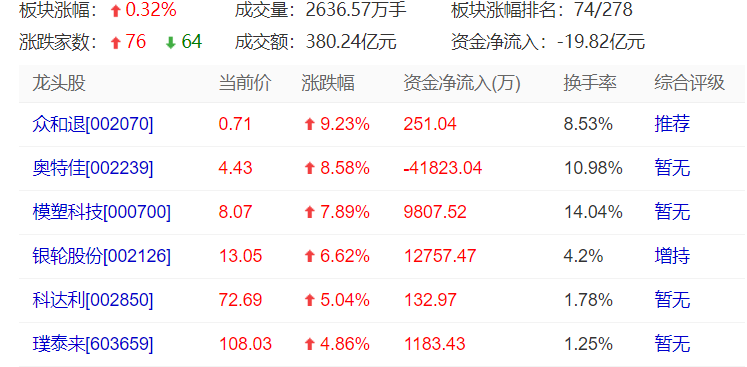 The source of the collective rise of Tesla concept stocks: Flush
In addition to the outstanding performance in the secondary market , "Pang on" Tesla itself is a good way to get rich.
In October 2013, Xusheng passed the Tesla certification and became one of the earliest companies to enter the Tesla supply chain in China. The financial report shows that Xusheng's external sales revenue rose from 218 million yuan in 2015 to 837 million yuan in 2019. Among them, Xusheng achieved sales revenue of 589 million yuan to Tesla in 2019, accounting for 53.69% of operating revenue.
Sanhua Zhikong, a refrigeration and air-conditioning control components and parts supplier located in Xinchang County, Zhejiang Province, has experienced a similar story of getting rich. In 2018, Tesla brought revenue of 50 million yuan to Sanhua Zhikong. Dongxing Securities estimates that with the expansion of the production scale of Tesla's Shanghai factory, it is expected that this figure will become 100 million-150 million yuan in 2019-2020.
In order to reduce costs, the localization of Tesla's supply chain continues, which means that more and more Chinese companies will join Tesla's circle of friends. According to the schedule planned by Tesla for the domestic version of Model 3, in January this year, the localization rate of parts and components in Tesla's Shanghai plant will be 30%, and will increase to 70%-80% by July this year, and will be realized by the end of the year. Localization of all parts.
"Tesla is expected to reproduce Apple's development in the past 10 years and drive the prosperity of the entire industry chain." Dongxing Securities judged in the research report.
Dongxing Securities said that Tesla products are at the 2C end like Apple, and are prone to explosive growth. At the same time, both automobiles and smartphones have a long industrial chain, and terminal products have an obvious role in pulling the industrial chain. In addition, according to the forecast of Bloomberg New Energy Finance (BNEF), the new energy vehicle industry has a market size of 10 trillion yuan, and its potential exceeds that of the smartphone industry.
Get rid of traditional car companies?
On June 10, Tesla surpassed Toyota with a market value of $183.7 billion and became the world's largest car company by market value, marking a milestone moment for the automotive industry. Today, Tesla's market value has reached a new high, once again leaving traditional car companies far away.
This seems to confirm the sentiment of Volkswagen Group CEO Herbert Diess at an internal meeting: "The era of traditional automakers is over." And just seven years Earlier, the "century-old store" Volkswagen scoffed at Tesla, claiming that Volkswagen "will become the world's largest electric car manufacturer in 2018."
Compared with traditional auto giants such as Toyota and Volkswagen, which sell tens of millions of vehicles a year, Tesla's current annual sales are less than 500,000 vehicles. What makes it the most valuable car company in the world lies in its potential profitability and room for growth. The strong software research and development capabilities are the cornerstone of its profitability.
Diess believes that the car will become the most important mobile smart terminal. "If we see this, we will also understand why Tesla is so valuable from an analyst's point of view." He acknowledged that "integrating powerful software into a new model of Volkswagen is much more difficult than electrifying the car," while Tesla collects data to update the vehicle's systems every two weeks to provide consumers with continuous updates. Bring a whole new driving experience.
"Nihon Keizai Shimbun" judged that "Tesla is 6 years ahead of Toyota and Volkswagen in the electronics industry", and Tesla's competitors will not be able to make chips of the same level until 2025.
In addition to software development capabilities, Tesla is also one step ahead in battery technology. In recent years, Tesla has been taking steps to build its own battery empire. It has successively acquired a 79% stake in supercapacitor manufacturer Maxwell, reached an exclusive battery cooperation agreement with battery researchers at Dalhousie University, and built batteries at its Fremont, California factory. production line. Musk predicted on the first-quarter 2020 earnings call that the upcoming "Battery Day" would be "the most exciting day" in Tesla's history.
Gene Munster, managing partner of venture capital firm Loup Ventures, believes that Tesla's business miracle stems from the fact that the company has been operating for several years with virtually no competition, Has a lead of nearly 10 years and will continue to lead for a long time. If the car industry can produce the next Apple, Tesla will undoubtedly be the best "person".
In the face of Tesla's offensive, traditional car companies are not without advantages. They have strong financial strength and strong technical accumulation in hardware, while Tesla is often complained about rough workmanship , loose quality control. Under the wave of electrification and intelligence, Tesla still needs to continue to practice its basic skills before it is expected to replicate the myth of Apple's trillion-dollar market value.
Future Car Daily
Article Url:https://www.liaochihuo.com/info/655119.html
Label group:[new energy vehicles] [electric car] [Tesla] [Tesla model 3] [Elon Musk] [Tesla concept stocks]