Tongdaxin time-sharing main picture, hit the board. Do t. catch up, all-weather source code
This indicator is based on the essence of many experts in the forum and integrated. After nearly two days of intraday observation, the actual effect is good. Thank you all masters here!
The formula incorporates a number of indicators, which is very helpful for daytime trading. Unfortunately, "Tongdaxin" cannot be time-sharing warning, otherwise the rich can come to the hospital (family hospital)!
Instructions for use:
1. Adding quantity ratio index, pink bar: quantity ratio>5, blue bar: quantity ratio>2.5,
2, you don't need to teach macd,
3. The color ribbon is a time-sharing moving average, do t. combined with macd, powder in and blue out.
4. The time-sharing line turns orange, and the daily limit may be larger. For example, the three-color band in the upper left corner is full of purple, and the increase is not very catchable! (Novice Shenwei)
5. The lion, the red ball, and the gold finger are all strong signals, such as multi-index resonance, decisively enter!
The indicators are for reference only, the same gun, the master can shoot without false shots, and the low hands may hurt themselves. I wish everyone a smooth shot!
Use this to remove the upper left character bar if it cannot be imported
Sorry, you should create a quote formula first, otherwise the character bar on the upper left will not display
The source code of the quoted formula is as follows
{FSKY time-sharing K-line quote}
Today's volume: VOL;
Yesterday volume: REF(VOL,1);
Front volume: REF(VOL,2);
Open yesterday: REF(O,1);
Yesterday: REF(C,1);
Front opening: REF(O,2);
Earlier: REF(C,2);
Main image source code
{Reverse MACD parameters: p, 0, 20, 4;}
Before the amount:="FSKY.Pre-quantity#DAY";
Yesterday Volume:="FSKY.Yesterday Volume#DAY";
Imamatsu:="FSKY.Imamatsu#DAY";
Total before: = amount before;
Total Yesterday: = Amount of Yesterday;
Total: = this amount, NODRAW;
BMM:=MAX (former manager, yesterday manager);
AMM:=IF(total/BMM>2,BMM*3,BMM);
MM:=200/AMM;
KP:=DYNAINFO(4);
ZX:=DYNAINFO(7);
A1:=IF(ZX>=KP,355,0);
A2:=IF(ZX>=KP,0,355);
A3:=IF(ZX>=KP,0,0);
DRAWRECTREL(0,80,MM*now volume,110,RGB(A1,A2,A3));
Open Yesterday:="FSKY.Open Yesterday#DAY";
Yesterday's receipt:="FSKY. Yesterday's receipt#DAY";
A4:=IF(Closed yesterday>=Opened yesterday,355,0);
A5:=IF (closed yesterday>=opened yesterday, 0,355);
A6:=IF (received yesterday>=opened yesterday,0,0);
DRAWRECTREL(0,40,MM*Yesterday volume,70,RGB(A4,A5,A6));
Front open:="FSKY.Front open#DAY";
Front receipt:="FSKY. Front receipt#DAY";
A7:=IF(Front close>=Front open,355,0);
A8:=IF (receive before>=open before,0,355);
A9:=IF (receive before>=open before,0,0);
DRAWRECTREL(0,0,MM*previous amount,30,RGB(A7,A8,A9));
RC:=DYNAINFO( 3);
quantityMore than 2.5: =IF(DYNAINFO(17)>2.5,RC-0.15,DRAWNULL),COLORFF9933;
The volume ratio exceeds 5:=IF(DYNAINFO(17)>5,RC-0.15,DRAWNULL),COLORBA75FF;
DRAWBAND (amount ratio over 2.5, RGB(51,153,255), volume ratio over 2.5+0.015, RGB(51,153,255));
DRAWBAND (amount ratio over 5, RGB(255,118,188), volume ratio over 5+0.015, RGB(255,118,188));
{First detonation} {provided by the stock sea network }
TT:=BARSCOUNT(C);{Get effective closing price}
Average price yellow: SUM(C*V,TT)/SUM(V,TT),LINETHICK1,COLOR00FFE1;{value of time-sharing moving average}
Two steps of measurement: =MA(V,5)>REF(MA(V,5),1) AND REF(MA(V,5),1)>REF(MA(V,5),2);
Price in two steps: = C>=REF(C,1) AND REF(C,1)>REF(C,2);
The number of price posts broke 5:=C>Average price yellow AND V>MA(V,5);
Volume initiation: =V>=REF(V,1)*2;
New high price: =C>=HHV(C,0);
Volume hits a new high: =V>=HHV(V,0);
For yesterday's gains:=C/DYNAINFO(3)=2,RC-0.1,11);{Cheats appear, at least 2 minutes have been confirmed};
{MACD P:1,20,4;}
{RC:=DYNAINFO( 3);}
S2:=SMA(C,2,1);
S6:=SMA(C,6,1);
DK:=2*(S2-S6);
STICKLINE(DK>0,RC,RC+DK,0,1),COLOR0000AA;
STICKLINE(DKREF(R11,1);
Pressure line: DRAWLINE(DD1,C,S11,C,1),COLOR00FF00;
T11:=BACKSET(ISLASTBAR,BARSLAST(DD2)+1);
U11:=T11>REF(T11,1);
Support line: DRAWLINE(DD2,C,U11,C,1),COLOR00FFFF;
STICKLINE(C>0,down,down,1,0),COLOR00FF00;
STICKLINE(C>0,up,up,1,0),COLORFF00FF;
DRAWNUMBER (ISLASTBAR, pressure line, pressure line), COLOR00FF00;
DRAWNUMBER (ISLASTBAR, support line, support line), COLOR00FFFF;
R1:=MA(C,13);
R2:=SMA(R1,5,2);
DRAWBAND(R1,RGB(255,0,125),R2,RGB(0,111,255));
C,LINETHICK2,COLORDDDDDD;
{daily limit}{provided by the stock sea network }
Ground: =DYNAINFO(11)+(DYNAINFO(11)*0.021);
Daily limit: IF(DYNAINFO(7)>ground,1,0),NODRAW,COLOR0088FF;
Increase: =IF (Limit = 1, C+0.0075, DRAWNULL), COLOR8000FF, LINETHICK2;
DRAWBAND(rising,RGB(255,211,0),C-0.0075,RGB(255,125,0));
Time:=TIME=100000;
N:=BARSLAST(time);
Constant: =CONST(IF(N=0,C,REF(C,N))),COLORGREEN,DOTLINE;
CS1:=CONST(IF(N,HHV(H,0),REF(HHV(H,0),N)));
CS2:=CONST(IF(N,LLV(L,0),REF(LLV(L,0),N)));
STICKLINE(time=1,CS1,CS2,1.2,0),COLOR008888;
Average price A:=SUM(V*C,0)/SUM(V,0),COLORYELLOW;
{CONST(IF(Time,HHV(H,0),REF(HHV(H,0),N))),COLOR000066,DOTLINE;
CONST(IF(time,LLV(L,0),REF(LLV(L,0),N))),COLOR006600,DOTLINE;
CONST(IF(N,LLV(L,1),REF(LLV(L,0),N))),COLOR888888;
CONST(IF(N,HHV(L,1),REF(HHV(L,0),N))),COLOR888888;}
{daily limit 2}
AA:=BARSLAST(TIME=103000);
CC:=REF(HHV(C,0),AA+1);
VV:=REF(HHV(V,0),AA+1);
ZF:=CC/DYNAINFO(3)VV AND ZF,COLOR0000FF;
DRAWICON (daily limit 2, RC-0.06, 13);
{Open quantity punching board}
Funding: =C*IF(PERIOD=0 AND MINUTE=31,VOL,0),COLORSTICK,NODRAW;{√}
Punching line:=(CAPITAL/100)*1/20,COLORCYAN,LINETHICK1,NODRAW;
A single amount must be boarded: = funds>1000; {time-sharing chart order exceeds 10 million funds};
Single-quantity boarding line: = capital> boarding line AND capital 1.01, RC+0.03, 31); {10 million painting fairy fingers}
DRAWICON (single-quantity punching line AND DYNAINFO(4)/DYNAINFO(3)>1.01,RC-0.03,23);{5 million places to draw a cross star as a warning};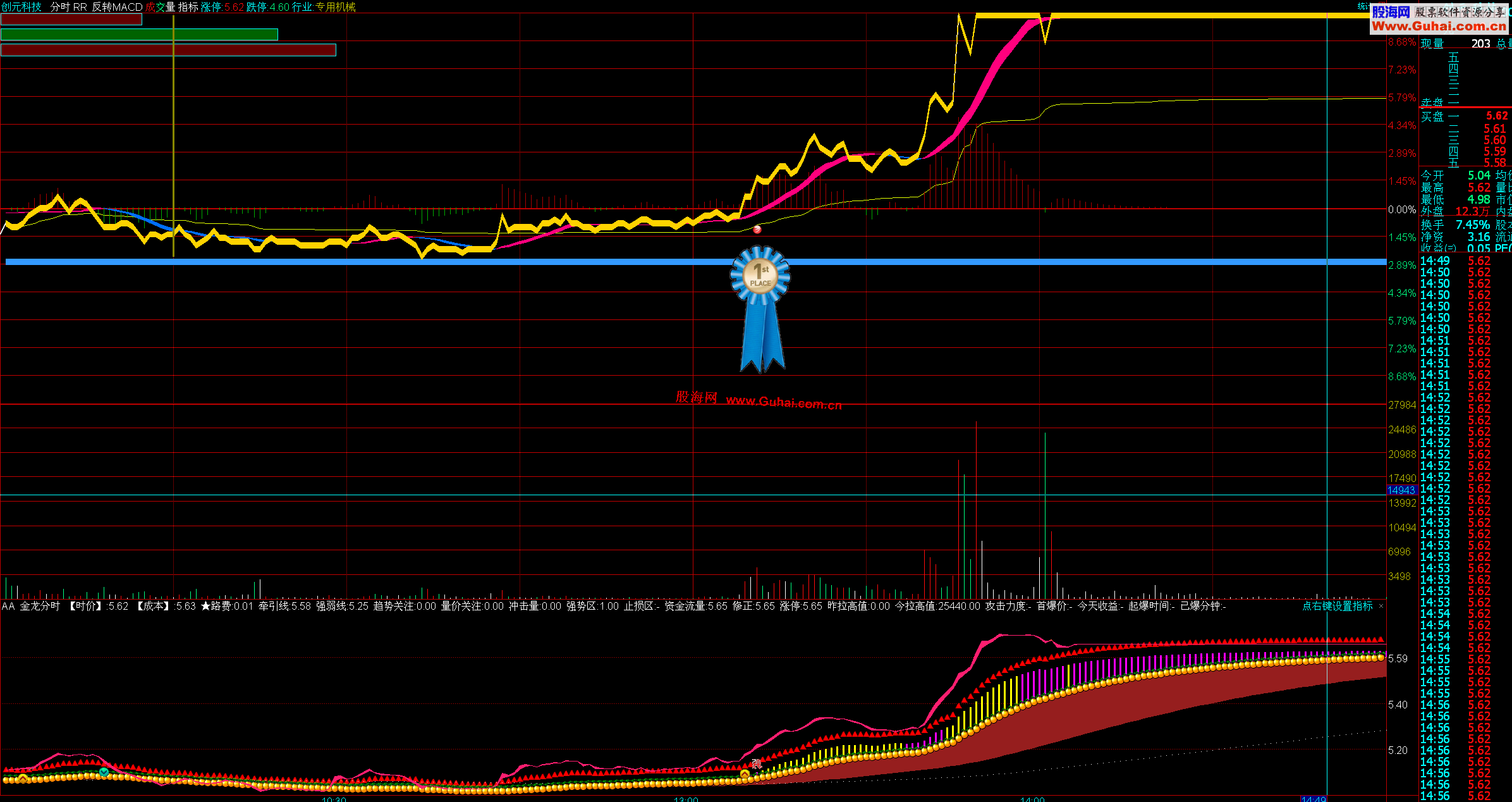 Article Url:https://www.liaochihuo.com/info/643473.html
Label group:[Tongdaxin] [Quantity ratio] [Tongdaxin index] [Tongdaxin formula]