Wearing Bosideng, would you dare to say yes?
The down jackets on the fried street take turns, and this year is like a winter breeze. Now, all male college students in China have put on the North Face brand winter school uniforms.
Since netizens have discovered the pattern of this year's explosions, walking around the street can be completely brainwashed by the small marks on the chest and back.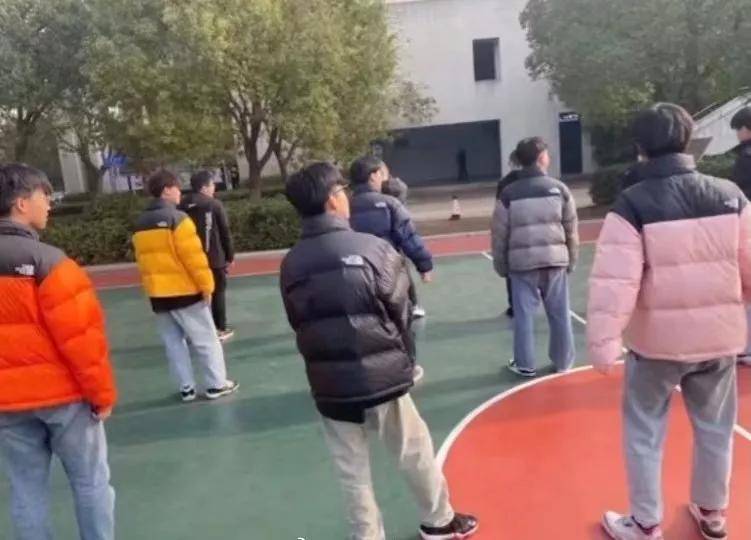 In the past two years, Canadian geese dominated the rivers and lakes. Lujiazui and Zhongguancun are often seen in groups of geese.
When Steven came out of the company to sell buns in a convenience store wearing a big goose, he would look at each other awkwardly with Lily, who was walking oncoming and wearing the same style and different colors.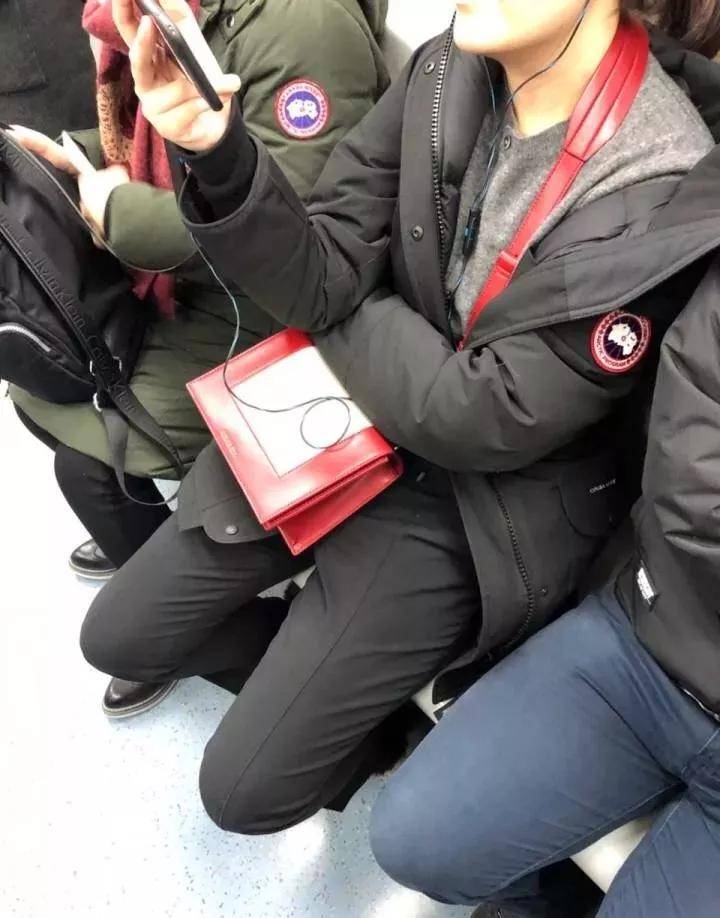 Big Goose was blessed with elitist values ​​by Jack Ma and Putin , "It feels like the kind of money programmers who can buy a house in Beijing will like."
Moncler is the price of down jackets in the past two years The per capita consumption of the store is 20,000 up for the brand raised to the ceiling. The politicians and businessmen are wearing it, both Kim Kardashian and Bi Li like it. Wealthy people and fashionistas have one hand.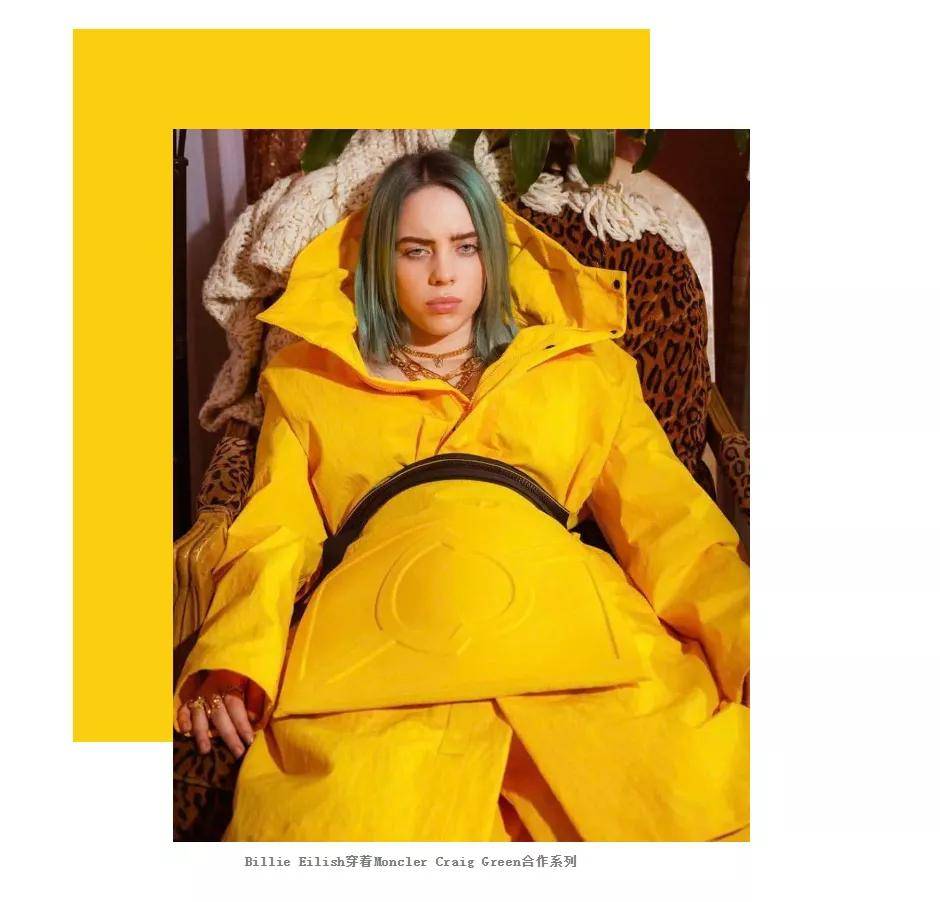 This year's net celebrity down jacket started with a jacket in the north, and it has been with the tide brand royal family since 2007 Supreme collaborated in designing down jackets, capturing street youths and they are professional.
It's just that Internet celebrity down jackets are destined to encounter factory direct sales and high imitation copycats in the face of the powerful Chinese manufacturing and supply chain. "the south face" highlights the distinctive personality, and black to fade is a rebellious deconstruction of the trend by the big brother.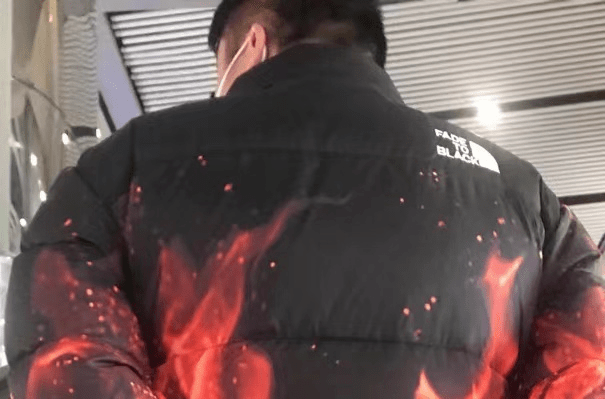 8 yuan can buy a well-made big goose armband on Taobao, Ding Zhen Wearing a leopard print, some people said it was floating in the north, and then it was rumored that Litang didn't even the United States had imitated it.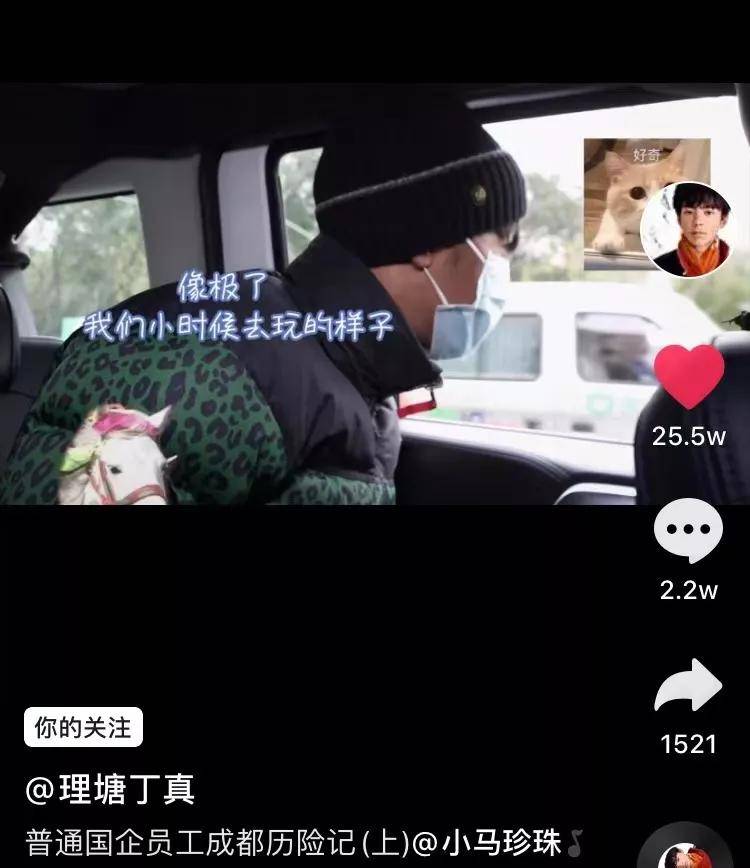 Feng Shui has not been Bosideng's turn, but it is not without benefits.
Wearing Bosideng, you never have to endure the shame of hitting the money, and you don't have to be stared at the logo and the real thing like the North Goose. Most people will question "Huh? Does Bosideng have fakes too?" I think even if it's a genuine one, I can't tell .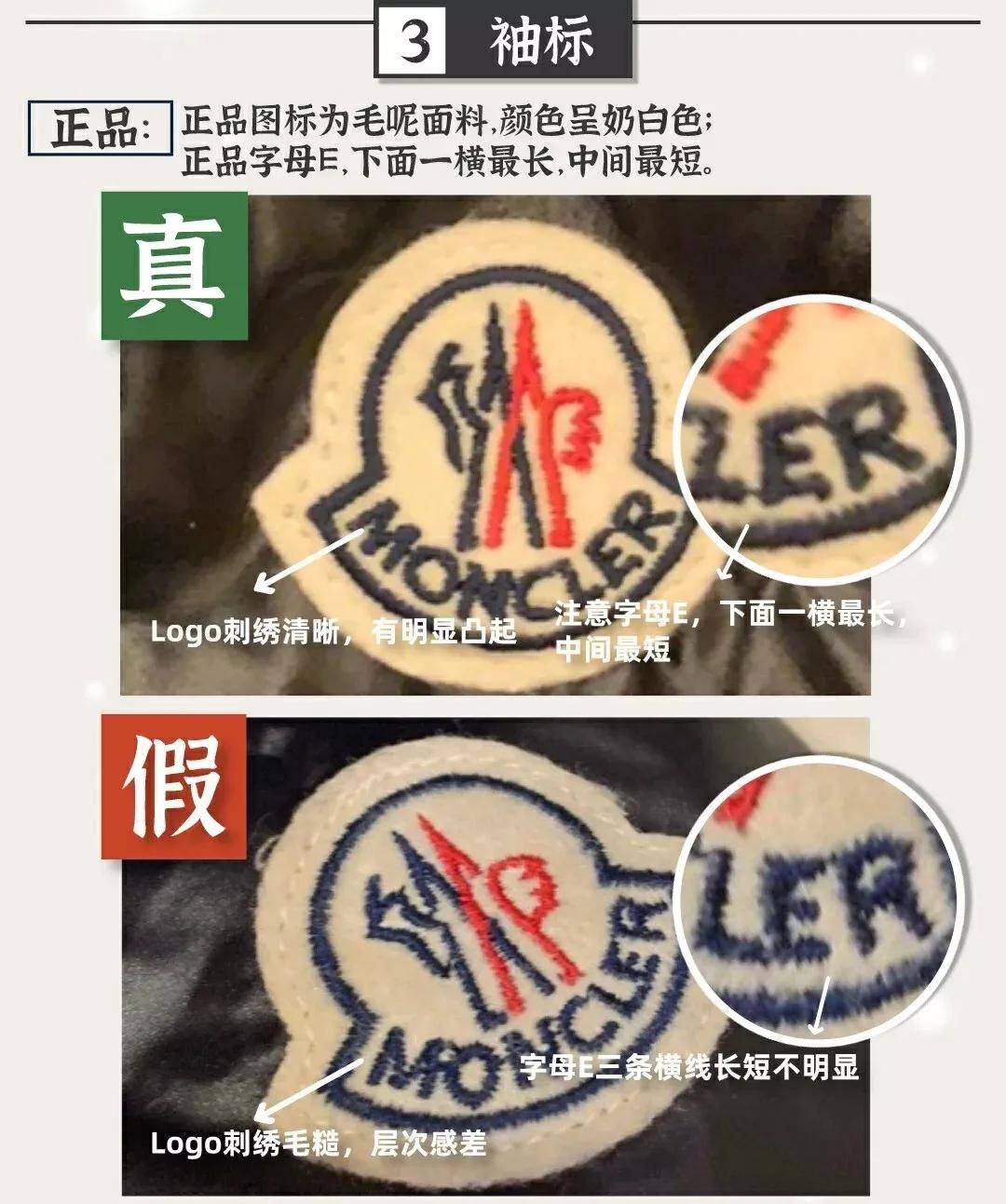 In the down jacket contempt chain summarized by netizens, every brand has The object of looking up. Sanlitun's Big Goose opened its flagship store diagonally across from Moncler, eyeing its eye; Bosideng is more and more in line with Big Goose in terms of design and price.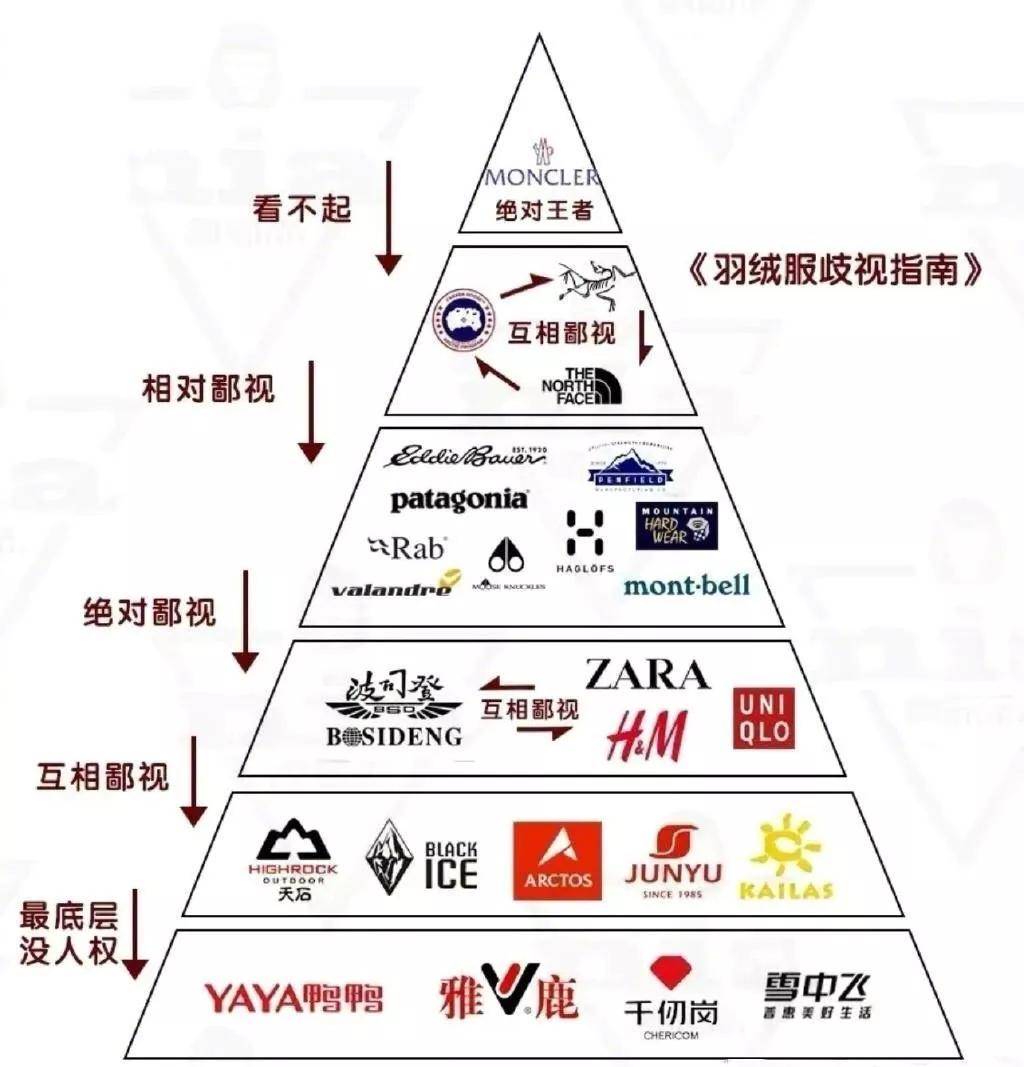 Now young people's consumption upgrades and upgrades can be completely parallel: save money for a few months to buy Gucci Drink LadyM afternoon tea, while looking for the lowest wholesale price on 1688, do everything with Pinduoduo.
The behavior pattern of buying Bosideng obviously belongs to the latter. The Bosideng Wool Raiders are spread by word of mouth: Go to outlets for more than 100 yuan to get good products, or spend one piece in the summer to buy two pieces, frequent discounts Can also squat to the best combination of cost performance.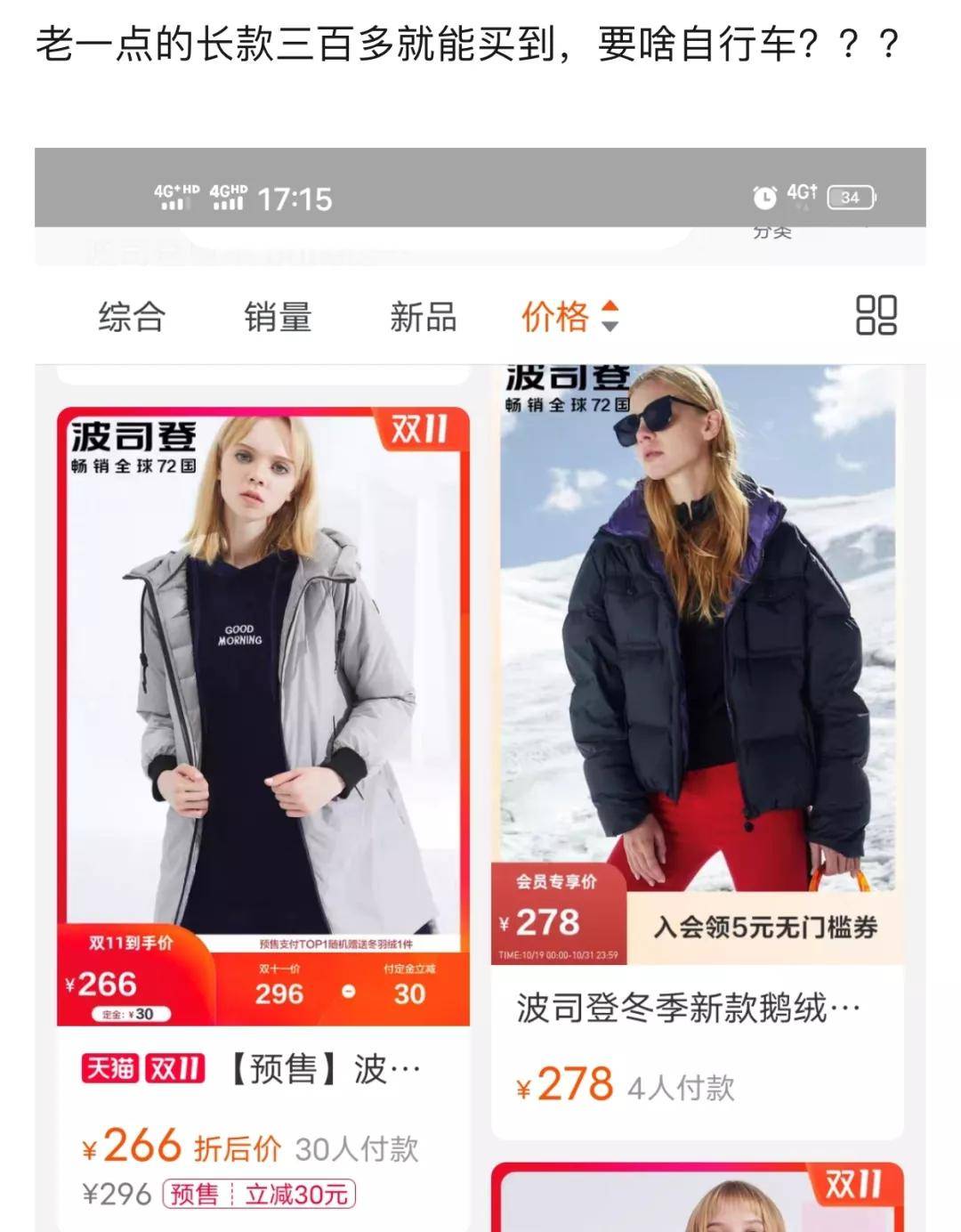 But if someone says "Canada goose is actually a good deal when discounted", it will be immediately excited "Big Goose doesn't offer discounts at all."
Good quality and good reputation. Isn't Bosideng worthy of becoming a street trend? Looking at the advertising picture, I shut up.
Yang Mi wearing a gradient red model looks like a manicure girl returning to the village during the Chinese New Year;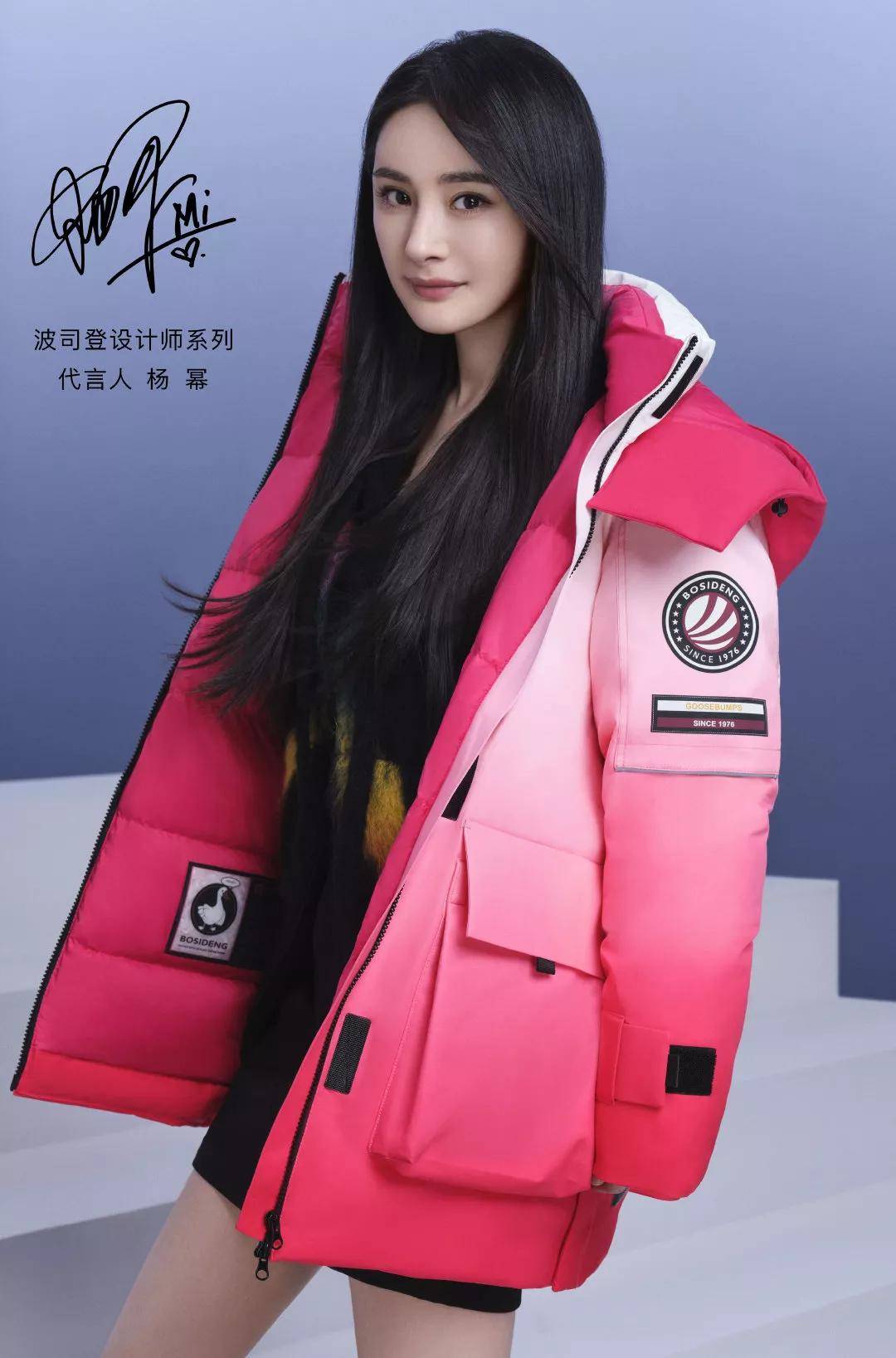 Bosideng even inspired the civil servant temperament of Hong Kong-style trendy William Chan;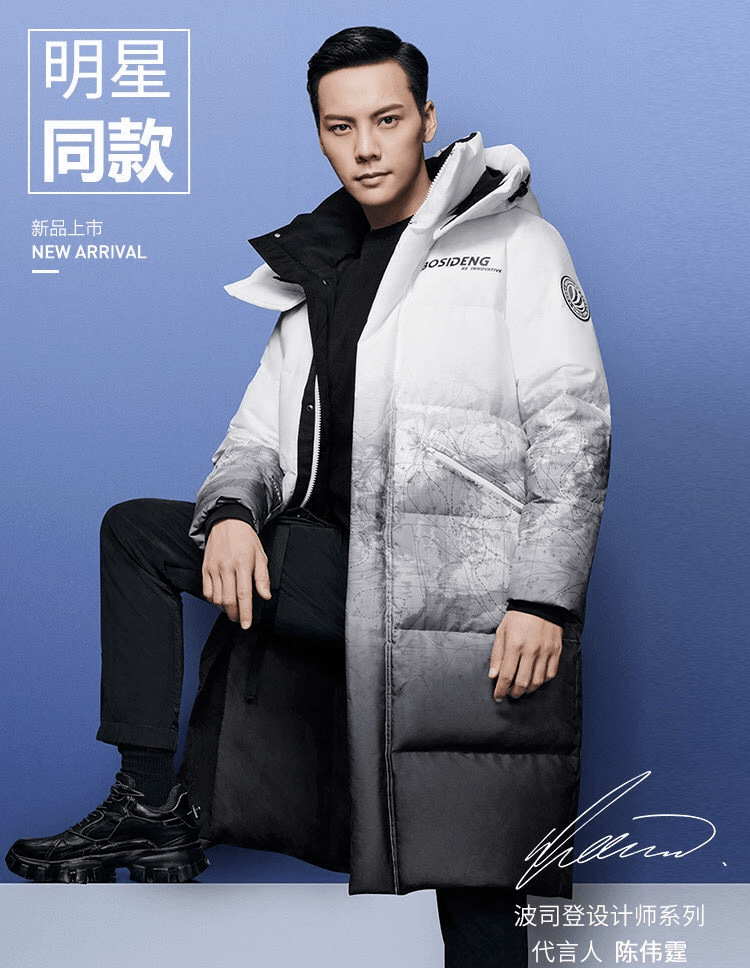 The British male god Dou Sen became the "crazy Ekin Cheng" in the snow.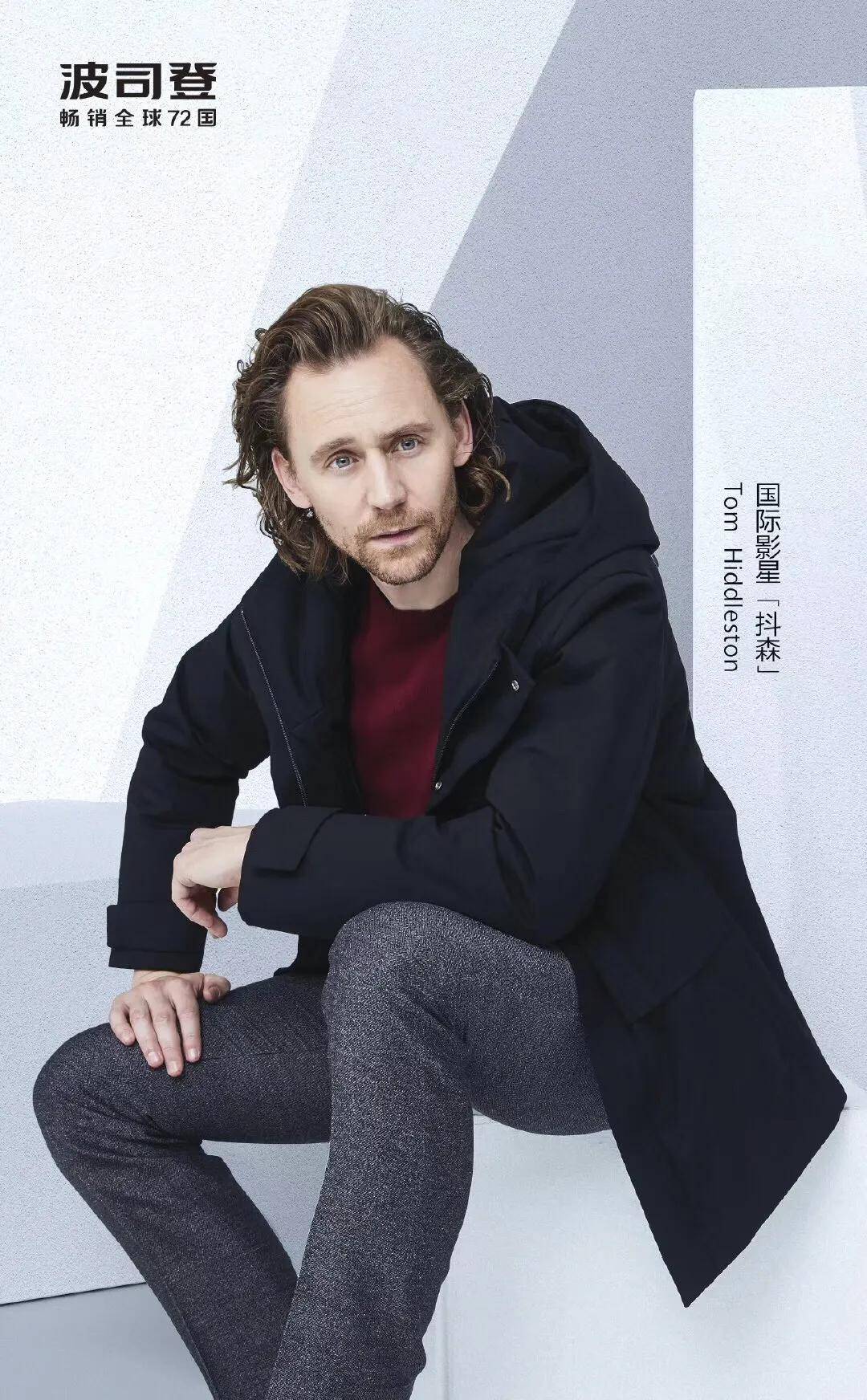 A Bosideng, a collection of three generations of Chen Shu, Zhou Yiwei, Yu Shuxin, old, middle and youth on the same stage Bring goods. However, young people said that they did not want to wear the same style with one of the Big Three in Daqing Oilfield, and did not want to run into shirts with uncles and aunts.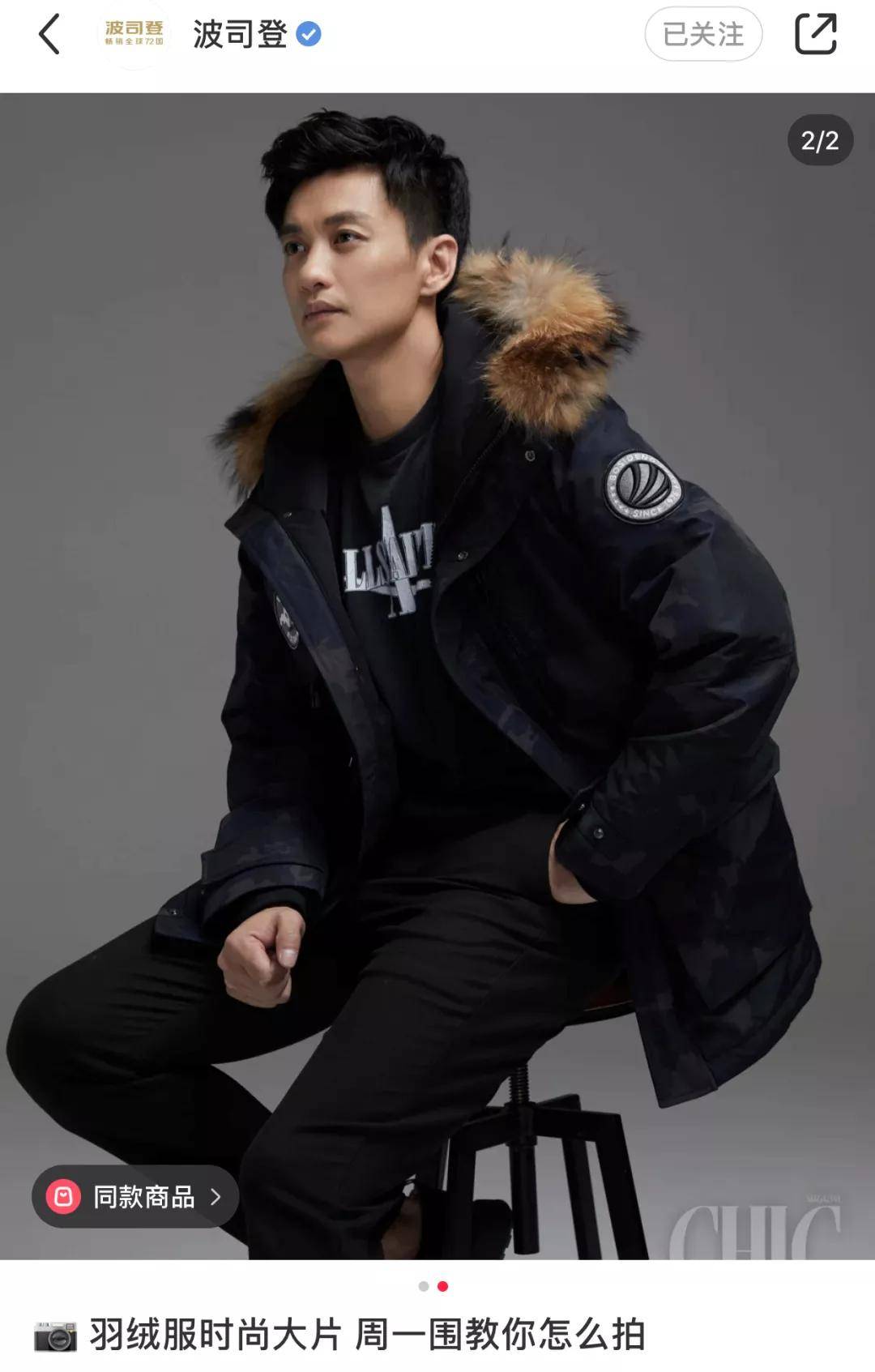 Bosideng has always wanted to reverse the old-fashioned tone of earthy flavor, but it has been so high-end for so long , Why no one buys it?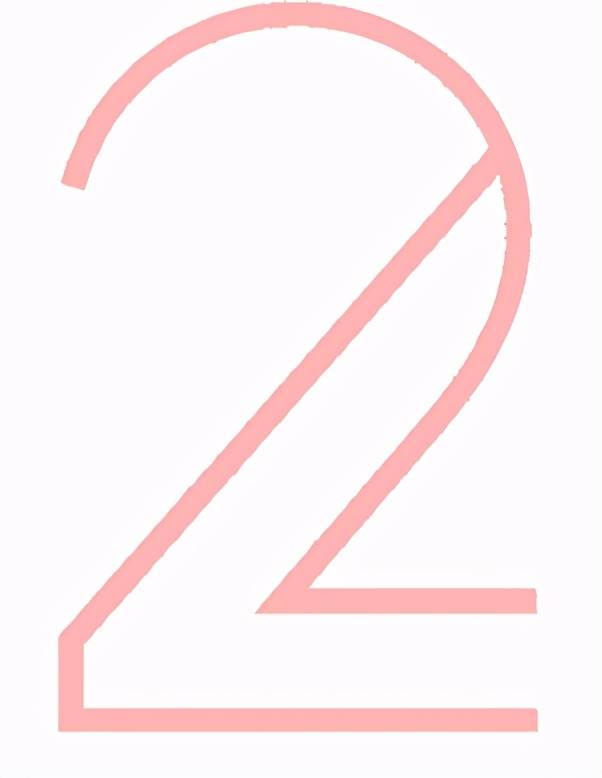 High-end is fine, but not necessary?
Thanks to the cold wave, Bosideng won the sales champion of local apparel brands on Double Eleven this year.
In fact, Bosideng's national base is quite capable, that is, it's always a half-beat slow. I would like to call it the "most beautiful retrograde" in the trend world. By".
When it is in order to achieve the great When striving for ideals and going abroad, Uniqlo is eager to try to enter the Chinese market.
While Bosideng was busy expanding the product matrix, young people were fascinated by the Canadian goose's elite assault suit;
When Bosideng said that I want Versailles and I want to go to the T stage, Moncler was born as a soldier. Luxury brands gradually poured into the down track, Even Gucci and Bei Mian have jointly created the most winter outdoor in history.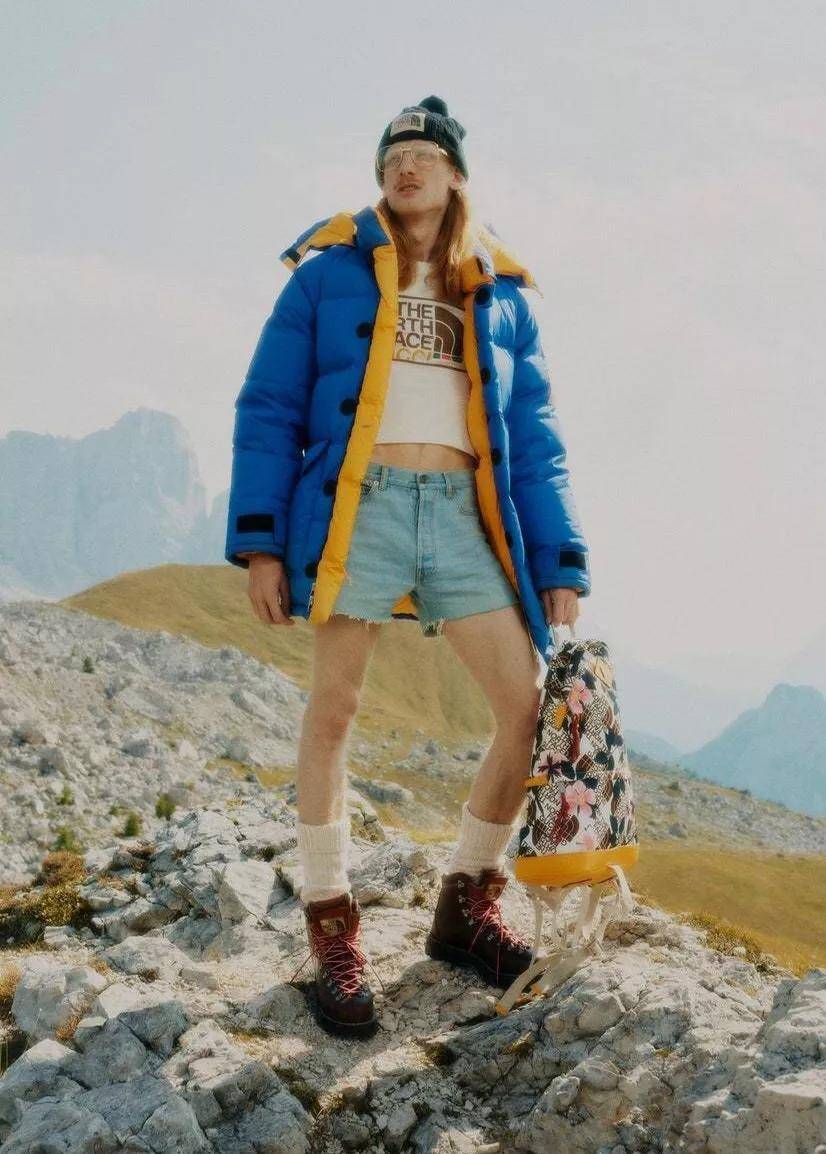 It's not easy for Bosideng to take a minimalist and low-key route, even if it's only the pursuit of good clothes and not expensive , Many people's first reaction may be Uniqlo rather than Dad's wardrobe.
Bosideng, who has passed by the tide again and again, has witnessed the Canadian goose's long-cherished wish of "selling the world". Moncler even turned the down jacket into an icon to get rid of the seasonal limitations.
Bosideng wants to tune up the brand. What has it done?
Please come to love horsesGaultier, the former designer of Shi, sits in the battle. The joint series really made Bosideng a new face. The maverick hollow birdcage reminds me of Mr. Yu Qian's Ding Ding. The few items on the official website are either sold out or off the shelves, or sold less than 10 in a bleak month.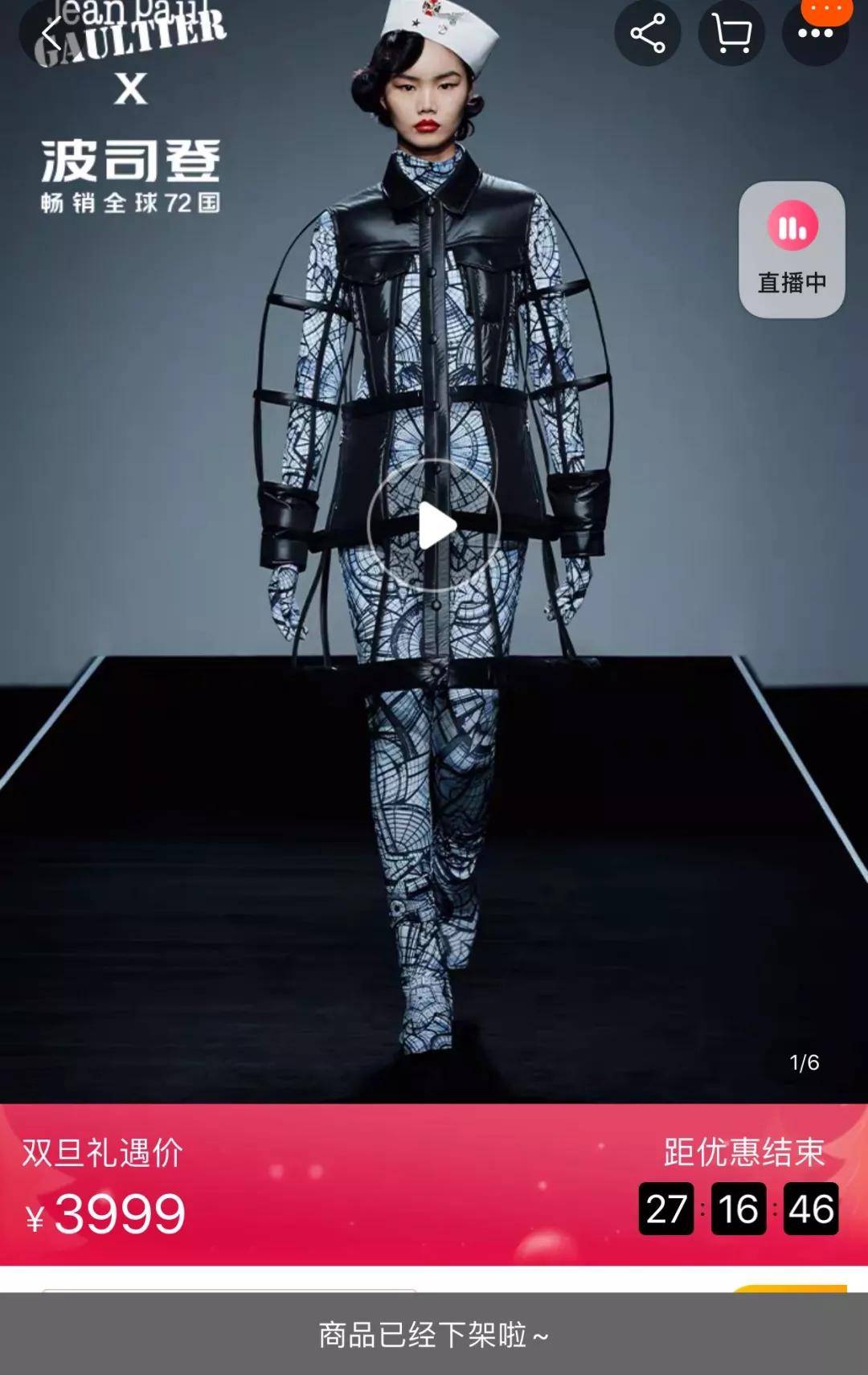 Two years ago, Bosideng had a collaboration with former LV designers. Popular ins, popular in Hollywood" bulletin, foreign stars say yes, similar to looking for an African brother to endorse Jin Kela. However, Chinese netizens complained: I bought back the wifi on my sleeve and wanted to get rid of it with shame.

Bosideng changed the logo exaggerated font to simple style, but he was unwilling to give up The sentence is quite chronological. "Best in 72 countries in the world".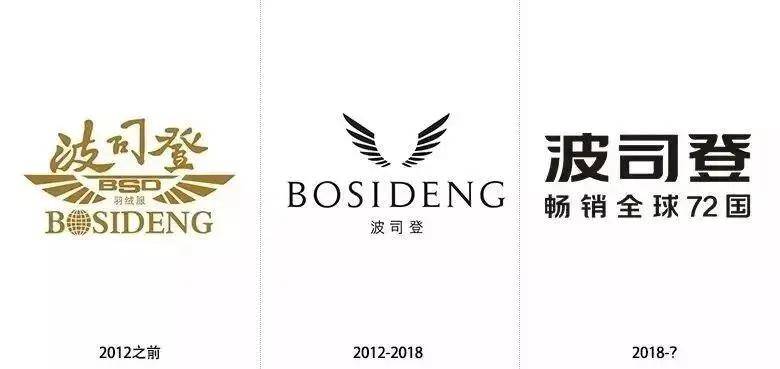 Do you think that Bosideng is already in the fashion circle, After shopping around the physical store, I found that it is still that obscure down jacket hypermarket. There are colorful assault outfits with large fur collars, as well as simple Japanese styles with Curry.
"Bosideng on the show" and "Bosideng we wear" can only happen in parallel time and space, look The drastic transformation is just a short-lived marketing event. The tide continues, and the soil continues.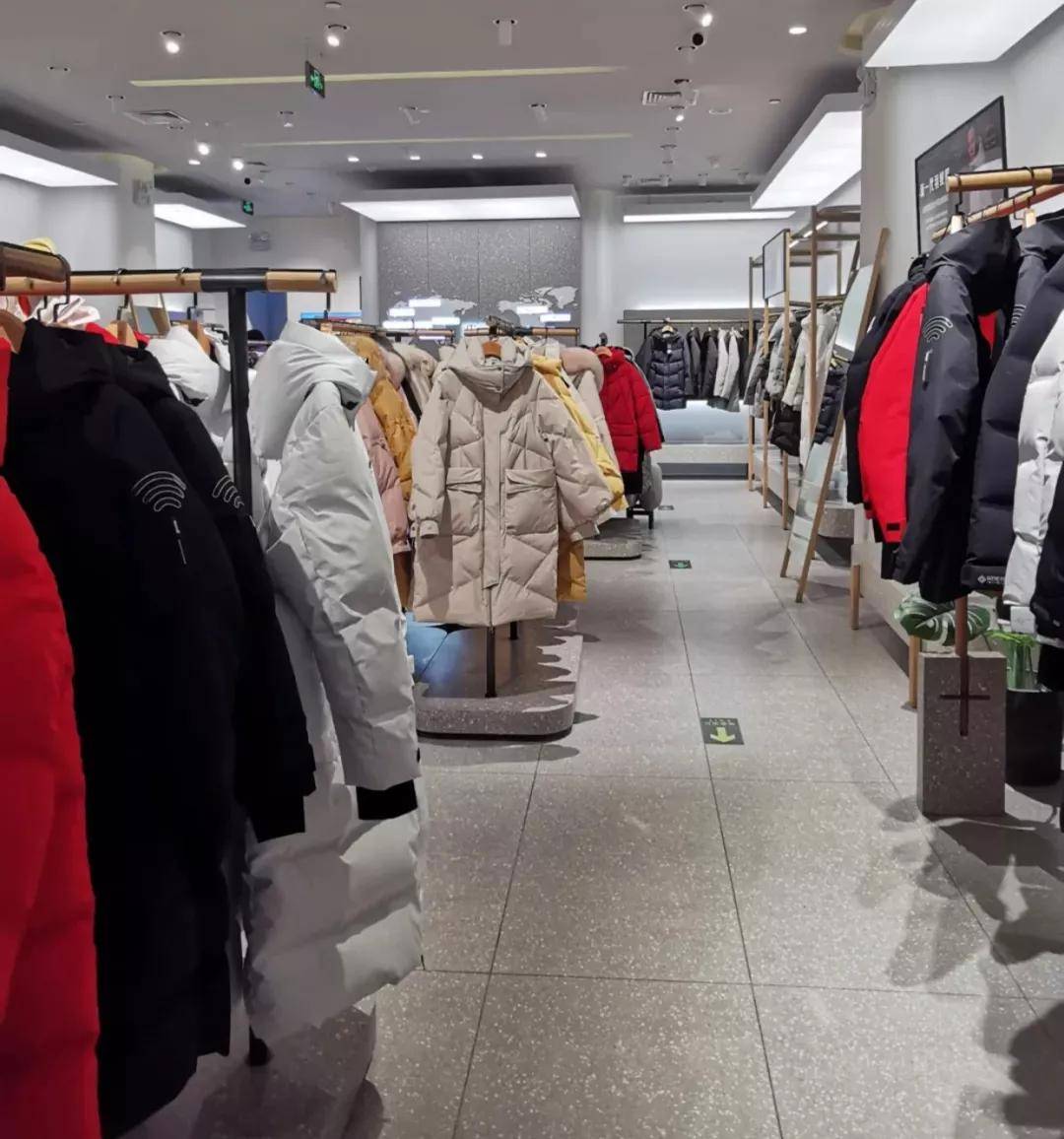 The only thing Bosideng makes me perceive is its "high-end" atmosphere, only the price increase Bar.
According to the research report of China International Finance Securities, the unit price of Bosideng's products has increased by 30%-40% since 2018, and the current customer unit price has risen to 1,500 yuan. Bosideng's Chief Financial Officer Zhu Gaofeng verified the general price increase " The average price of Bosideng will be 1800-2000 yuan in the next two to three years."
The high-end Bosideng Dream Broken Mount Everest. Once launched the "Dengfeng" series with the highest price of more than 10,000 yuan, but it was all taken off the shelves because no one cared about it. The best-selling flagship store is the 1,000-yuan mid-length thermal insulation series and the 299 lightweight.
"Am I crazy, spending thousands of dollars to buy Bosideng?" A girl is receiving "Mantis Finance" In the interview, I said that I saved money to buy a goose to satisfy my vanity, and Bosideng made me simple.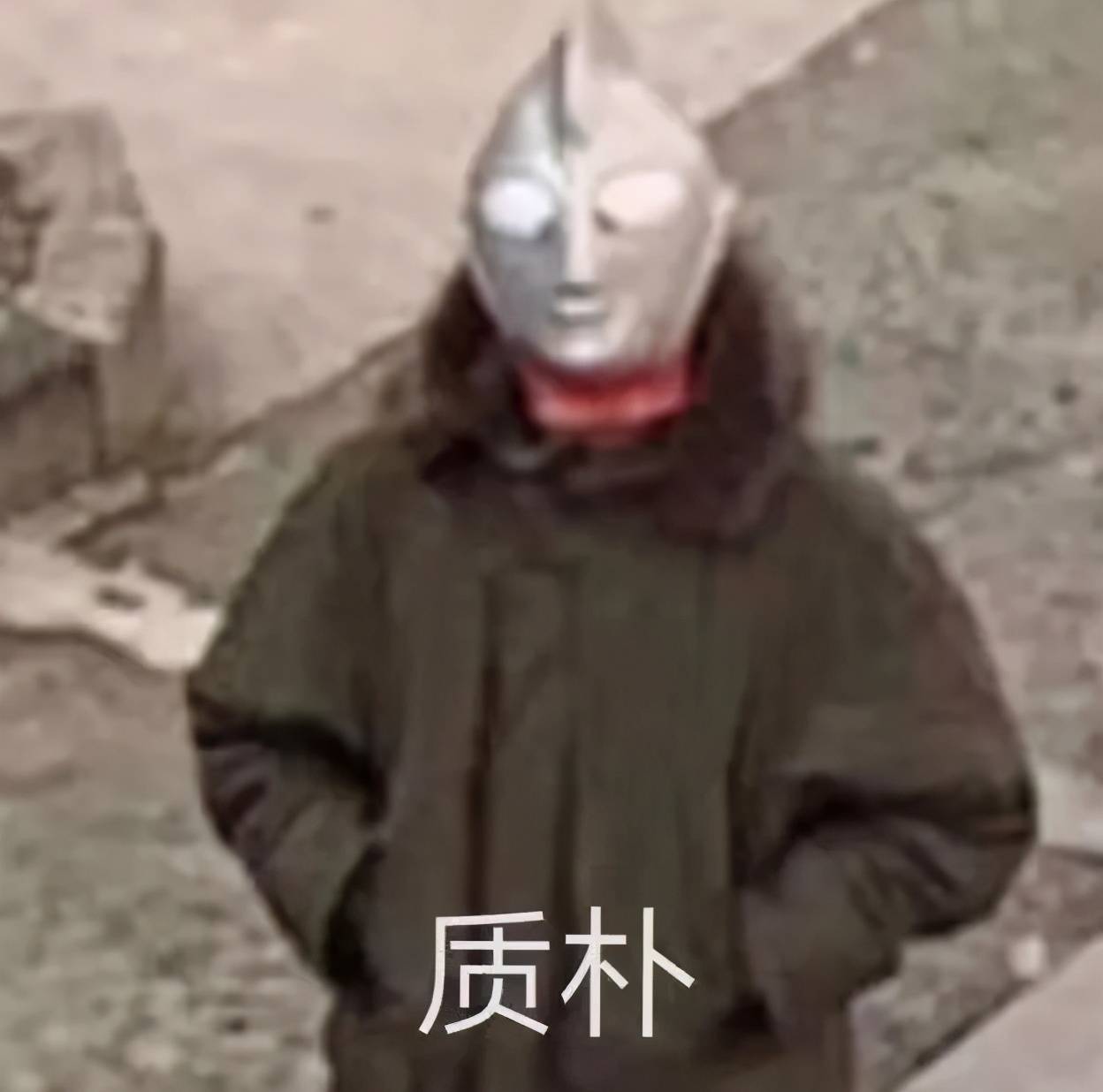 Bosideng's promotion of high-endization has led to such a dilemma: Ordinary customers cannot afford it, but high-end customers look down on it.
If you just need to keep warm, you can basically survive the winter if the amount of cashmere exceeds 300g. The best quality white duck down is about 300 yuan per kilogram, and you can estimate that the cost of down jackets is not expensive. In addition to playing tricks on fur collars and fabrics, the rest depends on the brand to build momentum.
Bosideng is dedicated to benchmarking the luxury down jackets of Internet celebrities, but he is not as good at telling stories as Big Goose and Moncler.
The Canadian Goose makes itself a "uniform" for the elite, Selling a sense of belonging . Looking at this photo of Papa Ma's pride in the spring breeze, you thinkwearer Rich or expensive and low-key with connotation.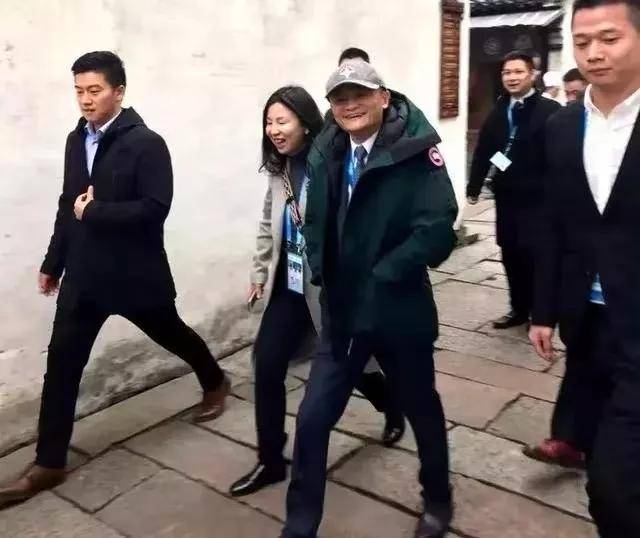 Big Goose also turns itself into social currency, such as opening "snow houses" offline In the experience hall, consumers can experience immersive ice and snow, and even smell the scent of the cold outdoors. Even if I can't afford it, I want to check in.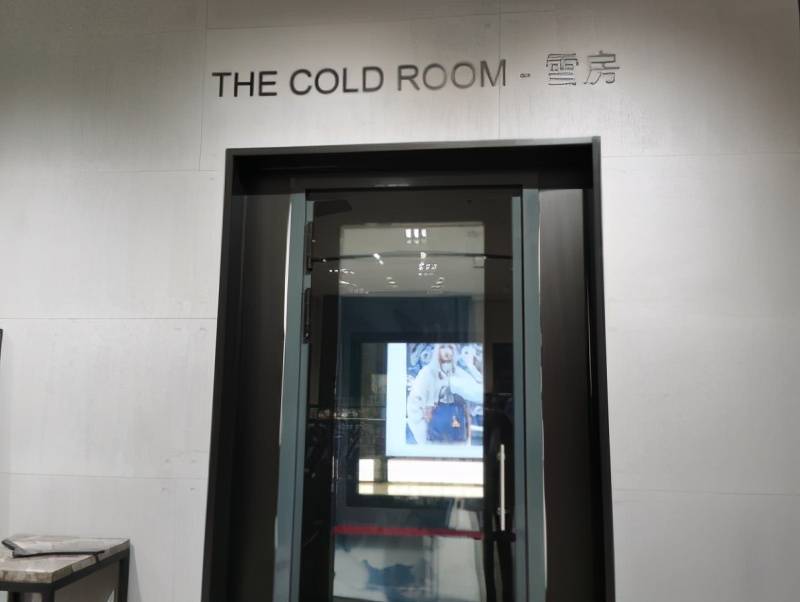 Moncler, who started as an outdoor functional product in 1952, has more imagination From making tents and sleeping bags to the first production of the clothing group Remo Ruffuni in 2003"luxury down jacket" concept. Moncler is now one of the luxury goods companies with the highest profit margins and can compete with LV.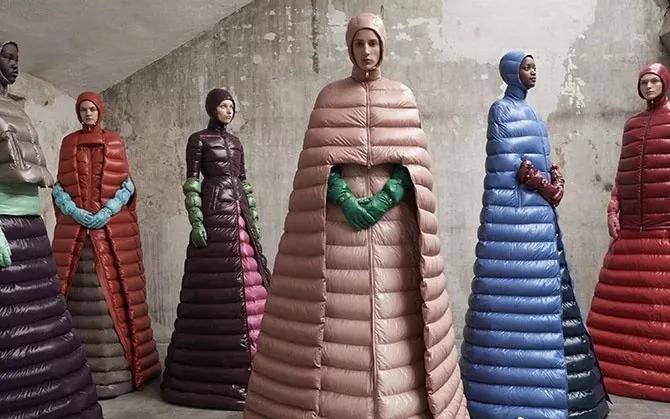 Recently it paid 1.15 billion euros in cash to buy the trendy Stone Island, span> The goal is to aim at the pocketbook of China's post-00s. Luxury + fashion brand + down jacket, this combination boxing can make you the most expensive boy on the streets of Sanlitun in winter.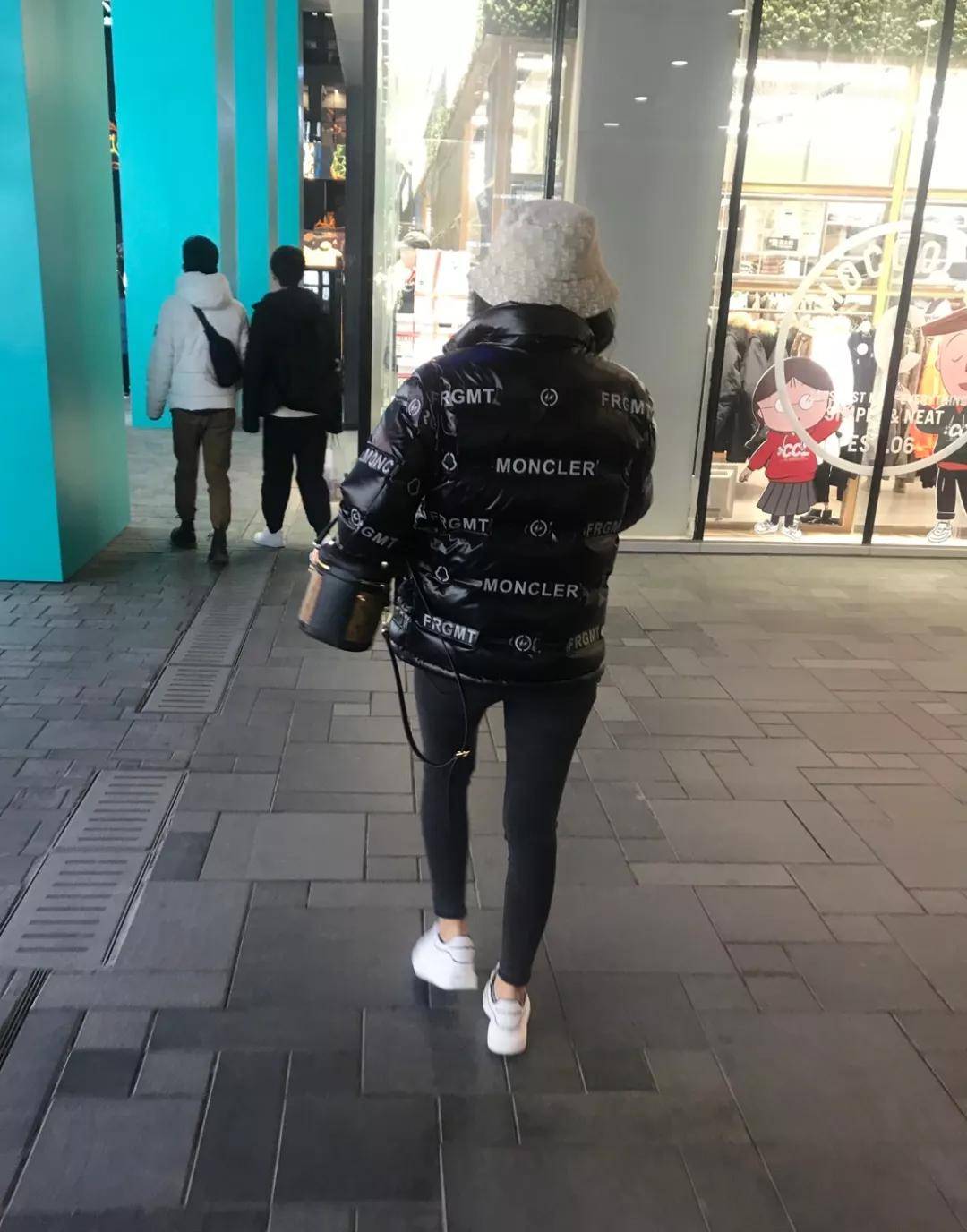 Bosideng's new brand image has not been established, but the price is one step ahead, resulting in empty gloved chives The sense of violation.
Big Goose has also overturned a car after imitating Moncler's price increase. A big goose that focuses on functionality and a single product design cannot reach the level of luxury goods. When the brand foundation was unstable, the price was raised rashly, and no one bought it, and finally had to promote the price reduction and ended in embarrassment.
Compared with the old friends of domestic products who ushered in the second spring, Bosideng is also far behind.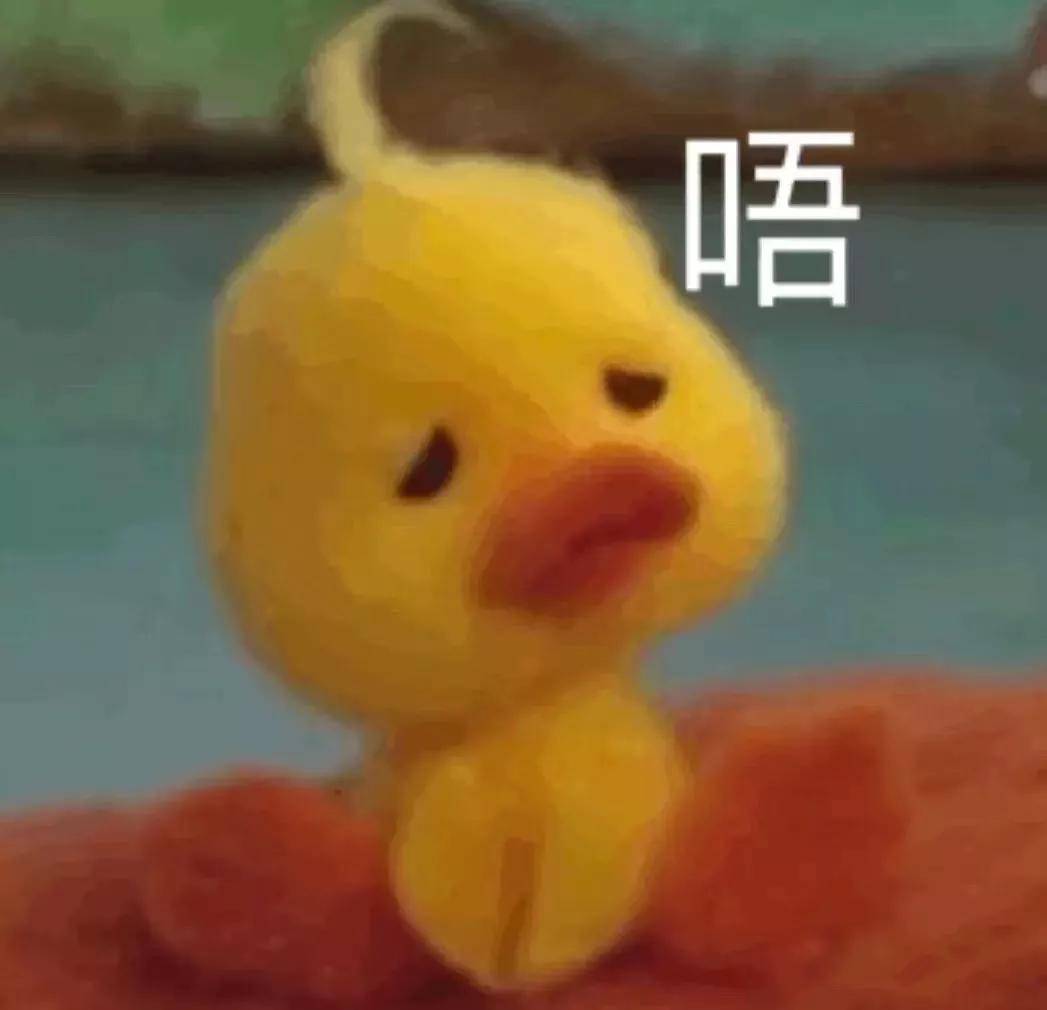 Li Ning also tried high-end strategy and failed. From 2008 to 2013, Li Ning's mid-end line was in a dilemma, and the domestic sports were vulnerable to Adi and Nike. The rich second generation of the town said goodbye to the standard equipment of the student era and went to clover and AJ one after another.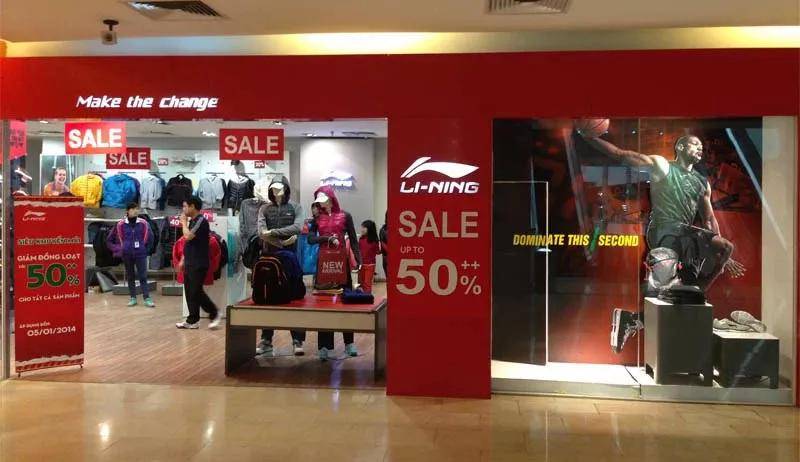 Until 2018 one is called "China Li Ning "'s trendy brand triggered a wave of Chinese retro sports in New York Fashion Week. Li Ning is still 100 yuan for a pair of shoes Soil Han Han, but China Li Ning is not anymore.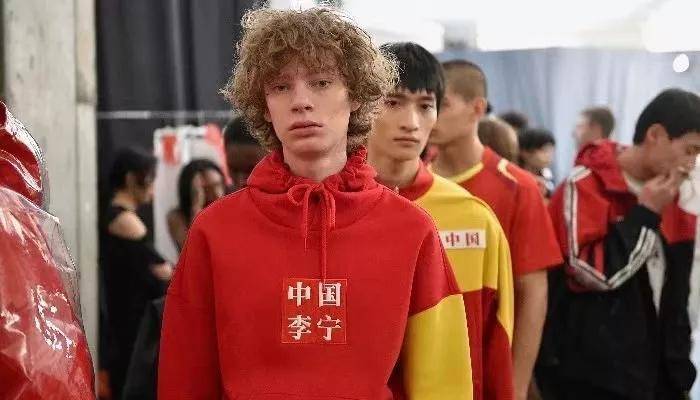 After that, Li Ning's stock price soared by nearly 6 billion, The shell of the national tide and the core of the Chinese sportsmanship, this story young people like to listen to it and are willing to pay for it. This year, Li Ning intends to acquire Clark, a British shoe store, and begin to expand its light luxury territory.
Anta, which acquired FILA, also stood up and made money. In 2019, FILA earned 4 billion for Anta, accounting for 44% of total revenue.

In 2020, Fila's revenue surpasses the main brand Anta Source: Anta Financial Report
A few fashionable ripples and then flattenedJing, marketing spends a lot of money but still sticks to the rustic. Bosideng's upgrade action is not conscious, and naturally it will not enter the hearts of young people.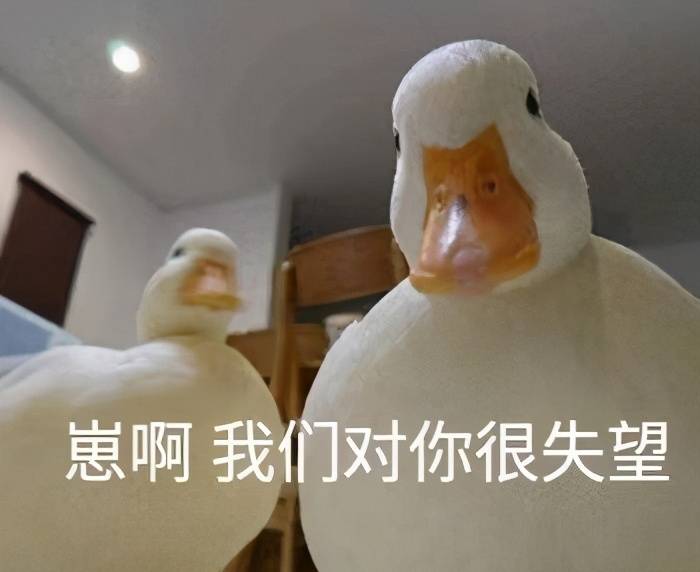 Now our brand loyalty is getting lower and lower, unless this brand Enough to refer to the entire category.
Uniqlo symbolizes affordable and comfortable, Canadian goose represents the outdoor leisure life of venture capital elites, and Moncler sells fashion and class dreams. They use this to build user portraits and serve their interests.
In addition to the 43-year-old brand of domestic products and boasting that Bosideng sells well all over the world, what else can Bosideng use to mark itself?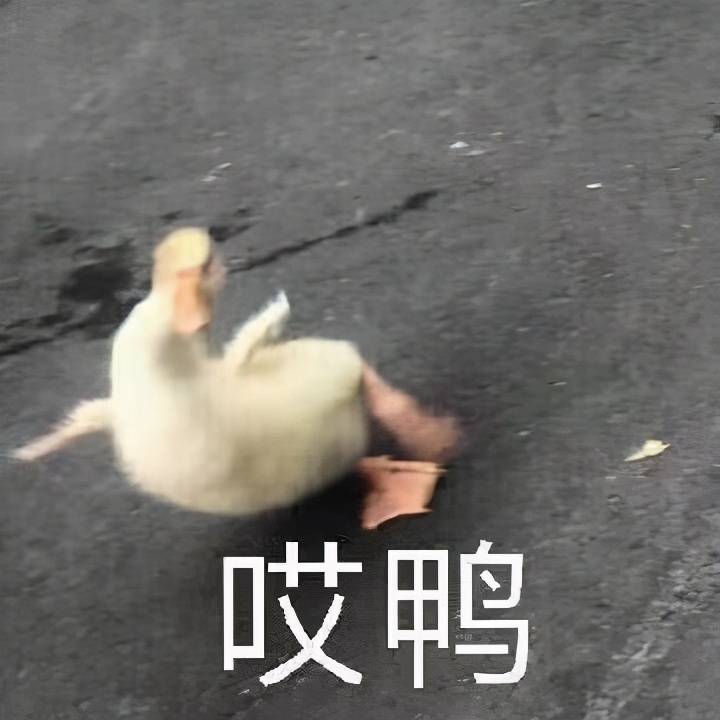 Fashion self-media Ladymax once commented on Bosideng's advanced strategy "It is one thing to have the ability to high-end, but another thing is whether it is necessary to high-end."
It is understandable that the light of domestic products is unwilling to be someone else's foundry. Bosideng has been able to brand the supply chain for decades. Why can't it become the next Hermès?
But if there are only the same old things, there is really no need to force high-end.
Just as this netizen's precise summary of Bosideng's high price "Let a bunch of good-looking people, Wear their middle-aged and elderly aesthetics with a sense of fashion, and then sell the clothes in expensive."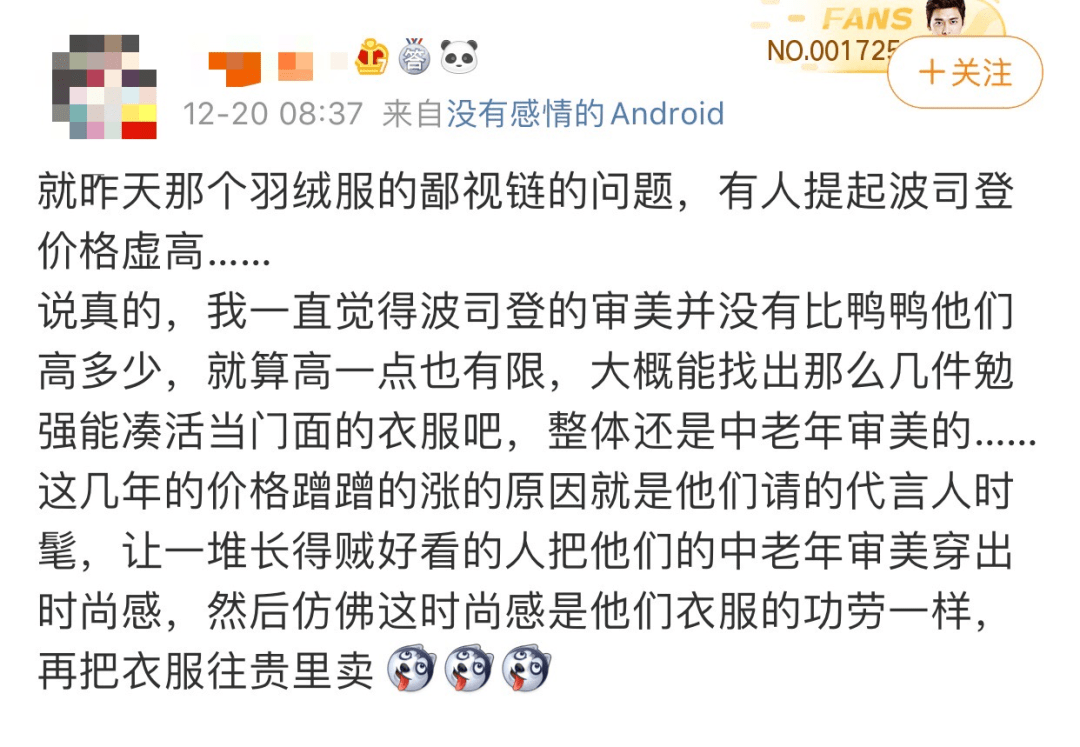 A young lady from Xiaohongshu shared the same paragraph with Bosideng Yang Mi, and the comment was highly praised "You look like a red waist" , the girl used "hahahahaha" to cover up her embarrassment.
I don't know if she is still in the mood in the future, so she will wear Bosideng concave shape again.

Source: Vista Hydrogen Business Author Tachibana
Collection
Report
Back to Sohu , See more
Article Url:https://www.liaochihuo.com/info/634805.html
Label group:[Li Ning] [Bosideng] [Outdoor down jacket] [Down jacket] [moncler] [Middle-aged and elderly down jacket] [Canadian goose down jacket]