Start listing counseling6Years later,Hupu announced its terminationAStock listing plan。

6moon23Morning,CICC and Orient Fortune Securities jointly announced,GivenHupu intends to adjust its listing plan. CICC, Orient Fortune Securities, and Hupu have agreed to terminate the counseling agreement and terminate the guidance for Hupu's initial public offering and listing. At this time, it has been 6 years since Hupu officially launched its listing plan.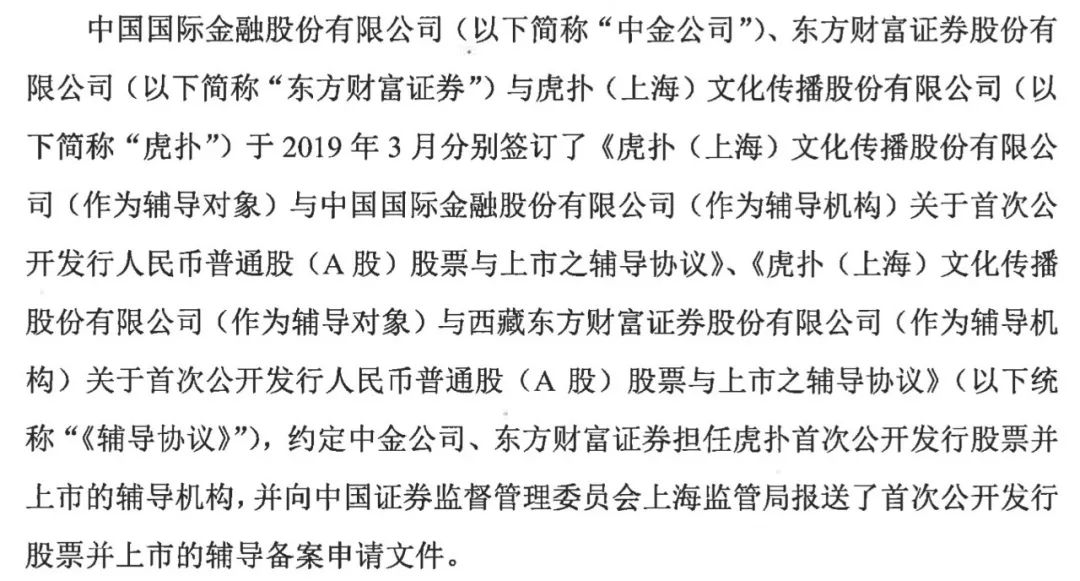 On April 22, 2016, Hupu submitted the IPO prospectus for the first time under the guidance of CICC, but soon applied for termination of the listing review in early 2017. In March 2019, Hupu re-signed a listing counseling agreement with CICC and Orient Fortune Securities to conduct listing counseling again, but ultimately chose to give up.
Hupo terminated its listing plan twice

CICC and Orient Fortune Securities in June Jointly stated on the 23rd that in view of Hupu's plan to adjust its listing plan, the three parties involved agreed to terminate the counseling agreement and terminate the guidance for Hupu's initial public offering and listing. This is the second time Hupu has terminated its IPO plan.

The predecessor of Hupu is the hoopCHINA basketball forum founded by Cheng Hang in Chicago in January 2004. Over the past 17 years, Hupu has developed portals, competitions, e-commerce, offline activities, game intermodal transportation, funds and other diversified businesses from basketball forums, and has become an influential platform in the sports field. The platform is dominated by male users and has become a well-known "straight male" community on the Internet.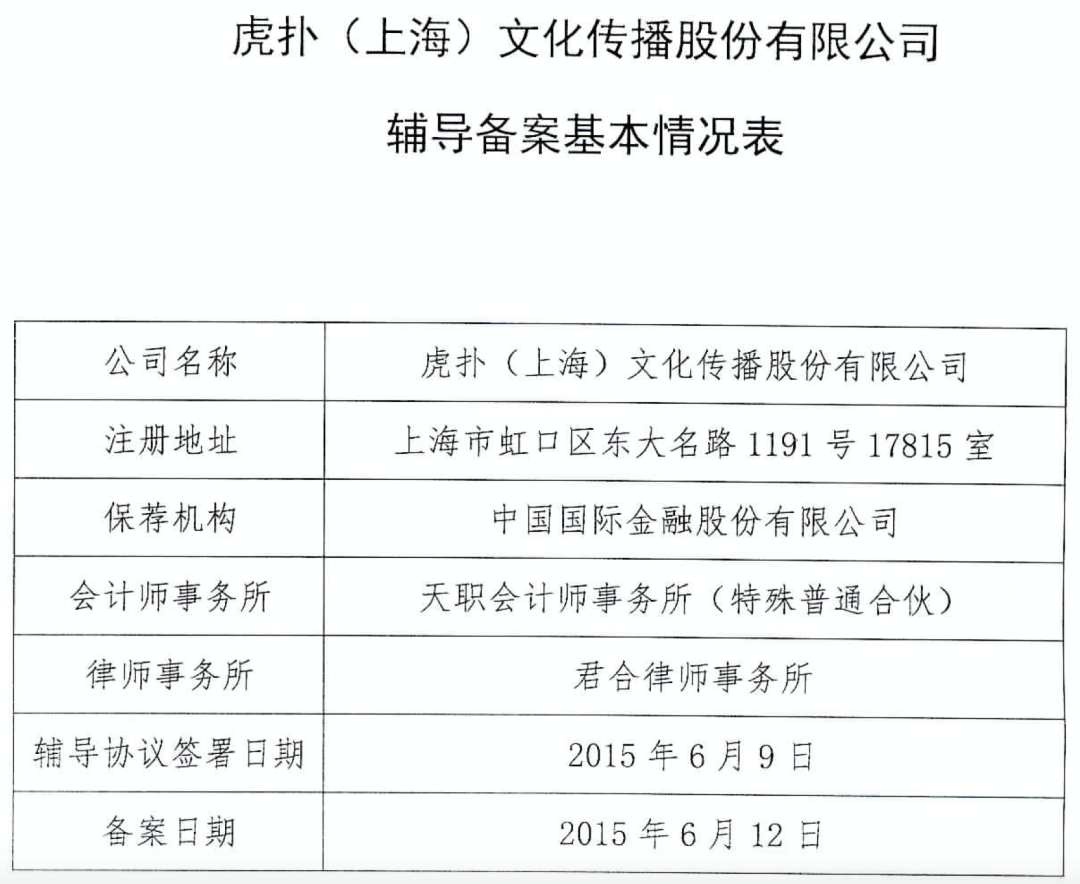 Things come back to2015yearOn June 12, Hupu completed the listing guidance and filing under the escort of CICC. After that, during the 8-month tutoring period, after due diligence, intensive teaching, analysis and discussion, standardization and improvement of the system, CICC finally announced in February 2016 that Tiger Punch "has been able to provide China Conditions for the CSRC to submit applications for initial public offering of shares".

So on April 8, 2016, Hupu submitted the IPO prospectus for the first time, planning to issue 33.334 million shares and raise them. The fund is 420 million yuan, of which 320 million yuan will be used for the upgrading and transformation of the Internet technology platform, and the remaining 100 million yuan will be used to supplement working capital. Hupu said that the domestic sports industry infrastructure is relatively backward, and the transformation and upgrading of the Hupu Internet technology platform will effectively make up for this link and further consolidate the leading position of Hupu Sports in the Internet sports industry.



However, what is unexpected is that Hupu did not receive the good news of being approved for listing soon. Instead, it terminated its listing application in early 2017. At that time, the China Securities Regulatory Commission stated that Hupu had problems such as high accounts receivable balance, declining turnover rate, large fluctuations in performance, large differences in net cash flow and net profit from operating activities, and accounting for intangible assets. The normativeness is doubtful.

And other media reported that Hupu Sports originally hoped to backdoor *ST Yaxing to be listed, but with *ST Yaxing's restructuring transaction failed, and Hupu Sports' first listing plan also suffered a miscarriage.
The second impact is broken again

The time comes to March 2019, and Hupu plans to regroup again In response to the A-share listing, CICC and Orient Fortune Securities were selected to jointly sign a listing counseling agreement. The two sponsors appointed a total of 17 people to form a Hupu IPO project counseling working group.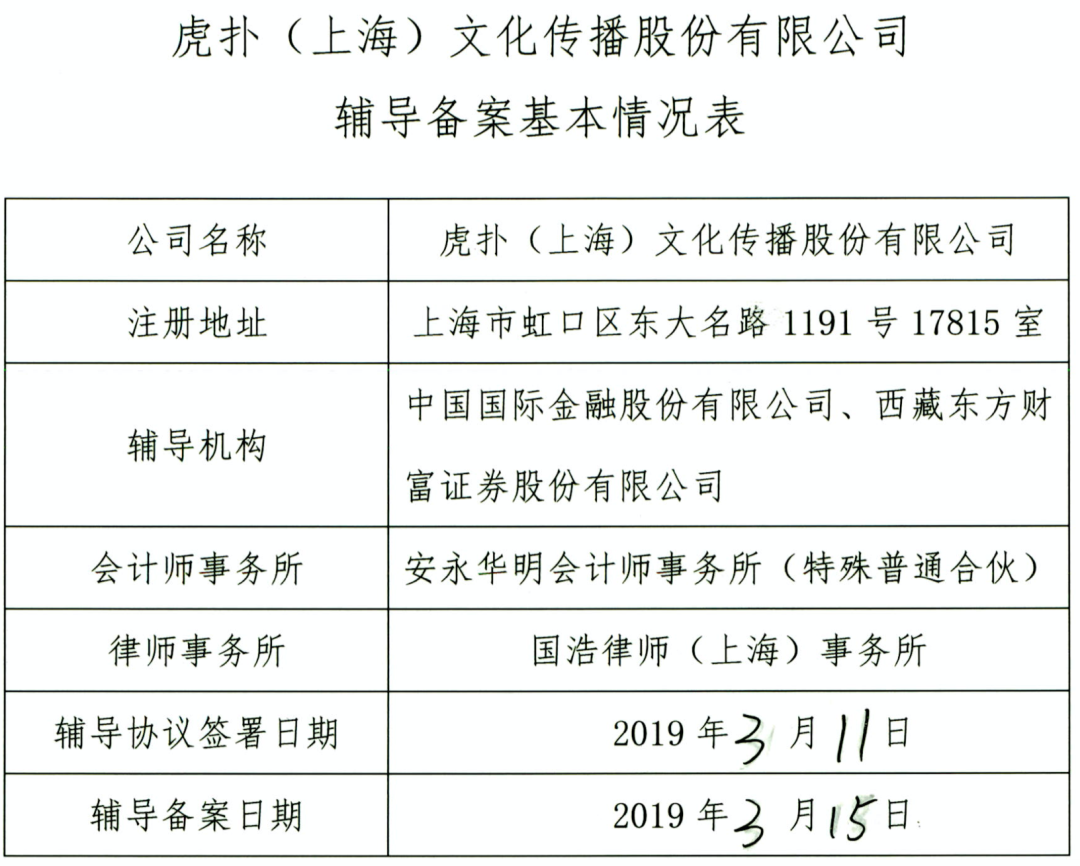 Arrived2019 In June 2008, the coaching work progress report revealed that Beijing Quantum Jump Technology Co., Ltd. ("Quantum Technology" for short) received the transfer for 840 million yuan and increased its capital in Hupu, and finally became the second largest Hupu with a 20% shareholding ratio. shareholder. Since then, Hupu has no further news about the progress of the listing counseling work, until today Hupu announced the termination of the IPO application again.


However, although the IPO plan has been temporarily terminated, Hupu has actually introduced two pretty good shareholders in recent years.

According to Tianyan Check data, on June 6, 2019, Bytedance invested 1.26 billion yuan in capital increase in the Pre-IPO round Hupu holds a total of 30% of the shares (including 20% ​​through Quantum Technology and 10% through Wenxue Technology). ByteDance said that the two parties will carry out comprehensive cooperation around content interoperability and collaborative services for content creators, so that information can create more value for users. Hupu also revealed at that time that the management headed by CEO Cheng Hang is still the actual controller of Hupu.

In addition, Hupu also received 618 million yuan in Series E financing in January 2018, led by CICC. The last round also dates back to Guirenniao's 240 million yuan Series D financing in January 2015.

It is worth noting that after 2015, Hupu has invested a large amount of shares through the two-phase Dynamic Capital Fund under its management. Most of China's top-quality sports startups, including Dengqiu Di, Kunlun Jue, Super Gorilla, Happy Running Circle, and Runaway Lolita. Among them, Super Gorilla has completed hundreds of millions of yuan in Series E financing in May this year, with a total valuation of nearly 1 billion U.S. dollars, led by a fund of CICC Capital.
Article Url:https://www.liaochihuo.com/info/628332.html
Label group:[ipo] [Fortune Securities] [Tiger trading]