Under the Ministry of Education's heavy lifting,Training outside the school is not easy。

Latest news display,Xueersi Online School、Ape Guidance、Gaotu classroom and other onlineEducational institutions have completely removed courses for pre-school children. Some institutions are refunding fees to users who have previously signed up.

These actions were derived from a previous guidance from the Ministry of Education. Recently, the Ministry of Education issued a document clearly stipulating: Off-campus training institutions shall not conduct training for pre-school children in violation of regulations; Off-campus training institutions that receive pre-school children's violation training will be severely investigated and blacklisted.

Not long ago, the Ministry of Education also issued the "Notice on Strengthening the Management of School Work in Compulsory Education." The notification requires strict control of the total amount of written assignments; it is strictly forbidden to assign or disguise assignments to parents, and it is strictly forbidden to ask parents to correct the assignments. The notice is clear, resolutely prevent off-campus training institutions from leaving homework for primary and middle school students, and effectively avoid reducing the burden on school and increasing the burden outside of school.
Stop pre-school education for children "The comparison between parents and the promotion of off-campus training institutions have caused the pressure of learning to sink to the children in the kindergarten stage, resulting in the children being forced to run early, and the pressure is full.

Recently, the Ministry of Education has made a big strike and issued the "Guiding Opinions on Vigorously Promoting the Scientific Connection between Kindergarten and Primary School." The guidance pointed out that education departments at all levels should work with relevant departments to continuously increase the control of off-campus training institutions, elementary schools, and kindergartens that violate the laws of education, and carry out special governance. To implement relevant national regulations, off-campus training institutions shall not train pre-school children in violation of regulations.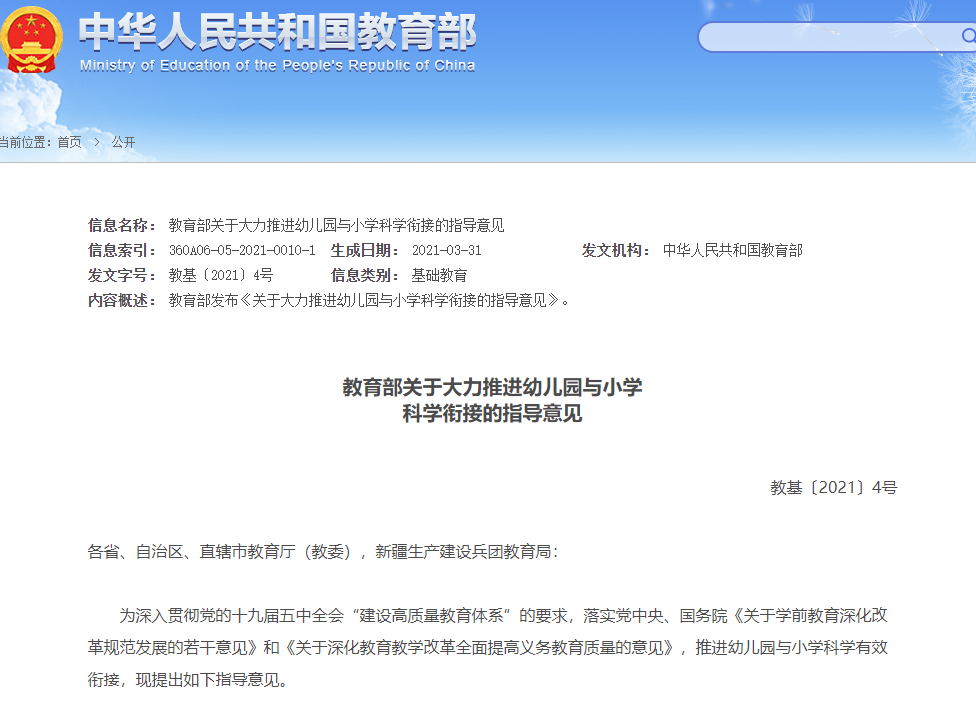 The guidance clearly pointed out that primary schools strictly enforce the exemption of entrance examinations, and strictly prohibit all kinds of examinations, competitions, training results or certificates as the basis for enrollment, and insist on zero-start teaching according to the curriculum standards. Where kindergartens meet their needs, elementary schools may not hold pre-school classes. Kindergartens are not allowed to teach the content of elementary school courses in advance, do not assign reading and writing as homework, and do not set up pre-school classes. If kindergartens experience the loss of children from large classes, they should promptly understand the reasons and whereabouts and report to the local education department.

According to relevant clues, the education department should seriously investigate and blacklist out-of-school training institutions that accept pre-school children to conduct training in violation of regulations. , Incorporate blacklist information into the national credit information sharing platform, and implement joint punishments in accordance with relevant regulations. For kindergartens and elementary schools with serious violations of school rules, the principal, headmaster and relevant teachers shall be held accountable.

Hua Aihua, a professor of the Department of Education of East China Normal University, said that the above guidance tells us that the slope between the young and young should be slowed It is necessary to strengthen the continuity of education between the two sections, and at the same time change the thinking logic of whether the kindergarten moves closer to the primary school or the primary school moves closer to the kindergarten. It is because the facts have proved that kindergartens adhere to the spirit of "de-primary schooling" based on the characteristics of children's age, and require primary schools to be connected downwards, while primary and secondary schools, from the perspective of subsequent learning, adhere to the practical logic of preparing for further studies and require different The school stages are connected up level by level, and this one-way logic of who is close to whom is difficult to compromise. The proposal of "two-way convergence" not only shows us that the state is, The determination and intensity of the governance of the kindergarten's "primary schooling" problem that is detrimental to the physical and mental health of children, let us see the high-level judgement and grasp of the source of the kindergarten's "primary schooling" problem.
Xueersi Online School, Ape Guidance and other pre-school courses are completely removed from the shelves

In the Ministry of Education After the release of the above documents, online education institutions such as Xueersi Online School, Yuanjiao, Gaotu Classroom, etc. have completely removed courses for preschoolers. Some institutions are refunding fees to users who have previously signed up.

According to the 21st Century Business Herald, Xueersi Online School's customer service said in the morning of April 27, "After receiving the notice After that, we immediately launched a comprehensive inspection, immediately suspended the sale of all preschool courses, and strictly conducted compliance reviews in accordance with the latest regulations." But Xueersi Online School's customer service also said, "We will go online as soon as possible after the review is over to comply with the policy. Required courses."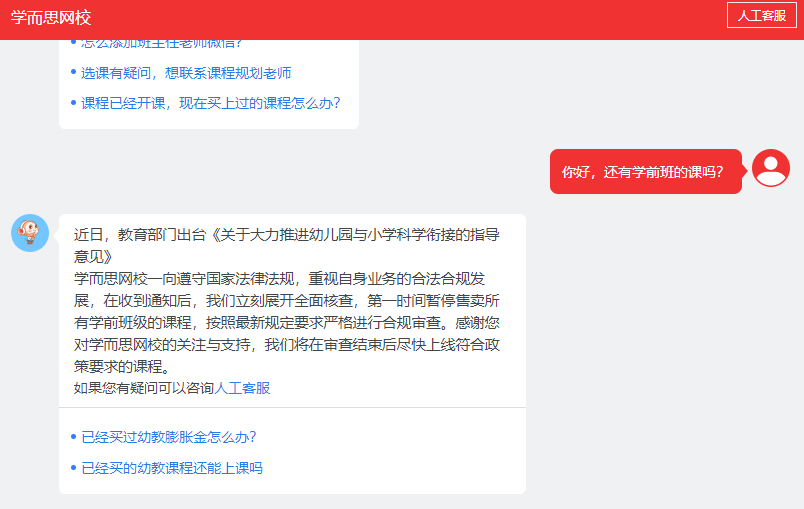 In addition, online education institutions such as Yuandaodao and Gaotu Classroom have also completely removed preschool courses. Homework help live class and Netease Youdao boutique courses are still selling preschool courses, but the preschool courses for homework help live class are only the enlightenment courses of the subordinate duck duck AI class, and the quality lecture courses of famous experts. NetEase Youdao's 2-7 years old courses include children's English, mathematics and thinking enlightenment courses, as well as quality courses such as fine arts, science, Go, and programming.
Four off-campus education and training institutions were fined by the top grid

April 25, Beijing According to sources from the Market Supervision Bureau, it has recently organized special inspections for off-campus education and training institutions that have received strong feedback from the public, and investigated and dealt with violations of the price of off-campus education and training institutions and false propaganda. Among them, GSX (renamed Gaotu Group), Xueersi, New Oriental Online, and Gaosi four off-campus education and training institutions were fined 500,000 yuan by Dingge.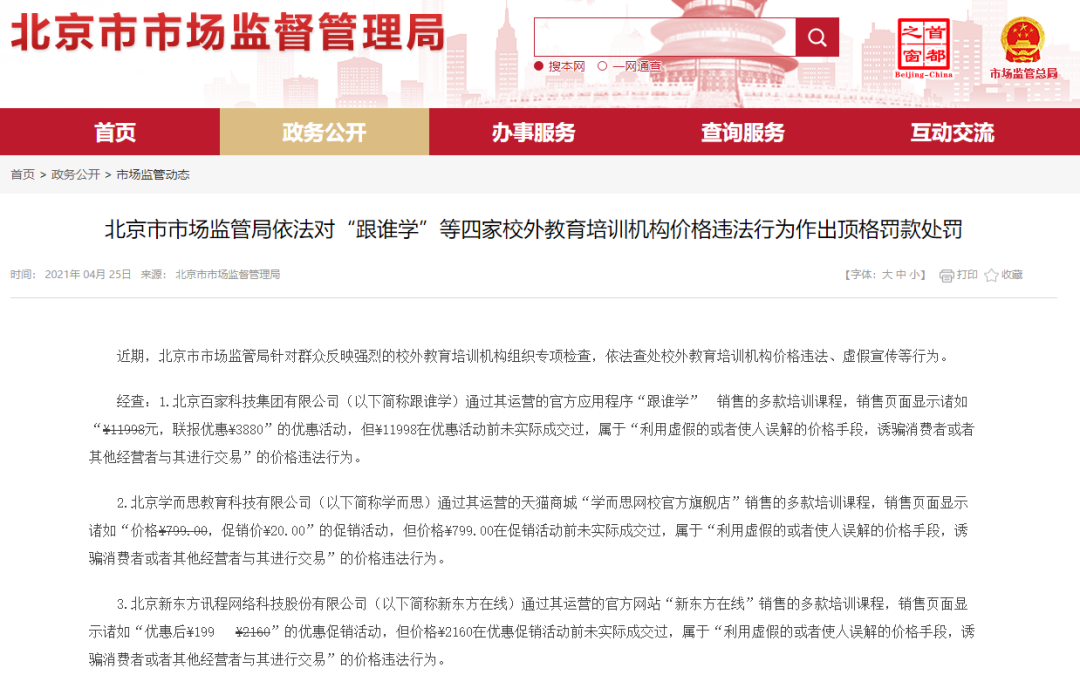 On the same day, the Beijing Municipal Bureau of Market Supervision announced that Beijing Baijia Technology Group Co., Ltd. (referred to as "learning"), Beijing Xueersi Education Technology Co., Ltd. (referred to as "Xueersi"), Beijing New Oriental Information Network Technology Co., Ltd. (referred to as "New Oriental Online"), Beijing Gaosi Bole Education and Technology Co., Ltd. (referred to as "Gaosi") four education and training institutions, training courses sold on their official website, client, applet and other channels, although marked Original price and promotional price, but the original price has not been actually traded before the promotional event.

The above behavior is "using false or misleading price methods to trick consumers or other operators into dealing with them" In accordance with relevant laws and regulations, four off-campus education and training institutions were given warnings and a fine of 500,000 yuan for the above-mentioned price violations.

Next, the Beijing Municipal Bureau of Market Supervision will continue to strengthen the law enforcement of off-campus education and training institutions, and vigorously investigate and deal with false gimmicks and false advertisements , Fraudulent original prices in the form of underlined prices, price fraud, failure to publicize relevant qualifications, use of contract format clauses to infringe on consumer rights, and unauthorized opening of off-campus education and training institutions without permission, strictly regulate market operation order, and ensure that Protect the interests of the people.

In response to the above-mentioned penalties, the companies involved have expressed their willingness to accept penalties and actively rectify them.


Gaosi Education responded that,
received《BeijingThe "Market Supervision Administration Administrative Penalty" announced that it sincerely accepts, resolutely obeys, and cooperates with relevant departments to actively rectify and reform. In the future, it will strengthen legal operations and further strengthen the construction of compliance systems such as advertising review and release.


Xueersi Online School表示,
Decision to accept administrative punishment, In addition, relevant non-compliant price tags will be immediately taken offline, and a special review for pricing issues on all platforms and channels will be carried out at the same time.


Enter the Group's response,
sincerely accepts penalties, and has subscribed relevant non-compliance price logos, for the whole company's products A comprehensive investigation will be carried out, and the follow-up will continue to do a good job under the guidance of policies, optimize business processes, and provide students with high-quality services and content with higher standards.


New Oriental Online responded that he was punished:
"We accept punishment, The rectification has been completed. The previous understanding of the promotion logo was not comprehensive enough, and there was a cognitive bias in it, and it was not a malicious increase in the original price."
Most off-campus training institutions still lose money , Gaotu has plummeted 70%

Among the four institutions that have been punished, in addition to Gaosi, Gaotu Group, Xueersi, and New Oriental have all Listed in the United States. Judging from the financial reports disclosed by related companies, Gaotu Group and Xueersi are at a loss.

The recently disclosed financial report of Xueersi, a listed company in the US stock market, Good Future, shows that Good Future's revenue for the Q4 quarter of fiscal 2021 is 1.363 billion U.S. dollars, an increase of 59% year-on-year; a net profit loss of 169 million, an increase of 87.56% year-on-year loss, mainly due to the increase in online marketing and promotion by online customer acquisition and brand awareness in the Q4 quarter. In the whole year, the company achieved revenue of approximately US$4.5 billion, an increase of 37.3% year-on-year, and a net loss of US$116 million. In terms of stock price, since February, Good Future has fallen by 18%, and its latest market value is 37.6 billion U.S. dollars.

Gaotu Group's financial report disclosed on April 26 showed that the company's operating income for the whole year of 2020 was 7.125 billion yuan, a year-on-year An increase of 236.9%, and the number of regular-price courses paid for 5.871 million, a year-on-year increase of 168.4%. The net loss was 1.392 billion yuan, compared with a profit of 227 million yuan in the same period last year. Gaotu Group's stock price has fallen by 70% since February, and its latest market value is US$7.9 billion.

For New Oriental, in fiscal year 2021 Q3 (three months ended February 28, 2021), New Oriental's revenue was 11.9 Billion U.S. dollars, an increase of 29% year-on-year; net profit attributable to the parent was 150 million U.S. dollars, an increase of 9.9% year-on-year. Yu Minhong, Executive Chairman of the Board of Directors of New Oriental, said that the growth of New Oriental's revenue in the third quarter of fiscal 2021 was mainly due to the comprehensive recovery of K12 primary and secondary school after-school education business as the company's growth engine. Student enrollment increased by 57% year-on-year, and revenue increased year-on-year. About 37%. Among them, the income from the secondary school business increased by 35% year-on-year, and the income from the primary school business increased by about 40% year-on-year. Compared with Good Future and Gaotu Group, New Oriental's share price has been relatively stable, having only fallen 3% since February.

In terms of other extracurricular training institutions, in 2020, an education technology net loss of 1.34 billion yuan, NetEase Youdao net loss of 1.753 billion yuan .

JP Morgan Chase published a research report that pointed out that the Beijing market regulators The price violations of domestic training institutions shall be subject to top fines. The bank believes that the tightening of China's education policy is far from over, or it may trigger and exacerbate the stock price volatility of the sector, although the news itself will not have a significant impact on the company's fundamentals.

Nomura said that on the positive side, regulators are avoiding liquidity risks caused by leading educational institutions' price wars. It is believed that relevant regulations will enable the healthy and sustainable development of China's education industry, and it is expected that more government agencies will make more moves in the next 1-3 months.
Article Url:https://www.liaochihuo.com/info/622681.html
Label group:[course] [New Oriental] [Kindergarten] [Ape Guidance] [learn and think]