Original title: Muddy Waters Short YY Full Text: A scam composed of robots, 90% of the business Forgery. Has Baidu done an acquisition due diligence? Source: Economist Circle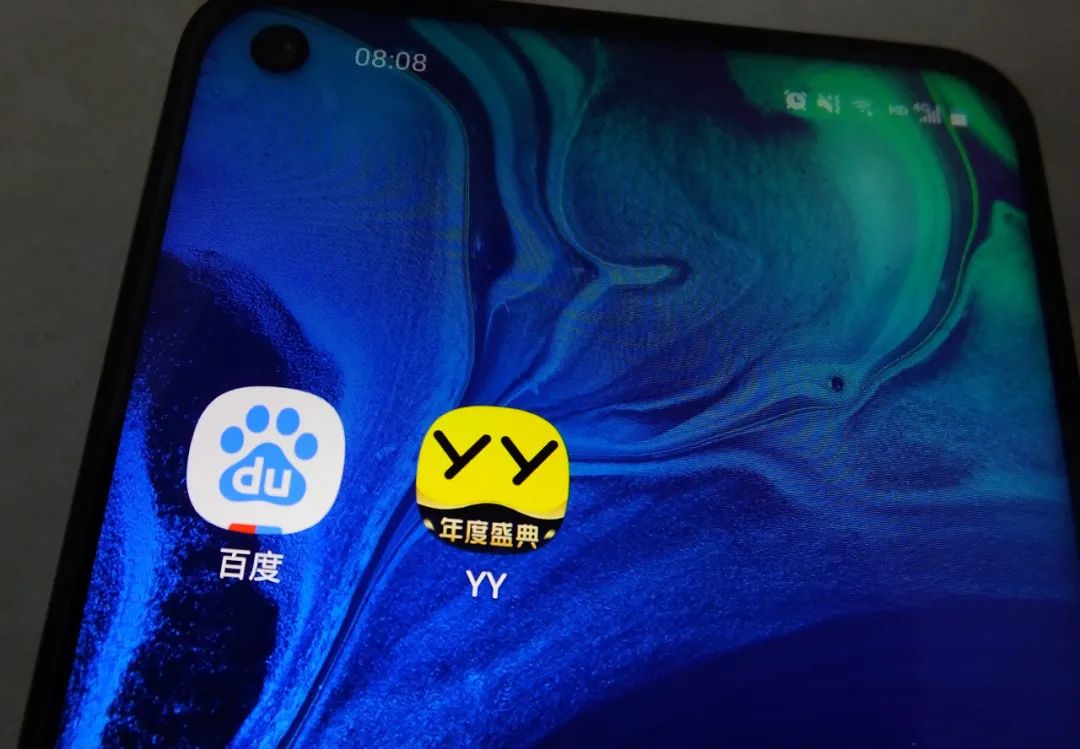 Source: Alpha Workshop Research Institute
Lin Xiaochen translation
This article is translated from Muddy Waters for Huanji (NASDAQ:YY) Short report.
In the past 10 years, we have been struggling to search the sewers of the world's capital markets, and "face-slaps" cases are always a handful and everywhere. After our year-long investigation, a new scam emerged. About 90% of YY's live broadcast business data was forged.
From the very beginning, we knew very well that YY's live broadcast business was completely fraudulent. It is a mirage-like ecosystem. In the performance of high-income performance, the actual actual performance only accounts for a small part of the disclosed data. Those channels that claim to exist independently. In fact, it is mainly controlled by YY in order to conduct continuous false transactions.
The large number of fan corps are almost all generated by YY internal network virtual robots (50% of the gifts), external virtual robots, and the host's brushing gifts. Therefore, our conclusion is that 90% of YY's live broadcast business is fraudulent, and the same is true for YY's international live broadcast business Bigo.
For this reason, we have questions about Baidu's acquisition of the YY live broadcast business:
What will Baidu do in the future? Does Baidu really want to achieve growth through a business that is almost entirely fraudulent?
In the past 10 years, we have always believed that the decline of "Chinese companies" far exceeds the imagination of most investors. Many people think we are too cynical, but is YY Live really the only few rat shit among Chinese companies? In other words, it represents the general disregard of American law by the executives of Chinese listed companies?
In April of this year, the Baidu Ethics Committee issued a statement on the arrest of the former CFO: "Baidu will resolutely crack down on all violations of law and discipline, and will deal with any violation of the professional ethics red line. Zero tolerance."
And now, we want to say to Baidu:
"When you use Close to 7% of the market value equal to the cash, where did your due diligence go when you acquired a completely false business? How could due diligence not find such a large-scale fraud? If Baidu believes that it respects market ethics and the law, let it be Let's take a look."
YY comes prepared for fraud
We are short Huanju Group , Because we concluded that YY Live is a multi-billion dollar commercial fraud.
We concluded thatYY's actual business is only a small part of the scale of its report. The user indicators, income, and cash balance reported by the company are all fraudulent. Our conclusions apply not only to YY's live broadcast business, but also to Bigo, YY's online dating business, and some other businesses.
Specifically, approximately 84% of the consolidated revenue reported by YY is fraudulent. Even if we change our basic assumptions to more favorable assumptions for the company, the combined fraud revenue is about 73%.
We have observed three main methods of fraud by YY:
1. From Robot users of YY's own server-in our data sample, the value of gifts generated by fake users faked by YY servers accounted for about half of the value of all gifts.
2. The anchor returns the gift to the system through another paid user account. As far as we know, those excellent anchors who claim to have an annual income of tens of millions of dollars are in fact usually fixed salaries, and their annual salary is not more than 2.5 million yuan (about 350,000 US dollars).
The union that manages the anchor is part of the plan. The large trade unions are mainly owned by former employees of YY, who are obviously scamming. According to the financial statements of the five major trade unions released by the PRC credit bureau, the total income in 2018 was only 15% of what YY claimed.
So, our conclusion is that YY Live, Bigo and YY's online dating businesses are essentially fraudulent:
90% of 1.YY's live broadcast revenue is fraudulent. YY Live claimed that the live broadcast business accounted for approximately 95.8% of total revenue in the third quarter.
2. About 80% of YY online dating income is fraudulent. Online dating accounts for about 20% of YY's live broadcast revenue.
3. About 80% of Bigo's income is fraudulent. Even applying assumptions that are more beneficial to the company will generate about 60% of false income.
4. Bigo's Singapore parent company changed its auditors three times in the first four years of its establishment. Bigo also received three continuous operation opinions from its auditors in 2016-2018. In August 2019, a few months after YY completed the acquisition, Bigo made a major restatement of its 2017 financial situation. These factual patterns support our conclusion that Bigo is also deceptive in nature.
5. Bigo has been rotten since its birth. YY acquired Bigo from Chairman Li Xueling. This was a scam. Through the transaction, Chairman Li took at least US$156 million from YY shareholders. But in fact, YY founded Bigo, not Li Xueling.
6.Bigo integrates a large amount of income from mainland China. Based on our preliminary investigation and discussions with former Bigo employees, we believe this is completely false. As of the third quarter of 2020, we estimate that this extremely fraudulent Chinese business still accounts for 13.4% of Bigo's reported revenue.
We have conducted research on YY's business for more than a year and adopted a two-pronged approach. The first step is to collect and analyze macro data on 116 million transactions through automated means. The second aspect is the traditional muddy water technology, that is, reviewing documents and accounts, secret field investigations and human resources.
A careful study of various allegedly high-income anchors shows the prevalence of fraud in YY:
1. The most successful pop music nowadays represents the modern brothers holding free concerts in a popular shopping area, but the anchor's "fans" have to pay to be there. Nowadays, the Modern Brothers rarely perform on YY live, but they still receive gifts through the platform when they stop broadcasting. Many of these gifts come from YY's servers. Analysis from 96 randomly selected data, 97.9% of sampled gift income may be fake.
2. During the COVID-19 lockdown period in Wuhan, a sample of YY paying users randomly selected showed that about 87.5% of the gift income may be fraudulent. Most of the fraudulent paying users are connected to the mobile device IDs (IMEIs) of the YY server, and quite a few of the paying users in Wuhan showed IP addresses that inexplicably jumped from one city to another during the blockade.
3. The star anchor "Lao Li" itself is a scam. In the YY Live 2019 competition, "Lao Li" was the anchor who received the most gifts. However, our data shows that in the event in December this year, "Lao Li"'s mobile device was shared with his biggest contributor, who gave away 7 million yuan in gifts, accounting for about 40% of the total. In addition, the devices related to him sent more gifts than Lao Li received, which exposed a network of related accounts that recovered gifts and exaggerated YY's total income.
4. The top Bigo anchor RCTí Khan is said to receive $50,000 in gifts every month, but all he does is sit at his desk and do paperwork. Even when his camera was pointed at the wall and ceiling, the traffic in his live studio was still full. Until recently, he admitted that the contributor of the gift was himself. (His other major contributors are almost certainly part of a gift recycling network.)
Through extensive interviews with senior members of the YY ecosystem, we determined that YY The gift income from live broadcast and Bigo is actually fake.
90% of YY's live broadcast income is fake
We analyze in three ways And sample YY user data and gift income to estimate the proportion of paying users on YY live broadcast and their related income. We concluded that using these three methods, about 90% of the gift income of YY Live is fake.
The first method is to analyze the nearly 100,000 paying users tracked by XHL. We found that almost half of YY gifts can be classified as fake users related to YY by value. We obtained a set of fake user core groups containing YY's IP addresses in the data set, and tracked IMEI shares radiated from this group.
The second method of false user identification is to randomly select 96 paid users in Wuhan during the lock-in period of COVID-19 in China. We found that 87.5% of these Wuhan paying users are obviously fake users.
In the third method, we sampled 96 modern users who are paying live broadcasts. As mentioned above, about 97.9% of the modern brothers' samples are fake user.
We have further verified the previous 90% of false income estimates, by checking the income reported by the head union to the China Administration for Industry and Commerce (SAIC) and YY's statement comparing. We found that there is an 85.9% difference between the YY income of the top five trade unions and their income in China's credit report.
Our data analysis and collection methods have two components. Through the Google Chrome web development tool, we can track 88 data points of each transaction, including paying user name, paying user YY ID, transaction time, gift name, gift unit price, gift ID, gift quantity, recipient name and YY ID, IP address of paying user, and IMEI of the device.
The equipment IMEIs tells us that about half of YY's live broadcast gift revenue comes from YY's own server. The equipment IMEIs also showed us the universality of gifts on YY live broadcast. We use a third-party data analysis service owned by YY insiders, called XHL, to track the number of gifts given and received by each account. (The founder and owner of XHL is the founder of YY, and is still a shareholder of its two key VIEs.)
For Bigo, we developed custom code To take advantage of the mobile app and collect Bigo The top 50 anchors and their paying subscriber data. Starting in October 2019, we use Google Chrome web developer tools to collect data from YY Live. From November 27, 2019 to February 4, 2020, we expanded the scope of data monitoring and collected more than 115.6 million gift transactions sent by 1.2 million paying users to 20,700 anchors.
In the next few months, our researchers dig into this huge database to check the connection between the anchor and the paying users, through inference, and Check the details of unconventional transactions with sufficiently detailed data (i.e. robot search during China's COVID-19 lockdown in 2020).
We also use the XHL database to check the total gift income and gift details of more than 180,000 YY paid users and more than 120,000 anchors, and communicate with them The respective channel owners establish contact.
Our estimate of revenue fraud is also partly based on XHL data. We believe that the XHL data matches YY's internal accounting data for two reasons.
First of all, Jin Cao, the founder of XHL, is the co-founder of YY. The shareholder of Dahe Guangzhou Huaduo) is still the legal representative of the third VIE Guangzhou Duowang. Second, Huya, a former subsidiary of YY, used XHL data as evidence in a Chinese court litigation to show that its data monitoring platform is authoritative, independent and reliable.
The macro data source we provide for Bigo is room monitoring and data collection technology for live traffic, as well as third-party application analysis databases.
In December 2019, we reviewed the data of 96,400 YY live paying users tracked by XHL. Our analysis found that YY controls 24.9% of paying users. Through further analysis, these users accounted for 48% of our gift revenue sample.
By cross-referencing our data analysis and paying user information in the XHL database, we can identify these paying user groups controlled by YY. We define the paying users controlled by YY as: (a) paying users who display YY's local server or internal network IP when sending gifts; (b) mobile directly or indirectly linked to paying users under the owner of the YY controlled channel Device ID (IMEI).
We obtained paid user information from XHL, including 96,400 paid users, with a total reward of 687 million yuan. The number of paying users that meet our definition is 24,100, accounting for 24.9%. The rewards amounted to 330 million yuan, accounting for 48% of the total rewards.
There are 1382 paying users showing two behaviors controlled by YY. Among them, 300 paying users have gift information data on XHL, indicating that they have given away 17.5 million yuan in gifts, which is equivalent to 2.5% of all gifts in the XHL data set. Although the absolute value of this category is small, it allows us to find two other larger categories. They share IMEI with these users and closely associate them with YY. This leads to false users and YY in the internal network. Fake users of the server were exposed.
Fake internal network users are paying users who display the IP address of YY's internal network, 100.64.0.0~100.64.0.10. On the other hand, the fake user of the YY server is a paying user with the local host server IP (127.0.0.1).
The IP addresses displayed by these fake users can only come from within YY. However, these internal IP addresses are usually blocked by ordinary IPs. Fake users rarely disclose these IPs: we suspect that YY usually uses VPN or other software to disguise affairs from YY's internal.
There are 20,400 paying users sharing IMEIs with the above-mentioned fake users on the YY intranet and fake users on the YY server. Among them, the XHL gift data of paying users whose domain name is 010.606 recordsThe gift of 91.1 million yuan is equivalent to 13.3% of the gift in the XHL data set. We believe that these paying users are fake users. To some extent, these fake users are also anchors, and their channel owners are controlled by YY.
In addition, after data reduction, there are 30,300 unique paying user IDs sharing IMEI with anchors who belong to the owner of the YY controlled channel. Including 13,100 paying users with XHL gift data. These 13,100 (13.6%) users gave out 222 million yuan in gifts, which is equivalent to 32.2% of all gifts in the XHL data set. We believe that these are also fake users.
Integrating the gift contributions of these fake users, we found that only based on IMEI sharing, 48.0% of the above-mentioned live-streaming gift revenue is fraudulent.
We determine below that almost half of the gift revenue in live traffic is fraudulent, and through additional research techniques. We contacted two samples of paying users, and they showed that the vast majority of paying users are bots, and therefore fake users, conducting fraudulent gift transactions and showing signs of YY control.
In the table below, we show paying users and their total gifts by category. We started with fake users on the YY server and fake users on the YY internal network and gradually expanded outward. A total of 24,100 users (24.9% of the total) sent 330 million yuan in gifts (48.0% of the total).
Although we have confirmed that a quarter of the paying users are related to YY, this does not mean that the remaining three quarters of the paying users and half of the The gift payment is real. On the contrary, as we show below, most of the remaining paying users have different kinds of links to YY, which make them fake users.
During the National Day holiday in October 2020, YY launched a new promotion called "Platform Angel". The new anchor will receive gifts from paying users (ie "angels") controlled by YY as a reward for regular broadcasts.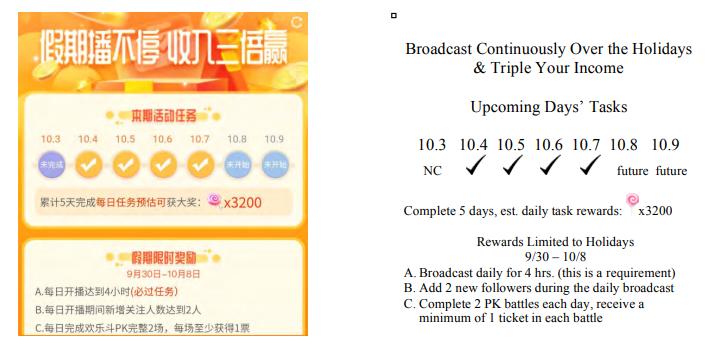 The platform angels' gift-giving time is very precise, and they arrive at the performers at the same second every day On the screen. The names of platform angels often think they come from the platform, and their precise gift-giving time makes them easy to identify.
We collected information on 82 "platform angels" and checked the "platform angels" paying users against our database. We found that only 26 YY control user ID records identified through IMEI sharing, accounting for about one-third.
The numbers indicate that behind every fake user controlled by YY that we identified through IMEI sharing, there are probably two fake users controlled by YY that did not pass the IMEI method. Be recognized. This is consistent with our inference that about 90% of YY's live gift revenue is false.
Next, we conducted a survey of YY users in Wuhan to determine whether they might be robots. Due to objective factors, Wuhan has become a closed city. During this period, it is almost impossible for non-robot users to move locations. We searched our records for paying users with Wuhan IP addresses, and these addresses were actively giving gifts at the beginning of the lockdown period. A random sampling of these active Wuhan paying users shows that based on their transaction details and gift-giving behavior patterns, approximately 87.5% are fake.
If deemed to be a fake user, paying users in Wuhan must meet the following fraud characteristics:
• Share IMEI with devices connected to fake users on YY's internal network
•Make IP jump from one geographic location to another
•Use the IP address in a large block of IP to send gifts to controlled channel anchors (ie, from the robot farm)
• Send most gifts to the anchor on the YY control channel
•Or show other characteristics of fraud or control behavior.
The top five unions have an 85.9% income gap
YY claims that its top unions Revenue in 2018 was 1.1 billion yuan. We obtained the local credit reports of these top trade unions. The report showed that their total income was only 156 million yuan, which means that 85.9% of their income was overstated.
According to YY's data, Yujia, Huashe, Wudi, Chinablue, and IR are the top five trade unions in terms of income in 2018. YY claimed that their revenue in 2018 exceeded 1.1 billion yuan. The following is a screenshot of a video on the YY website, which claims "2018! The revenue of the 5 largest unions in YY exceeds 1.1 billion yuan."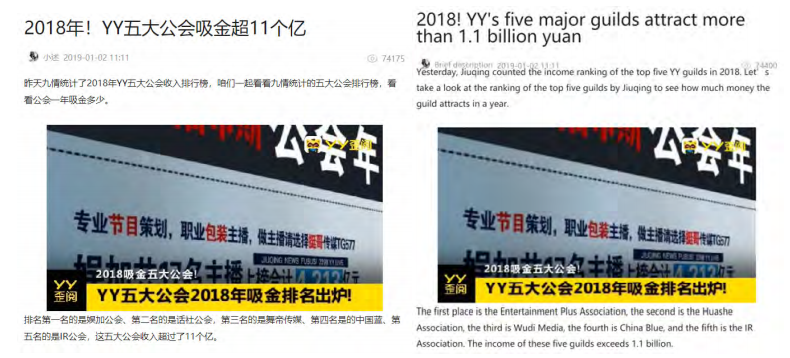 However, we obtained the China Credit Report of these unions, which showed that their total income in 2018 was only 156 million yuan. Compared with YY's statement, there is a gap of 85.9%. We believe that based on the review of legal disputes in China, the anchor is paid by the union, and our interviews with major union owners, we believe that the credit report revenue figure is the total amount paid to the anchor. Below, we compare YY's SAIC income with YY's claimed income: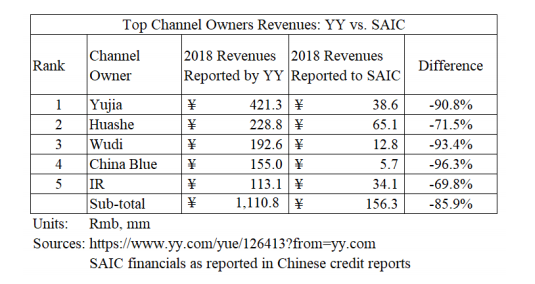 In the fourth quarter of 2019, these five major unions accounted for approximately 28.0% of YY's live broadcast revenue.
According to XHL, these five companies are still the head unions, and their revenue accounted for the percentage of XHL's YY live broadcast revenue in the fourth quarter of 2019 as follows: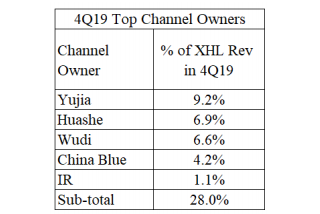 We believe that the revenue of 156 million yuan in the credit information system report is consistent with YY's claim The 85.9% gap between the 1.1 billion yuan of US dollars implies large-scale fraud. This method confirms our conclusion that only 10% of YY's income is real.
Rebates and fraud are prevalent
We also found that some top YY anchors' gift income Most of them come from themselves and robots controlled by YY. There is a top anchor who will still receive a steady stream of gifts outside of her performance time, which is almost the same as the robot activities we saw on the Modern Brothers channel. These findings are our basis for false judgments about 90% of YY's live broadcast revenue.
Liu Yuning, the lead singer of the band "Modern Brothers", was broadcasting live in Dandong City. Many passersby stopped to listen.
Despite the early publicity, we still learned from the manager of a YY channel owner in Dandong that YY paid for people to watch this free show.
The more outrageous thing happened in the scope of the modern brothers receiving gifts. We found that YY has created robots in 58 countries to reward Modern Brothers for their live broadcasts.
These bots are likely to constitute the majority of the 32,300 paying gift-giving users who visited the band's channel in January 2020: because we found that we sampled Almost all of the "so-called paying users" are actually fake users.
We found that 97.9%±10% of the paying users of Modern Brothers may be fake. In order to determine the degree of activity of the robot, we randomly sampled and investigated the behavior patterns of 96 Modern Brothers fans who gave gifts during the Modern Brothers program on January 30, 2020.
The reason why we chose this time as a sample is because we believe that the people who give gifts during the show are real. The reason for choosing Modern Brothers is that they are unique in the YY ecosystemInvariably, the owners of the Modern Brothers YY channel are themselves. Therefore, there is almost no fraudulent power of any interested third party.
In this sample, we identified false users based on the pattern of giving them gifts regularly and repeatedly during the days when the "Modern Brothers" was off the air. Some paying users who gave gifts to the Modern Brothers also showed the IP address connected to the YY server, which further showed that they were robots controlled by YY.
In a particularly successful month for the Modern Brothers, the Modern Brothers ranked 97 on YY and received 2.9 million yuan in gift income. However, YY seems to have hired fake users to get this ranking.
Data from XHL and YY applications show that from July 2020 to September 2020, robots have been running their fixed patterns. For example, on July 22 and 23, 2020, Modern Brothers did not perform, but the channel received RMB 2631 rewards from 15,200 paying users and RMB 4007 from 22,400 paying users.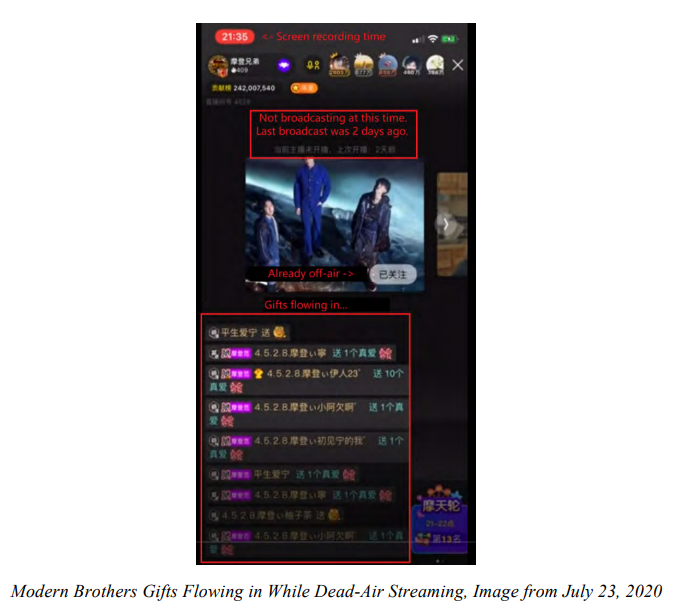 Although the normal live broadcast time of Modern Brothers is 7 to 10 pm, The purple line shown in the XHL gift transaction record below indicates that the fake user is sending small gifts 24 hours a day, indicating the active time of the robot. The image on the XHL dashboard below shows the data on July 22, 2020, when Modern Brothers did not broadcast live on this day.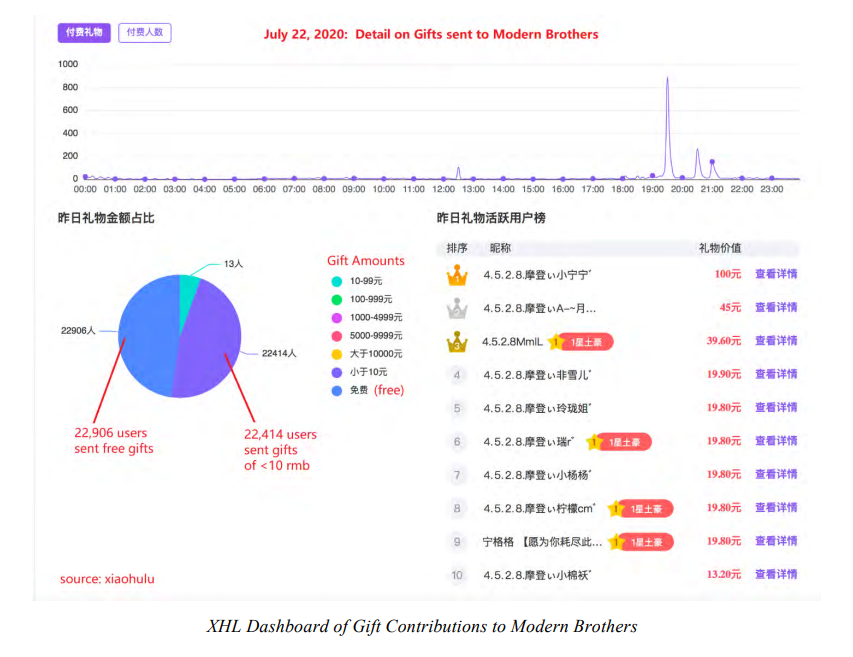 In addition to the modern brothers, some head anchors also have similar situations.
Lao Li, a top anchor in YY, almost all gifts come from official YY or himself. We discovered this by analyzing the data of its channel. Data shows that in December 2019, users with 8 device IDs associated with Lao Li's own devices contributed more than 80% of their revenue. This kind of device connection is combined with the fake users controlled by YY. From a general point of view, the amount of rewards from this user network to the anchor is much higher than Lao Li's income.
This is YY's income expansion plan. YY head anchors generally have a common feature, that is, sharing IMEI links to a large number of fake users controlled by YY.
Lao Li used to be a security guard and became famous through YY live broadcast. Every day, Lao Li hosts variety shows on YY, joking with other anchors and fans. Lao Li refers to his 8.4 million fans as Li Jiajun, and each of his videos has hundreds of thousands of views. As the third-ranked anchor on the YY platform, Lao Li receives tens of millions of yuan in rewards every year. In December 2019 alone, there were 28 million yuan (40% of the gifts of the month) worth of rewards from Pingshen, a top local tyrant from Lao Li.
However, our investigation revealed that Pingshen actually shared Lao Li's IMEI. We found that the IMEIs of another 14 paying users are also related to Lao Li, including 8 top paying users. In 4 months, the amount of rewards from these 8 accounts far exceeded the rewards received by Lao Li.
In general, we believe that in the December 2019 annual competition reported by XHL, at least 85% of Lao Li's gifts came from fake YY users. Our analysis shows that among the 13.7 million yuan of such gifts that XHL obtained in-depth data, fake users controlled by YY contributed a total of 13.1 million yuan, accounting for 96% of the total investment. We believe that most of the paying users who rewarded Lao Li in December 2019 were fake users who gave gifts many times when Lao Li stopped broadcasting.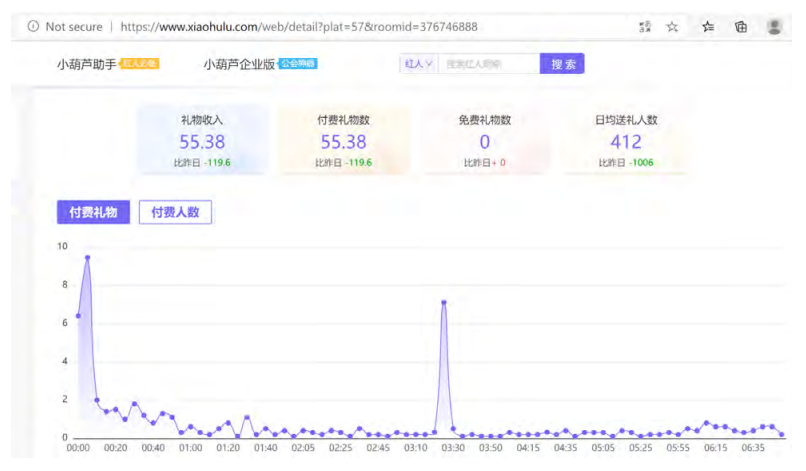 For us, Lao Li is more like a big lie.
YY China's financial data anomalies
We obtained YY's onshore entity's Credit report and compare it with YY in the U.S. Securities and Exchange Commission (SEC)The submitted documents were compared, and it turned out that there were many differences. These differences amounted to hundreds of millions of yuan, including a serious cash shortage in local corporate finance compared with the situation reported by YY to the SEC. This difference, especially the difference in cash balances, is a trace of manipulation or fraud.
For example, the documents filed by YY with the US Securities and Exchange Commission (SEC) in 2018 show that long-term deposits are 1 billion yuan, as shown in the table below. We believe that this total amount is likely to be fictitious or has been substantially inflated because the main YY onshore entity does not include these long-term deposits. A rough comparison of these two sets of financial statements shows this difference.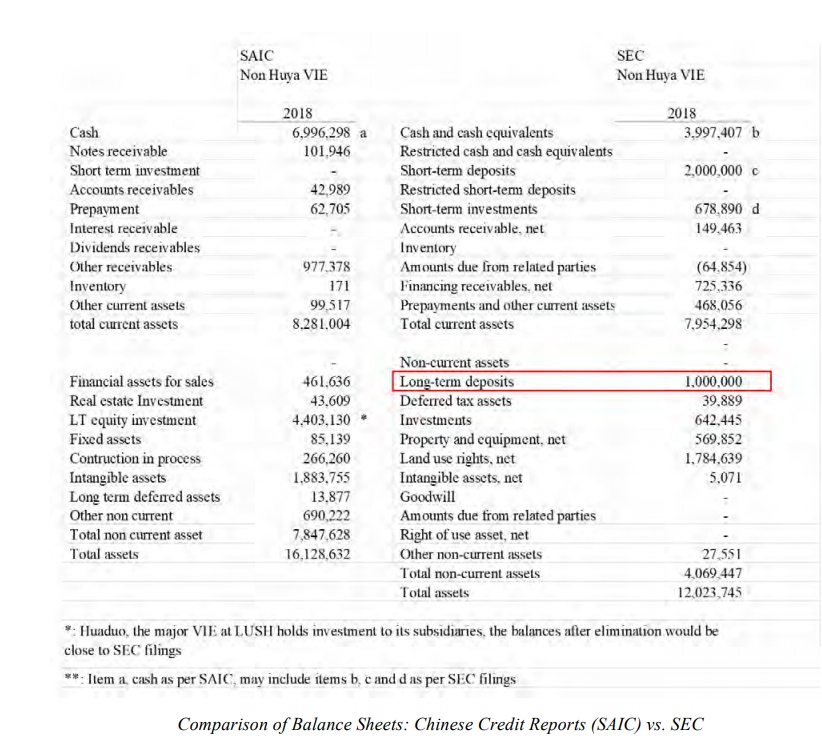 In addition, we believe that YY has transferred about 1.326 billion yuan to its wholly foreign-owned enterprises (Most of them will be illegally transferred to their overseas wholly foreign-owned enterprises), or the cash of the wholly foreign-owned enterprises does not exist at all.
After calculation, as of the end of 2018, YY's WFOE cash balance was 1.298 billion yuan, of which the vast majority (about 1.16 billion yuan) were overseas. However, given that YY did not show substantial dividends or loan flows overseas in the US Securities and Exchange Commission (SEC) documents, we believe that YY violated China's capital controls and transferred the vast majority of 1.326 billion yuan, or 1.16 billion yuan. The cash balance of an offshore wholly foreign-owned enterprise of RMB is fake.
The following table shows that without Huya, the book cash balance of YY's onshore and offshore wholly foreign-owned enterprises totals 1.298 billion yuan.
In order to determine the onshore and offshore division of this cash, we checked YY's China Credit Report. The credit report shows that as of the end of 2018, the cash of onshore wholly foreign-owned enterprises excluding Huya did not exceed 138 million yuan. The following table only shows the cash position of wholly foreign-owned enterprises that mainly onshore do not include Huya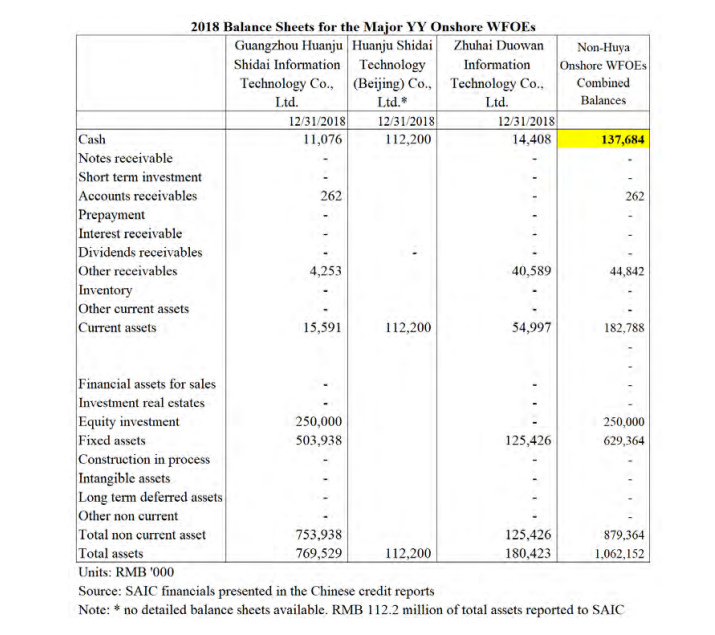 Because of the small onshore cash balance at the end of 2018, we know that among the 1.298 billion yuan, the 1.16 billion yuan cash balance is almost all from overseas.
See below:
From these calculations, we can infer that the transfer to YY during 2018 Basically, the cash of a wholly foreign-owned enterprise should flow to the overseas wholly foreign-owned enterprise. This is because onshore wholly foreign-owned enterprises not only have low cash balances, but also have not shown large-scale financing activities that may cause major cash transfers.
In order to calculate the amount of YY transferred to offshore wholly foreign-owned enterprises, we consulted YY's cash flow statement.
In the table below, we first summarized the total cash generated by YY VIE in 2018, which was 3.38 billion yuan. Then, we add this number to the cash of YY's variable interest entities at the end of 2017. If the funds are not transferred, the cash that appears on YY's balance sheet should be 5.324 billion yuan, which is the same as that shown on YY's balance sheet at the end of 2018. Without Huya, VIE's cash balance of 3.997 billion yuan is seriously deviated.
This 1.326 billion yuan in and out of the amount includes the transfer from non-Huya VIE to non-Huya WFOE, because they disappeared from the VIE cash balance in 2018. YY did not disclose the corresponding substantial dividends or loans to offshore entities in the documents filed by the U.S. Securities and Exchange Commission (SEC) in 2018. However, as we concluded in the table above, almost all of the transferred cash seems to go exclusively to foreign-owned enterprises that do not include Huya overseas. The details of our 1.326 billion transfer calculation are as follows: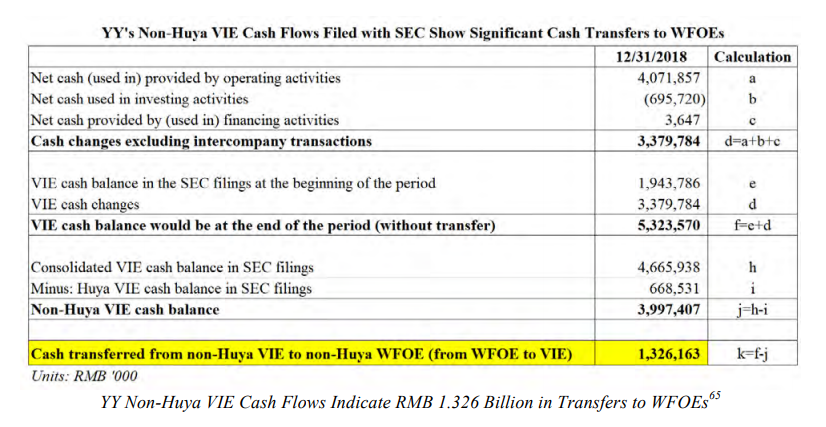 These unexplained offshore cash transfers have raised concerns about the authenticity of YY's offshore cash balance.
The acquisition of Bigo is a terrifying scam
We believe that YY acquired Bigo in 2010 for $1.45 billion in cash and stock. This was a scam, but it actually acquired another company from the chairman. We got the local documents of Bigo in Singapore. It shows that it was not Li Xueling who first created Bigo, but Bigo was only later transferred to Li Xueling.
We also found that Bigo retroactively increased the income of mainland China. We believe that these incomes are largely false, which makes everyone look YY The acquisition of Bigo was a very wise decision and proved that Chairman Li Xueling's high salary is reasonable.
We believe that Bigo was meant to defraud investors from the beginning. Since 2015, the management has been misleading investors and told the public that it was Li Xueling who founded Bigo. However, this is a lie: Singapore documents show that Bigo Technology Pte. Ltd. was incorporated on September 11, 2014, and the shareholder is only YY's BVI entity Duowan Entertainment Corp.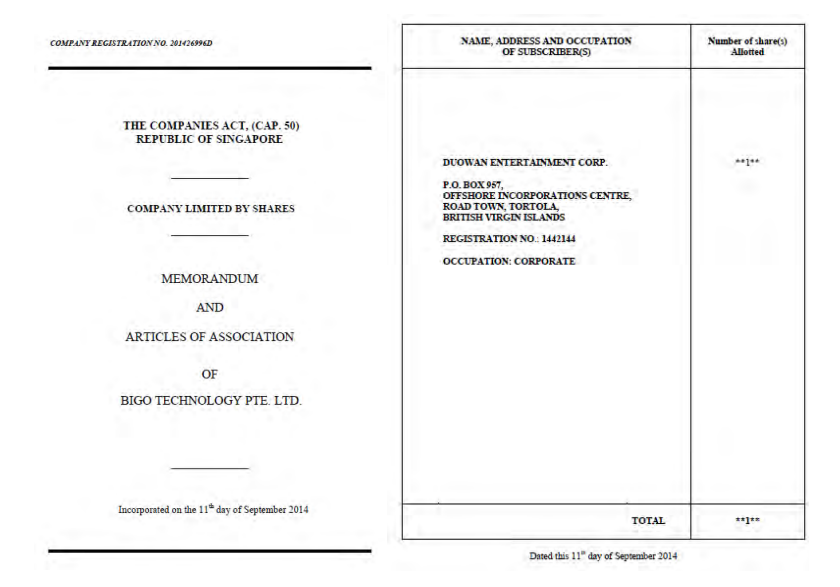 YY's acquisition of Bigo is the key to a scam. After several rounds of financing, it finally got Most of the funds for the second issuance of YY in 2017. Most of the payment for the acquisition was paid directly to Li Xueling in the form of cash and stocks, which included 38.32 million shares of YY B common shares issued, with a total value of approximately US$156 million.
In addition, he may also receive part of the US$343 million in cash and part of the 314 million shares of YY's Class A common stock. YY also used huge payments to insiders to achieve considerable value gains in 2018 and 2019, and generated considerable book profits.
Even in Bigo's early years, local audits were revealing some information to us. In the first four years, Bigo changed Singapore's auditors three times. Soon after repurchasing a 100% stake in Bigo, YY's management claimed that despite Bigo's overall loss, the strength of Bigo's live broadcast was sufficient to support the initial development of other businesses.
But Bigo's Singapore auditors raised objections. In Bigo's three annual reports from 2016 to 2018, the Enterprise warning. Moreover, Bigo made a major restatement of its 2017 financial situation in August 2019, a few months after the completion of the acquisition.
Due to the precarious financial situation, Bigo continued to prepare for the acquisition. In the local documents disclosed in Singapore in 2018, Bigo reiterated its financial position by adding a Chinese variable interest entity Guangzhou Baiguoyuan, which contributed an additional US$110 million in revenue.
However, as we detailed below, we believe that almost all of Bigo's income in mainland China is fabricated. In addition, when we compared the details published by the local audit in Singapore with the financial status of Bigo China's variable interest entities in the credit report released in China, we found many illogical differences.
Bigo's financial fraud has brought huge fair value revaluation gains to YY, thereby further enhancing the value of YY's stock. YY's 2018 D round of investment in Bigo resulted in a profit of 989 million yuan in the current period, equivalent to 46.7% of the reported net income in 2018. The acquisition of Bigo in 2019 further improved YY's financial position in the first quarter of 2019, with a profit of 2.67 billion yuan, accounting for 72.2% of 2019 net income.
As the biggest protagonist of Li Xueling's scam, Bigo has always concealed that one third of the business at the time of the acquisition did not come from overseas, but from mainland China. We believe that Bigo's income in Mainland China is almost entirely false.
In addition, we believe that these Chinese revenues are made through fictitious sales to make Bigo's book full, thereby makingThis business can be acquired at a higher purchase price, and Li Xueling will ultimately benefit from it.
In June 2018, the announcement of Bigo's Series D financing and the completion of the acquisition of Bigo in March 2019. The press release focused on Bigo Live and Likee, portraying Bigo as a value of 14.5 A billion-dollar global live broadcast company. These statements emphasized that Bigo Live's live streaming platform excludes China, but did not mention that a large part of Bigo's revenue comes from China's audio live streaming applications.
However, according to a 6-K report submitted to the U.S. Securities and Exchange Commission in June 2019, there was a sales of US$166 million from China. It accounts for about one-third of Bigo's total revenue in 2018.
In comparison, it is found that there is an almost similar figure, an income of 159 million US dollars, which comes from audio live broadcast, which means that the source of China's additional income is mainland China The audio live application Hello, others may come from some smaller applications.
As we have described, we suspect that Bigo's 2017 revenue and 2018's revenue from Baiguoyuan and related audio live broadcast business are likely to be False or grossly exaggerated. According to the statistics we found, about 80% of Bigo's income is false income.
The former executive of Bigo said that most of the users are fake, and these robots are commanded by Bigo's headquarters in Singapore or YY's headquarters in Guangzhou .
Our investigators interviewed a former executive of Bigo India and asked about the way Bigo operates. The executive said that about 60% of the people in the Bigo anchor room are robots, and the robots are determined by the Chinese teams in Singapore and Guangzhou.
He believes that the use of robots is necessary, and he gave a reason to respond: "When you first started the live broadcast, I couldn't let you see the blank space in the live broadcast room. We must give you some fans."
A former Bigo executive in the Middle East described to us the proportion of fake users on Bigo. "For Bigo, only about 30-40% of the audience is real, and about 60-70% of the audience are robots.",
Bigo can increase or decrease the proportion of robots on the platform , The former executive said: "The proportion of fake users may be much higher than I said. For example, in the live broadcast room of a music channel, the first 5000 viewers are usually robots."
Finally, a former executive from Bigo Southeast Asia confirmed these claims. He told us that 70% is a typical proportion of robots in Bigo channels.
Bigo has a bean recycling mechanism. Bigo uses unions and anchor "family" to manage the distribution and distribution of Bigo beans in their network, creating something similar to YY live broadcast Dynamic, without implicit control of the channel.
Bigo anchors are contracted users. To get paid, anchors need to reach a certain target "bean" quota, and follow a regular schedule for the game ranking system.
The contracted anchor must keep the daily live broadcast between 30 minutes and 2 hours. This ensures that they log in as many days as possible each month, while combining their payment rewards with metrics from third-party app analytics companies, and then ranking apps based on engagement metrics.
Bigo has always given people the impression that it is highly engaged users, but in fact most of the participating users are staff working according to a set of scheduling parameters.
According to the former Bigo manager we interviewed, the income quota system forces anchors to keep beans in Bigo. Some anchors can get paid, but others, such as in the United States, Morocco and some other countries, Bigo's anchors pay monthlyWages are paid in beans, which helps Bigo reduce the number of beans circulating in the ecosystem.
Bigo also provides a recycling option for performers, allowing them to use beans without leaving the platform.
Performers can buy discounted beans in tit-for-tat transactions, buy gifts for each other, and help each other achieve their income goals. In this way, when their quota is insufficient, anchors usually seek the help of their union or family members to support them and exchange discount gifts.
They usually exchange soy products with other members in the last month of the event. This Bigo activity creates a strong liquid currency activity.
Sometimes, their income far exceeds their total income. However, because Bigo not only changed the identity of the false head user, but also changed the statistical information of the tipper account, it is difficult to perform accurate calculations.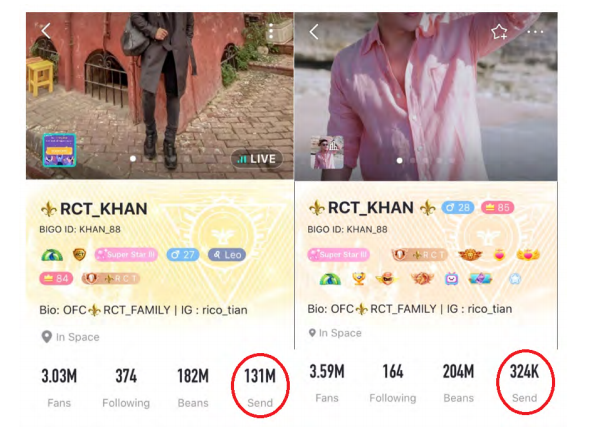 We believe that the intention behind changing the head user data is very obvious. It is to prevent others from discovering the scale and outrageous extent of the Bigo scam.
Bigo also owns a mainland China business, but it is not mentioned in his earnings conference call and annual filing. We think it avoids mentioning the Chinese business because it is essentially an empty shell, because its applications do not show real activity.
YY reports that Bigo's revenue in Asia and China in 2018 was US$166 million, of which the revenue from the audio live broadcast was US$159 million. Bigo's core products, Bigo and Likee, are oriented towards video, not audio and streaming media, and both are also focused on markets outside of China.
In 2018, Bigo's financial data in Singapore showed that the company achieved $538 million in revenue. During the reporting period, China's revenue accounted for as much as 30.7% of the total revenue, which is a very substantial amount for a market like Singapore.
The following table shows the geographic breakdown of Bigo's revenue, filed by year: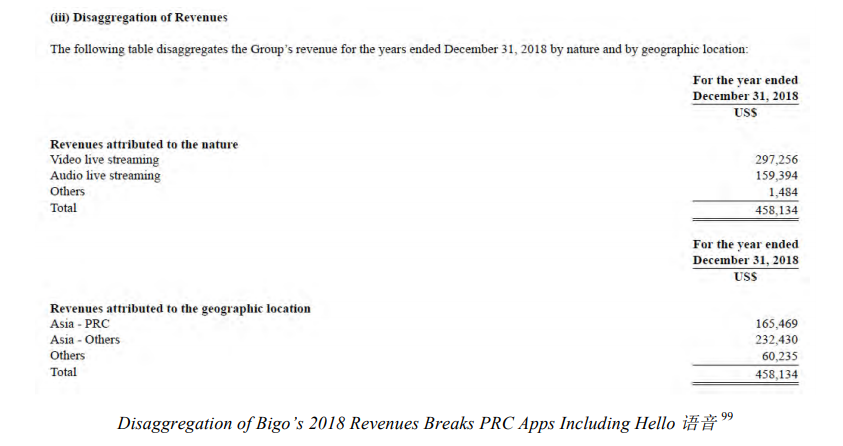 Through our mainland investigators and conversations with former Bigo employees, we have determined that mainland Chinese cannot download Bigo through normal app stores. Bigo's main business in China comes from overseas Chinese who have signed contracts and Chinese anchors in foreign countries. Therefore, we believe that Chinese users of the Bigo live broadcast application are anchors and will not generate substantial income for Bigo.
YY's disclosure made us believe that its income in China came from an application called Hello.
YY's June 2019 semi-annual report stated, "In March 2016, Baiguoyuan Networks launched an audio live broadcast APP Hello, which focuses on China Business."
Our inspection of Bigo China VIE Baiguoyuan showed that it has multiple applications and websites in operation in mainland China, most of which are no longer valid. . The main app is Hello Voice, a voice social network app with a small market share.
Therefore, we believe that since the income of live audio broadcasting is basically the same as that of mainland China, this part of the income mainly comes from Hello.
We found that, according to the submitted documents, Bigo's potential income in China has been bringing growth to Bigo. In 2019, YY began to disclose its share of China and non-China live broadcast revenue in its quarterly financial reports. YY's non-Chinese income mainly comes from Bigo, with a small amount from Huya and Hago. Assuming that Bigo and its consolidated subsidiaries account for 100% of YY's non-China revenue, we can subtract all YY's non-China revenue from Bigo's total revenue.Come in to calculate Bigo's minimum onshore Chinese income.
From the recently disclosed YY data (not including Huya now), we can see that Bigo's hidden income in China is relatively high, accounting for 2020 13.4% of revenue in the third quarter reached 456 million yuan, an increase of 27.4%.
Bigo's onshore income seems to be limited to the APPs and investments held by VIE Pagoda. These APPs and investments should basically come from Hello and its associated APPs.
However, when our investigators talked with YY's anchors and virtual currency merchants, they found that they didn't know much about the Chinese APP Hello voice.
So far, we have found very little evidence to prove that Hello is important to YY in terms of brand name, online number, downloads, mau or revenue in China .
As we said below, we doubt whether Hello and its associated APP can really generate much income.
Our investigators conducted a preliminary investigation on Hello and found that there are very few active users. This adds to our judgment that the app has almost no revenue.
In addition, Hello was established by YY, not Bigo. We discovered it by analyzing the information disclosed by the application.
We monitored several live broadcast rooms and found that they were a joke. In our opinion, not only is the content terrible, but there is also a lack of participants and anchors. When we browsed the Hello application, we saw very few active users. Even in a fully-loaded room, there was still very little interaction between the anchor and the user, and almost no gifts were received.
Most users seem to be robots, do not participate in any activities, neither join nor leave these lifeless rooms. The following two examples show that the top broadcast room on Hello Voice is running at full capacity, but there is no message or language interaction at all.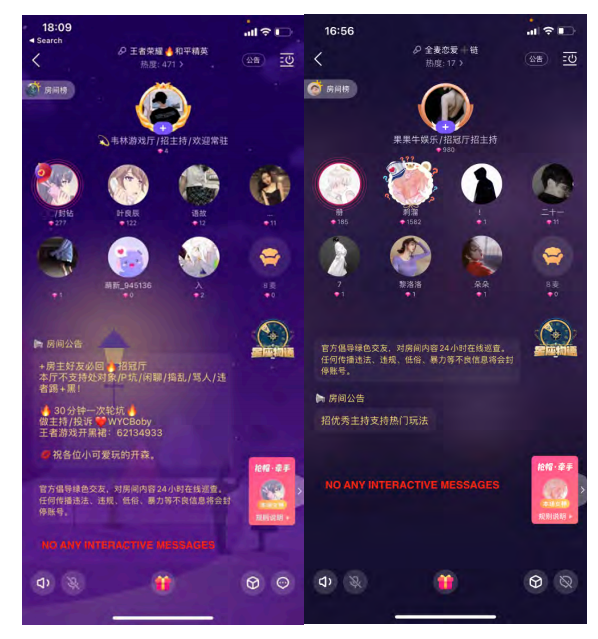 We believe that the significance of Hello and its associated applications is to facilitate management They may find that it is easier and cheaper to generate income onshore than offshore.
We further believe that the operation of these apps is to help Bigo's profits increase rapidly, increase its contribution to YY, and generate continuous revenue.
In addition, this increase in income is a way for Li Xueling to raise Bigo's valuation. By incorporating the false income that may exist in Baiguoyuan into Bigo, it enables Get greater benefits from YY.
It is speculated that Bigo's revenue this year will exceed 1 billion yuan. It shows that some of YY's operation and management have been integrated, and they are all under the joint control of YY.
We found more evidence of this actual control in a blog post in January 2017 that describes how to set up an account on Hello Voice And get paid commissions from streaming media.
According to the documents submitted in Singapore, Baiguoyuan and Hello Voice should be completely separated from YY from 2016 and be controlled by Bigo.
However, Hello Voice users are encouraged to bind their YY account to their Hello Voice account and use YY's payment system.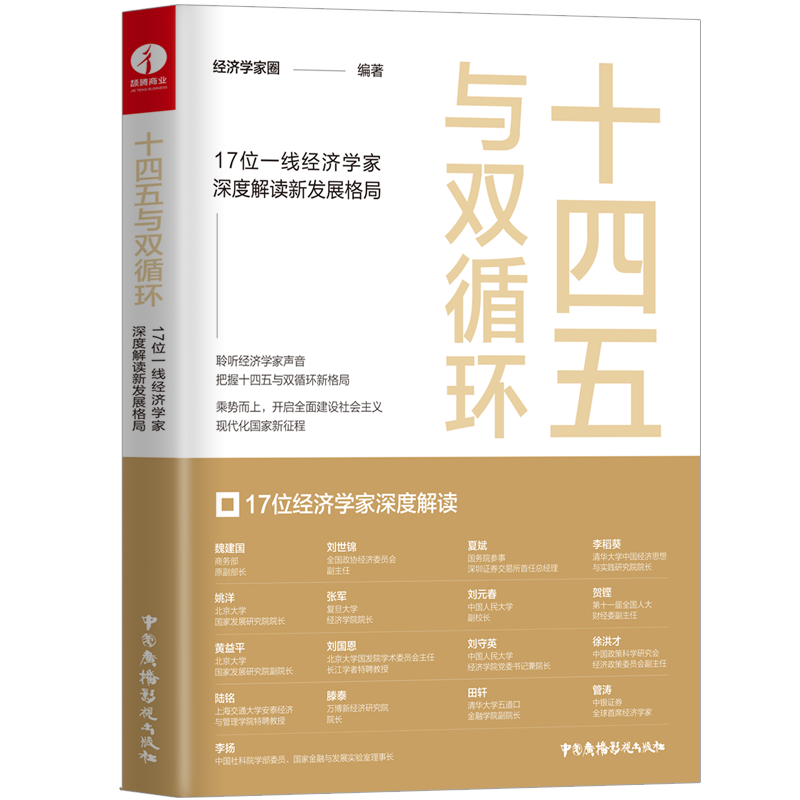 If you are interested, add the WeChat of the little secretary
Scan the QR code to receive account opening benefits!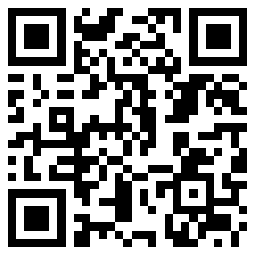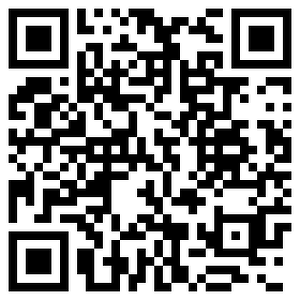 Massive information, accurate interpretation, all in Sina FinanceAPP
Article Url:https://www.liaochihuo.com/info/613711.html
Label group:[robot] [yy live] [yy] [yy stock] [USD yy] [Li Xueling]