Self-media refers to the way the general public releases their own facts and news through the Internet and other channels. With the continuous popularization of the Internet in China, the development of the Internet and mobile Internet in China has gradually matured, and even unlimited traffic has begun to appear. At the same time as the threshold for Internet use continues to decrease, Internet products are increasingly filling our lives. At the same time, mobile users continue to increase, and even become twice as many as PC users. People's demand for simplicity, speed, and fun has also increased. From fragmented reading to short video viewing, China's self-media has also increased. Developed rapidly.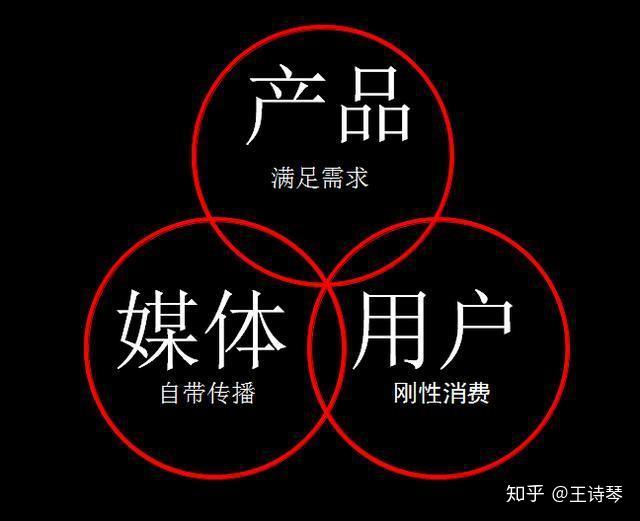 Features of self-media potential stocks:
1. Leading boutique dramas with high endogenous growth rates.
2. Benefit from overseas blockbusters, the most logical cinema chains and release targets.
3. High-quality targets and new educational targets among sub-new stocks.
New air outlet? With a market value of tens of billions, 10 self-media concept stocks (list)

10 self-media concept stocks (list):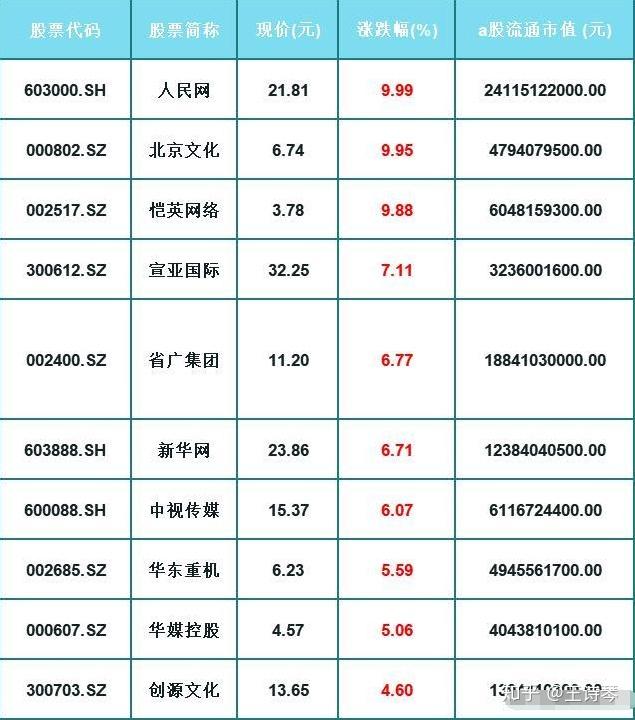 People's Daily Online: The company is China's leading news-centric comprehensive information service operator with independent editorial rights China's central key news website is also one of the largest Chinese and multilingual news websites on the Internet
Beijing Culture: The 2017 phenomenon-level movie "Wolf Warrior II" jointly produced and distributed by the company, the company is not only comprehensive in depth Participated in the production of "Wolf Warrior II", more comprehensively controlled and executed the domestic marketing and film distribution of the film. "Wolf Warriors II" broke a new box office record for Chinese-language movies in China and even the world with a box office of 5.683 billion. As the first Chinese-language film to enter the top 100 global box office rankings, "Wolf Warriors II" finally entered film history with a score of 58 on the global box office rankings, breaking the "monopoly" of Hollywood movies over the global box office
Kaiying Network: Lebin Culture is a radio and television production company with rich content production capabilities. Its core team has participated in the creation of "The Voice of China", "The Most Powerful Brain", "The Voice of Chinese Dream", and "Super "Female Voice", "China Got Talent" and other high-rated variety works.
Xuanya International: The company's digital marketing refers to the company's digital marketing techniques and methods provided to brand owners (mainly including public relations, advertising and social marketing through the Internet, mobile Internet and other digital media Etc.) is the leading integrated marketing communication service. The specific service content of the company's digital marketing includes strategy formulation, digital advertising, digital public relations, effect monitoring, delivery optimization and supporting experiential marketing, etc.
Shengguang Group: French advertising giant Havas S.A. jointly established an advertising company. The company intends to invest 14.7 million yuan with self-raised funds and own 49% of the equity. As a company listed on the Paris Stock Exchange in France, Havas S.A. is one of the world's six largest advertising groups and has a large number of internationally renowned brand clients.
Xinhuanet: The company's main business is online advertising, information services, website construction and technical services, and mobile Internet services. The company's main products and services include online advertising display and release, multimedia information services, big data intelligent analysis services, and forums.
Zhongshi Media: Mainly engaged in the development and operation of tourism and film and television bases, film and television shooting, and television production.
East China Heavy Machinery: Since its establishment, Zhongshi Heli has been focusing on the copyright transaction business of film and television dramas. In the past three years, the main business has gradually developed from a single agency distribution of film and television dramas to the current TV theater operation, film and television There are three major business sectors: drama investment and distribution, and TV program production. Since its establishment, Qingyang Media has been closely focusing on advertisers and media resources, mainly engaged in media agency business, media platform sales, corporate media consulting business, and brand and content interactive marketing, providing a full range of services for advertisers and media customers.
China Media Holdings: its subsidiaries include Dukuai Holdings of the Zhejiang First Metropolis Daily "City Express", Hangzhou Daily Media Co., Ltd. and "Daily Business Daily", "Xiaoshan Daily", "Fuyang Daily", "City and Rural Areas" Relevant operating assets such as the Herald and Metropolis Weekly.
Chuangyuan Culture: The company has a rich product line. The main products cover three major paper fashion, cultural, educational, and leisure cultural products series, including handmade puzzles, fashion stationery, and social emotions, with more than 1,000 varieties.
Article Url:https://www.liaochihuo.com/info/611076.html
Label group:[Marketing] [Mobile Internet] [self-media]