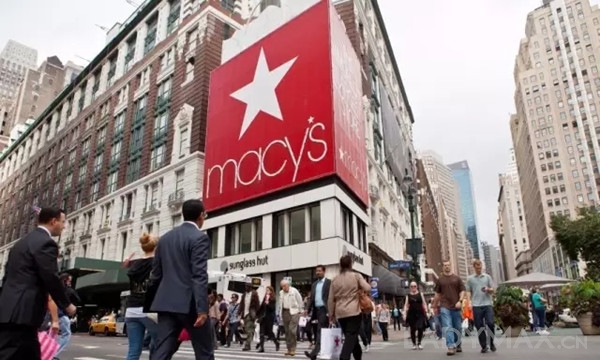 Affected by the cost of reorganization of closed stores, Macy's first quarter net profit plummeted by 39%, and the stock price plummeted by 17%.
In the three months ended April 29, Macy's net profit fell 39% to 70 million U.S. dollars from 115 million U.S. dollars in the same period last year, while sales fell 7.5% to 5.34 billion U.S. dollars. The impact of closing poorly performing stores. As the financial report fell short of expectations, the group's share price fell by 17% yesterday to US$24.35 per share, the lowest in 7 years. The current market value is about US$7.4 billion.
Jeff Gennette, chairman and CEO of the group, admitted that the store closure plan has had a negative impact on the performance of Macy's in the short term, but Macy's plans to close another 100 stores this year to further improve the group's profitability. In addition, Macy's also plans to sell floors to other retailers to reduce the store area it owns. For the 2017 fiscal year, the group expects that sales may fall by 3.2% to 4.3%, and comparable sales may fall by approximately 2% to 3%.
The first quarter net profit of American department store Nordstrom surged by nearly 37%, exceeding expectations.
In the three months ended April 29, Nordstrom's net profit rose by 36.9% year-on-year to $63 million, while sales increased by 2.7% to $3.3 billion from $3.2 billion in the same period last year. , Comparable sales fell 0.8%. Among them, Nordstrom's online sales in the quarter increased by 11% year-on-year, accounting for 24% of total sales. For the full year of fiscal 2017, the group expects net profit to grow by 3% to 4%, while sales will remain flat.
The net profit of Kohl's Department Store in the United States soared nearly three times in the first quarter
Kohl's Department Store announced its first-quarter results yesterday. Net profit soared 288% from US$17 million in the same period last year to US$66 million. Sales decreased from US$3.97 billion in the previous year to US$3.84 billion. Same-store sales The amount decreased by 2.7%. The group stated that the decline in sales was mainly due to the significant reduction in the flow of visitors to U.S. department stores. It has now made strategic adjustments and hopes that with the promotion of the back-to-school season in September, sales can resume growth.
Moschino's parent company Aeffe's net profit rose 41% in the first quarter
In the three months ended March 31, Aeffe Group's net profit rose 41% year-on-year to 8.1 million euros, and sales increased 4.4% to 79.6 million euros. Among them, sales in the garment sector increased by 3.5% to 61.4 million euros; sales in the footwear and leather goods sector increased by 8% to 25.4 million euros. By region, the Group's sales in Italy increased by 15.9%; sales in the Russian market increased by 9.1%; sales in Europe except for these two regions increased by 0.6%; sales in the United States decreased by 12.2%; other regions Sales also fell by 8.6%. After the release of the financial report, the group's share price rose 9.89% to 1.58 euros per share, with a market value of approximately 169 million euros.
Superdry's parent company's growth slowed in the fourth quarter The Chinese market lost 10 million yuan in the first half of fiscal year 2017
Benefiting from the depreciation of the British pound, Superdry's parent company Super Group's annual sales surged 27.2% to 751 million pounds. In the 12 months ended April 29, the Group's retail channel sales rose by 20.6% to £501.6 million, a comparable increaseEarned 12.7%; wholesale channel sales rose 42.9% to 249 million pounds. However, in the fourth quarter, Super Group's performance growth slowed significantly, with comparable retail sales growth of only 9.4%, which was lower than the 11.9%, 13.7%, and 14.9% in the first three quarters, and even lower than the 15.4% growth in the same period in the 2016 fiscal year. In the first half of 2017, the Superdry brand lost at least RMB 10 million in the Chinese market, and the partner is Heji International, the parent company of Osley.
Elizabeth von der Goltz becomes Net-a-Porter Global Buyer Director
After taking office, Elizabeth von der Goltz will be responsible for formulating the purchasing strategy for all product categories of Net-a-Porter, and will be responsible for promoting sales and development of new product series, and will report to Net-a-Porter President Alison Loehis and General Manager Matthew Woolsey report. Prior to this, Elizabeth von der Goltz served as senior vice president and product manager at Bergdorf Goodman, a high-end Baidu in the United States.
Alex Williamson becomes the new CEO of British department store House of Fraser
The House of Fraser issued a statement a few days ago that Alex Williamson will succeed Nigel Oddy, who left in November last year, as the new CEO, responsible for overseeing and leading the entire House of Fraser team, and reporting to the chairman of the board of directors Frank Slevin. Alex Williamson was previously the CEO of Goodwood, a British real estate company. House of Fraser was acquired by China Sanpower Group in 2015 for 450 million pounds. According to the latest data, the department store's overall sales were flat, with comparable sales rising slightly by 0.9%. In order to improve the profitability of department stores, the group decided to review and re-plan the brand portfolio in the next five years.
High-end down brand Canada Goose will open the world's largest flagship store in London
Canada Goose is preparing to expand its global market. The brand recently announced that it will open two new flagship stores in London, UK and Chicago, USA this fall. The London flagship store will be the brand's largest flagship store in the world. Canada Goose also plans to open its e-commerce platform to seven countries including Germany, Sweden, the Netherlands, Ireland, Belgium, Luxembourg and Austria. In addition, the brand will launch a knitting series in the fall, and will add footwear and household items in the future.
Shiseido's first quarter net profit plummeted by 48.7%
In the three months ended March 31, the sales of Shiseido, Japan's largest cosmetics group, increased by 9% year-on-year to 234.26 billion yen and approximately US$2.04 billion, and operating profit increased by 9.3% to 24.313 billion yen and approximately US$212 million. , Net profit plummeted by 48.7% to 14 billion yen and approximately 112 million U.S. dollars. The group said that the net profit in the same period last year was higher than average due to the transfer of intellectual property rights and the sale of land assets, which was the main reason for the sharp drop in net profit in the quarter.
The large-scale expansion strategy has begun to bear fruit. British beauty brand Lush successfully turned losses into profits last year
In recent years, British beauty brand Lush has made expanding the size of its stores as its core strategy to implement reforms in the local market, with the goal of turning losses into profits. It is reported that brand sales in 2016 reached 125 million pounds, a significant increase from 57 million pounds in 2013. Lush brand executive Paul Wheatley said that the key to the expansion strategy is not to increase the number of stores, but to select suitable locations and store area.
Nike and adidas distributor Baosheng International's sales in the first four months of this year increased by nearly 16% to 6.5 billion yuan
According to the latest release of Baosheng InternationalBu's financial report shows that in April 2017, sales rose 18.46% to 1.907 billion yuan. In the first four months of this year, Baosheng International's sales recorded 6.581 billion yuan, an increase of 15.9% compared with 5.677 billion yuan in the same period last year. Some analysts pointed out that Pou Sheng International's performance increase was mainly due to many positive factors, including the expansion of cooperation with Nike, the opening of more flagship stores by Adidas, and the high-margin business of Skechers.
Swarovski joins WeChat to launch a small program and will be the first to connect to WeChat payment
The small program "Swarovski Brilliant Gifts" created by WeChat and the internationally renowned fashion brand Swarovski is newly launched. Consumers can purchase jewelry, necklaces and other jewelry on the small program. At the same time, the two parties also announced that Swarovski's offline stores across the country will be the first to connect to WeChat Pay. Through access to WeChat's various capabilities, Swarovski's online and offline digital store experience will also be improved.
Russia removes WeChat from the list of banned websites
According to Russian media reports, the Russian Federation's Communications, Information Technology and Mass Media Supervision Bureau's website announced that it had removed the Chinese communications service platform WeChat from the list of banned websites. According to previous media reports, the Russian Federal Telecommunications, Information Technology and Mass Media Regulatory Agency stated in an interview with the media on the 5th that due to the lack of registration information, China's instant messaging software WeChat has been blocked since the 5th. However, the Supervisory Authority also stated that once the relevant information is received and verified, the blockade will be lifted.
Urban Beauty and Kimuratan Corporation, a Japanese maternal and child product company, signed a strategic agreement to enter the mainland children's clothing market
Urban Beauty will act as the exclusive omni-channel development strategic partner of Kimuratan Corporation in the Mainland, using e-commerce platforms to sell branded products and seizing the market segment of underwear and children's wear in the Mainland. It is worth noting that Metro Beauty announced last week that it will issue additional shares, introducing Fosun International as a new shareholder, accounting for 11.18% of the enlarged shares, and financing a total of HK$600 million. After this financing, City Beauty will accelerate the reform of sales and distribution channels, potential mergers, acquisitions and cooperation projects.
Domestic boys born after 95 have become a new force in online beauty consumption and have the highest acceptance of skin care products
According to the "Post-95 Boys Grooming Consumption Micro Report" released by China Business Data Center based on Alibaba's big data, in 2016, post-95 male groups had the highest acceptance and consumption of skin care; except for stereotyped products and In addition to makeup products, they also prefer to buy domestic products on e-commerce platforms. Some analysts pointed out that although most of the post-95s are still in the student stage, and the online consumption of beauty and skin care is not as good as that of the post-90s, this group has great consumption potential due to the influence of Japanese and Korean trends and the rising awareness of beauty and skin care.
Old Navy officially launches China's official shopping app
Old Navy, a brand of American fast fashion apparel group Gap, officially launched China's official shopping app to further strengthen China's e-commerce business. The APP will sell three major categories of branded men's and women's clothing, children's clothing, and infant clothing. The page style is consistent with the brand's official website. At the same time, the APP is also associated with Gap's APP, and consumers can purchase products of both brands at once. Old Navy will also use this APP to introduce more favorable discounts than Tmall flagship stores to attract target consumers.
Louis Vuitton and Kansaï Yamamoto will launch a collaboration series
After Louis Vuitton and Fragment Design launched a joint series, and co-designed a new series MASTERS with Jeff Koons, Louis Vuitton has announced again a few days ago that it will launch a collaboration series with Japanese contemporary talented designer Kansai Yamamoto, and will On May 14 at Miho Museu, a private art museum in Koka, Shiga Prefecture, Japanm will appear in the 2018 early spring fashion show, and will be released in the form of live broadcast at that time.
The article comes from the WeChat public account: Daily Fashion Highlights
More information about Swarovski Messi Department Store

Article Url:https://www.liaochihuo.com/info/610904.html