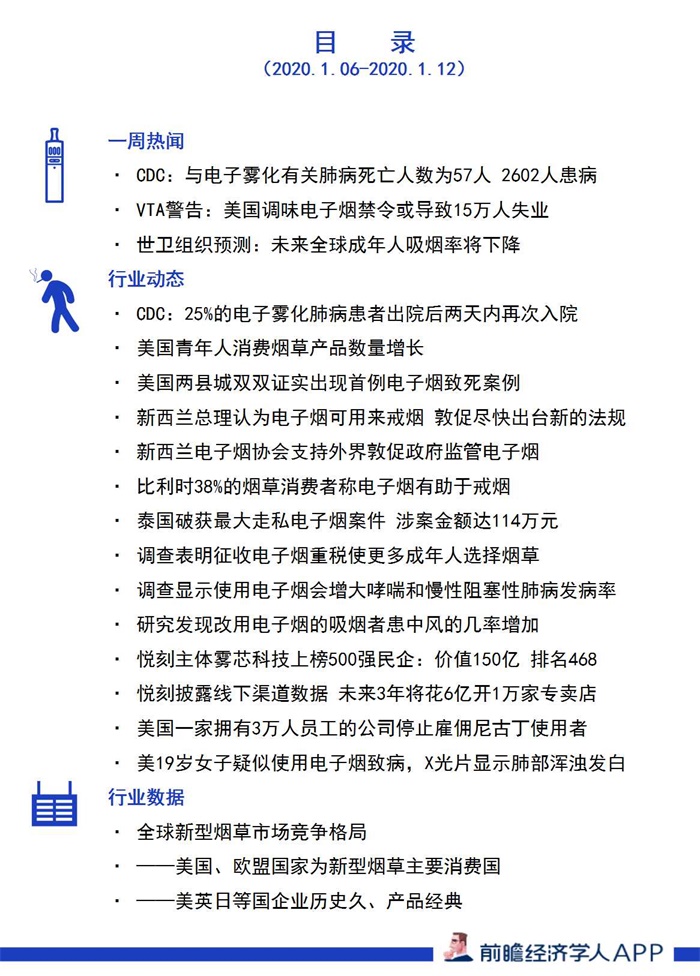 CDC: 57 deaths from lung diseases related to electronic atomization, 2602 sickness
The US Centers for Disease Control and Prevention said last Thursday that lung injuries related to electronic nebulization have caused 57 deaths in 27 states and the District of Columbia. The youngest victim is only 15 years old. As of January 7, a total of 2,602 people in 50 states, the District of Columbia, and the U.S. Virgin Islands have been hospitalized for lung injuries related to electronic nebulization.
VTA warning: US flavored e-cigarette ban may cause 150,000 job losses
Recently, a survey research report released by the United States Vapor Technology Association (VTA) showed that if the government continues to prohibit the production and sales of flavored vapor products in the United States, then the current independent vapor smoke industry may As a result, more than 150,000 jobs were forced to cut.
WHO predicts that the global adult smoking rate will drop in the future
According to information from the World Health Organization, a person in charge of the Health Promotion Department of the World Health Organization named Ruediger Krech recently pointed out in an interview with reporters that global tobacco consumption and use are gradually decreasing. It shows that government departments in various countries and regions have taken and strengthened comprehensive tobacco control actions, which is the well-being of global citizens. The organization's projections point out that by 2020, the number of global adult men and women smoking will decrease by 10 million compared with 2018, and by 2025, it will decrease by 27 million. By then, the total number of adult smokers in the world will drop to 1.299 billion.
CDC: 25% of patients with electronic nebulization lung disease were re-admitted within two days after discharge
According to the CDC's "Weekly Morbidity and Mortality Report" released on January 2nd, a new study found that a quarter of vaping lung disease patients reappear within two days after discharge Hospitalization or death. A recent analysis of EVALI patients who were previously hospitalized found common comorbidities in patients who were re-admitted or died after discharge. The CDC now recommends that such patients undergo outpatient follow-up within 48 hours after discharge.
The increase in the number of tobacco products consumed by young Americans
The use of e-cigarette products by American teenagers is still increasing substantially. According to Health Day data, there are currently more than 6.2 million teenagers in the United States who are consuming and using various types of tobacco products, including vapour e-cigarette products. These products include ordinary cigarettes, cigars, water pipes, and smokeless smoke. Tobacco products and other types of tobacco products, etc.
Both counties in the United States confirmed the first death from electronic cigarettes
According to a report by the Los Angeles World Journal, the health department officials of Dallas County and Galveston County both confirmed that the first deaths related to e-cigarette smoking occurred in both places.
The Prime Minister of New Zealand believes that e-cigarettes can be used to quit smoking and urges the introduction of new regulations as soon as possible
Recently, New Zealand Prime Minister Jacinda Ardern delivered a speech on the regulation of e-cigarettes, aiming to implement new e-cigarette regulations as soon as possible. When talking about his position on e-cigarette regulations, the Prime Minister insisted that e-cigarettes should be handled and controlled as a smoking cessation tool.
The New Zealand Electronic Cigarette Association supports the outside world to urge the government to regulate electronic cigarettes
The New Zealand Electronic Cigarette Trade Association (VTANZ) expressed support for an open letter from more than 60 health and community organizations, academics and school representatives calling for urgent legislation to regulate electronic cigarettes. "We have called for regulation for more than five years. We promised more than a year ago and we are still waiting." VTANZ spokesperson Jonathan Devery said that these delays and ongoing uncertainties pose a significant impact on New Zealand. E-cigarette companies and many New Zealanders working in them have had a huge impact.
38% of tobacco consumers in Belgium say e-cigarettes help quit smoking
According to the news from The Brussels Times, a recent survey conducted by British American Tobacco in Brussels in the European Union showed that in Belgium alone, nearly 40% of consumers believe that vapour e-cigarette products are the best way to quit smoking. substitute. The survey also showed that there are currently about 2 million tobacco consumers in Belgium, and the proportion of consumers who use steam-type e-cigarette products is increasing by about 10% every year.
Thailand cracked the largest e-cigarette smuggling case involving 1.14 million yuan
Recently, the Thai Consumer Protection Commission and the Songkhla Police Department uncovered the largest illegal sale of electronic cigarettes in Thailand. It is reported that at that time, the two criminal suspects were preparing to send e-cigarettes to customers, and the police immediately arrested them when they saw it. Subsequently, the police searched the suspect's residence and found an e-cigarette storage warehouse in the residence and seized it. 100 boxes of e-cigarettes and e-cigarette equipment were purchased, with a total value of 5 million baht (approximately 11.44217 million yuan).
The survey shows that the imposition of heavy taxes on e-cigarettes makes more adults choose tobacco
According to the New York Times, tax policies aimed at reducing youth smoking may have a negative impact on adult smokers. A new study shows that the new tax will prevent adult smokers from considering using aerosolized nicotine inhalers and encourage them to switch to traditional cigarettes.
Investigations show that the use of e-cigarettes increases the incidence of asthma and chronic obstructive pulmonary disease
According to reports, based on data from a large federal telephone survey of adults, researchers at Johns Hopkins Medical Group have obtained evidence that inhaling heated tobacco vapor through e-cigarettes can increase the risk of asthma and chronic obstruction The probability of sexual lung disease, and it has long been proved that traditional combustible cigarettes can cause these diseases. The data also shows that people who regularly use e-cigarettes and combustible cigarettes are six times more likely to develop COPD than people who do not use any tobacco products at all.
The study found that smokers who switch to e-cigarettes are more likely to suffer from stroke
The British media "The Sun" reported on January 7 that experts found that smokers who switched to e-cigarettes had an increased risk of stroke. Those who both smoke and e-cigarettes have almost twice the risk of ordinary smokers. The subjects of this study are 160,000 adults aged 18 to 44 in the United States.
RELX's main fog core technology is listed in the top 500 private enterprises: valued at 15 billion and ranked 468
On January 9th, the Hurun Research Institute released the "2019 Hurun China Top 500 Private Enterprises List", and many e-cigarette-related companies were on the list. Among them, the second shareholder of global e-cigarette foundry giant Mcwell, Yiwei Lithium, ranks 159th with a market value of 43 billion; Jinjia Group, a leading packaging company with a new tobacco business, is tied for 443 with a market value of 16 billion. Fogcore Technology, the main company of the e-cigarette brand RELX, is also on the list, ranking 468th with a value of 15 billion.
RELX reveals offline channel data and will spend 600 million to open 10,000 specialty stores in the next 3 years
Blue Hole New Consumer Report. On January 11, the domestic e-cigarette brand RELX officially opened the world's first flagship store in Shanghai, which has expanded the pace of new offline e-cigarette retail. RELX stated that the main reason why the Shanghai flagship store was opened on Wujiang Road was the high passenger flow (a place where a large number of people flow), high precision (for trendy shoppers), high exposure (open-air location on the street), and high convenience (metro Near the mouth) and heavy feelings (near the former site of RELX's Shanghai office).
A US company with 30,000 employees stopped hiring nicotine users
According to foreign news reports, U-Haul Intern, a US mobile equipment and storage leasing companyational will stop hiring nicotine users. This policy is part of the company's overall development to promote a healthy workforce. The nicotine-free employment policy will take effect in 21 states on February 1, legally denying hiring people who use nicotine products. Individuals applying for jobs will be asked about nicotine use during the interview. In states that allow testing, applicants must agree to consider nicotine screening in the future.
A 19-year-old American woman is suspected of using electronic cigarettes to cause illness. X-rays show that her lungs are cloudy and whitish
According to news on January 12, a 19-year-old woman in Maryland, the United States, was hospitalized with a high fever. After examination, it was found that she may have severely damaged her lungs because of excessive e-cigarette smoking. Look, his lungs have begun to become cloudy and whitish. Later, she also shared her experience on social media platforms and warned other people not to smoke e-cigarettes.
In 2018, new tobacco products continued to grow rapidly, and market competition became more intense. From a global perspective, the United States, Britain and Japan are countries with relatively mature development of the new tobacco market, and companies in the industry have a long history and classic products. From the perspective of the Chinese market, Shenzhen is the "base camp" of my country's e-cigarette market, but the scale of enterprises is small, the number of enterprises is very large, and price competition is very fierce. At present, the market has roughly formed a three-echelon competition pattern.
The competitive landscape of the global new tobacco market
——The United States and European Union countries are the main consumers of new tobacco
In 2018, world tobacco control continued to advance, new tobacco products grew rapidly, and market competition became more intense. Cigarette sales in mature global markets continued to decline, and cigarette sales in emerging markets increased slightly. Multinational tobacco companies vigorously promoted product innovation and operations. The performance gap is large.
From the perspective of consumption regions, the consumer groups of new tobacco products are mainly distributed in some developed countries and "BRIC countries." The countries with the largest number of e-cigarette consumers are the United States, China, the United Kingdom, Poland, Germany, Italy and Russia. Consumers of e-cigarettes in major developed countries in Europe and other continents have generally grown rapidly. For example, the population of e-cigarette users in Germany exceeded 1.805 million, an increase of 11.3%, while Japan is still the largest market for heated tobacco products.
In general, the United States, Europe and other countries are the main consumers of new tobacco products. The United States, the United Kingdom, and Italy account for 39%, 15% and 12% of the consumption of new tobacco products, respectively.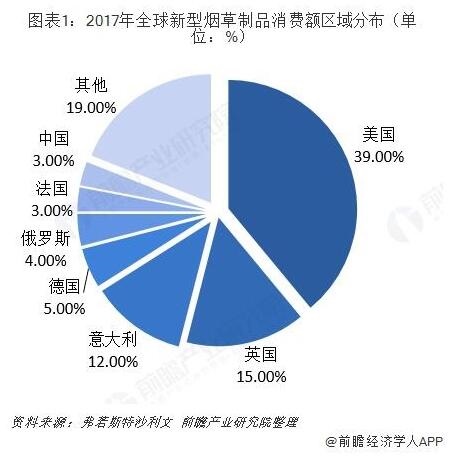 ——Enterprises in the United States, Britain, Japan and other countries have a long history and classic products
In terms of product competition, the current new tobacco products are rapidly updated. Focusing on the goal of optimizing the consumer experience, many products have richer flavors, easier use, more convenient carrying, stronger battery life, and faster charging Therefore, the market competition is more intense and the market structure changes rapidly.
At present, the most famous companies in the world for electronic cigarette products are Renault's VUSE, Altria's MarkTen, and the United States' Juul. The heating non-combustion equipment is the oldest and most classic product of iQOS launched by Philip Morris International. In addition, the mainstream heat-not-burn products currently on the market include British American Tobacco's IFUSE, Glo, Japan Tobacco's Ploom, and Renault's Revo.
As the global smoking population continues to decline, international tobacco giants have shifted their strategic focus to the field of harm-reducing products, increasing the business of new tobacco products.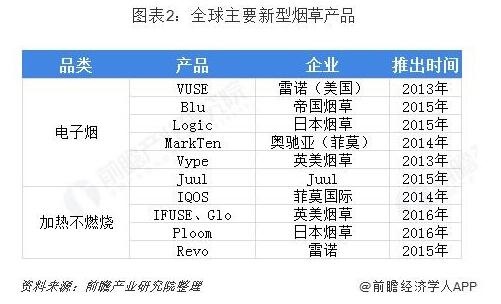 Before 2013, new tobacco products were mainly developed by original brands such as NJOY, LOGIC, GREEN SMOKE, BLU, etc. to open up the market, educate users, and occupy the main offline channel market share. When Lorillard Tobacco (later acquired by Imperial Tobacco) entered the e-cigarette market by acquiring the entire equity of BLU, major tobacco companies continued to enter the e-cigarette market through mergers and acquisitions, such as ALTRIA (Philip Morris International's parent company) acquiring GREENSMOKE , JTI (Japan Tobacco) acquired LOGIC and so on. After the entry of the tobacco giants, they actively increased their investment through continuous research and development, the performance of e-cigarette products continued to improve, the taste experience continued to improve, and the penetration rate steadily increased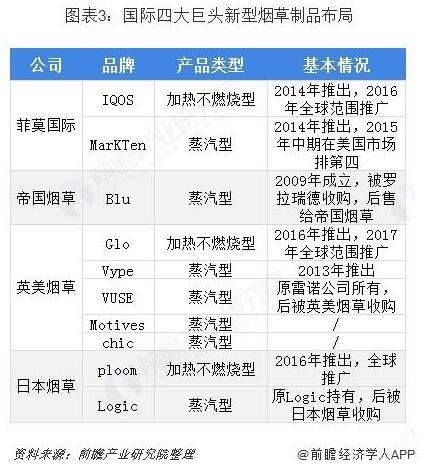 2019-2021 E-cigarette product market and technology development in-depth research analysis report
span>
2019-2024 China's new tobacco product industry market demand forecast and investment strategy planning analysis report
2019-2024 China Tobacco Product industry market demand forecast and investment strategy planning analysis report
Article Url:https://www.liaochihuo.com/info/610879.html
Label group:[e-cigarette] [tobacco industry]