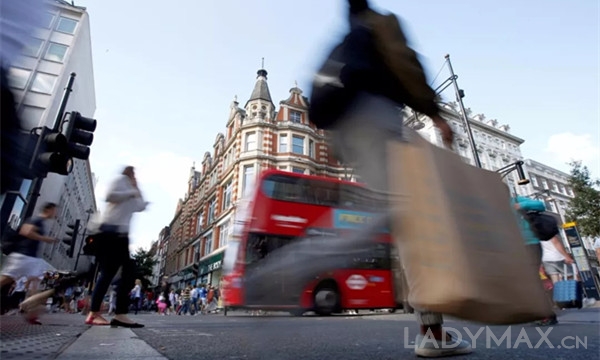 Last week's winners and losers in the global fashion industry
According to the Fashion Business News, the domestic menswear brand GXG parent company Mulsanne Group Chengda Winner, the share price recorded a rise of 19%, with a market capitalization of 7.1 billion Hong Kong dollars; the ecco foundry company Baosheng International, which released its performance report last week, rose 9.5% , The market value of 14.7 billion Hong Kong dollars; Esprit parent company Esprit Global rose 7.8%, the market value of about 3 billion Hong Kong dollars; Xtep International recorded an increase of 6.8%, the market value of 11.7 billion Hong Kong dollars; Li Ning stock price rose 4.5%, the market value of about 61.7 billion Hong Kong dollars .
The biggest loser is the domestic apparel group La Chapelle, which has fallen by 20%, with a market value of 1.1 billion Hong Kong dollars, followed by Signet Jewelry, which has fallen by 10%, with a market value of US$800 million. The stock price of Victoria's Secret parent company L Brands has fallen by 6.8%. The market value was US$4.5 billion; the share price of Emrifang fell 5.6%, and the market value was HK$630 million; the stock price of Estee Lauder Group fell 4.2%, and the market value was US$66.9 billion.
Last week, the world's largest luxury goods group LVMH's share price fell by 1%, with a market value of 189.2 billion euros. The share price of Gucci's parent company Kering has almost no growth, with a market value of 58.9 billion euros. Hermes' stock price also recorded nearly 1%. Decline, the market value of 66.7 billion euros, Cartier's parent company Richemont Group is the only luxury goods group to record an increase, the stock price has risen by 1.3%, the market value of 37.9 billion Swiss francs.
The stock price of Victoria's Secret parent company plummeted by nearly 10%, the biggest drop in nearly a year
According to Fashion Business News, the stock price of Victoria's Secret parent company L Brands plummeted 9.89% last Friday to US$16.31, the largest drop in nearly a year. Since this year, it has fallen by 38% and its current market value is US$4.5 billion. Credit Suisse previously downgraded the ratings of Macy's, Gap and L Brands from neutral to underperforming, and warned that these retailers may perform weakly in the upcoming holiday season.
Domestic apparel brand Biyin Lefen's profit in the first three quarters soared by 51%
The sports and leisure brand Biyin Lefen, which focuses on golf apparel, recently released its first three quarters performance report. During the period, its operating income rose 24.95% year-on-year to 1.323 billion yuan, and its net profit rose 51% to 311 million yuan. In the third quarter, net profit increased by 64.4%, and recorded 137 million yuan. It has achieved high profit growth for 10 consecutive quarters.
Anta's market value surpasses lululemon to become the world's third largest sportswear group
According to the Fashion Business News, the stock price of Anta Sports, the largest domestic apparel group, has risen by more than 5% in the past 5 days. The market value once exceeded 200 billion Hong Kong dollars and recorded 2017 billion Hong Kong dollars. It surpassed the dark horse lululemon in recent years and became the third largest sport in the world. The apparel group is second only to Nike and adidas. Although it has been continuously pursued by short-sellers since this year, Anta Group has never been in a mess. In the first half of the year, its revenue still recorded a 40.3% increase to 14.81 billion yuan, operating profit soared 58.4% to 4.26 billion yuan, and gross profit margin increased by 1.8%. Percentage points to 56.1%, net profit soared 27.7% to 2.48 billion yuan.
Louis Vuitton opens a new factory in the U.S. Will add 1,000 jobs
Louis Vuitton is located in the United StatesThe plant in Texas, China officially went into production on Thursday, and US President Trump was specially present to cut the ribbon with Bernard Arnault, Chairman and CEO of LVMH Group. It is reported that LVMH's total investment in the factory is US$50 million, and it will employ about 1,000 skilled workers in the next five years. Before this, Louis Vuitton also opened two factories in California. According to internal sources, Louis Vuitton handbags and footwear accessories will not reduce prices due to the origin. It is reported that "Made in America" ​​handbags will also sell for more than $2,000.
It is reported that Louis Vuitton's future strategy will shift from retail expansion to a product-led direction, focusing on the development of more expensive handbag products, focusing on the current double-digit growth of classic letter printed handbags and small leather goods. At present, Louis Vuitton can contribute about 50% of the group's total pre-interest and tax profit to the group, forming a slight operating leverage, so that the profit growth rate is greater than the production and sales growth rate.
Gucci becomes the fastest-growing luxury brand in 2019
According to the list of the top 100 global brands released by Interbrand on Thursday, the average value of luxury brands has grown the fastest, reaching 11%. The leading Italian luxury brand Gucci, whose brand value rose 23% year-on-year to 159.49 Billion U.S. dollars, ranking 33rd in the overall list. Louis Vuitton dropped from the 17th place last year to the 25th place, and Chanel ranked 22nd. Interbrand global CEO Charles Trevail said that the fastest-growing brands are often those that exceed consumer expectations because they are more closely connected and more demanding than ever.
Celine opens a new leather factory in Italy
According to Fashion Business News, in order to further increase production capacity to meet the increasing consumer demand, LVMH's luxury brand Celine has recently opened a new factory in Radda, Italy, with a total area of ​​about 9,000 square meters. The current total number of employees is 129, including With 117 leather experts, LVMH expects the total number of employees to double by 2021. It is reported that LVMH currently has 30 factories in Italy.
Amorepacific continues to expand its retail footprint
Sulwhasoo, a global high-end skin care brand under the Amorepacific Group, has officially entered Sephora China on October 10th, following the high-end fashion beauty brand Hera HERA and the high-functional skin care brand IOPE, another entry into Sephora Of its high-end brands. The Sulwhasoo products that have entered Sephora this time include a number of classic series of star products including Moisturizing Rejuvenating Skin Essence, Nourishing Ginseng Rejuvenating Essence, and Snow Royal Rejuvenating Essence.
DIOR Dior Spring/Summer 2020 ready-to-wear collection is released in Shanghai
According to Fashion Business News, the Shanghai release show of DIOR Dior 2020 Spring/Summer ready-to-wear collection will be held in Shanghai at 8:30 pm on October 19th, Beijing time. It is reported that the Shanghai version of the big show has 14 more sets than the Paris version. Creative director Maria Grazia Chiuri designed a limited series of clothing specifically for the big show, inspired by Rosa Mutabilis rose flowers. The set of the show was jointly created by DIOR and COLOCO studio, which is committed to enhancing the inclusiveness of the city through comprehensive horticultural design.
Gap Group 2020 campus recruitment officially launched recently
The American apparel group Gap will once again increase the recruitment of retail management trainees this year to meet the company's demand for talents for continuous and long-term business development in the Greater China region. The group's campus recruitment presentation this year will cover 8 cities including Beijing, Shanghai, Guangzhou, Nanjing, Hangzhou, Chengdu, Chongqing and Wuxi, covering 10 colleges and universities, and plans to recruit nearly 50 outstanding retail management trainees.
Due to excessive plastic waste, Seoul Airport has set up a special pick-up point for Chinese purchasing agents
According to South Korean media, South Korea's Incheon Airport has decided to build a "special duty-free pick-up station" that only allows Chinese agents to use it from next year, because the agents want to reduce the volume of goods and throw away a lot of plastic packaging garbage when unpacking. It is reported that, Every day these garbage can fill a 2-ton truck. Previously, Asiana Airlines also decided to stop the carriage of "commercial use" luggage to China and Hong Kong from October 22. The reason may be that many Chinese passengers would bring them home and resell them after purchasing cosmetics and luxury goods in South Korea. Airlines often carry 40 to 50 additional pieces of luggage.
Swiss watch exports soared by more than 10% in September
According to the latest data released by the Swiss Watch Industry Federation, thanks to the increase of 26% and nearly 15% in the Chinese mainland and the United States, Swiss watch exports in September rose 10.2% year-on-year to 1.8 billion Swiss francs. Offset the downturn in the Hong Kong market. In addition, Swiss watch exports to Japan rose by 31.6%, and exports to Singapore increased by 20.5%. Since this year, Swiss watch exports have increased by 2.8% over the first nine months of 2018 to 15.9 billion Swiss francs.
Hong Kong retail rents record the biggest quarterly decline in 21 years
CBRE, a real estate consulting company, recently stated that Hong Kong's retail rents, as one of the most expensive retail neighborhoods in the world, dropped sharply in the third quarter. The high street retail rents in the July to September quarter fell by 10.5% from the previous quarter. The biggest quarterly decline since the 1998 Asian financial crisis. In order to prevent the situation from worsening and the increase of vacant shops, the Financial Secretary of Hong Kong, Chen Maobo, recently pointed out that it is an extraordinary period. He understands that the owners intend to tide over the difficulties with retailers. They have already discussed with the owners of the MTR and other large shopping malls. The principle is that it depends. Provide support to the extent of the impact on the business of the merchants, and call on more landlords to consider introducing more measures in all aspects of rent to help the retail industry.
The Shanghai Branch of the Central Bank warned of issues such as shoe-making or illegal fund-raising, financial fraud, etc.
The People's Bank of China Shanghai Branch recently issued a financial briefing with the theme of "Beware of the "Fishing Shoes" Craze and Preventing Financial Risks." Drumming and spreading the fancy capital game reminds institutions to pay close attention to and take effective measures to prevent such risks. At present, there are already including Poison, Nice and YOHO! There are more than 10 "shoe-speculation" platforms including Huohuo, showing the characteristics of large number of participants, large transaction volume, and sharp price fluctuations. It is reported that drug apps, Nice, etc. have issued "shoes not to fry" proposal, calling on domestic and foreign counterparts to work hard to optimize the shopping experience of trendy consumers.
Netease Ding Lei talks about Koala's integration into Ali, saying that Jack Ma will be more attentive to cross-border
In September of this year, Alibaba officially announced that it had purchased Koala Haigou from NetEase for US$2 billion, and appointed Liu Peng, general manager of Tmall's import and export business group, as CEO. In this regard, Netease founder and CEO Ding Lei said in an interview at the 2019 World Internet Conference a few days ago, "The quality of koalas is guaranteed. I believe Jack Ma will do it more carefully. Yanxuan is still determined to be a local High-quality products at high prices.".
The article comes from WeChat official account: Daily Fashion News ID:FashionNewsDadily
More information on LV

Article Url:https://www.liaochihuo.com/info/609845.html

Label group:[Luxury] [lvmh] [fashion industry]