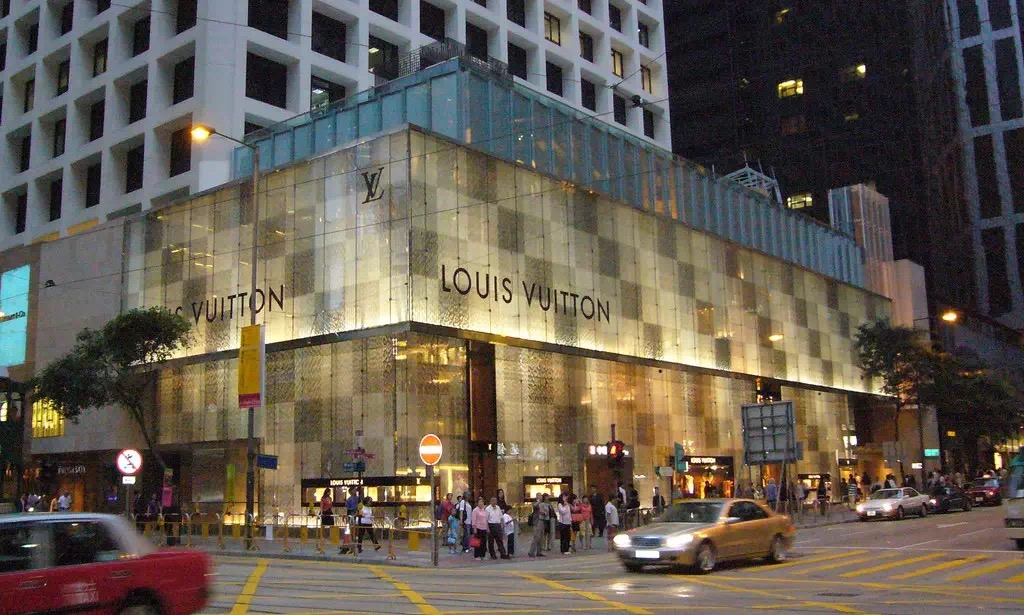 In August this year, the global stock market plummeted. The fashion and luxury retail industry plummeted. The market value of LVMH once evaporated nearly 10 billion euros from June to August. According to LVMH's latest quarterly financial report, its luxury brand LV suffered setbacks in the Asian market, especially in China. The picture shows one of LV's stores in Hong Kong.
The business of fashion, accessories and luxury goods is still a very large market. According to the latest research data from Standard & Poor's, LVHM Group surpasses Richemont with a market value of US$80.71 billion, and Hermes Group ranks first in the list of global apparel accessories and luxury goods companies.
563 global listed companies in apparel, accessories and luxury goods have a total market capitalization of US$639.9 billion and a total annual operating income of US$376 billion. Among them, the top 25 companies have annual sales of 228 billion U.S. dollars and a total market value of 448 billion U.S. dollars. Calculated by market value rankings, LVMH Group, Richemont Group and Hermes International Group ranked the top three respectively.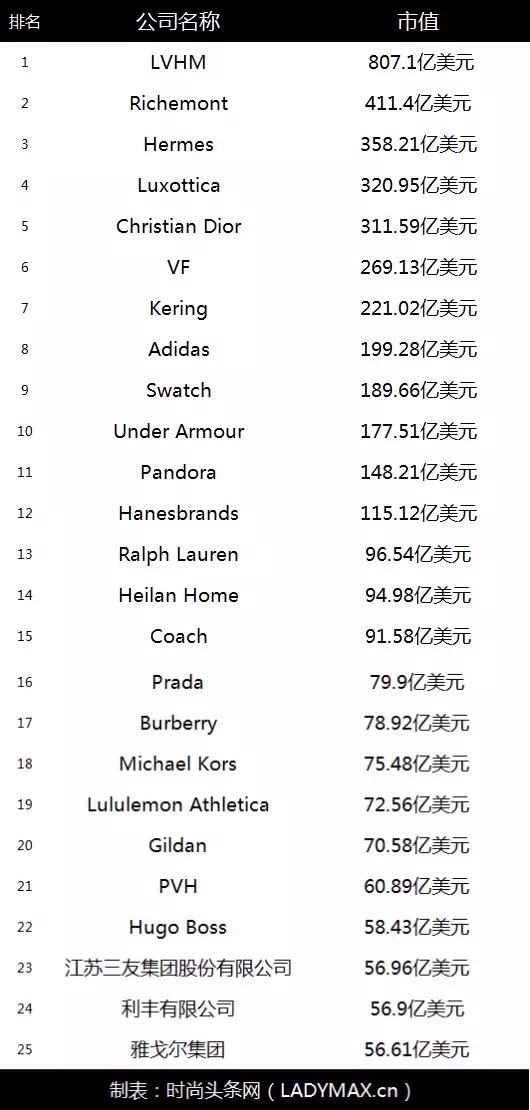 Source: As of the market close on December 29, 2015, S&P Capital IQ
Clothing, accessories and luxury goods are one of the components of the non-essential consumer industry. The statistical data model consists of eight parts, including professional clothing retailers and department stores , Specialty stores, footwear, general merchandise, catalogs and online retailers. This classification is set by Standard & Poor's and is based on various factors including industry regulations. For example, Adidas Group belongs to the field of apparel, accessories and luxury goods, while its rival Nike Group belongs to the field of footwear.
It is also worth noting that in the past year, the global stock value of most non-essential consumer industries has performed well, but there are still many fashion and accessories companies suffering from difficulties. For example, although Michael Kors Holdings Ltd. ranks 18 in the list of the top 25 companies with a market value of $7.5 billion, in the past year, the company's market value has plummeted by nearly 50%.
At present, there are more companies in the fashion and luxury industries with falling stock prices than companies with rising stock prices, and factors such as the challenging retail environment, the strong US dollar, and China's economic difficulties make it difficult for many luxury brands to move forward.
However, if the above statistical data model is not followed, fast fashion and sports brands will be the biggest winners this year. ZAR's parent company Inditex Group has a market value of more than US$100 billion, and has successfully entered the US$100 billion camp enjoyed by only about 80 companies in the world. Since the beginning of this year, the company's market value has increased by 36%, which has far exceeded the world's largest luxury goods group LVMH's 800 Multi-billion market capitalization.
Compared with luxury brands, without exception, they are affected by the "China factor" and have fallen into a downturn in performance. Including Inditex Group, H&M Group and Uniqlo parent company Fast Retailing Group, the quarterly average performance has exceeded double-digit growth. The NIKE Group is even more ambitious and has just raised its revenue target. It is estimated that the total revenue in 2020 will reach 50 billion US dollars, and the stock price has risen 35% this year.
Original reprint
Article Url:https://www.liaochihuo.com/info/609219.html
Label group:[stock market value] [Luxury] [clothing]