According to the National Health Commission's report on June 20, as of June 19, 2021, 31 provinces (autonomous regions, municipalities) and Xinjiang Production and Construction Corps have reported a total of vaccinations against the new crown virus 101048.9 million Dosage times.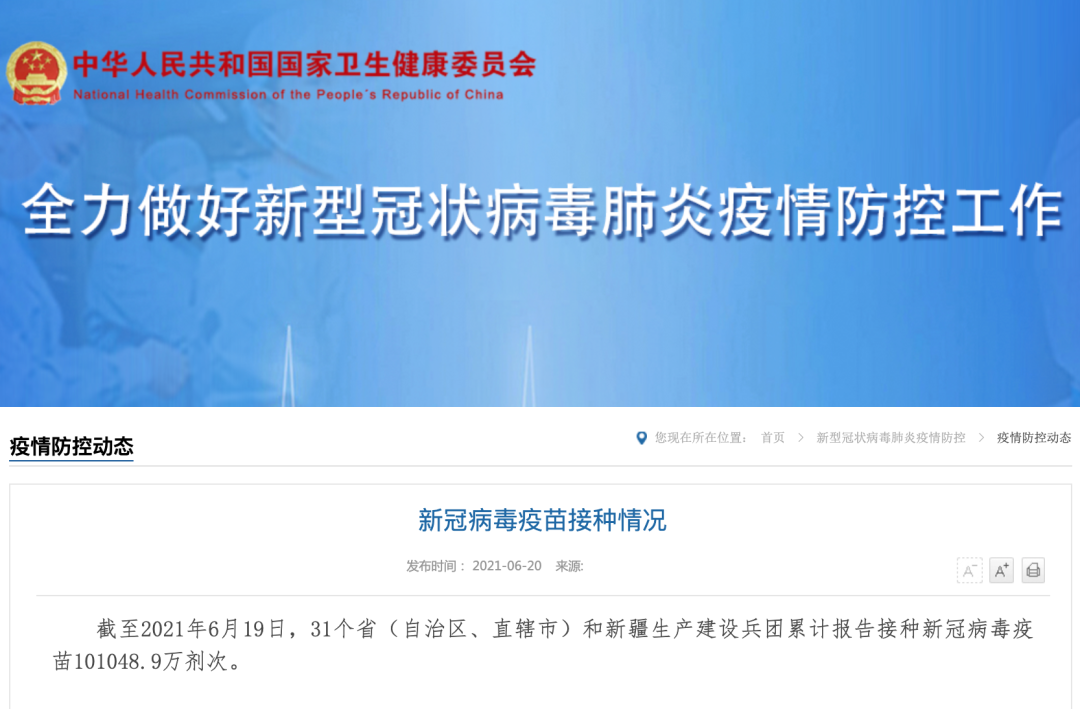 From 100 million doses to 200 million doses for 25 days, from 200 million doses to 300 million doses for 16 days, from 300 million to 400 million for 9 days, from 400 million to 500 million for 7 days... Since the end of April, China's vaccination has continued to "accelerate."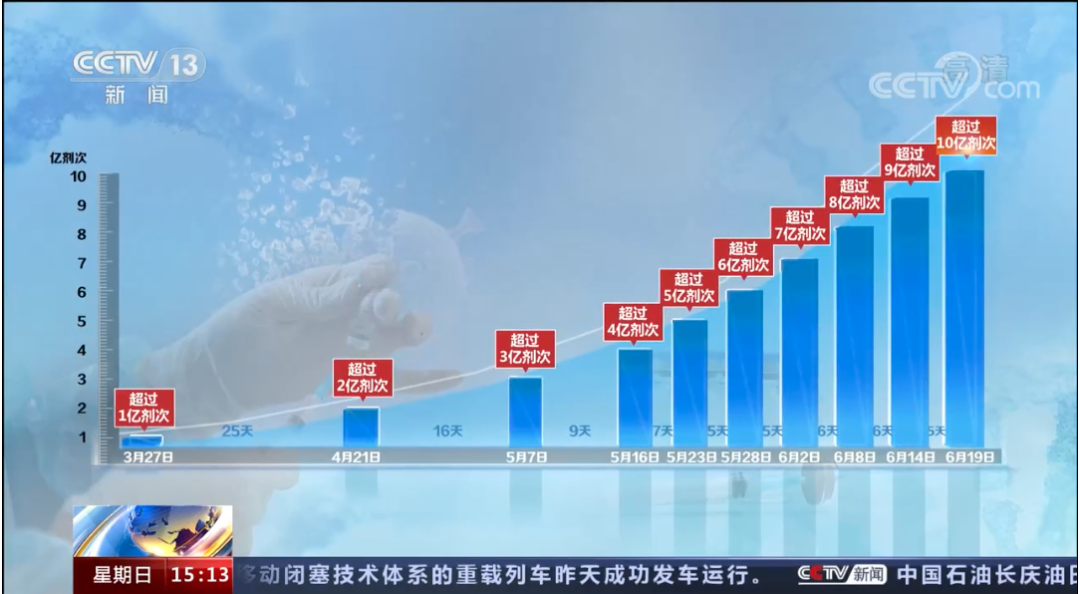 A 24-second video to watch the "China Speed" of vaccination ↓↓↓
In addition to supplying a large amount of domestic demand In addition, China's new crown vaccine has also increased foreign aid and exports. Chinese Foreign Ministry spokesperson Zhao Lijian stated on June 16 that China has provided more than 350 million doses of vaccine to the international community, including vaccine assistance to more than 80 countries and export of vaccines to more than 40 countries.
Corresponding to the acceleration of domestic vaccination, the recent performance of the leading A-share new crown vaccine stocks is very eye-catching. Kangsino (688185) and Fosun Pharma (600196) The share prices of the two leading stocks have risen by more than 100% in more than two months.

China takes the lead in completing 1 billion doses of vaccination. What's next?
According to the brokerage China, from the latest total vaccination volume in various countries, the total global vaccination volume is close to 2.5 billion doses, while the total volume of vaccination in China exceeds 1 billion doses. Ranked first, accounting for more than 40% of the global total. The United States ranked second with a total inoculation volume of more than 300 million doses; India ranked third with a total inoculation volume of 250 million doses. The fourth to tenth places are Brazil, Britain, Germany, France, Italy, Mexico and Turkey.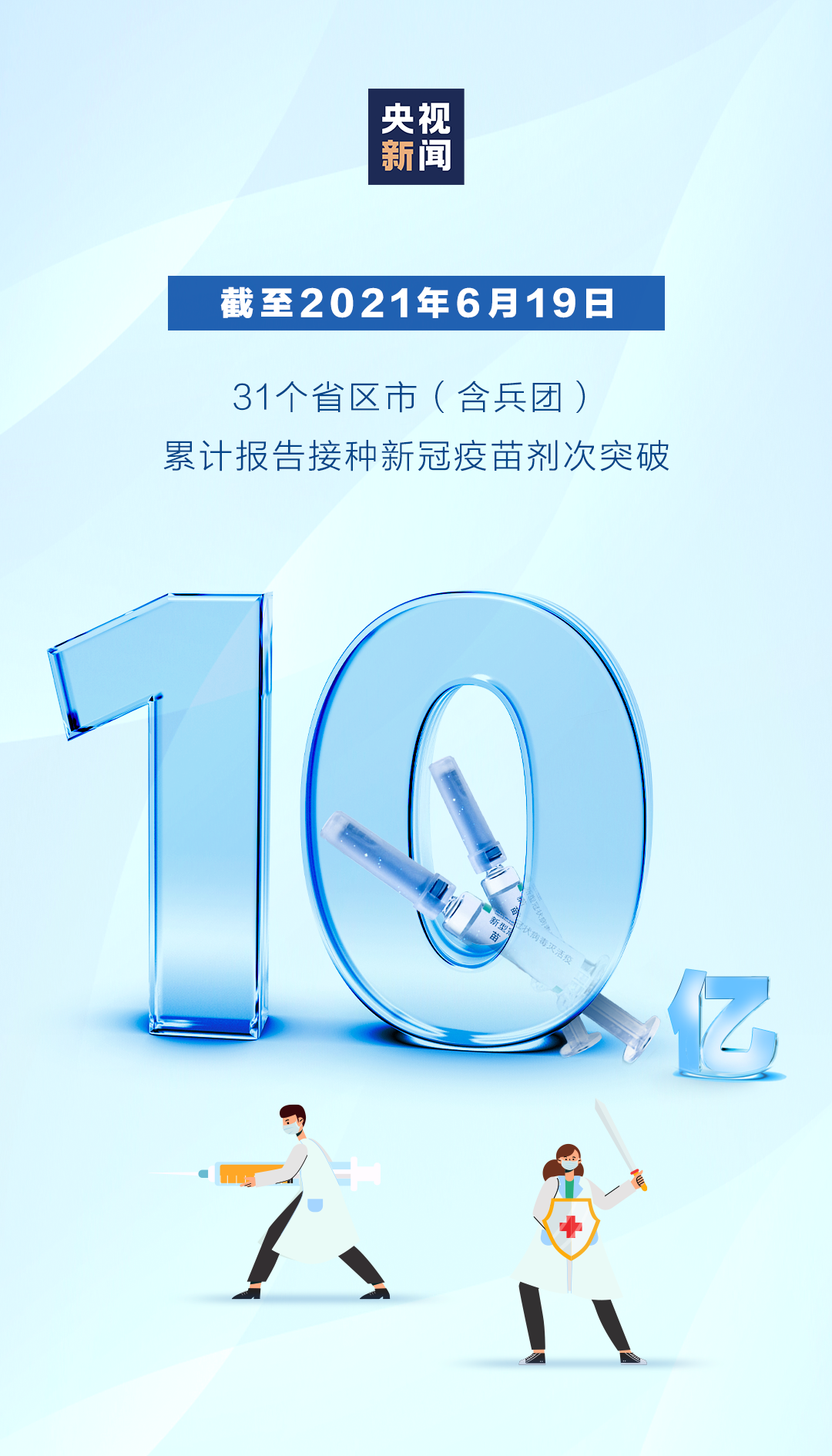 In terms of total amount, China has more than 1 billion doses of COVID-19 vaccination, which is 3 of the US vaccination. The number of inoculations in the 10 countries from the second to the eleventh place exceeds the sum of the inoculations.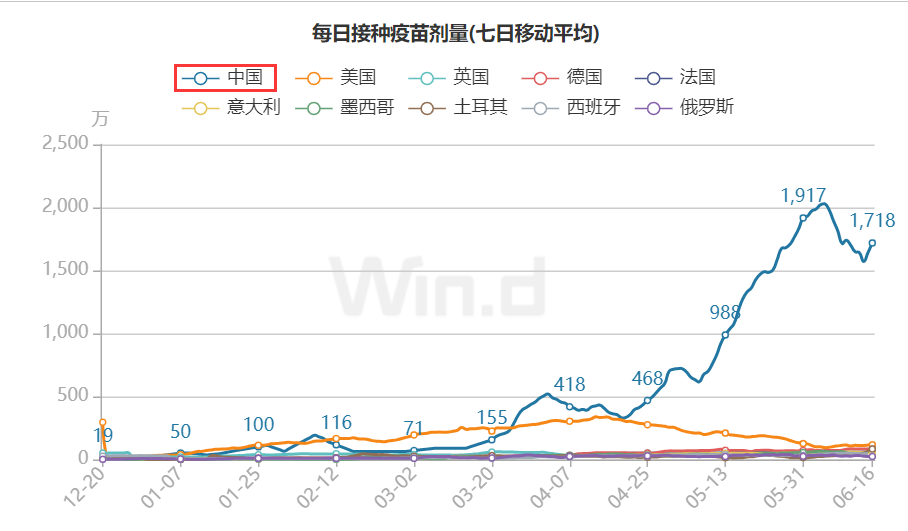 The vaccination rate of major countries in the world (Source: Wind)
From the figure above The average inoculation volume data on the 7th shows that the inoculation rate in China rose rapidly after the end of April, showing a steep curve. In contrast, vaccination in other major countries has basically maintained a relatively low and steady rate.
What is the scale of vaccination in various provinces in China? According to incomplete statistics, since June, the regions that have announced more than 30 million inoculations include Guangdong, Shandong, Hubei, Beijing, Sichuan, Shanghai, Yunnan and other places. Among them, Guangdong has the highest inoculation volume in the country. As of June 10, it has exceeded 80 million doses. The newly announced inoculation doses in Shenzhen and Guangzhou have exceeded 17 million doses and 17.13 million doses respectively.
In addition, as of June 18, Beijing had vaccinated a total of 33,715,400 doses, covering a population of 17.975 million; as of June 9, Shanghai had vaccinated a total of 30,249,200 doses.
After reaching this milestone, what is the next goal of China's vaccination work?
At a forum in early March this year, Academician Zhong Nanshan revealed that China plans to increase the COVID-19 vaccination rate to 40% by the end of June this year.
According to 21st Century Business Herald, at the Boao Forum for Asia Global Health Forum held earlier this month, Zheng Zhongwei, head of the vaccine research team of the Joint Prevention and Control Mechanism Research Group of the State Council, revealed that my country's vaccine production capacity will reach 5 this year0 billion doses, the output exceeded 3 billion doses, and the number is still increasing with the efforts of the enterprise. While meeting domestic demand, as of the end of May, China had supplied 300 million doses of vaccines globally. Two vaccines produced by Sinopharm Zhongsheng Beijing and Kexing Zhongwei were included in the World Health Organization's emergency use list.
For China, which has a population of 1.4 billion, vaccination of 1 billion doses of vaccine is only the first step in building an immune barrier. Feng Duojia said that my country is expected to complete at least 70% of the target population vaccination by the end of this year. Zhong Nanshan previously stated that to achieve herd immunity, assuming that the protection rate of the vaccine is 70%, China needs a vaccination rate of 83.3%; assuming that the protection rate of the vaccine is 80%, China needs 72.9% vaccination rate.

China has provided over 350 million doses of vaccine to the international community
Due to the ups and downs of the global epidemic, China continues to increase overseas assistance and exports of new crown vaccines despite its huge needs, demonstrating the responsibility of a major country.
Chinese Foreign Ministry spokesperson Zhao Lijian said at a regular press conference on June 16 that China has provided more than 350 million doses of vaccines to the international community, including vaccines to more than 80 countries Aid to export vaccines to more than 40 countries. At the same time, China has carried out technology transfer and cooperative production with many developing countries to rapidly promote large-scale vaccine production. China has announced that it will provide the first batch of 10 million doses of vaccine to the "New Crown Vaccine Implementation Plan", which is clearly used in the urgent needs of developing countries. China will continue to make efforts for equitable access to vaccines in developing countries.
Zhao Lijian also stated that China has always implemented the declaration of vaccines as a global public product with practical actions. Since the outbreak of the new crown pneumonia epidemic, China has adhered to the concept of promoting the construction of a community with a shared future for mankind and a community of health and health, and has made important contributions to achieving the availability and affordability of vaccines in developing countries.
At present, the two vaccines of Sinopharm and China Kexing have been included in the "emergency use list" of the WHO, which fully proves the safety, effectiveness, convenience, and accessibility of China's vaccines International recognition also means that Chinese vaccines will bring new solutions to bridging the global "immune gap". China's sincerity is obvious to all in fulfilling its promise of vaccines as a "global public product" with practical actions.
According to foreign media reports, Brazil, a major South American country, is planning to purchase 60 million doses of China Cansino Biotech Co., Ltd.'s new crown vaccine, which will be delivered in the third and fourth quarters of 2021. Previously, in order to contain the epidemic, the Brazilian authorities have approved the emergency use of the Chinese Coxing vaccine and launched vaccination across the country.
Not long ago, the Ministry of Health of Argentina, another major South American country, has also approved the emergency use of China's Cansino bio-new crown vaccine in the country to promote a large-scale vaccination plan.
Cansino new crown vaccine is an adenovirus vector vaccine jointly developed by the Academy of Military Medicine of the Chinese Academy of Military Sciences and Cansino Company. At present, this vaccine has obtained emergency use licenses in Mexico, Pakistan, Hungary, Chile, Argentina and other countries.

New crown vaccine leading stocks have performed strongly recently
Due to repeated outbreaks in different regions and the continuous increase in demand for new crown vaccination, the leading A-share new crown vaccine stocks have also performed very strongly recently.
As the pure leader of the new crown vaccine, Cansino A shares (688185) has launched a strong rise since mid-April, and the stock price has continuously set new highs since its listing, from 328 The yuan soared to 693 yuan on June 18, the cumulative increase in the two months exceeded 110%.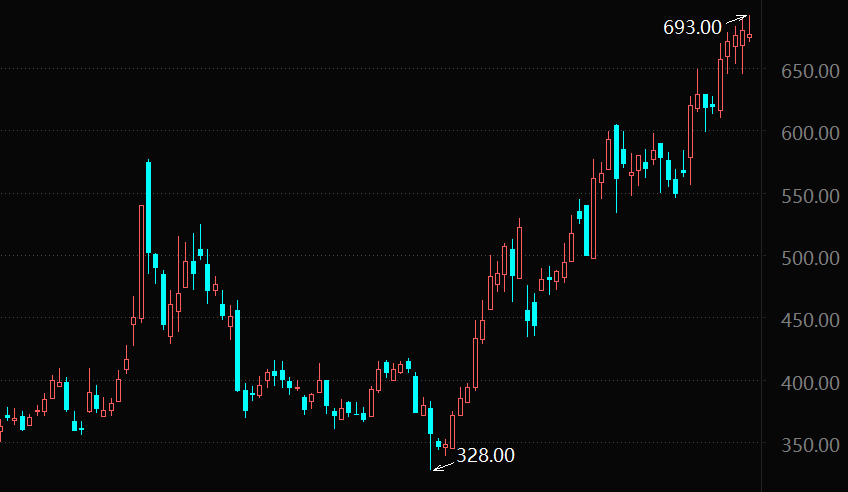 Recent A-share share price trend chart of Cansino
Fosun Pharma (600196) The rise is also amazing. The stock price soared from 36.67 yuan at the end of March to 73.16 yuan on May 14. The overall increase was more than 100%. Recently, the company's stock price has pulled back, with the latest closing price of 62.70 yuan.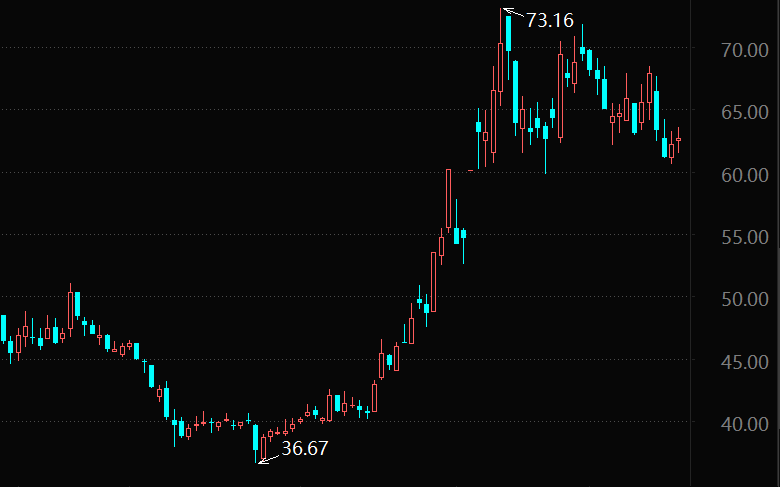 Fosun Pharma's recent stock price trend chart
After Zhifei Biotech's recombinant new crown vaccine was announced on March 17th to obtain the domestic emergency use authorization, there has also been a wave of failures. A small increase. However, due to the company's previous overall increase, there has been a callback recently. Jiang Rensheng, chairman of Zhifei Biotech, said at the shareholders meeting on June 10 that the current supply of the new crown vaccine developed and produced by the company is in short supply, and there are people waiting for it every day. While increasing production capacity, it will also consider younger age groups and inhaled vaccines. Expansion.
Judging from the performance of stock prices, these companies' gains are in line with the acceleration of China's vaccine vaccination period since April. According to statistics from a brokerage China reporter, there are 11 stocks in the biovaccine sector that have risen by more than 30% since April.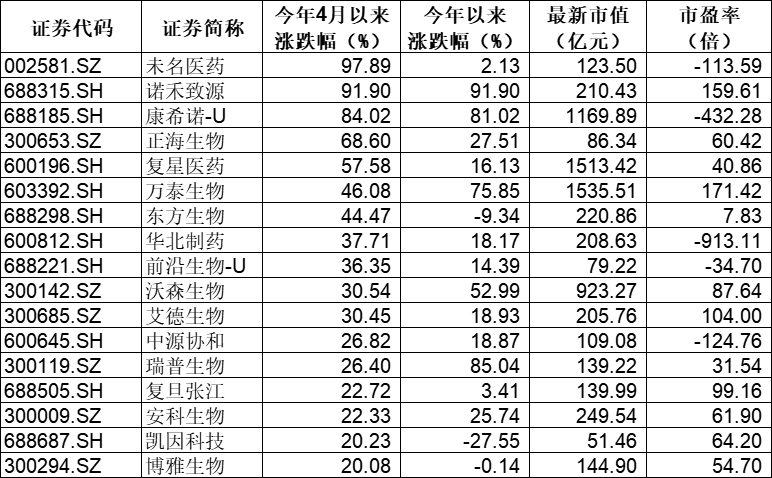 The biovaccine sector has topped the list of gains since April (data source: Wind)
(Disclaimer: The content of this article is for reference only, not as an investment basis. Investors operate accordingly at their own risk.)
Edit|Cheng Pengxiaoyong p>
Proofreading|Duan Lian
Source of cover image: Visual China
Article Url:https://www.liaochihuo.com/info/592397.html
Label group:[Leading stock] [vaccine] [Fosun Pharma]