This article is from the WeChat public account "SensorTower", author: Nan Lu.
Top 30 overseas income list
As ​​the 13th season starts and New maps and other content updates. Tencent (00700) "PUBG MOBILE" reached the top of the best-selling iOS mobile games in the US on May 13, attracting US$106 million that month, an increase of 14% from the previous month and a year-on-year increase of 33%, refreshing domestic mobile games again Record of income from going overseas. In overseas markets, "PUBG MOBILE" is the highest-paid mobile game in May, surpassing "Roblox", "Monster Pinball", "Coin Master" and other overseas best-selling works.
Thanks to the linkage of the Seven Deadly Sins and Japan's May Day Golden Week, NetEase's "Operation Wilderness" attracted US$8.6 million on May 1 and regained Japan's iOS The top of the best-selling list, the revenue in May increased by 38% month-on-month and 47% year-on-year, setting a record since its release.
Since its release in 2016, Mutong Technology's "Mobile Legends: Bang Bang" has maintained strong growth in emerging markets such as Southeast Asia. The 515 series of events in this issue attracted more than 80 million active users from around the world. In May, revenue and downloads both hit record highs, up 78% and 46% year-on-year respectively.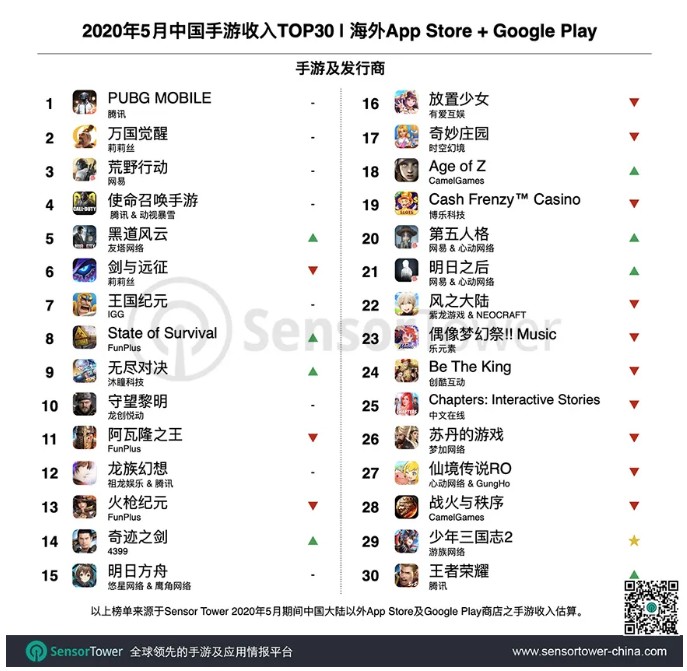 In the list, the income of the three doomsday survival SLG mobile games is equal Has grown. Among them, the revenue of FunPlus "State of Survival" increased by 37% month-on-month, and rose to No. 8, further strengthening FunPlus's dominance on overseas SLG tracks.
Thanks to its outstanding performance in the Japanese market, Youzu's "Senior Three Kingdoms 2" was ranked 29th on the list. Among them, the Japanese market contributed 54% of the revenue, and the Hong Kong and Taiwan regions contributed 46%. In terms of the three core settings of the Three Kingdoms theme, comic style and card, "Shounen Three Kingdoms 2" (Three Kingdoms ブラスト-Shounen ヒーローズ) has captured the game preferences of Japanese players, and the local income is still growing steadily.
As ​​Chinese manufacturers put more resources in overseas markets and further improve their overseas operations, the entry threshold for this issue has increased to 10 million US dollars, an increase of 34% over the same period last year.
Top 30 downloads overseas
《PUBG MOBILE 》Topped the list with more than 32 million downloads. The top three markets for downloads in May were India, Egypt and Turkey, which accounted for 38%, 7% and 7% respectively. At present, "PUBG MOBILE" has nearly 600 million overseas users; in terms of the depth of globalization, the game is still further developing emerging markets.
Thanks to the demographic dividend of emerging markets such as Southeast Asia, and the social nature of competitive mobile games, "Endless Showdown" is also oftenSteady at the top of the list this year, the game currently has more than 330 million players overseas.
"Art of War" is the highest-paid moderate game on the list, with in-app purchase revenue reaching $4.1 million in May. Since its launch in November last year, the game's total downloads have exceeded 22.6 million, and the total revenue of in-app purchases has exceeded 15 million US dollars.
This list ushered in 3 new faces, namely "Area F2", "Baby Rescue Team", and shooting game "Encounter Strike" .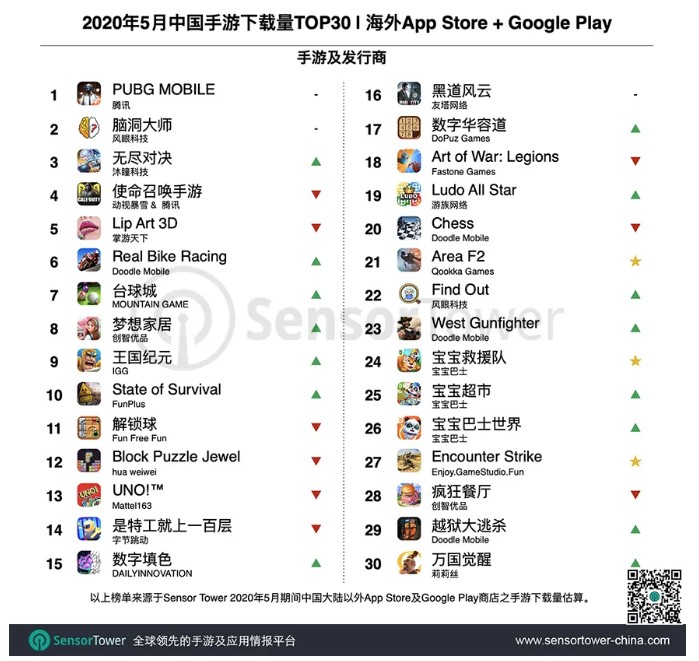 (Edit: Yujing)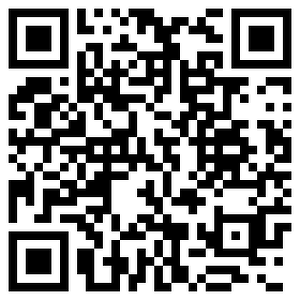 Massive information, accurate interpretation, all in Sina Finance APP
Article Url:https://www.liaochihuo.com/info/589693.html
Label group:[Mobile game]