6 stock selection early warnings with a picture display indicator:
6 important indicators of the combination template for viewing: main + image
Main picture of the counterattack line: Tongdaxin source code
Instructions for use: The rule is the same as that of KDJ, but it is refined at runtime, and many signals are added, which is pretty good. If you like it or feel new, you can put it up and have a look.
Since future functions are included, be careful when using them, and combine multiple technologies.
So is the bottom position. See the golden cross + transaction area prompt.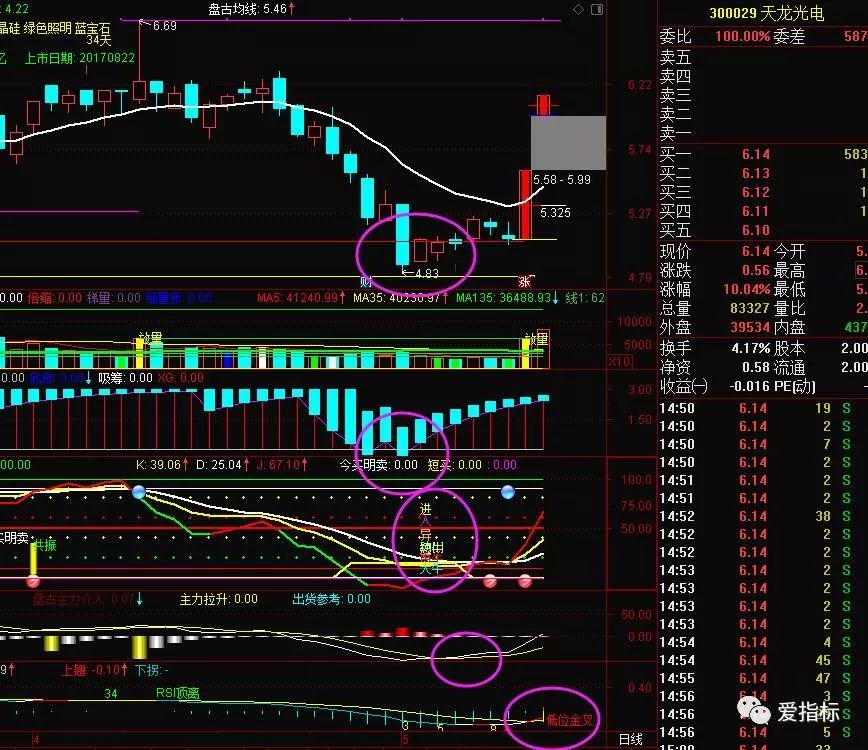 The source code is as follows:
10,COLORRED;
20,COLOR00FF00,LINETHICK3,POINTDOT;
40,COLOR00FFFF,LINETHICK3,POINTDOT;
50,COLORRED,LINETHICK2;
60,COLORRED,LINETHICK3,POINTDOT;
80,COLOR00FFFF,LINETHICK3,POINTDOT;
90,COLORWHITE;
100,COLOR00FF00,LINETHICK1;
{Enter the transaction area}{When prompted to enter the transaction area, you need to observe and buy. It is best to intervene at the second KDJ three-line intersection}
VAR7:=(CLOSE-LLV(LOW,9))/(HHV(HIGH,9)-LLV(LOW,9))*100;
VAR8:=EMA(VAR7,30);
VAR9:=EMA(VAR8,30);
VAR10:=3*VAR8-2*VAR9;
Potential:=EMA(VAR10,5);
DRAWTEXT(CROSS(10,Potential),69,'Advance'),COLORYELLOW;
DRAWTEXT(CROSS(10,Potential),58,'Enter'),COLORFF00FF;
DRAWTEXT(CROSS(10,potential),43,'different'),COLOR00C0FF;
DRAWTEXT(CROSS(10,Potential),31,'move[ ↓ ]'),COLORFFFF6F;
DRAWTEXT(CROSS(10,Potential),19,'area'), COLORB47DFF;
{Long-term shareholding}{Including future functions: DRAWLINE signals on the same day can be intervened at an opportunity, buying and selling tomorrow needs to be observed}
A7:=C-REF(C,1);
A8:=100*EMA(EMA(A7,6),6)/EMA(EMA(ABS(A7),6),6);
SHORT:=7; LONG:=19;
RMA:=EMA(CLOSE,SHORT);
NMA:=EMA(CLOSE,LONG);
UP:=DRAWLINE(L=LLV(L,BARSLAST(CROSS(NMA,RMA))+1),LLV
(L,BARSLAST(CROSS(NMA,RMA))+1),H=HHV
(H,BARSLAST(CROSS(RMA,NMA))+1),HHV
(H,BARSLAST(CROSS(RMA,NMA))+1),0);
DOWN:=DRAWLINE(H=HHV(H,BARSLAST(CROSS(RMA,NMA))+1),HHV
(H,BARSLAST(CROSS(RMA,NMA))+1),L=LLV
(L,BARSLAST(CROSS(NMA,RMA))+1),LLV
(L,BARSLAST(CROSS(NMA,RMA))+1),0);
Buy:=(LLV(A8,2)=LLV(A8,7) AND COUNT(A80,0,35,1.3,0),COLOR008888;
STICKLINE (resonance point>0,0,35,0.9,0),COLOR00AAAA;
STICKLINE (resonance point>0,0,35,0.6,0),COLOR00DDDD;
STICKLINE (resonance point>0,0,35,0.2,0),COLOR00FFFF;
DRAWTEXT (resonance point>0,33,'resonance'),COLOR00FF00;
{Increase}
VAR1:=EMA(CLOSE,3);
VAR2:=EMA(CLOSE,21);
VAR3:=BARSLAST(CROSS(VAR2,VAR1))>15;
VAR4:=VOL>MA(VOL,5)*2 AND VOL0.9,40,'buy today, sell tomorrow'),COLORWHITE LINETHICK1;
{Short Buy}
You: =MA(CLOSE,1);
Old:=(LOW+HIGH+CLOSE)/3;
Boss: = MA(old, 5);
Sale: =LLV(Boss, 10);
Short buy: IF(LLV((you
Article Url:https://www.liaochihuo.com/info/566233.html
Label group:[Tongdaxin] [Tongdaxin index] [kdj indicator] [ema]