Compared with the top ten heavy holdings of public funds in the second quarter, Gree Electric, Changchun High-tech, China Merchants Bank, and Hengrui Pharmaceutical fell out of the top ten, and the new top ten were Longji, China Freedom, Mindray Medical, and Luzhou. Old cellar.
Changchun Hi-tech suffered a lot of fund reductions in the third quarter. At the end of the second quarter, there were 570 funds holding heavy stocks of this stock, and as of the data disclosed on October 29, the number of heavy holdings of Changchun High-tech Fund fell to 339, and the number of shares held was also reduced by 22.85 million shares. The company released its three-quarter report on the evening of October 26. In the first three quarters, it achieved operating income of 6.399 billion yuan, a year-on-year increase of 17.55 percent; and realized a net profit of 2.26 billion yuan, a year-on-year increase of 82.19%. Among them, the net profit in the third quarter was 950 million yuan, a year-on-year increase of 84.91%. Affected by this positive stimulus, Changchun Hi-tech's share price rose by a limit on October 27, but before that, the share price had fallen by more than 30%.
Not only Changchun High-tech, including
Hengrui Medicine,
Yiwei Lithium Energy,
Poly Real Estate,
Gree Electric ,
ZTE,
Sanqi Mutual Entertainment,
Hualan Bio,
Lens Technology and other white horse stocks in the third quarter It also suffered a substantial reduction in holdings, and the successive declines of the White Horse stocks since October are also related to the selling of institutions.
Luzhou Laojiao ranks among the top ten fund stocks with heavy holdings. The company's share price also reached its daily limit shortly after the opening of the market on October 29. According to the three-quarter report, Luzhou Laojiao achieved operating income of 3.964 billion yuan in the third quarter, an increase of 14.45% over the same period last year, and the net profit attributable to shareholders of listed companies was 1.595 billion yuan, an increase of 52.55% over the same period last year.
CITIC Securities released a research report saying that Q3 Guojiao increased by 20%+, obviously accelerating, and the price increase in September was relatively successful. Both the payment and peak season sales performed steadily, continuing the strong upward momentum, optimistic about Guojiao 1573 volume and price double The upward trend enjoys high-end dividends and the recovery of special songs has gradually achieved heavy volume, and the target price of Luzhou Laojiao has been raised to 200 yuan.
Ruiyuan Fund, Yi Fangda Jiacang Baijiu,
Last year's champion Liu Gesong Shigekura Longji shares
The path of stock exchange for celebrity public fund managers has attracted much attention. The three quarterly reports of the two Ruiyuan Funds were disclosed on October 28. As of the end of the third quarter,
Ruiyuan Growth Value Hybrid Fund,
Ruiyuan Equilibrium Value for three years held The stock positions of the hybrid fund are 92.56% and 91.18% respectively. , Ruiyuan Growth Value Hybrid Fund was established in March 2019, jointly managed by three fund managers: Fu Pengbo, Zhu Lin, Chen Yeyuan, etc. As of the end of the third quarter, Ruiyuan Growth Value Hybrid A Fund's net share value was 1.8631 yuan, C The net value of fund shares is 1.8519 yuan. Ruiyuan Equilibrium Value Three-Year Holding Hybrid Fund was established in February 2020 and is managed by Zhao Feng. As of the end of the third quarter, the net value of Ruiyuan Equilibrium Value three-year holding hybrid A fund shares is 1.3766 yuan, and the net value of C fund shares is 1.3741. yuan.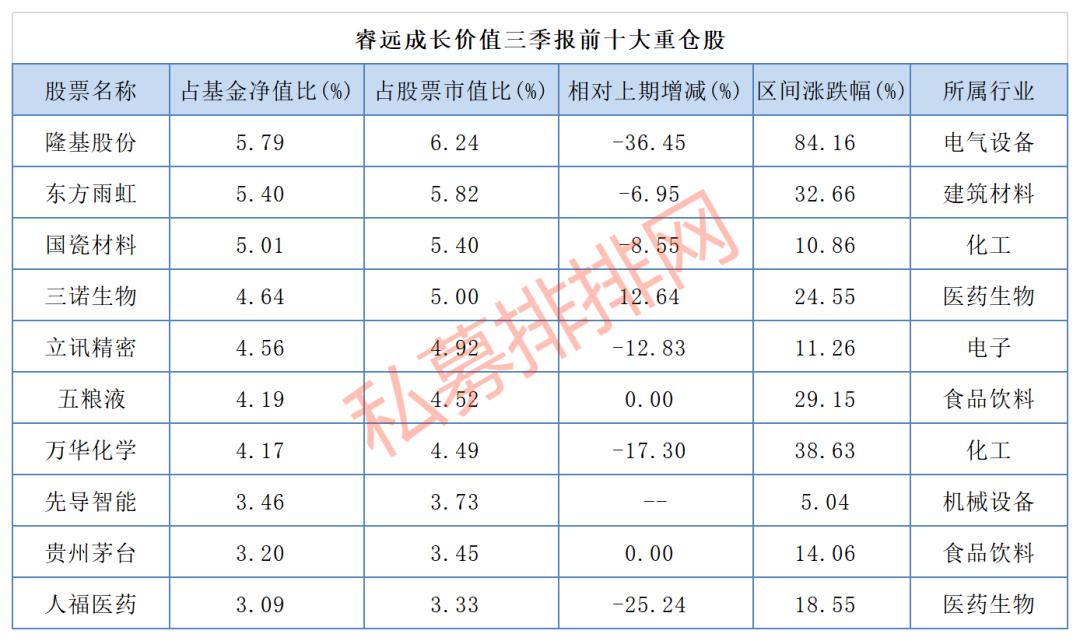 From the perspective of position changes, at the end of the third quarter, the top ten heavy holdings of Ruiyuan Growth Value Hybrid Fund were:
Longji Stocks,
Oriental Yuhong,
National Ceramic Materials,
Sannuo Bio,
Luxshare Precision,
Wuliangye,
Wanhua Chemical,
Pioneer Intelligence,
Kweichow Moutai,
Renfu Medicine, among which Wuliangye , Pioneer Intelligence, Kweichow Moutai are newly added.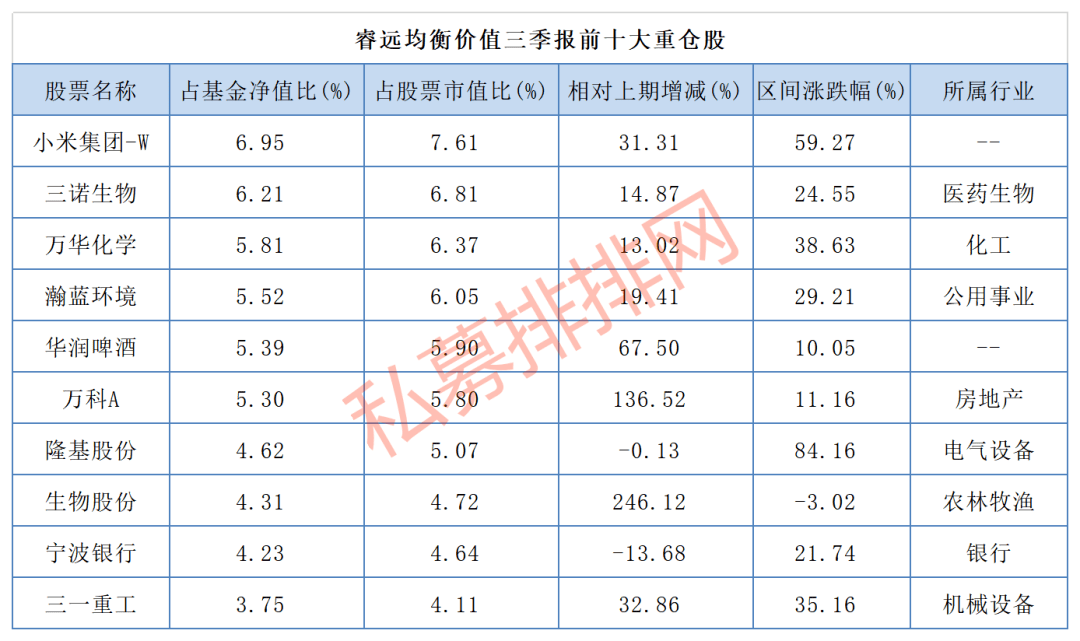 Ruiyuan Equilibrium Value Holding Hybrid is the second fund under Ruiyuan Funds for three years. In the third quarter, fund manager Zhao Feng reduced his holdings in pharmaceutical and consumer stocks that had increased in the previous period, and increased his holdings in real estate and other valuations. Lower stocks. According to the third quarter report, the top ten heavy holdings of Ruiyuan's balanced value holdings of hybrid funds for three years are
Xiaomi Group-W,
Sannuo Biotechnology, and
Wanhua Chemistry,
Hanlan Environment,
China Resources Beer,
Vanke A,
Longji Stocks,
Biological shares,
Bank of Ningbo,
Sany Heavy Industry. Among them, Vanke A, Biological Co., Ltd., and Sany Heavy Industry are among the top ten new entrants.
Yi Fangda Zhang Kun is also adding to the warehouse. Including
Luzhou Laojiao,
Yanghe shares,
Kweichow Moutai,
Wuliangye are all top ten managed funds Awkward stocks.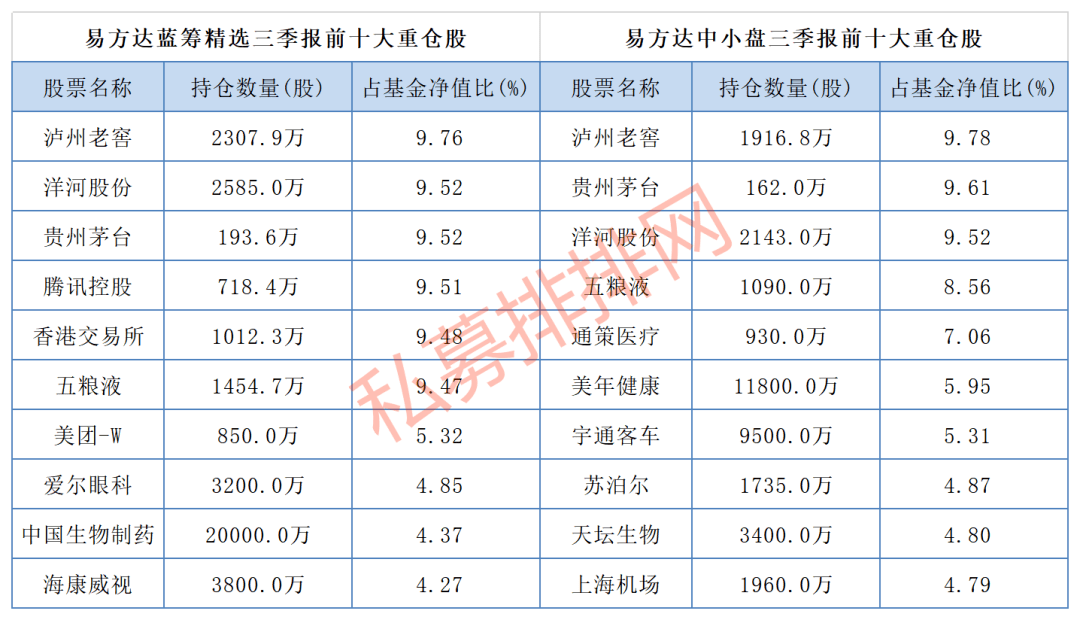 Zhang Kun, the fund manager in charge of E Fund's blue chip selection and E Fund's small and medium caps, stated in the quarterly report that the fund's stock positions increased in the third quarter and the structure was adjusted. Reduced the configuration of the pharmaceutical and other industries, and increased the configuration of the food and beverage industries. In addition, due to the judgment of the expected return on investment, a high-quality company with a higher proportion of Southbound Trading has been allocated.
Longi shares surged 84% in the third quarter, and it is still a major holding of 738 funds.
Liu Gesong, who was among the top three in the performance of public offering funds in 2019, continues to hold
Longi shares, GF's small-cap growth, GF's dual engine upgrade, GF technology pioneer, GF diversified emerging, GF innovation The upgraded heavy stocks all have LONGi shares, and GF Technology Pioneer is also the top ten tradable shareholders of LONGi shares. GF Small-Cap Growth's holding ratio of Longji shares reached 10%. As the regulatory authorities set a "no more than 10% net worth" restriction on the investment of a single stock of public funds, it can be seen that Liu Gesong is optimistic about Longji shares.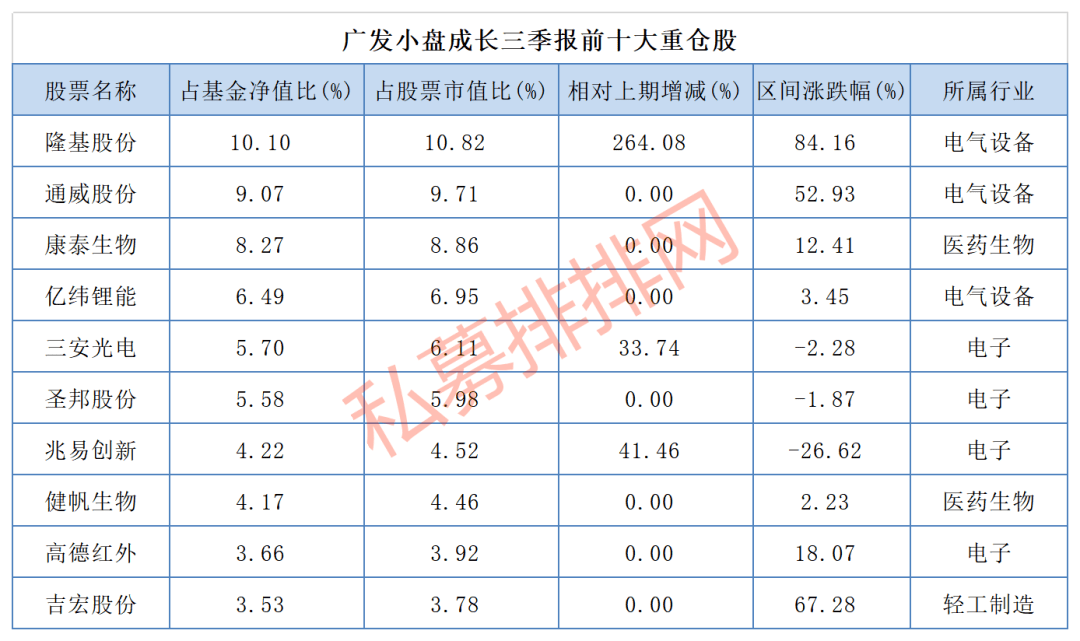 In the three quarterly reports of GF's small-cap growth, Liu Gesong pointed out that the fund focuses on growth industries such as new energy, cloud computing, semiconductors, and pharmaceuticals. As we predicted earlier, the photovoltaic industry has received more recognition. The photovoltaic industry has entered the era of parity, and overseas demand has clearly recovered. Superimposed on my country's commitment to global green development, these all indicate that the industry has entered the fast track. Return to Sohu to see more
Article Url:https://www.liaochihuo.com/info/554406.html
Label group:[fund] [investment] [Awkward Stocks] [three quarterly report] [Changchun High-tech] [Longi shares] [Luzhou Laojiao]