"The world's three famous wineries: Roman Nikon Emperor, Lafite, E Fund", it seems to be the January 26th Investment is the hottest stem.
   January 25th, Fund Manager Zhang KunManaged E Fund's blue-chip selection due to heavy storage of liquor stocks, the net value of one day soared by 5%, "blue chip", " "Fund" and "Zhang Kun" then quickly appeared on the Weibo hot search.
   Not only that, but discussions about the fund are sweeping Weibo, Xiaohongshu, Douban and other online communities. Everyone is keen to share investment base income, fund portfolio and perceptions of fund managers, and the "mantra" of fund managers' investment was born.
   Insiders believe that fund managers' "love beanie" is actually a manifestation of the youth of the Christian community. Statistics show that among the newly-increased Christians, the post-90s account for more than half. For these new Christians, the fund is more than just financingproduct, more like a social tool.
"ikun" and "Bojun Yixiao" debut together
   In recent months, the term "fund" has been searched wildly, below Tucao, admiration, exchange of fund buying experience, similar to the social mode of the fan circle, seems to be migrating to the fund circle.
   Recently, many Christians claim to be the fund circle ikun, and they are on the list in the Chaohua community.
   The term "ikun" originated from the fan circle and usually refers to the fans of "traffic star" Cai Xukun. But recently in the Weibo, there is another group of "ikuns" active. They do not love Cai Xukun, but Zhang Kun of Yi Fangda.
   "Kun Kun bravely fly, ikun will always follow, Kun Kun is not old, blue chip is old", "Chasing Cai Xukun, you pay him money. But chasing Zhang Kun, he will make money for you." Fans that can only be seen in the fan circleculture and discourse have recently become popular in the fund circle, and some fans have even registered "E Funda Zhang Kun Global Support Club" Weibo account.
   So far, Zhang Kun, this The first fund manager in the history of public offering funds with an active equity fund of over 100 billion yuan is officially out of the circle. p>
   As of the early morning of January 27, the "Yi Fonda Zhang Kun National Support Club" has 17,000 fans. He also has his own Weibo Super Talk "Yi Fonda Zhang Kun", with more than 5,200 fans and more readers. 8.38 million, and the recent activity is very high.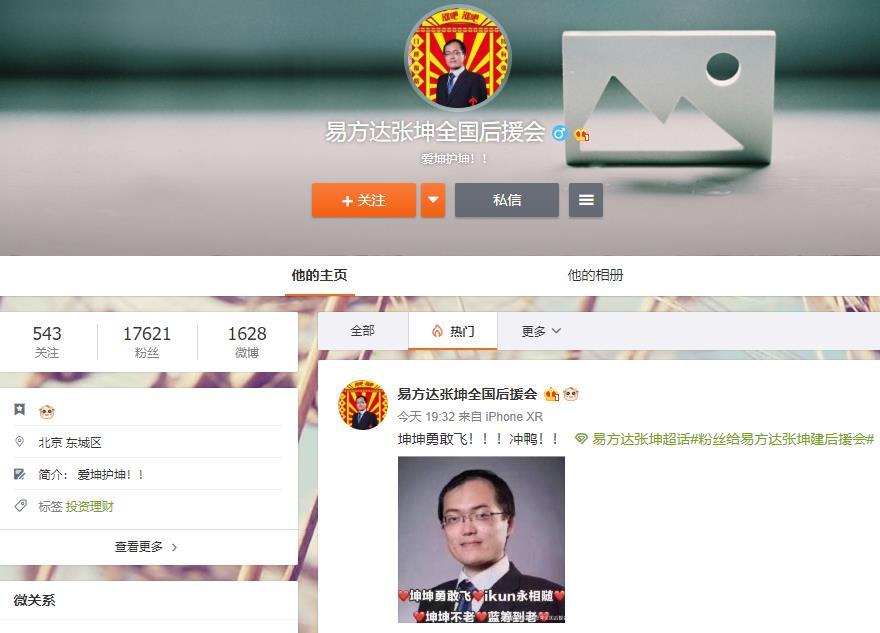 is not just Zhang Kun, There are many celebrities in the public fund circle Fund managers have their own fan circles.
   Since 2020, Lion Funds has been on the hot search several times, the manager of Lion Growth Hybrid Fund Cai Songsong loves and hates the Christians because of his more extreme investment style. As the saying goes, "the'male god' and the'scum male' fly together, the red powder is the same as the black powder", it is often love and hate in an instant.
   There are fans who formed a CP for Zhou Yingbo of CEIBS Fund and E Fund Xiao Nan. The name "Bojun Yixiao" is the same as the names of Xiao Zhan and Wang Yibo's cp fans.
   In this regard, a public fund channel source pointed out that there are data showing that in 2020, there will be an increase in the number of Chinese citizens. , The post-90s account for half. Nowadays, talking about funds on platforms such as Xiaohongshu, Douyin, and Station B has become one of their social methods. "Many new investment funds are young people who are accustomed to fan circles. Set of culture. "
   There are also people from fund companies that the phenomenon of star fund managers should be treated dialectically. PerformanceFortunately, it is a necessary but not sufficient condition to become a star fund manager, and every fund manager has a capacity boundary, and every strategy has a capacity boundary. From a historical point of view, being a good fund manager is subject to the market is often an asset when it is sought after by celebritiesWhen prices are high. Even if this fund manager can continue to generate excess returns for a long time, how many investors who buy in pursuit can hold it to the end?
The best fund managers are most favored by the fans
   In fact, whether it is Zhang Kun, Xiao Nan or Zhou Yingbo, these "out of the circle" fund managers have one thing in common, that is, their outstanding performance.    Zhang Kun in 2008 After graduation, I joined E Fund and worked at The company has worked as an industry researcher and assistant fund manager. In September 2012, he began to work as a fund manager of E Fund's small and medium caps, with a return rate of 104.51% in the past year. This is also the earliest product he managed. It has been under management for 8 years. The total return rate is 790.39%, even after experiencingAfter the stock market crash and the circuit breaker, he still controlled a certain retracement.
   In addition, as of January 25, the Yi Fangda Blue Chip Select Hybrid managed by Zhang Kun has a return rate of 128.26% in the past year, ranking 43rd among 3251 products of its kind.
   From the perspective of shareholding, take E Fund's Blue Chip Selection as an example. As of the end of the fourth quarter of 2020, the top ten Holding positions accounted for 77.89%, of which Kweichow Moutai span>(600519.SH), Yanghe shares(002304.SZ), Wuliangye(000858.SZ), Luzhou Laojiao(000568.SZ) further increased its holdings, and the holdings of these four stocks all exceeded 9%. Since E Fund's Blue Chip Selection can also invest Hong Kong stocks, Zhang Kun also configured Meituan (03690.HK), Tencent Holdings (00700.HK), Hong Kong Stock Exchange (00388.HK) and Yihai International (01579.HK).
   In addition, the same is true for E Fund's small and medium-sized caps, Kweichow Moutai, Yanghe shares, Luzhou Laojiao, Wuliangye accounted for over 9% of all positions.
   In the eyes of many industry professionals, Zhang Kun Low turnover rate, clear holdings, stable style, is a typical long-termist. When Moutai was affected by multiple factors in 2012 and 2013, he was still able to stick to his own opinions and hold firmly, and only then did he get rich rewards later. In this process, fluctuations are inevitable.
   Xiao Nan, who is also at E Fund, is also a "drinking" enthusiast. He manages E Fund Consumption industry funds, as of the end of the fourth quarter of 2020, there are 5 liquor stocks in the top ten major stocks. The fund Xiao Nan's tenure return over the past eight years has also reached 574.29%.
   The CEIBS Innovation Future Fund managed by Zhou Yingbo ranked first among the five similar funds, gaining a 31.34% increase in more than three months; in addition, the CEIBS Times Pioneer Stock A, which he is at the helm, has since Since November 2015, the increase has reached 365.39%; CEIBS Mingrui New Normal Hybrid A has also reached 245.57% since December 2016.
(Source: The Paper)
(Original title: Behind the exit of E Fund Manager Zhang Kun: Outstanding performance, younger Christian groups)
(Editor in charge: DF506)
Article Url:https://www.liaochihuo.com/info/548907.html
Label group:[fund] [fund manager] [Zhang Kun] [E Fund]