So, food and drink that each of us can't do without, and each of us has great enthusiasm for food and beverage is not a very worthy choice?
This year's new crown epidemic has caused a huge impact on many industries, but the first to recover is the catering industry. The latest data released by the National Bureau of Statistics show that in October, national catering revenue was 437.2 billion yuan, an increase of 0.8% year-on-year, and the growth rate turned positive for the first time in the year. Driven by the steady recovery of the catering industry, the prosperity of the food and beverage industry, as well as beverages, condiments and other sub-sectors has also increased. This shows that the food and beverage industry is extremely resilient.
In the short term, in the past Double Eleven, Double Twelve and the upcoming Christmas, New Year's Day, and New Year, everyone will inevitably have something to eat, buy something to eat, and then grab cheap Maotai or something. This shows that the demand for consumer products such as food and liquor is bound to continue to recover and grow.
In the long run, only 4 of the world's 50 largest economies will achieve per capita GDP growth in 2020, including China. The International Monetary Fund (IMF) predicts that by 2025, China's per capita income will rise by 56 places in the world compared to the beginning of this century. People are getting richer and richer. Maybe they can't afford a house, but they can still consume and upgrade their meals. This shows that the food and beverage industry, which is just in need, has a clear long-term growth logic and therefore has a preference for obtaining funds more easily.
Index: Long-term investment tool for good selection
The long-term benefits of the food and beverage industry, I believe everyone can recognize from their own "eating and drinking" experience, and this index fund puts the leaders in these segments into a basket, so you can say It is extremely rich in gold.
Look at the related introduction: Food and Beverage ETF (515173) tracks the China Securities Subdivision Food and Beverage Industry Thematic Index (000815), which selects larger and better liquid companies from the food and beverage industry to form sample stocks.
Currently has 50 constituent stocks, including Wuliangye, Yili, Kweichow Moutai, Haitian Flavour, Luzhou Laojiao, Yanghe, Tsingtao Brewery, Shanxi Fenjiu and other industry leading stocks. The main industries are liquor, dairy products, and seasonings.
Wind data shows that as of December 7, the index has risen by 70.39% in the past year, while the Shanghai and Shenzhen 300 Index has risen by 32.09% over the same period. Since the base date (December 31, 2004), the index has risen by 29.8 times, while the Shanghai and Shenzhen 300 Index has risen by 4.05 times during the same period.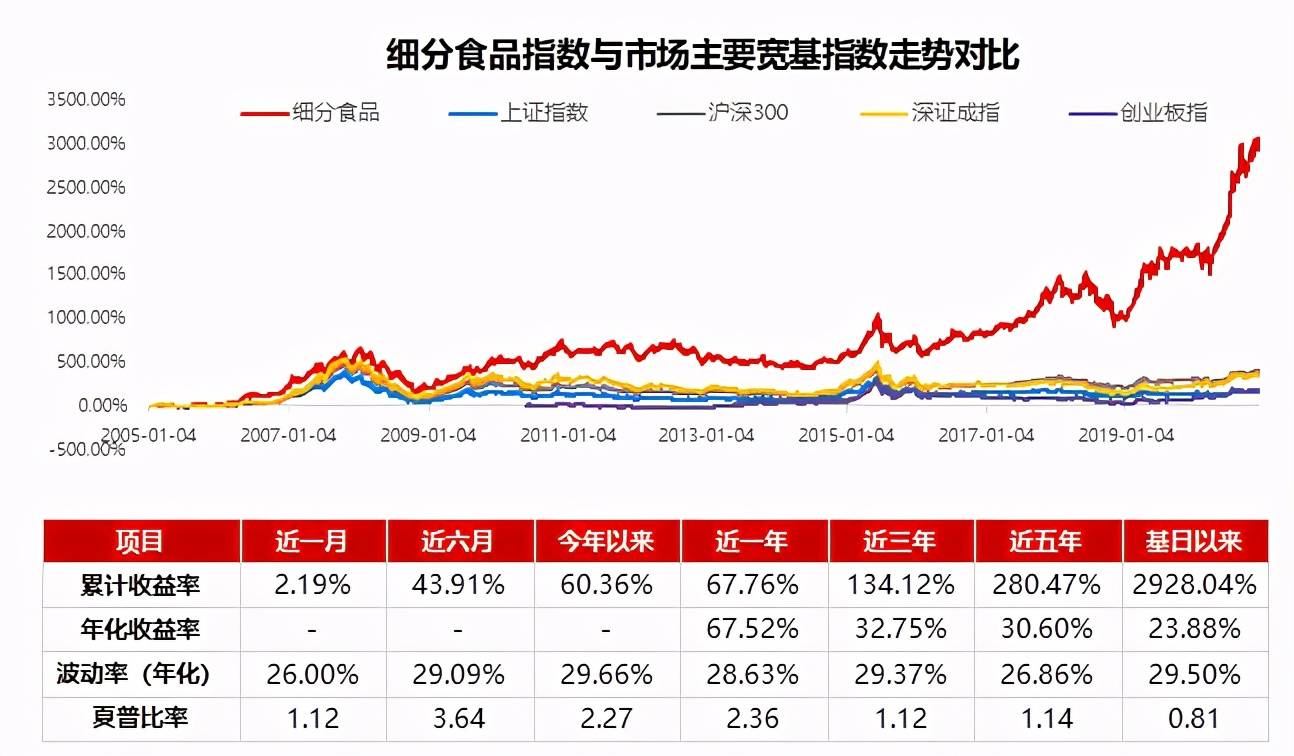 Data source: Wind, 2020.11.30
For an index product, the most critical factor in determining its investability is the vitality of the index itself. The food and beverage ETF (515173) is worth the expectation of investors because it has the above-mentioned long-term investment value.
It is worth noting that under the logic of consumption upgrading, the continuous increase in the concentration of the food and beverage industry is a historical inevitability. In this process, leading companies can be said to have taken advantage of the time and place. This is fully reflected in the liquor industry. First of all, leading companies have brands as the moat, and brands are the basis of pricing power. Only brands have pricing power and profit. For this, see the difference between high-end and low-end liquors. High-end liquors continue to rise in price but still in short supply. Based on brand power, these leading companies have a strong voice in the channel, further increasing profit margins. Obviously, consumers pay more and more attention to brands, which is inevitable for the continuous improvement of people's living standards. Therefore, leading companies will have the advantage, while low-end and middle-end companies will continue to be squeezed by large companies. Therefore, from this perspective, the index tracked by the Food and Beverage ETF (515173) is an index that gathers leading companies in the industry and deserves more attention.
Departure: The new masterpiece of the exponent day group
In the ETF market, it is best to choose a larger-scale and better-liquid product among similar products. This is because the trading mechanism of ETFs is similar to that of stocks. They are all traded in the secondary market. Therefore, for those ETFs with large daily trading volume, personal trading is only a drop in the ocean. No matter the amount of funds, you can easily Investment can also be better withdrawn.
Since China Asset Management launched the first domestic ETF in 2004, the SSE 50 ETF, it has been in the ETF field for 16 years and has experienced multiple bull and bear market rotations. It has extensive experience in the operation and management of ETFs. According to statistics, as of December 4, China Asset Management's equity ETF (including the RQFII ETF issued by the Hong Kong subsidiary) reached 20.2 billion yuan, becoming the first domestic fund company to exceed 200 billion yuan. At present, China Asset Management has 6 ETFs with a scale of over 10 billion yuan. Among the top ten ETFs in the entire market, China Asset Management has 4, and China Asset Management has a deep foundation in industry-themed ETFs. Its 5GETF, chip ETF, New energy vehicle ETF, artificial intelligence AIETF, etc., are among the forefront of similar ETFs in terms of scale and liquidity.
Food and Beverage ETF (515173), as China Asset Management, has recently followed a series of industry-themed ETFs such as 5GETF, chip ETF, new energy vehicle ETF, and smart beta ETFs (blue chip ETFs and growth ETFs) aimed at opportunities in the ChiNext segment. After ), another segmented ETF can be said to be very worth looking forward to.
In addition, compared with active funds, investing in the food and beverage industry through ETFs has a big advantage-active equity funds have a double ten limit on holdings, that is, a fund holding a listed company's stock, its market value cannot exceed the fund 10% of the net asset value. The ETF strictly tracks the index and is not limited by position. For example, the weight of Wuliangye currently allocated to the index can reach 16.85%. The characteristics of overweight dominant (leading) stocks make ETFs expected to continue to outperform consumer-themed active funds in the future. In addition, another advantage of investing in the food and beverage industry through ETFs is that the current purchase of Moutai requires up to more than 170,000 yuan, and Wuliangye also exceeds 25,000 yuan, which requires higher funds. The food and beverage ETF (515173) online cash subscription threshold starts at 1,000 yuan, the investment threshold is relatively close to the people, and small funds can also participate. According to the fund prospectus, from December 21 to 23, 2020, investors can subscribe for food and beverage ETFs (515173) in cash online.
Return to Sohu to see more
Article Url:https://www.liaochihuo.com/info/547057.html
Label group:[white wine] [food and drink] [etf fund]