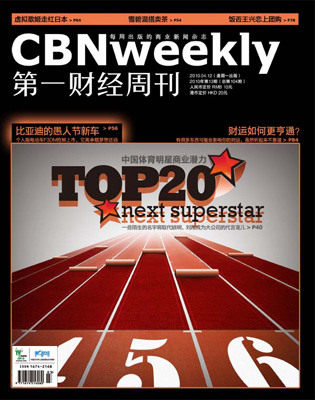 CBN Weekly, Issue 13, 2010
   The commercial endorsements of Yao Ming, Liu Xiang, and Guo Jingjing are no longer the glory of yesterday. The new generation of athletes is emerging. Some of them are still tied to the system, and some have been packaged by the agency. Won a valuable endorsement contract. Among them, who will succeed Yao Ming and Liu Xiang and become superstars in the commercial sense?
  Text|CBN reporter Liu Xiang Qiu Jia Jin Jing Zan Huifang Guo Yingzhe
   Seeing the small white ball played by the Korean Kim Geng Tae rushing out of the hole and falling into the bunker, Liang Wenchong took off his hat, threw the ball in his hand to the audience, and then bowed deeply—he won the "same Asia" Winner of the 2010 Chengdu Lushan Open.
   The championship won on April 4th was his second "same Asia" championship and the fourth international championship in his career. After Zhang Lianwei, he began to be called the leader of Chinese golf by the media. This championship not only allowed him to receive a prize of 180,000 US dollars, but also greatly increased the possibility of him renewing his endorsement contract with the famous Scotch whisky brand Ballantine.
   In contrast, Yao Ming, who lost some endorsement contracts due to injury and was unable to play, now has more money to rely on investment income. On April 2, his shareholding HezhongStrong (002383) listed on the Growth Enterprise Market, which rose by 147.3% on the same day. , The book value of its stock thus reached 61,762,500 yuan.
   On the same day that Liang Wenchong won the championship in Sichuan, Ding Junhui lost his handy China Open in Beijing. Of course, he is still young. But before that, even if he had won four ranking championships, his endorsement contract was limited to a few domestic brands such as Xingpai and Mengniu-the projects he was engaged in limited his commercial value space.
   So, is it possible for Liang Wenchong to succeed Yao Ming and become China's next super spokesperson? As sports stars, Liang Wenchong and Yao Ming are engaged in the most influential mainstream sports in the world. The high attention of this kind of sports and their outstanding results can make them the best spokespersons in the eyes of international mainstream brands. Although compared with Yao Ming, Liang Wenchong's commercial endorsement is only the beginning, but the commercial value that Tiger Woods once demonstrated has given Liang Wenchong's commercial potential as an athlete in the same event a great imagination.
   In China, if you want to know which sports star is the hottest, you need to watch not only CCTV5, but also CCTV1 prime time commercials. This is the main battlefield for first-line brand advertisers and the second arena for athletes. It is one of the manifestations of the highest level of personal value. In this arena, excellent athletic performance is just the starting point.
   Two years ago, Yao Ming, Liu Xiang, and Guo Jingjing, the superstars in the Chinese sports world, appeared in advertisements far more often than the most popular entertainment stars. But now, injuries and increasing age have made these previously young and invincible figures unable to call the wind and rain in the arena, and the dazzling light surrounding them has gradually dimmed.
   After the 2008 Beijing Olympics, most Chinese athletes in the sports category have entered the stage of alternating between the old and the new. The Mesozoic can finally get out of the huge shadow of their predecessors, and newcomers have begun to emerge.
   Malone, Zhang Dan/Zhang Hao, Liu Zige, Zhang Lin, Chen Ruolin, Liu Shiwen...These collective appearances of the post-85s and even post-90s generations not only let the sports industry see the dawn of hope, but also let those who are keen to invite sports stars to endorse. Brands have a more energetic and energetic choice.
   Can the "2008 Generation" go further than Yao Ming and Liu Xiang in endorsements? If you limit the time to the next five years, who is most likely to take over the baton of Yao Ming and Liu Xiang,Become the next commercial superstar?
   For advertising agencies and their customers, the emergence of newcomers means that they can also tell a fresh story to their target customers and consumers. And their choice will ultimately provide answers to the above questions.
   The international credit card predator VISA, which once invited Yao Ming and Liu Xiang to endorse, recently used the combination of double skaters Zhang Dan and Zhang Hao as the spokesperson of the new advertisement. VISA's "Liu Xiang and Kangaroo" theme advertisement and the Olympic dream series advertisement jointly performed by Yao Ming and Jackie Chan were once impressive.
   "The spokesperson of VISA must be the best, or the most story-telling, and a long-term cooperation." said Liu Jie, Director of Corporate Affairs of VISA China. VISA maintains contact with more than 1,000 athletes in the world, and helps them to better realize their Olympic dreams by providing financial and life skills support to those who are capable of competing for the championship, as well as global marketing support.
   "In addition, the temperament and story of the spokesperson must also meet the company's brand aspirations and support business needs in a specific period," Liu Jie said, "VISA will launch new advertising themes and new advertising topics under different hot spots. Spokesperson."
  VISA started to use Liu Xiang and Yao Ming as brand spokespersons since 2005. At that time, Liu Xiang had just risen in the Athens Olympics, and Yao Ming also showed the superstar temperament in the NBA. But now, Liu Xiang is 27 and Yao Ming is 30. Compared with the young Zhang Dan and Zhang Hao (24 and 25 years old respectively), they are no longer young and have lost the basis for long-term cooperation.
   Different from the advertisements endorsed by Liu Xiang and Yao Ming, the "Go World" TV commercial produced by VISA for the Vancouver Winter Olympics is the first time that it is produced and broadcasted globally. They hope to be able to support the global VISA. Card people are more closely connected with spectators who love the Olympics.
   "So we need a Winter Olympics spokesperson who can be known worldwide," said Liu Jie. "Compared with champion athletes Wang Meng, Shen Xue/Zhao Hongbo, Zhang Dan/Zhang Hao is the best in international competitions. Although good results are only a silver medal, they have left a deep impression on audiences all over the world."
   At the Torino Winter Olympics 4 years ago, Zhang Dan and Zhang Hao made a major mistake in attempting a difficult jump jump, and Zhang Dan injured his knee. But they did not withdraw from the game, but insisted on completing the game with injuries and eventually won the silver medal. This scene moved the audience, the referee and even the world.
   This true and vivid story became the unique charm of this pair of non-gold medalists. VISA called it a "Silver Medal Victory", believing that this kind of factor that transcends sports itself has crossed national borders and can help brands and consumers have the broadest resonance.
   However, this kind of "silver medal victory" can be met but not sought after. Every brand hopes that its products and services can always pursue "higher, faster and stronger" like those champion athletes. What they are most willing to tell is the inspirational story about the champion.
   Gillette Greater China Men's Care Business Organization Managing Director Xie Bing said that Gillette's spokesperson must meet the usual standards of the championship camp: first-class sports stars use their best performance to win the game and win the championship. Take a look at Gillette's team of spokespersons: Federer, Henry, Beckham, Woods... are the kind of guys who can cause screams at any latitude and any corner.
   In 2009, the Tiger Woods sex scandal made Gillette have to consider changing the spokesperson. In addition to helping Gillette restore its influence, the new spokesperson must also help Gillette achieve brand value communication with Chinese consumers—they realize that an Oriental with a lush beard does not agree with a bearded foreigner who promotes high technology. , A razor with rich functions, and pay more attention to the spiritual connotation that the brand promotes.
   However, when deciding to use a new spokesperson, the picky Gillette and its advertising agency BBDO still took a lot of work. A research team led by Xie Bing weighed almost all the well-known Chinese male athletes, and finally set their sights >> on "Super Dan".
   "The spokesperson of Gillette must be a confident, brave, sunny, and energetic man," Xie Bing said. Lin Dan has the same characteristics as Federer, Henry, and Beckham—it can represent a man's spirit on the court. Be a champion, be a strong person in life off the court.
   27-year-old Lin Dan is the spokesperson of badminton in China and the world. He is on the courtDomineering, super aggressive is his label, his career includes almost all world championships including the Olympics and the World Cup. Moreover, Lin Dan's story is tortuous enough. As early as the 2004 Athens Olympics, he was the biggest favorite to win the championship, but he ranked first in the world but was eliminated in the first round. After this shock, he even "don't want to fight anymore", but with the encouragement of his girlfriend Xie Xingfang and his coach, he started to find himself again and finally won the championship at the Beijing Olympics.
   In life, the love story between Lin Dan and teammate Xie Xingfang has also been talked about by fans, which is in sharp contrast with the image of the former spokesperson Woods. In the Gillette commercial, Lin Dan acts as a social man for the first time to interpret the emotional story of how a man overcomes his hesitation and finally makes a marriage promise to his girlfriend.
   The rise of a new generation of Chinese sports seems to make this kind of story-finding job easier. Compared with the predecessors, the new generation has a more distinctive personality. They grew up in the Internet age and have a natural resonance with the young people who are the main force in the current consumer market.
   Think about the surprise Liu Xiang brought to people when he first debuted. His healthy and handsome appearance, almost overwhelming self-confidence, swept away the boring situation in the Chinese sports world. Seeing such a high-quality sports idol appeared, the business community also showed their surprises, allowing him to endorse 12 brands at the same time at the peak.
   But after Yao Ming and Liu Xiang, even Lin Dan did not have many endorsement contracts. Only Gillette, Li Ning, Dongfeng Yueda Kia Freddy and the exclusive brand LD (Li Ning series brand), 2009 commercial income of about 14.75 million yuan. Yao Ming, Liu Xiang, and Guo Jingjing used the endorsements before the Beijing Olympics to push their income to 357 million yuan, 130 million yuan and 30 million yuan (according to the "Forbes" 2009 China Sports and Entertainment Star Income Rankings), thus making it into the list. Among the top sports stars in the world.
   Yao Team Captain Zhang Mingji regarded Yao Ming and Liu Xiang as special cases, and whether it was Lin Dan or Liu Zige, their commercial value was far from being developed. "You can try to find the 100 most valuable athletes in the United States, and compare with the 100 most valuable sports stars in China, you will find that the value of Chinese athletes is so low."
   In fact, from the world's most commercially valuable sports stars such as Woods, Kobe, and Raikkonen to China's Yao Ming and Liu Xiang, they are all engaged in highly focused sports, and they must be their own The best in the field of sports, besides that, they all have a strong personal charm.
   Obviously, there is no shortage of struggling stories in the Chinese sports world, but there are only a handful of athletes like them who can achieve good results in mainstream events-football has been in a long-term downturn, basketball, besides Yao Ming, only Yi Jianlian has the potential to be a super spokesperson.
   Chinese sports stars are mostly produced in Chinese traditional strong events such as table tennis, badminton, diving, etc. Compared with football, basketball, golf and F1 racing, the limited influence of this kind of project has become the shackles of the commercial value of athletes. .
   On the other hand, Zhang Mingji said that the lack of marketization of Chinese sports also limits the emergence of commercial superstars. Most Chinese athletes still belong to the traditional sports management department, and they are not very keen on exploring the commercial value of star athletes.
   Liu Zige, a female swimmer who broke the world record in the Beijing Olympics, and He Wenna won the Olympic champion of women's trampoline, have surprised brands looking for a spokesperson. With their looks as outstanding as their grades, they have extremely high popularity in the Internet world. In the eyes of advertising companies, this is equivalent to commercial value, and they can't wait to find the door.
   But in the end they did not appear in any commercials. He Wenna has only two public endorsements of sports lottery and Hakka Tulou. She said that many brands did invite her to endorse, but she didn't know why no agreement was reached in the end. The leader told her not to think about money. Defending her title in the next Olympics is what she needs to consider most.
   "For an organization like us, the goal is not to make money, but to rank and honor." Facing the crowds of brands seeking endorsements, Lu Jiapu, deputy dean of the Shanghai Institute of Sports Technology and director of the Shanghai Swimming Center, said, There is a vivid saying in the sports system called "holding a golden rice bowl to beg for food." If they need funds, they can apply to the competent department, "it is not relying on athletes to do business endorsements so that we can get benefits from it."
   Lu Jiapu said that Liu Zige's advertising rights will involve threeFang: First, the coaches Jin Wei and Liu Zige themselves. When they were introduced to Shanghai from Liaoning, one of the conditions for negotiating with the Baoshan District Sports Bureau was that the coach and herself retained the advertising rights; secondly, the national swimming team did not. Willing to give up advertising rights; in addition, there is the Shanghai Sports Foundation, there will be legal problems between the three. If the swimming center is added, it will become four. There is a lack of a standardized operating system between the companies. Once disputes arise over advertising rights, portrait rights, and revenue sharing, it will affect the mentality of athletes, so they simply gave up the intention of commercial endorsement.
   The Shanghai Sports Foundation, established in 2007, is believed by Lu Jiapu that it will be an official brokerage company in the future. On the one hand, this organization will raise funds from the society to reward athletes and protect the lives of disabled athletes. At the same time, it is also considering how to explore the commercial value of top athletes.
   Compared with the Shanghai Swimming Center, the Chinese Table Tennis Team is the management department that cooperated with commercial companies earlier, but Huang Biao, the leader of the Chinese Table Tennis Team, admitted frankly that the team and the management center have not actively sought sponsorship opportunities. The other party came here. He will receive at least dozens of calls from companies requesting sponsorship of teams and players throughout the year. His principle is to meet the needs of sponsors as much as possible without affecting the team's normal training and game arrangements; and Individual athletes absolutely cannot take commercial advertisements and attend commercial activities in private.
   These official or semi-official organizations are inherently inadequate in the commercial development of athletes, allowing the brokerage company to see business opportunities. Brokerage companies that originally planned entertainment star business activities have also begun to appear in the sports field.
   Beijing Zhonghui International Sports Management Co., Ltd. (hereinafter referred to as Zhonghui Company) is one of the pioneers of local sports brokerage companies in China. Its founder, Lu Hao, is Yao Ming's Chinese agent. The business miracle that happened to Yao Ming made him decide to set up a special sports star agency. At present, his company has signed Ding Junhui and Zhang Lin, a swimmer known as "Pool Liu Xiang". Another sports brokerage company called Beijing Momentum took over sports stars such as Zheng Jie, Pan Xiaoting, and Liu Xuan.
   These sports brokerage companies have more professional experience, and they intend to use market-oriented means to package and promote celebrities. On April 1, when Ding Junhui was playing the China Open, his "colleague" Zhang Lin came to the scene to cheer, which gave the media another gimmick that can be paid attention to. The sports agency will determine a clear positioning for the athletes according to their project characteristics, fan population and personality, and then formulate a comprehensive plan, including helping them choose the right professional development projects and commercial projects, providing legal services, and crisis public relations, etc. And to help stars achieve their goals and values.
   When Ding Junhui first debuted, due to his young age and lack of experience in communicating with the media and fans, Zhonghui Company specifically invited experts to give him lectures and taught him some communication and speaking skills. Lu Hao recently bought several books on eloquence training from the United States and gave them to Ding Junhui, which contains rich and practical examples of expression skills.
   In addition to charging the athletes, the agency puts more energy on dealing with those brands or brand agencies. They sell celebrities to each other and confirm the endorsement rules and transaction prices.
   After entering the NBA, the sports brands endorsed by Yao Ming to financial products, IT products and other brands are all included in the packaging plan made by the Yao team. This >> plan has changed with Yao Ming's continuous growth. When Yao Ming first went to the United States, the team deliberately chose some growth-oriented companies (or multinational companies that wanted to quickly improve their performance in the Chinese market), hoping that these brands would grow with Yao Ming; by the mature stage of Yao Ming, he became China Life and the spokesperson of some financial companies. Oreo Biscuit, which is currently working with Yao Ming, emphasizes family and affection, which is suitable for Yao Ming's current stage-because he has a family and will soon have children, it is suitable for such a partner.
   "Some brands will actively contact the brokerage team according to their brand and strategic needs, and some brands do not know the athletes very well, so they need a brokerage company to promote it." Lu Hao said, the company now signed with Yao Ming and Ding Junhui , Half of them come here especially, and the other half are the result of the company's proactive promotion.
   However, unlike celebrities, in the relatively closed Chinese sports market, athletes cannot freely choose agency companies and agents. They are also subject to many restrictions from the competent authorities.
   Most of China's national sports teams and provincial teams pay dividends from athletes' endorsement fees in the name of training fees, ranging from 20% to 50%. Due to the lack of a standardized distribution method, many sports stars have been awkward with the management department because of the proportion of the share, and even let the sponsorship contracts that are about to be handed slip away from them.
   At this time, some business-minded athletes began to have some new ideas. They try to break away from the control of the sports management center, at their own expense or looking for sponsors, to participate in some international commercial events, and to win more bonuses and endorsement contracts through their own achievements.
   Tennis player Zheng Jie reached an agreement with the Tennis Sports Management Center. In addition to representing the national team to participate in some competitions in the name of the country, she can independently choose a brokerage company, participate in commercial events, and enjoy the independence in commercial sponsorship right.
   Solo Zheng Jie has entered the Wimbledon and Australian Open women's singles semifinals successively, and the number of bonuses and endorsements has also been rising. At present, Zheng Jie is the spokesperson of Anta, Rolex, Malaysia Feiying Airlines and other companies. The income in 2009 is expected to exceed 8 million yuan.
   Solo flying also has certain risks-once the poor performance status declines, the athletes who have lost the financial support of the country are very likely to be reduced to the point where there is no competition to play, and therefore they cannot earn income. Zheng Jie's former doubles partner and Yan Zi who also chose to fly solo, due to a decline in state and insufficient strength, the income in 2009 can only sustain the daily training and competition expenses.
   However, the professionalization, marketization and entertainment of sports events have become the general trend. These events that place more emphasis on commercial interests require more sports stars and can train outstanding athletes more quickly.
   It is reported that after the football league, basketball league, volleyball league and table tennis league, China will launch a badminton super league this year. And more and more influential events have settled in China, such as Beijing's China Open, Shanghai's ATP Masters Cup, F1 races, and HSBC Golf Masters. These commercial events will give more Chinese sports stars. Provide a blockbuster opportunity.
   The 18-year-old female nine-ball player Liu Shasha learned through his personal trainer has won the Women's Nine-Ball World Cup, becoming the youngest champion in the history of this event. As one of China's most influential public figures, the writer Han Han is now also emerging in the Chinese auto track and rally racing, becoming a promising racing driver. The advertising company has been eyeing them. Liu Shasha has won a star sponsorship contract, and Han Han has appeared in the latest commercial of Asus Computer-his only resistance to becoming a super spokesperson seems to be his own will.
   23-year-old Yi Jianlian is the only Chinese sports star outside of Yao Ming who can become a major player in the top international leagues of mainstream events. Although his performance in the three seasons into the NBA was not satisfactory, when Yao Ming gradually got older, Yi Jianlian, who was younger and better in physical fitness, has been favored by international brands such as Nike and Procter & Gamble.
   Like Yao Ming, Yi Jianlian also has an international brokerage team-WME (William Morris Endeavor, Curtain International Star Brokerage), the largest star brokerage company in the United States, and Dan Fegan, a big-name broker, in charge of Yi Jianlian in the United States. The Chinese agent Lu Yu is solely responsible for his domestic business and competition affairs. With the support of this professional team, Yi Jianlian has endorsed well-known brands such as Nike, Amway, Yili, and Coca-Cola.
   Lu Yu said, Yi Jianlian is a good customer. In addition to a good image and good grades, he is also a person who can work with him. He also has advantages in language skills: he can speak Cantonese and can participate in business in Hong Kong. Or charity activities can extend the influence to the entire Chinese-speaking area.
   WME is now eyeing a lot of Chinese sports stars and has formed a preliminary list internally. "The goal is those athletes who have international value and can represent China. These people can attract foreign advertisers and help advertisers open or maintain the Chinese market." Lu Yu said.
   This is a welcome change. To this end, we have compiled a ranking of the commercial potential of sports stars. We use some indicators used by sports brokers to measure the commercial value of athletes to score China's commercial potential stars and rank them on this basis. We believe , The next superstar will be produced among them.
  Sports star business potential ranking list
   The "China Sports Star Business Potential Rankings" compiled by "China Business News Weekly" set the time limit to five years, focusing on who is likely to receive the most commercial income in the next five years.
   After extensively soliciting opinions from companies that have used sports star endorsements, 4A advertising companies, sports brokerage companies, and several well-known sports agents, we set two major categories of inspection indicators, objective factors and subjective factors, among which The objective factors include five sub-indicators such as whether the sports they are engaged in are global sports, each of which has the highest score of 10 and a total weight of 50 points; the subjective factors include eight sub-indicators such as the athlete's personal charm. The potential accounted for the largest proportion, with a maximum score of 20 points. The maturity of the endorsed brand and the brokerage team are both 5 points, and the remaining points are all 10 points. The total weight of subjective factors is 80 points. The total score of subjective and objective factors is 130. Minute.
   Starting from this evaluation system, athletes in mainstream international sports such as basketball, golf, and tennis are more likely to stand out. Because of the limited international influence of traditional Chinese sports such as table tennis, the business of athletes engaged in these sports is restricted. potential. See the attached table at the end of the article for the specific scores and total scores of each athlete.
  01
   Yi Jianlian
   sports men's basketball
   age 23 years old
  Competition Achievements The top eight of the 2008 Beijing Olympic Games (national team); the CBA championship; the sixth place in the 2007 NBA Draft
   belongs to the Chinese men's national basketball team, played for the NBA Milwaukee Bucks and New Jersey Nets.
   Brokerage Company WME
   endorsement brands Nike, Sina, Procter & Gamble, Yili, etc.
   Annual income 37.1 million yuan
   Although he did not perform well in his first three seasons as an NBA rookie, he is still young. He is the only athlete in Asia who has entered the NBA not by his height but by his basketball skills. With superior physical conditions and excellent basketball skills, if there are no injuries that can affect his career, he will be Yao Ming's best successor. Furthermore, the NBA's strong appeal in China will also make him a super spokesperson in the eyes of advertising companies.
  02
   Yao Ming
   sports men's basketball
   age 30 years old
   Competition results 2008 Beijing Olympic Games quarter-finals (national team); NBA No. 1 pick, NBA All-Star for seven consecutive years
   affiliated sports team China National Men's Basketball Team, NBA Houston Rockets
   Brokerage Company Yao Team
   has endorsed brands such as Reebok, China Life, Oreo, etc.
   2009 annual revenue of 234.8 million yuan
   Yao Ming, nicknamed "Little Giant," suffered injuries this season, which affected his exposure and commercial value in the short term. But he is less than 30 years old, not too old to move. As long as he can return to his pre-injury competitive state (or close), he is still China's most influential athlete, and his status as a super spokesperson cannot be shaken.
  03
   Lindane
   sports men's badminton
   age 27 years old
   results in Beijing Olympics men's singles champion, World Championships men's singles champion, ranked second in the world
   affiliated sports team China National Men's Badminton Team
   Brokerage Company China Table Tennis and Badminton Sports Management Center
   has endorsed brands Gillette, Li Ning, Dongfeng Yueda Kia Freddy, exclusive brand LD (Li Ning series brand)
   2009 annual income of 14.75 million yuan
   nicknamed "Super Dan", super strength (ranked second in the world), handsome appearance, and twists and turns and moving growth story-he has all the elements necessary to become a sports star with super commercial value, Has become the spokesperson of the world badminton sport. It's just that the sports he engages in limit his commercial potential.
  04
   Liang Wenchong
   Sports Men's Golf
   age 32 years old
   Tournament Results China Golf Classic Championship
  Sports team None
   Brokerage Company Yihui Company
   has endorsed the brand Ballantine
   2009 annual income of 6.8 million yuan
   He has now replaced Zhang Lianwei as the number one golfer in China. He has also won the reputation of the king of the Asian Tour with his outstanding performance, and is known as the "Tiger Woods of Asia". Today, he has begun to enter the European Tour and the PGA Tour with higher levels and more prize money. If Zhang Lianwei's success has made golf popular in China, then Liang Wenchong will set off a second wave. The high-end nature of golf determines that it has unlimited commercial potential.
  05
   Zhang Dan/Zhang Hao
   sports events double figure skating
   age 25 years old/26 years old
   Competition results, Turin Winter Olympics silver medal
   belongs to the sports team China Figure Skating Team
   Brokerage Company Winter Sports Management Center
   has endorsed brands Anta, VISA
   2009 income unknown
   After the retirement of China's top figure skater Shen Xue/Zhao Hongbo, this pair, who is in the golden age of their careers, will have more championships and a stage to show themselves. They moved the world with the spirit of "never give up" in Turin. If they can rule the world on the field, their commercial value will also double.
  06
   Han Han
   sports events racing
   age 29 years old
   competition results, won the annual championship of both the Chinese track competition and the rally competition
  Sports team Subaru China Team
   Brokerage company None
   has endorsed the brand ASUS, etc.
   2009 annual income is 3.8 million yuan
   has the dual identities of a racing driver and a writer, and is a representative of the Chinese generation born in the 1980s. He has just been selected as one of the most influential public figures in China by Time magazine's "World's Most Influential People" list. Of course, his commercial potential depends more on his extensive influence as a writer than on racing, but his achievements as a racing driver cannot be underestimated.
  07
   Malong
   sports events men's table tennis
   age 22 years old
   Competition Results 2009 ITTF Professional Tour Men's Singles Championship, now ranked first in the world
   affiliated sports team China National Men's Table Tennis Team, Ningbo Beilun Haitian Club
   Brokerage Company China Table Tennis and Badminton Sports Management Center
   has endorsed the brand, not yet
   Annual income unknown
   Ping Pong is China's national game, and it has a very high popularity and mass base in China. As a representative of the new generation of players, he and Wang Hao will form the new Gemini of the Chinese table tennis team after Kong Linghui/Liu Guoliang, Wang Liqin/Ma Lin. He likes Jay Chou and Jane Zhang, and he can find sympathy among the post-80s and post-90s generations. However, the limited international influence of table tennis will severely restrict its commercial potential.
  08
   Zhang Lin
   sports events men's swimming
   age 23 years old
   Results of the Beijing Olympic Games silver medal, World Championship champion, men's 800-meter freestyle world record holder
   belongs to the sports team China Swimming Team
   Brokerage Company Zhonghui International
   has endorsed the brand, not yet
   Annual income unknown
   achieved a breakthrough of zero medals in the Chinese Men's Swimming Olympic Games and broke the world record—how similar it is to the rise of Liu Xiang, who is also called "Pool Liu Xiang". He was awarded the Best Male Athlete Award of the 2009 CCTV Sports Man of the Year. However, his too introverted personality and the lack of exposure of the project itself restrict his access to merchantsObstacles to favor. But before the London Olympics, he will be the object of many brands betting.
  09
   Liu Zige
   sports events women's swimming
   age 21 years old
   Race results Olympic champion, women's 200m butterfly world record holder
   affiliated sports team China Swimming Team, Shanghai Swimming Center
   Brokerage company None
   has endorsed the brand none
   Annual income unknown
   China's most outstanding young swimmer in recent years is extremely dominant in the women's 200-meter butterfly. The superior strength coupled with a good personal image gives it sufficient commercial potential. If we can clarify the complicated attribution issues, the prospects will be better. Won the Best Female Athlete Award of 2009 CCTV Sports Personality.
  10
   Ding Junhui
   sports event snooker
   age 23 years old
   Tournament results Two times won the championship in the British Championships, four ranked champions, and now ranks sixth in the world.
  Sports team None
   Brokerage Company Zhonghui International
   has endorsed brands Xingpai, Mengniu
   Annual income unknown
   Five years ago, when Ding Junhui, the "billiard prodigy" won the British Championship for the first time, the Chinese pool population was 25 million. When he won the British Championship for the second time, this number has been rewritten to 6000. Million. This is largely due to his work, and this number is still growing. Don't forget, Ding Junhui is only 23 years old and is very likely to become the world's number one player in the future. However, the niche nature of snooker also limits his commercial potential.
  11
   Chen Ruolin
The    world champion, the new trump card of the Chinese women's diving team after Guo Jingjing retired, has now succeeded Guo Jingjing as the spokesperson of Sprite.
  12
  Wang Yihan
   is now the world's number one female badminton player, the world champion, known as the badminton shawa, and has an outstanding image.
  13
  Chen Long
   The new generation of Chinese men's badminton. He has defeated Lin Dan, Li Zongwei and other masters. He has an unlimited future and is considered to be Lin Dan's successor.
  14
  Zheng Jie
   Wimbledon, Australian Open women's doubles semi-finals, Australian Open women's doubles champion, the first Chinese to break into Wimbledon and Australian Open semi-finals. Currently endorsing Anta, Rolex, etc., perseverance is her greatest value.
  15
   Zou Kai
   Chinese men's gymnastics new leader, Olympic champion, modern Longines, NetEase Fantasy Westward Journey, etc.
  16
   Dong Hanlin
   The Chinese Men's Basketball Hope Star, the 2010 CBA All-Star Breaking Tournament MVP, is very likely to become the next Chinese player to enter the NBA.
  17
  Liu Shiwen
  The world's number one Chinese women's table tennis player, the World Cup women's singles champion, the future Chinese women's table tennis leader, has a healthy image and is known as "Little Deng Yaping".
  18
  Liu Shasha
   female nine-ball player, 17 years old, the youngest billiard world champion in history.
  19
   Pan Xiaoting
   women's nine-ball player, known as the "nine-ball queen". The champion of the WPA World Championship, the highest ranked Chinese in the world, has a beautiful appearance and a low-key and elegant personality. Currently endorsed brands Xingpai, Mengniu, and Li Ning.
  20
   Li Na
   The world's highest ranked Chinese tennis player, the most competitive player competing with European and American players, but the competitive state has declined recently.
   2009 World Top Ten Sports Gold Kings
  01
   Tiger Woods(United States)
   field golf
   Annual income is about 74 million U.S. dollars
   endorsement brand TAG Heuer, Accenture, Gillette, Nike, Gatorade, EA Sports, AT&T, NetJets, etc.
   Even the financial crisis can't shake his position as a gold sucker, so what about sex scandals?
  02
   Phil Mickelson (United States)
   field golf
   Annual income is about 51 million U.S. dollars
   endorsement brands Callaway, KPMG, Barclays Bank, Scottsdale Grey Eagle Golf Club, Rolex Watch, Crowne Plaza Hotels and Resorts, etc.
   As a golfer with the same reputation as Tiger Woods, the white star with a left-hand stick is also close behind.
  03
   LeBron James (United States)
   field basketball
   Annual income is about 46 million U.S. dollars
   endorsement brands Nike, Sprite, State Farm, etc.
   He can use his unparalleled talent to create countless exciting moments and build his own business empire.
  04
   Lionel Messi (Argentina)
   field football
   Annual income is about 44.5 million US dollars
   endorsement brands Adidas, Gatorade, Pepsi, EuroAir, Danone, Seiko, Telefonica, ForMen, Storkman, lody, Live Football 2010, etc.
   Another Argentine football genius after Maradona. Moreover, he is still very young, only 23 years old.
  05
  Fernando Alonso (Spain)
   field FI racing
   Annual income is about 43 million U.S. dollars
   endorsement brands Ferrari, Maserati, Hugo Boss, Silestone, Tag Heuer, GURU, ING, Santander, etc.
  As Ferrari's leading driver, as the number of podiums rises, his commercial value will also increase.
  06
  Michael Schumacher (Germany)
   field FI racing
   Annual income is about 42 million U.S. dollars
   endorsement brands Mercedes-Benz, Omega, Bacardi, Jetset, Navyboot, Kappa, Rosbacher mineral water, Bridgestone, Sting sunglasses, Shell, L'Oreal, etc.
   Although he is 41 years old, the FI's seven crown champion once again caused a new wave of business after his comeback on behalf of the Mercedes-Benz team.
  07
   David Beckham (UK)
   field football
   Annual income is about 41 million U.S. dollars
   endorsement brands Vodafone, Adidas, TBC beauty, Calvin-Klein, Motorola, POLICE sunglasses, Got Milk, SHARPIE, Gillette, Pepsi, Armani, Herbalife, ALMOND, dyb perfume
   He may not be the best football player, but he is definitely the football player favored by advertising companies.
  08
   Cristiano Ronaldo (Portugal)
   field football
   Annual income is about 40.5 million U.S. dollars
   endorsement brands Nike, Qingyang, Armani, Carlsberg, EA Sports, Canon, Soccerade Pro drinks, Coca-Cola
   The most sexy and fashionable football game after BeckhamMobilization, not to mention, the football skills of this world footballer is unmatched by Beckham.
  09
  Manny Pacquiao (Philippines)
   field boxing
   Annual revenue 40 million US dollars
   endorsement brand Nike, Philippine domestic brand
   In the eyes of Westerners, he is the second Bruce Lee.
  10
   Kimi Matthias Raikkonen (Finland)
   field FI racing
   Annual revenue of 39.5 million US dollars
   endorsement brands TAG Heuer, Fiat, Johnnie Walker, WEST cigarettes, Nescafe coffee
   The 31-year-old "Iceman" is awkward to say goodbye to F1, but at WRC, he is just as beautiful.
Forward this article to Weibo&nbsp&nbsp&nbspAlready _ COUNT _ commentsI want to comment
To
&nbsp&nbsp&nbsp&nbspSina's statement: This news is reprinted from Sina's cooperative media. The publication of this article on Sina.com for the purpose of conveying more information does not mean that it agrees with its views or confirms its description. Article content is for reference only and does not constitute investment advice. Investors operate accordingly at their own risk.
Article Url:https://www.liaochihuo.com/info/398292.html
Label group:[China Sports]